Halston's family are coming for Netflix's new show about the late designer
The family, who run Halston's archives, have labelled the upcoming Ryan Murphy series "overinflated" and "sensational".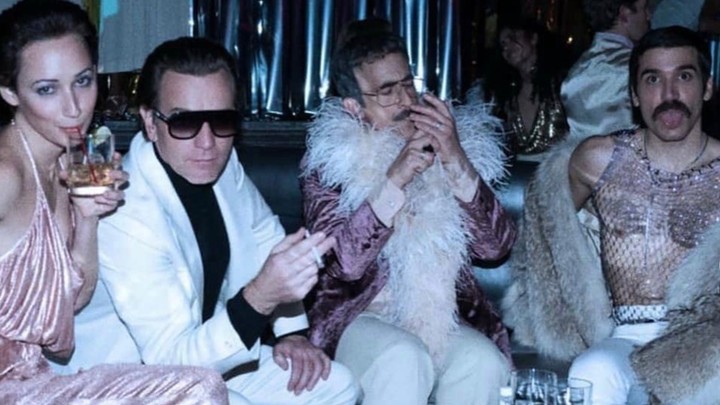 Photo via Instagram
The relatives of Roy 'Halston' Frowick have dubbed the new Netflix miniseries from Ryan Murphy "an inaccurate, fictionalized account" of the late American fashion designer's life.
"The HALSTON Archives and Family were not consulted on the upcoming Netflix series involving an inaccurate, fictionalized account of famed fashion designer, 'Halston'", a statement from the archive said. The show is based on the book Simply Halston by biographer Steven Gaines, which was then adapted into a screenplay by Broadway playwright Sharr White and directed by oft-Ryan Murphy collaborator Daniel Minahan.
Expected to debut on the streaming platform 14 May, the five episode series will follow the designer's rise to fame in the 70s. His minimalist gowns and jumpsuits became synonymous with stars like Bianca Jagger and Liza Minelli, and the Studio 54 scene, and they revolutionised the landscape of American fashion. Halston would later pass away in the 90s from AIDS complications.
Halston's niece and custodian to his archive, Lesley Frowick, also claimed she wasn't even aware of the project until it was almost complete, and had some cutting words to say regarding the showrunners. "These people who didn't know him well, perhaps because they were mere children during the Halston apogee, often like to focus on the most sensational parts of the story," she said.
"Those details tend to be overinflated rather than placing the rightful emphasis on his incredible gift as an artist, the depth of his contribution to American fashion, his work ethic and his success as one of the first true American fashion influencers. In actuality, our Uncle Halston was a very private, dignified gentleman, and it is my hope that he will be remembered and respected as such." In her opinion, the 2019 Frédéric Tcheng-created documentary on the designer is much more accurate (since the archives were consulted during its production).
The family are also distinctly unimpressed with the casting of Ewan McGregor in the titular role. "While I appreciate his talents as an actor, it's practically impossible to duplicate the authentic grace, beauty and sophistication that Halston embodied so effortlessly," Lesley added. Alongside Ewan, the show also has Rory Culkin as Halston's friend and creative collaborator, director Joel Schumacher; Quantico's Krysta Rodriguez as singer Liza Minnelli and Vera Farmiga, who seems to be playing a model named Adele.
Though it may not have the family's seal of approval, the below trailer for the miniseries suggests it will be dramatic, glamorous and camp — everything we'd expect from a Ryan Murphy show tbh. You can watch Halston from 14 May on Netflix.