The Mummy Returns is gay, actually
20 years after its release, we look back on the legacy of an overlooked entry into the queer cinematic canon.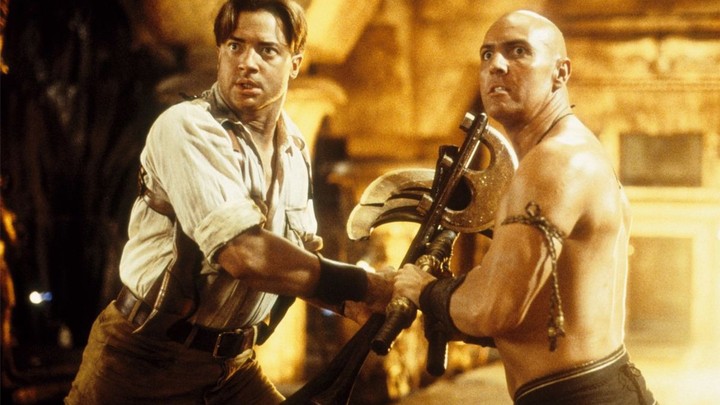 While it might be hard to believe, it's been 20 years this month since The Mummy Returns – the second film in the notoriously chaotic and surprisingly popular The Mummy franchise – hit cinemas. The film brought drama from a not-so-real ancient Egypt to our screens, complete with resurrections, millennia-old love triangles, Rachel Weisz and some very (very!) scary killer beetles.
Since its release on 4 May 2001, the film has retained its cultural longevity mostly through repeated appearances on lists of sequels that are considered to be better than the original. But that's not the only reason it stands out: it might sound bizarre but, in the two decades since its release, The Mummy Returns has also emerged as a gay classic.
This recontextualisation, while surprising, is not a new phenomenon. Indeed there's no shortage of films which have been reconsidered as queer in the years since their release — Kill Bill, Mulan, Titanic, to name but three. And of course, The Mummy Returns isn't especially "gay" in the traditional sense: there's no romance or 'coming out' narrative that was missed at the time. Evelyn's (Rachel Weisz) brother Jonathan (John Hannah) — who is characterised as a bumbling beta male — does feel coded as gay (albeit in a retrospectively problematic, early noughties sense). Patricia Velásquez, who plays vengeful and beautiful villain Anck Su Namun, came out as a lesbian after the film's release. But there are lots more factors that make gay men especially likely to love this film, particularly at this precise moment in popular culture.
The most obvious factor, firstly, is thirst. Brendan Fraser, then at the peak of his bimbo acting career, stars as Rick O'Connell, a sort of trigger-happy, arrogant-but-caring, adventurous but domesticated father figure and husband. It's not difficult to see why queer men might be very responsive to the image of a sweaty and windswept Brendan, with his oh-so-chiselled jaw, endangering (then saving) his son and wife from near-death experiences. It also makes sense that this affection might have grown over time, given social media was recently flooded with praise for Brendan, who fell away from acting not long after The Mummy Returns' release. He's been hailed as a "great unifier of the modern internet" and fans have been calling for a "Brenaissance" — which, if A24 have anything to do with it, might be right around the corner.
For viewers who are more into baddies than daddies, Arnold Vosloo's Imhotep — an evil 3,000-year-old mummy who was accidentally awoken in the franchise's first instalment, only to return for vengeance — is there too, constantly half naked, covered in oil and decorative jewellery. The Mummy Returns also features Dwayne Johnson in his first major film role, which led to his first starring role in the similarly oiled-up and scantily clad spin-off The Scorpion King (2002). So in terms of bringing ancient era thirst and men in eye-liner to our attention, The Mummy franchise really walked so Game of Thrones himbos — like Dothraki king Khal Drogo (Jason Momoa) — could run.

Something even more important than hot guys working up a sweat in the Sahara (if that's possible) is the presence of Rachel Weisz. An actor idolised by gay men and lusted after by queer women, Rachel plays Evelyn Carnahan — an archaeological scholar-turned-explorer, wife of Rick and mother to eight-year-old son Alex — who truly discovered the first tomb at Stonewall. Culture writer Jill Gutowitz thinks Rachel's queer icon status has grown over time. She wrote that in 2018 (a year nicknamed "20gayteen" because of its significance in queer pop culture) that she became the "unofficial straight LGBTQ+ ambassador". Jill argues that Rachel "ushed in a wave of standom that I've never quite seen in the queer female community" (and she's "manifesting" a lesbian reboot of The Mummy too).
It's unsurprising that 2018 was a watershed moment for Rachel's LGBTQ+ fanbase. That same year she starred in The Favourite as Olivia Colman's gun-toting, manipulative lover and opposite Rachel McAdams in tense romantic drama Disobedience (which features a hyper-sexual scene where Rachel literally spits in her mouth).
But, as film critic Guy Lodge explains, Rachel's queer following precedes these roles, and goes all the way back to her early aughts career. "It's tempting to speculate that part of the reason she took these roles was as a winking nod to that [queer icon] status," he says. "There has always been an independent, self-possessed quality even to her romantic leads that could read as queer, in its rejection of patriarchal power: the cool art student who seduces and makes over Paul Rudd as an academic experiment in Neil LaBute's The Shape of Things, for example, or the fearless activist who riles men in power in her Oscar-winning role in The Constant Gardener."
Rachel's role in The Mummy Returns leans towards a classic heroine role, but it's notable that both Evelyn and villain Anck Su Namun hold equal weight in the film to their male counterparts, which does feel unusual for 2001. "Weisz plays [Evelyn] as an intellectual foil to Brendan Fraser's beefcake adventurer: they're on an equal footing," Guy says. "By the end of The Mummy Returns, they're swapping the damsel-in-distress position between them: to quote Pretty Woman, she rescues him right back."
In the film, Evelyn is a reincarnation of Princess Nefertiri, a sworn enemy of Anck Su Namun. Part of the film revolves around Imhotep's lover seeking vengeance on the princess (now Evelyn). We don't have to look far to see contemporary examples of gay men stanning female conflict: Ryan Murphy's Feud (2017), a show which dramatised the famous Hollywood rivalry between Bette Davis and Joan Crawford, is an obvious example. As are Bridesmaids, My Best Friend's Wedding, Real Housewives, Mean Girls and the salivation over alleged feuds like Britney Spears vs Christina Aguilera and Mariah Carey vs Jennifer Lopez. It's well noted that this dynamic, which pervades gay stan culture, can easily lapse into misogyny. But that doesn't mean that Evelyn vs Anck Su Namun's lust-driven rivalry isn't a part of why gay men might love The Mummy Returns.
The setting of ancient Egypt is also particularly pleasing to gay viewers. John J Johnston, an Egyptologist, classicist and cultural historian, tells me that the Egyptian emphasis on decoration — which is hyper-visible in The Mummy Returns — is particularly aesthetically appealing to the queer gaze. "The ancient Egyptian elite were decorated: they shaved their heads, they wore makeup and, to our eyes, outrageous costumes – irrespective of gender," he says. "Self-presentation is very entwined with gay culture. Lots of gay men always go that additional mile to make sure that they look just the way that they want to, which is a very Egyptian idea."
John says the discovery of ancient pharaoh Tutankhamun's tomb in 1922 changed ancient Egypt's place in visual culture. "There is an element of excess and luxury, that the discovery of the tomb certainly exacerbated. Suddenly, the colour one associated with ancient Egypt is gold," he says. This decadent version of Egypt was then embraced by the west. In the 1920s, it formed a key part of the art deco movement, with its influence visible everywhere from the wardrobe of flapper girls to New York City's Chrysler Building. Cleopatra (1963) starred Elizabeth Taylor (a gay icon herself) and leaned into this image of opulence, while Disney's Prince of Egypt featured an Oscar-winning duet from gay faves Mariah Carey and Whitney Houston. In the last few years, both Katy Perry and Rihanna have released Egypt-themed music videos for "Dark Horse" and "Where Have You Been?"
Even today, Egypt seems to enjoy publicly teasing Hollywood's narrative adaptations of its ancient culture. Last month, Cairo truly looked camp in the eye by staging a historical procession of their country's ancient rulers through the capital. The lavish, multimillion-dollar spectacle saw 22 mummies transported from the Egyptian Museum to a new resting place 5km away. Each mummy was carried on a decorated vehicle and surrounded by a motorcade, including replica horse-drawn war chariots. The golden procession was reminiscent of Billy Porter's glittering entrance to 2019's camp-themed Met Gala.
There's an interesting thematic element to The Mummy franchise and the recurring motif of resurrection. Imhotep is brought back to life after 3,000 years. As its title suggests, the sequel features this process happening once again. John says the ancient Egyptians actually found the idea of reincarnation offensive. "Reincarnation is very appealing to Hollywood, but that's not the Egyptian way at all — it would have filled them with horror," he says. "Once you were gone, you were gone. And you would spend the rest of eternity in the afterlife as yourself." But resurrection, or returning to fight another day, is an enduring motif within gay culture — particularly when it's presented in a campy, dramatic way. From the Emma Roberts "Surprise bitch, I bet you thought you'd seen the last of me" meme to Buffy Summers rising from the dead, and the popularisation of Taylor Swift's "Reputation era" as a byword for 'coming back to silence your critics', all the way back to gay classic Mommie Dearest's iconic line "this ain't my first rodeo", gay men often love the spectacle of survival.
Writer and researcher Ben Miller, co-host of Bad Gays, a podcast about evil and complicated gays from history, says ideas of reinvention and longevity — like Anck Su Namun reigniting her 3000-year-old beef with Rachel Weisz, or the one-time rulers of ancient Egypt being paraded through Cairo — can be important to gay men. Look no further than Judy Garland, Madonna, Britney Spears and Renee Zellweger to see how western gay culture idolises comeback queens who refuse to become irrelevant. "There is a celebration of trials and tribulations, but also survival that has been important for a lot of gay people," he says. "Judy Garland was loved for her excessively emotional performances, but also because she represents the idea of moving through a world that was not designed for you."
The Mummy Returns is very chaotic and doom-filled too. It often feels like there's a gay expectation for chaos and disaster that's projected onto the pop culture we enjoy, from icons like Judy and Britney to tragic operas about 'fallen women', the horror-film trope of the 'final girl' and even the Marie Kondo "I love mess!" gif. Ben cites the Twitter account Liza Minelli Outlives, as an example of how both the expectation of doom, but also the celebration of escaping it, are mapped onto gay icons — particularly women. "On one hand, it's this wonderful celebration of Liza, but on the other hand, she's only in her early seventies. So it's not surprising she's still alive," he says. "Recently it tweeted 'Liza Minelli outlives Prince Philip', but she's literally 25 years younger than he was, so why are we expecting her to be dead?"
We could unpack the queerness of The Mummy Returns for a millennium (or three), because ultimately it represents a gay fantasy. It's a film where icons die then resurge to live again, where the men are ripped and handsome, while the women are powerful survivors, determined to settle 3000-year-old grudges. All this chaos unfolds against a backdrop of ancient prophecies and Egyptian glamour — it's high-camp, high-drama… and a little bit crap (the official Rotten Tomatoes rating is 47%). So twenty years on, we shouldn't be surprised that The Mummy Returns has been re-appraised as a very gay classic. All things considered, how could it not be?
Follow i-D on Instagram and TikTok for more things that are queer, actually