All photos courtesy of Salvatore Ferragamo
Wim Wenders just shot a sci-fi love story for Salvatore Ferragamo
The legendary German filmmaker returned to the director's chair to create his first fashion film.
All photos courtesy of Salvatore Ferragamo
For their AW21 digital presentation, Salvatore Ferragamo gave us a sci-fi spectacle. The Italian house's outgoing British creative director Paul Andrew showcased his final collection for the house with a film shot as a CGI-aided virtual reality. For the accompanying campaign, they've shot a film-within-a-film, returning to the futuristic world built then with cinematic legend Wim Wenders behind the lens.
The German director of Paris, Texas, Wings of Desire and Yohji Yamamoto documentary Notebook on Cities and Clothes came onboard to create the project. But it's not a straightforward sci-fi short, rather a two-and-a-half minute film about crew members falling in love on the set of a sci-fi movie.
Set in Milan's CityLife District, A Future Together follows the Italian actress Gaia Girace, playing the director of the movie, falling for her sound man, Swedish musician Felix Sandman. There's no dialogue. Instead, it's centred around them awkwardly stumbling into each other and exchanging flirtatious glances — a sort of office romance (who hasn't missed those in the age of Zoom?), if you will, all heightened by plenty of loud fashion statements, courtesy of Ferragamo's collection.
We caught up with Wim to talk about working on his first 'fashion' film, shooting a sci-fi in the history-steeped streets of Milan, and always looking at life through optimistic eyes.
Hi Wim! Can you tell us about A Future Together, the film you've directed for Salvatore Ferragamo?
The idea was to look at the future with optimism. At least for me that was the essence of what I wanted to convey most. In that opening sequence, in the best sci-fi tradition, the protagonists carry some device on their wrists that seems to guide them, as they constantly look up at the sky. Looking up every now and then – both literally and symbolically - is helpful, when you're in a chaotic situation.
What made you want to work with the house?
When the request first came in, I was quite excited. I hadn't shot anything for a long time, due to the pandemic, and I had made good experiences in the past with fashion subjects and shoots. The proposition by Ferragamo was smart and interesting, it left me a lot of freedom to invent and bring in something on my own. I thought that the brand itself was trustworthy, so to speak, with a good old-fashioned tradition behind it. A few years ago, I had read the book about its founder, Salvatore Ferragamo, and his adventurous life story, going from Naples to the East Coast and then on to Hollywood. That gave me a connection…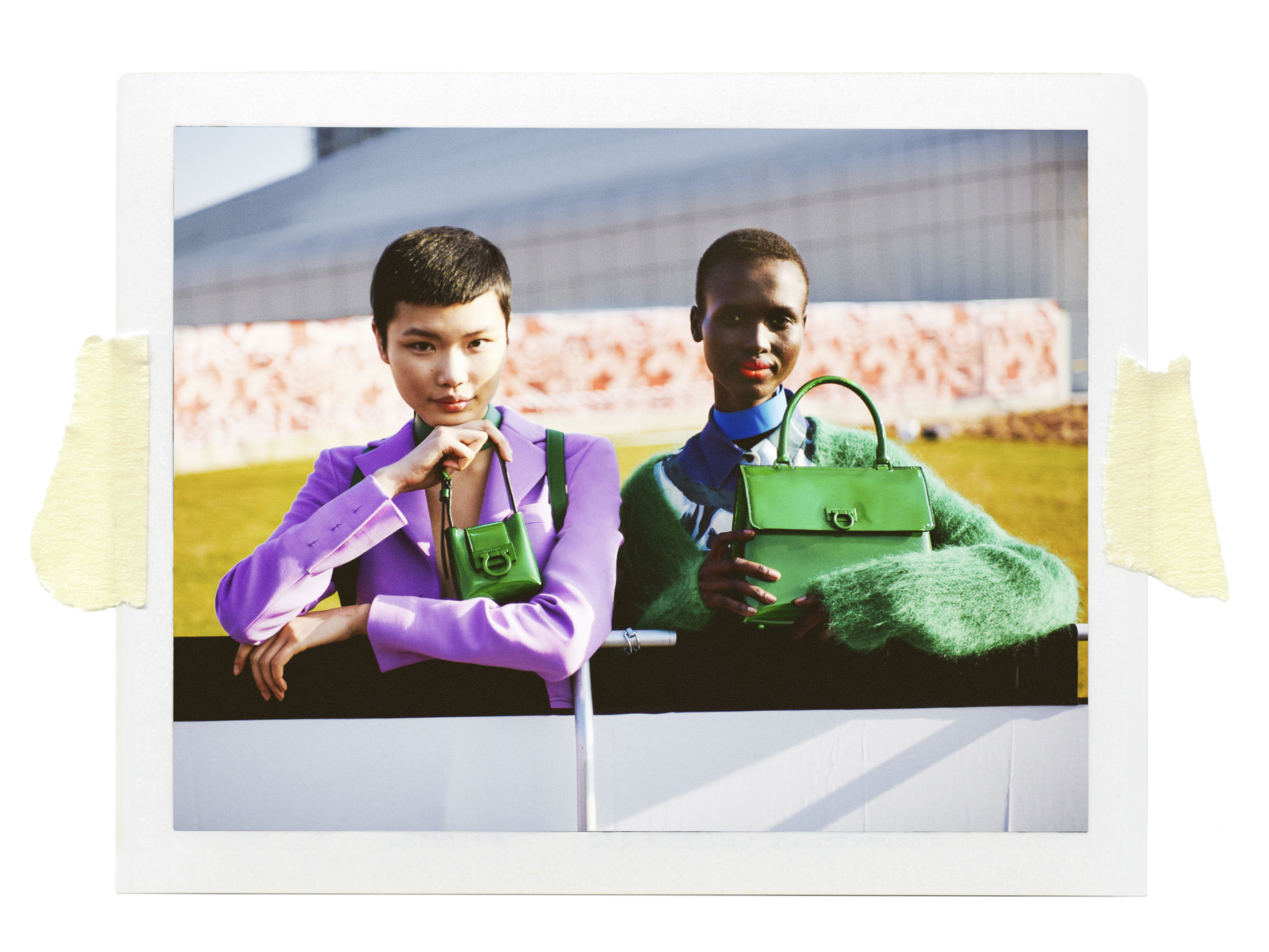 Your film is "a tale-within-a-tale structure, combining present-day reality with a sci-fi adventure, laid over a burgeoning love story fuelled with anticipation and intrigue." What was the story you wanted to tell with this film? What did you want to reflect about the modern world?
Science-fiction was part of the proposition, the location of Milan as well, but the love story wasn't. That was my take on it. The main idea was a positive outlook on the future, and a certain sci-fi look. Sounds easy, but is actually the squaring of the circle. Science-fiction, almost by its nature, always comes with a dystopian view. If you think about it: does any positive sci-fi film come to your mind? They tend to be pessimistic, or at least gloomy about the future. That was a bit of a problem with the genre, so to speak. The second handicap was Milan. I love Milan and it certainly has some futuristic aspects to it. But we had to shoot in February, and, boy, can Milan be droopy and rainy in the winter! And on top of that, we were in the middle of a pandemic when all the streets were empty and people were genuinely unhappy!
Luckily, after a few days of looking around, we found a great location, the CityLife Park and the adjoining Milan Convention Centre, the MiCo. The park and the building by Mario Bellini offered great sci-fi aspects, and even if it was grey for the entire two weeks I spent on preparation in Milan, on the two days of shooting, the sun came out and our places looked splendid. With that, the conditions for a positive look at the future became much brighter, and when it turned out that our two young actors, Gaia Girace and Felix Sandman, surpassed my biggest hopes, even the love story started to fly. I must admit: I felt we had "the luck of the brave".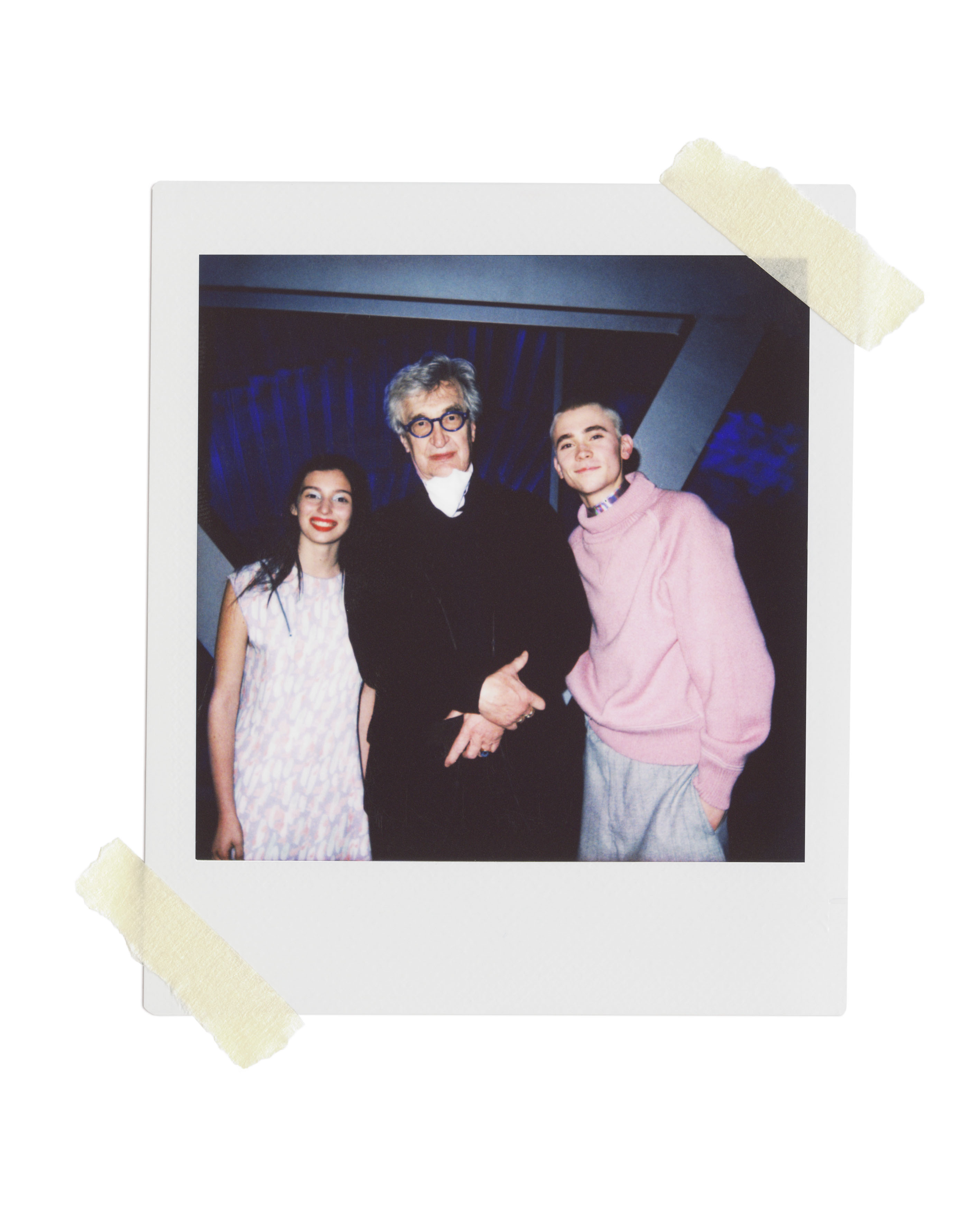 Working on a fashion film, does it present a different criteria for you as an auteur? Are the clothes just as important as the characters?
I was developing an awareness for fashion rather late, when I got a crash course in it by making a film about Yohji Yamamoto: Notebook on Cities and Clothes. I made the film all alone, mostly as a one-man team, and was therefore very connected to Yohji's craft. I followed him at a very close distance with my own craft, operating my machines myself, just like he took a pencil or scissors. And in doing so, we recognised that our crafts, and jobs, were very related and quite often followed the same patterns of "storytelling". A research period followed by a writing or designing period, then going into a producing stage, then into editing, then into marketing and distribution. Anyway, I learned so much about fashion in that year, directly from one of its great 20th century masters, that I remained open and interested in the phenomenon afterwards.
Our short film relates to that by showing a lot of fashion on one hand, but including all of that in a storyline that makes it quite obvious and natural that we see all these different outfits. So in the end, you almost do not notice watching fashion, as you enter the world of our central characters, a director and a sound engineer. They are in their world, and you enter it willingly. If you watch a fashion show, you must be willing to watch a fashion show, otherwise you'd be very bored. We showed just as much fashion as you could see on a catwalk, only you're never really aware of it. You see it through the eyes of our protagonists.
What excites you about the future?
Love is all you need, especially in the future. Who wants to choose pessimism, anyway, when you have the other option of looking at life with optimistic eyes?
Tagged: