The trailer for a movie about Karens is dividing the internet
A horror movie about suburbia's entitled racists? Haven't we seen that before?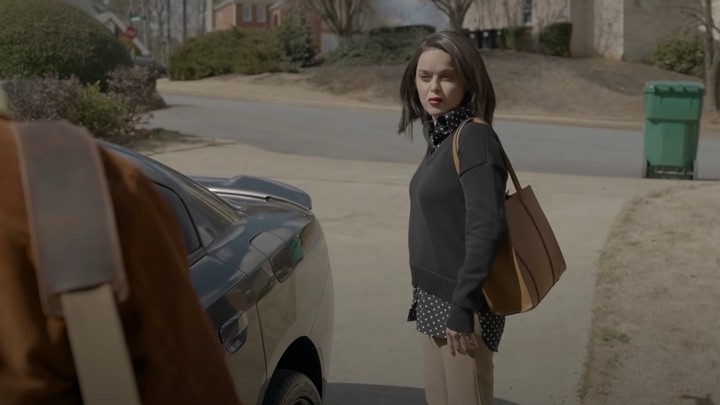 BET
After what feels like a fortnight (that's actually been close to a year) since we first reported news of a movie being made about the Karen complex -- "a white woman who uses her privilege to demand her own way at the expense of others", as Urban Dictionary puts it -- Hollywood has managed to churn out its trailer. Racists work quick, but the relentless scythe of the content machine works even quicker, it seems.
The movie seems to tell the story of a Black family, Malik (Cory Hardrict) and his wife Imani (Jasmine Burke), moving into Atlanta's suburbs. Upon arrival though, they find that a woman (literally named Karen) is out to get them. Her micro-aggressions start quickly: telling her new neighbours where the trash cans belong; becoming affronted by Black teenagers minding their own damn business; threatening to tell the manager about a group of Black friends laughing during conversation in a restaurant. But it seems Karen's micro-aggressions are (duh!) hiding far more sinister motives, and the family soon catch on to her true persona.
Though "true persona" may be a bit of a stretch, since Twitter has already pointed out that the trailer for the movie, directed by Coke Daniels and produced by BET, is winking so hard at its deeper meaning that it borders on parody. It's the effect of Jordan Peele, so people think, whose big-screen breakout Get Out essentially told this very similar story but with real intellect and good intentions. So much so that Jordan Peele trended on Twitter in tandem with the trailer dropping.
There's also some added salt to the wounds thanks to Taryn Manning from Orange is the New Black playing the titular Karen. She has posted Trump-sympathising content to her Instagram feed in the past, and in the same caption used the #q -- a known reference to conspiracy theory network QAnon -- while deriding "fake news" and apparently suggesting billionaire investor George Soros is behind the Black Lives Matter movement. It all seems a little too close to home.
Taryn has spoken about her performance, though. "I felt a social responsibility to take on this role," she said in a statement. "Even if I had to play the villain to affect change around the globe, then I was more than willing to step into the role. What's been going on is devastating. It's time for change and for me to be a part of the bigger picture meant a lot to me."
There's something about trying to follow such a monumental and nuanced psychological approach to the subgenre, as Get Out did, with something that might be schlocky that has audiences wary. Watch the Karen trailer to make up your own mind, and prepare for an absolute hellscape of a press junket when the film gets released later this year.