Zendaya warns that Euphoria season 2 is "not going to be a fun watch"
Protect us from what we want, queen!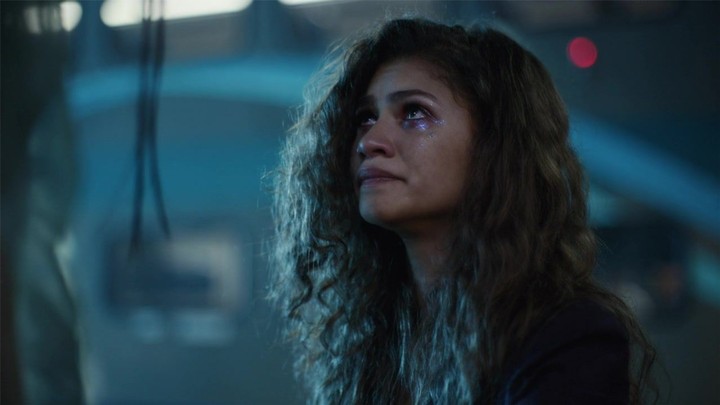 Image via HBO
Euphoria has never been one to shy away from a controversial subject. Putting aside for a second the iconic fashion and beauty looks for which it is deservedly famed, the HBO show's warts-and-all portrayal of sex, mental illness, and substance addiction is largely what sets it apart from its less thrilling peers. But watchers be warned — this week, the show's shining star Zendaya has said that viewers may find the show's upcoming second season especially harrowing. Which really is saying something.

Yes, it appears that the Emmy-winning multi-hyphenate has been informed that all of you are comfort-watching Twilight again (blame Netflix for reintroducing it into their catalogue but we both know the obsession here runs a little deeper) and has taken it upon herself to emotionally prepare you for the psychic weight of new content.


In an interview with Teen Vogue this week, the 24-year-old actor and Disney alum explained how the plotlines for the second season have affected the intensity of the shoot itself. "It's a difficult season, I'm kinda in the middle of it. I had like a 2:30AM wrap time last night, we're in the thick of it."

She continued, conceding that Euphoria has always been a bit of a doozy to take in, and emphasising the show's representational importance: "But, you know, the show was intense. And it's very personal to not only ourselves and all the people who work on it, but also to other people who have been able to relate so deeply to the characters or see their experiences being reflected through Rue."

"We take that very seriously. And it's definitely challenging, it's a challenging season. It's gonna be hard and it's gonna be devastating sometimes, but I think Rue really deserves all of that care when it comes to her character, because I think she represents a lot for so many people. And I hope to make those people proud with our depictions of Rue [and] where all the characters go. I think this season's not going to be easy, though. It's not going to be a fun watch, I don't think."

It's sweet of her to worry about us, but if we can survive the Kubrick-esque torture that is the current season of Love Island, we can surely handle anything Euphoria wants to throw our way. Bring on that neon-lit trauma, Z!
Follow i-D on Instagram and TikTok for more TV and film news.