Gucci's going to Hollywood for its next show
Pack your bags — fashion's travelling circus is back on tour!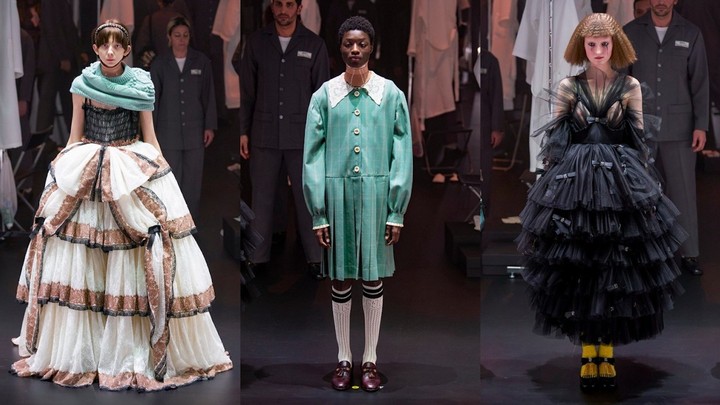 Gucci AW20. Photography Mitchell Sams
Look, we love a digital show as much as the next person, but we'll level with you — there are few things we miss more on this good green earth than an IRL fashion moment. If you agree, then please join us in thanking the fashion powers above for Alessandro Michele and the gang over at Gucci, who have just announced that they'll be bringing real-life fashion shows back later this year, with a show in Los Angeles on 3 November 2021.
The show, a welcome sign of the industry's return to something close to the pre-pandemic norm, is the latest in a "series of happenings and unveilings" to be announced in the Florentine house's centenary year, a statement reads. It also marks a poignant moment for Alessandro, who showed his first Cruise collection for Gucci in the United States — in New York, at the Dia Art Foundation to be precise.
Six years on from then, the Creative Director's decision to head to the West Coast makes sense. It is, after all, "a city that continues to provide [Alessandro] with a constant source of inspiration and which has played a significant role in Gucci's hundred-year history," a release from the house reads. What's more, the show will coincide with the 10th LACMA Art+Film Gala, for which Gucci is the founding and presenting sponsor.
It resonates on a more symbolic level, too. Gucci's relationship with the world of cinema is one of the most enduring in fashion history, making the trip to LA feel like a return to a spiritual homeland. For the house's SS19 campaign, Alessandro even referenced classics from Hollywood's Golden Age like An American In Paris and Singin' in the Rain. And then, of course, there's Ouverture of Something That Never Ended, the epic seven-part miniseries he co-directed with Gus Van Sant, in which Harry Styles and Billie Eilish — two of LA's best-known residents today — made starring cameos.

So what can we expect from the show? Well, that's a surprise you'll have to wait for, duh! But if the calibre of the stunts that Gucci has pulled recently are anything to go by — i.e. Alessandro's 'hacking' of Kering stablemate Balenciaga for its most recent collection, Aria — then we should all be gearing up for a fashion blockbuster for the ages.
Tagged: