MM6 Maison Margiela celebrates the cinematic surreality of everyday life
The house invited guests to a favourite Milanese haunt, where they presented a collection that revelled in elevating the ordinary. 
|
24 September 2021, 12:42pm
Images courtesy of MM6
The overheard snippets of conversation; the jolly din of cutlery and clinking glasses; the odd mish-mash of people who all end up the same place for the same purpose: as quotidian as it may seem, the experience of sitting down in a bar or restaurant can often take on an almost cinematic tone, especially after having been deprived of it for so long. Gauging by the show they put on yesterday evening during Milan Fashion Week SS22, it's evidently one of the things that the team over at MM6 Maison Margiela missed most over the long months of lockdown. In celebration of our collective return to our cities' streets, restaurants and bars, they took to La Belle Aurore, an esteemed Milanese trattoria, to host an aperitivo on its surrounding streets.
While the collection itself may not have directly taken after the setting -- despite what a first glance at the primary coloured checks redolent of tablecloths might suggest -- it also leant into the idea of the surreal saturation of once-familiar experience as we discover them anew. A giddy tipsiness seemed to inform the red and spruce green mylar checks printed directly onto écru denim jeans and skirts, subtly skewing with the movements and contours of the wearer, as well as intentionally warped prints seen on a version of last season's gabardine coat, radically abbreviated to create a neat cropped jacket, the house's iconic Japanese origami bag, and jersey-sleeved asymmetrical knits.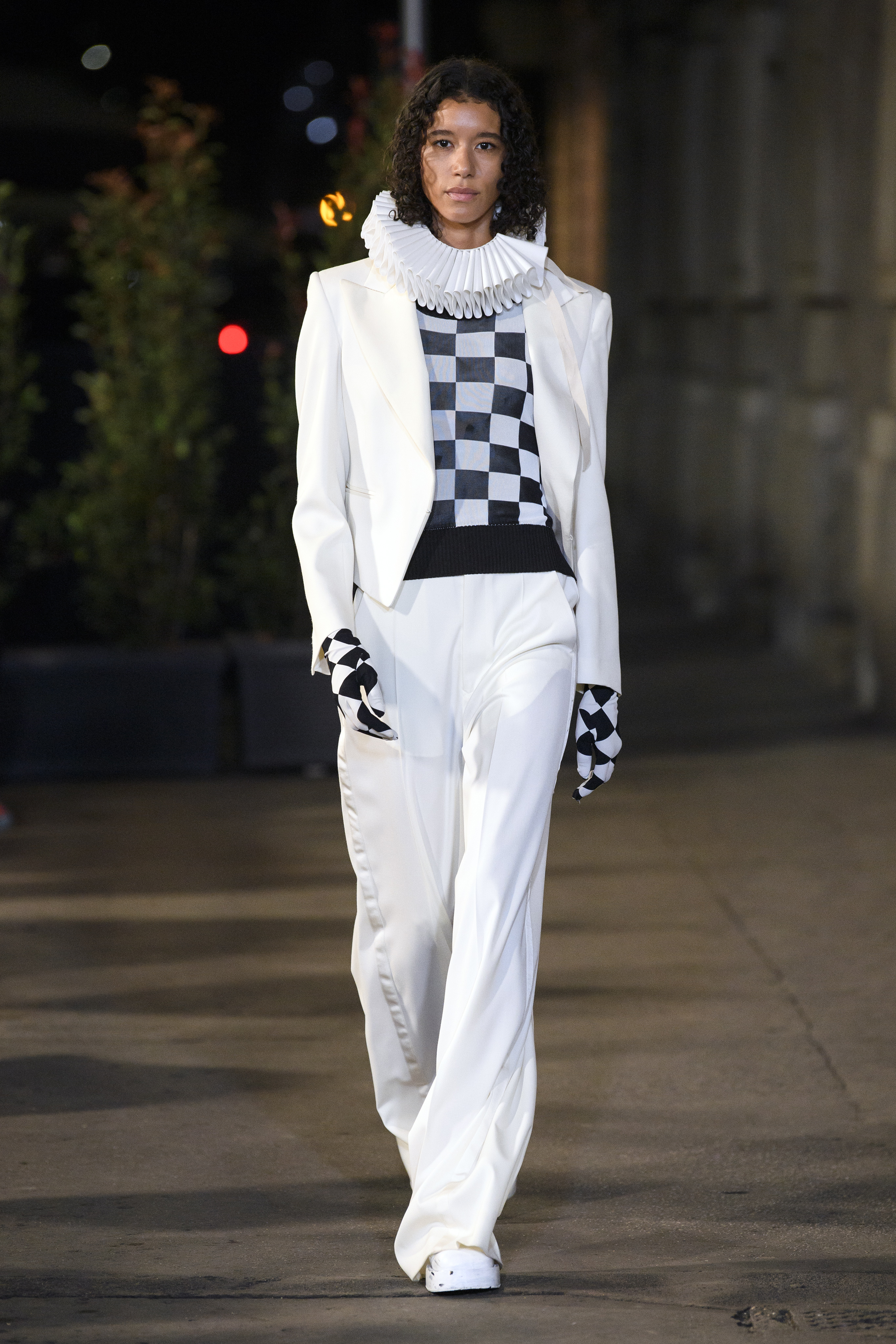 The surreal tinge of this season also owed much to the artists that the MM6 collective had turned to for inspiration. Building on last season's ode to experimental composer Erik Satie, SS22 saw the team explore his writings, as well as the works of surrealist women artists like Claude Cahun and Meret Oppenheim, Leonora Carrington and Dorothea Tanning. While certain motifs -- like the gravity-defying floats of foulards with in-built thin metal wires, and 'impossible' objects like lavender teabags turned into earrings and faux-fur covered luggage that; part of this season's Eastpak collaboration -- subtly nod to their work, it's in the empowered femininity that defines the collection that their legacies are most strongly felt. Offsetting billowing black jersey and satin lining evening dresses are trousers and cycling shorts that bring a sensual body-consciousness to the table, while bateau necklines and sleeveless chessboard tops boldly outline the décolleté.
With its range of motifs, techniques and references, this was a pretty eclectic collection, where it found its throughline, though, was in a sense of breezy irreverence, which shone through nowhere better than in this season's sleeve story. Lopped off and reattached to pleated blouses, the side seams of tailored trousers and rubberised jeans, and even to the back panel of a Marigold yellow leather jacket, which, when tied up, cinched in the waist. As quirky as these accoutrements may seem, they spoke to a sensibility that has long been at the house's core: the commitment to creating clothes suitable for the everyday that are elevated into the supernormal by a skewiff sense of wit, humour and fun.