what to look out for at hong kong centrestage 2019
The four day festival spotlights Asia's fashion industry, from established designers to the next generation.
|
05 September 2019, 4:48am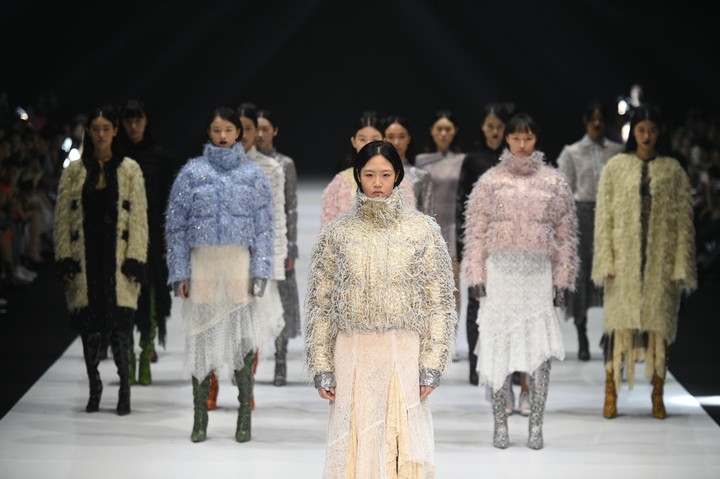 Photography courtesy of Centrestage
With September comes a new season and new fashion month, and although most eyes will look to New York as the kickstarter of the season, in Hong Kong things are starting a little earlier. The 2019 edition of Hong Kong's Centrestage, a trade show and fashion festival focusing on Asian designers. Each year the festival focuses a spotlight on Asian fashion, as established and up-and-coming designers show alongside each other.
Headlining the event this year are designers Anais Mak, representing her homebase of Hong Kong, while New York's Joseph Altuzarra visits the region as a special guest. Both showcased their collections last night to much fanfare from the audience. The Anais Jourden collection showed luxury fabrics, silks and tulle, sometimes set against Nike football shoes, that left the collection feeling energetic and fun. While Altuzarra coloured the catwalk with bohemian and cowboy finishes mixed with moments of glitter, leaving us feeling a sense of inspiration and effortlessness.
Now that the big names on the schedule have had their moment on the stage, our attention turns to the up-and-coming and young designers. With that in mind, here are the Centrestage events to keep an eye out for over the remaining three days of the festival:
112 Mountain YAM
112 Mountain Yam is a Hong Kong brand to know and remember from this week. Designer Mountain Yam, a graduate from Parsons, continues to step ahead by creating contemporary uniform designs that balance functionality and party wear. The brand's choice of activewear and refined tailoring throughout the collection, feels very future trend for the coming seasons. Mountain will be showcasing his new collection at New York Fashion Week together with Centrestage this year, a nod to the importance of both regions to the designer.
The 9 th Hong Kong Young Knitwear Designers' Contest
Hong Kong is the hub for global sales and purchasing in the knitwear trade and this competition seeks to nurture a new generation of knitwear designers in Hong Kong. It assesses each individual's creativity and overall design appearance in knitting technology application. 2019 will see finalists compete for a number of prizes, including a trip to learn about Australian merino wool.
Redress Design Award 2019
Redress is the largest global sustainable fashion design competition founded by eco-warrior Christina Dean, where emerging young fashion designers aim to focus their designs, methods and materials using core sustainable design techniques including zero-waste and up-cycling.
The Hong Kong Young Designers' Contest
Closing out the week is The Hong Kong Young Designers' Contest, which will see the 16 up-and-coming finalists competing for prizes organised with the Hong Kong Trade Development Council across internships, study trips and mentorships with top brands. The judging panel will include special guest and internationally renowned designer, Mihara Yasuhiro. Finalists include Kenny Tian 'accident or incident', Kayan Lam 'Jeux Olympiades' and Enzo Chan 'since 1996'.