mac demarco is the devil in the garden's new video
'Thy Mission' takes the 70s chat show to a wild and unholy place.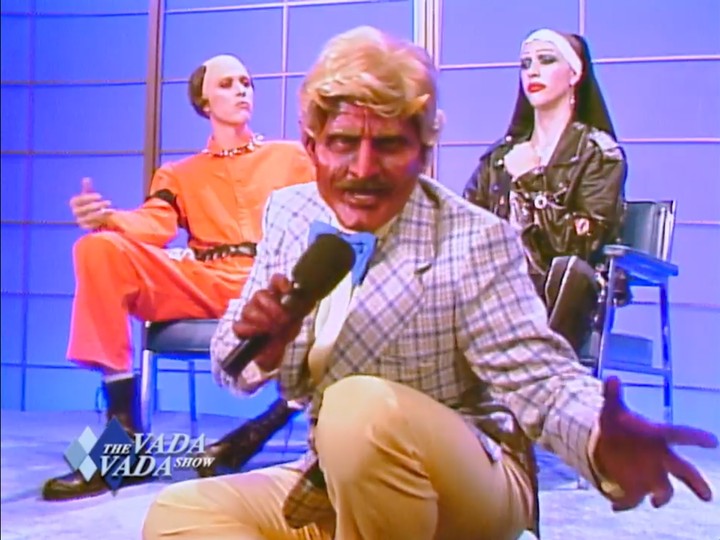 Still from The Garden's Thy Mission
This article originally appeared on i-D UK.
Everyone loves a chat show. Better still a playful pastiche of a 70s chat show starring Mac DeMarco as a particularly demonic looking host. Luckily, that's exactly what you get with the new music video from California punk duo The Garden. For Thy Mission, twins Wyatt and Fletcher Shears called on their pal Mac Demarco to lend a helping hand. "We met up in Los Angeles and spent a full day together with the track, just going back and forth with various things," they told i-D over email this morning. "By midnight this is how it sounded, and we all liked it."
Known for their eccentricity and DIY aesthetic, The Garden stuck to their Vada Vada philosophy (an idea representing pure creative expression) when it came to the accompanying Nadia Lee Cohen-directed visual. "In the video we feature as different guests on this twisted talk show, putting up with the host's antics and drama, sometimes finding ourselves in the middle of it." Dressed up as a series of bizarro individuals, their antics are set to the sounds of typically wild track, Thy Mission, with thumping bass, whistles and sax laid on thick and heavy throughout.
"It tells the story of a talk show host and his fall from grace over time," they say of Mac Demarco's creepy cameo. "The audience is always right. We are all Oscar worthy." Indeed.
This article originally appeared on i-D UK.