Image courtesy of Red Bull.
tierra whack takes us into 'whack world'
i-D talks to the visionary artist about her wildest looks ahead of her first headlining concert in New York.
Image courtesy of Red Bull.
It is crazy to think that it hasn't even been a year since Tierra Whack invited us into her vibrant fantasy universe with her acclaimed album Whack World. In nearly 12 months, the 23-year-old has been nominated for a Grammy, performed at Coachella, and released a series of singles that show-off her witty rhymes and soulful singing. On Monday night, she was recognized at the 2019 Webby awards, where she won Artist of the Year for her ingenious use of the Internet to "create experimental, genre-bending, and imaginative art."
This past weekend, she brought her visionary Whack World to New York, where she headlined her first NYC show at the legendary Rainbow Room as part of the Red Bull Music Festival. Whack brought her award-winning creativity to the sky-high venue, where she transformed the space with surreal rainbow-colored sculptures, like the frowning melted popsicle statue that towered over the stage, and a custom 3D outfit. The setup was very representative of Whack's music, fun and playful, with a hint of something dark.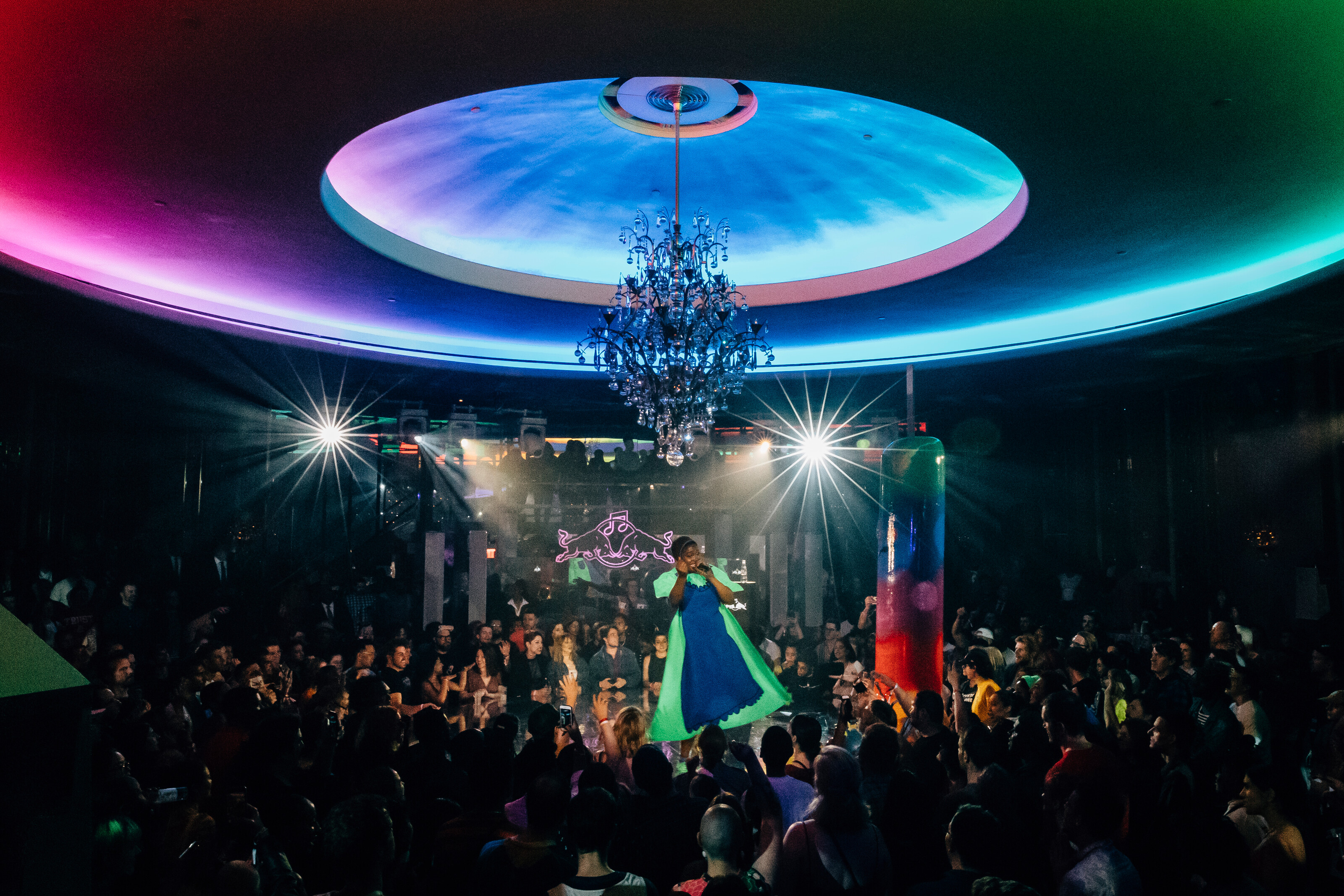 The Philadelphia-based artist, whose colorful costumes and characters have become almost as integral as her music, performed in a bright blue and green dress reminiscent of a child's drawing. "I like to feel like a little girl," she said backstage. A tight hood, which had a face on the back smiled at the crowd as she jumped around the circular mirrored stage.
i-D caught up with Whack before she performed in NYC to talk about bringing Whack World to life.
What was your vision for this immersive concert?
I just really wanted to bring people into my world, Whack World, so that's why we have the cool props and stuff. This is like the first time I'm doing this stuff, so it's just really cool. Then I sold it out, so I really wanted to make sure we had some cool stuff. Merch and everything.
How do you come up with the art for your performances? Like the big popsicle.
I love bright colors and I just thought it'd be cool to have blobs of just like... I don't know, it's like paint, art, it just makes sense for me. Then Gentilhomme Studios, [the founder] Thibaut [Duverneix], who also directed and filmed Whack World, helped with the production. We just came together and brought this whole world to life. This is probably my best show yet.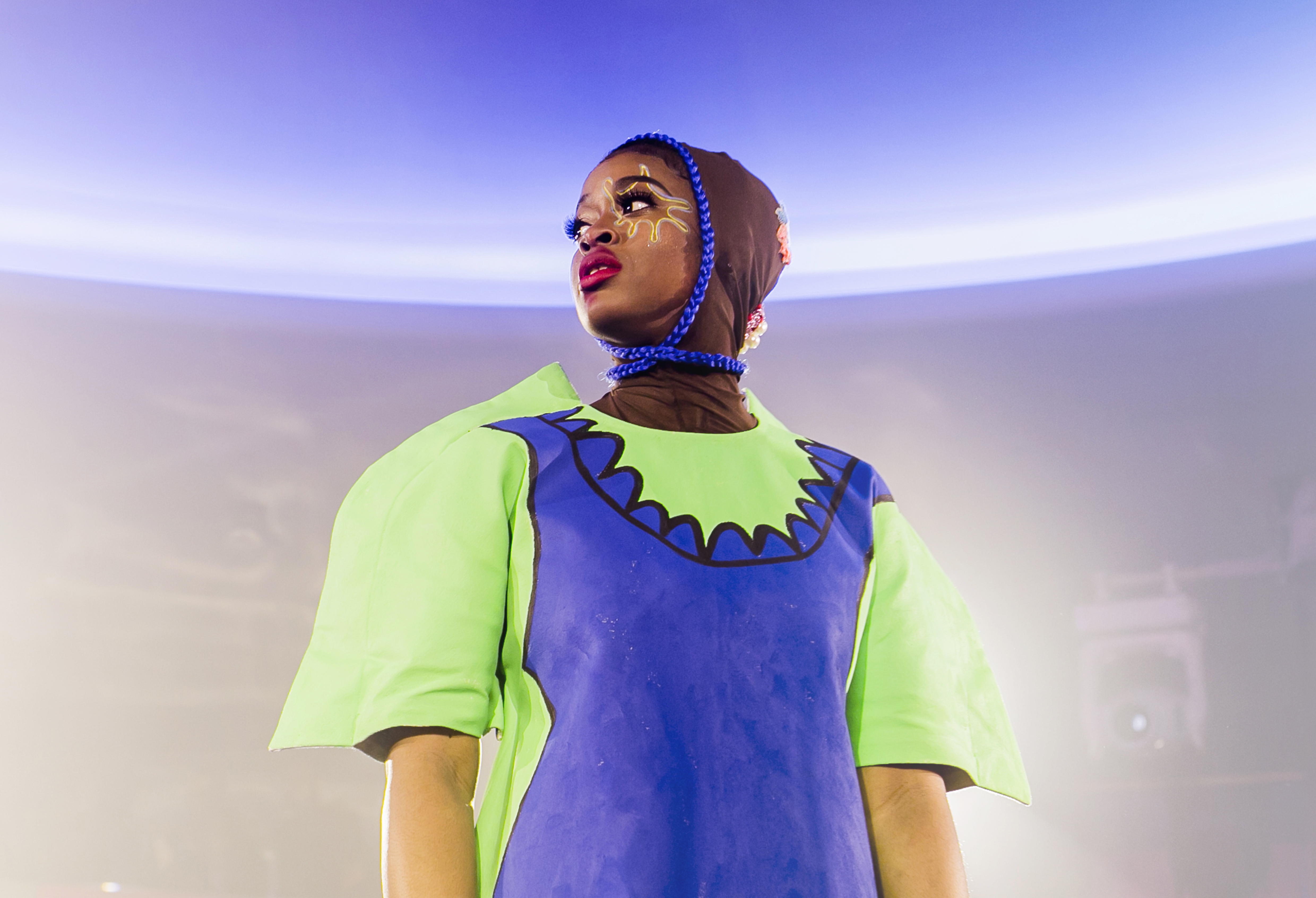 What role do your costumes play in your world?
My costumes are custom, they're always bright and colorful. I don't want to ever be performing and have on the same exact thing as somebody in the crowd. I want to be seen as the performer. I want to be the focus. I don't know, I just think of cool ideas and me and my team bring them to life.
What was this look inspired by?
Me and Shirley Kurata came together and she was like, "Yo, we did so good with Coachella." We did the inflatable outfit, it had fans inside to inflate it. Colorful, bright, we just wanted to take it to the next level. And I'm a huge fan of [JumpFromPaper], which makes the bags that look like cartoons. So I wanted to do something like that.
Like, the 3D ones?
Yeah, I wanted to do that so, she did the front and back. We went through a few cute colors, but we haven't really used green or blue yet. We have done pink, yellow, and orange, so I was like let's switch it up.
When you create the stage design, do you have a set vision or does it change each time?
It just depends. My focus is Whack World, that's been out for a minute so I'm able to just really experiment and just build based off of that. Whack World is literally me from today until 10 years from now. It's just my world so, whatever I decide to do or create people just have to accept. I'm welcoming everyone into my world.
You've worn a bunch of different outfits in Whack World, do you have any ones that were your favorite?
I like "Pet Cemetery." I like to feel like a little girl.
How did you come up with the look?
"Pet Cemetery" feels like a kids song so it's kind of cute and cool to have that type of vibe with the girl scout-like look. Shirley Kurata is just the best person ever, she helps me get my ideas out as far as outfits. I'm really chill, but at the same time I'm really crazy. I'll wear almost anything. We just click on so many levels. More people need to know about her and give her respect.
How did you link up with her?
I saw her on the internet with Pharrell and all these other big names. I was like, yeah, I have to work with her. But I had to wait a while until I was able to have a little bit of something to my name. You got to come correct when you come to work with her.
Do you see yourself doing art exhibits or more immersive spaces? Everything is so visual.
I could say yeah and then you'll never see me do it. I can wake up tomorrow and want to paint a huge mural in Philly or something and just get it done. Or, I might not do that. So I just want to just take it day by day. Just live in the moment.
How does it feel to be able to bring people into your world?
For people to even want to come into my world or take interest in me, it's cool cause I'm just doing me, but people like it. I want them to feel good.