listen to mary j. blige's defiant feminist #timesup athem
The Queen of R&B Soul (and Golden Globe nominee) fosters female healing with "Bounce Back 2.0."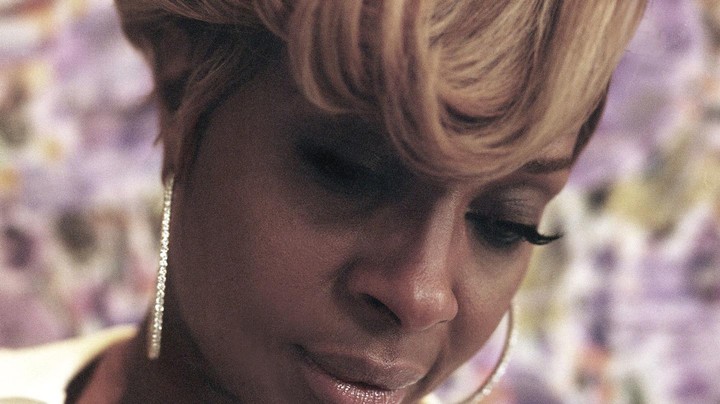 Mary J. Blige knows a thing or two about bouncing back. A tough childhood and troubled adolescence? She earned redemption through music, and her crown as the Queen of Hip-Hop Soul. The very public dissolution of a 12-year marriage? She dropped Strength Of A Woman in the wake of it, and soared right back to the top of the R&B charts. "[Music is] helping to save me," MJB told i-D last year. "It's therapeutic. It helps me get out what I need to get out. And my fans, they need it as well. They need whatever I'm going through so that we can all heal together. It's medicine."
Mary is now giving some of her signature medicine to women ensnared in the sexual harassment reckoning. Today the R&B legend — who gives a heartbreaking performance in Dee Rees's stunning Netflix epic Mudbound — dropped a defiant new feminist anthem on her SoundCloud page. Mary originally teased the track, titled "Bounce Back 2.0," on Christmas Day. "#TimesUp. It's Time to Bounce Back," the singer/actor/survivor announced on SoundCloud. "Ladies let me tell you something," she sings, "We've come too far to lose… Look what we're made of / Beautiful scars on us / This life is what we make it."
Mary scored both SAG Award and Golden Globe nominations for her work in Mudbound. She has become a staunch supporter of the Time's Up movement while remaining quick to remind us that harassment isn't just a Hollywood problem. "I've had to fight since I was five years old ... ever since [the ages of] five to 17 I've been going through hell with sexual harassment," she recently told The Guardian. "By the time I got to the music business it was like, 'Don't touch me or I'll kill you." That no-BS attitude is serving her well in the film world so far — yesterday, which also happened to be her birthday, Mary finally received her star on the Hollywood Walk of Fame.