Photography Rick Kern via Getty Images
day for night festival celebrated resilience with solange and pussy riot
#HoustonStrong! A second rain-soaked Day for Night sent a defiant message during a time of political and environmental uncertainty.
|
19 December 2017, 3:56pm
Photography Rick Kern via Getty Images
In September, the future of Day for Night 2017 seemed uncertain. Hurricane Harvey — the costliest and wettest tropical cyclone on record — had struck metropolitan Houston just one month before the lineup was supposed to be announced. In the end, organizers decided that the festival would go ahead, and that a portion of the proceeds would be donated to ongoing hurricane relief efforts. The result was a defiant celebration of resilience during a time of political and environmental uncertainty.
This was the second year that Day for Night took place inside the old USPS office building in Downtown Houston. The building has been abandoned for years, and spans 16 acres — the exact entry point confusing even local Uber drivers. The building is fascinating for many reasons, including being named for civil rights icon Barbara Jordan. Jordan was a Houston native, but her legacy could hardly be more relevant to a country-wide political resistance movement. On YouTube there is a 15-minute video of the then-37-year-old Jordan calling for Nixon's impeachment on the grounds that he distorted the constitution for political gain. (Jordan died in January 2016, before another scandal-plagued president, Donald Trump, would make Watergate relevant again.)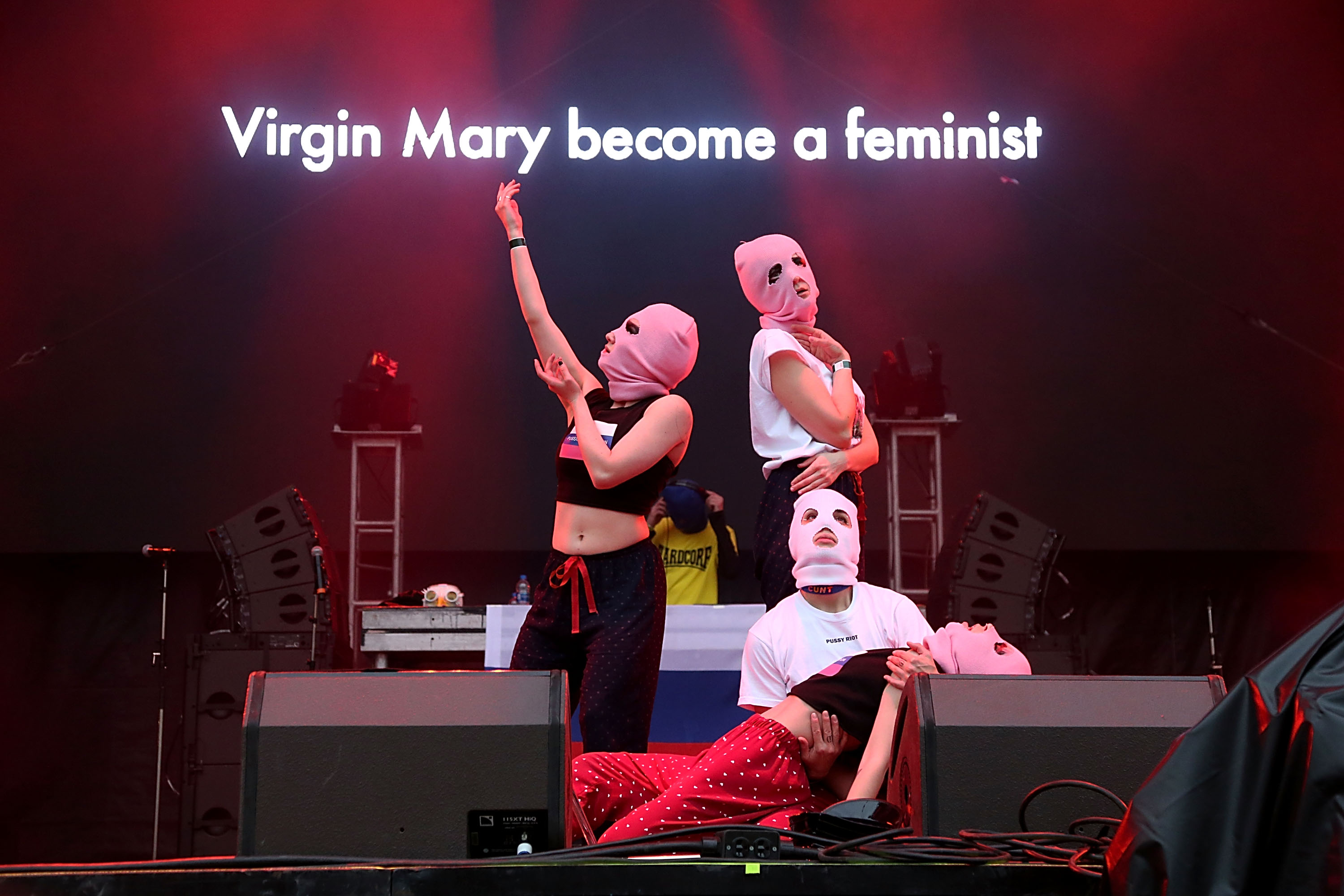 One of the first artists to perform at the 2017 festival was Princess Nokia, aka Destiny Frasqueri. The Afro-Puerto Rican "Tomboy" rapper wore a Supreme ski suit, silk headscarf, and a t-shirt showing Bart Simpson dressed as a pink fur-clad Cam'ron circa 2002. Sonically, Nokia has been inspired by the decade prior to that specific fashion statement, drawing most of Saturday's set list from her expanded 2016 mixtape 1992. The most empowering anthems include the aforementioned, body-positive "Tomboy," and "Flava," an ode to beauty diversity. Nokia recently announced a fundraising initiative for another hurricane-ravaged region — her native Puerto Rico, which is still at the center of a historic humanitarian crisis following Hurricane Maria's ongoing decimation of the Caribbean island.
Soon after Nokia's set, the skies opened up, unleashing a torrential downpour on 20,000 music fans who honestly didn't appear to care. The scene at Nine Inch Nails was somewhat reminiscent of Aphex Twin's soggy performance at the same festival last year, though the air of defiance was even stronger perhaps because the city has recently seen much worse than heavy rain. Unfortunately, electronic equipment is often not so resilient. "I'm being told we've gotta leave the stage now," Trent Reznor yelled after ripping through a couple of classics from the band's 1999 album The Fragile. "Hold on and let me figure out what the fuck's going on."
Solange took the scenic route to her Sunday night performance. The Seat at the Table singer stopped to purchase some lucite-heel cowboy boots before swinging by legendary Fourth Ward chicken shop Frenchy's with the previous night's headliner, Tyler, the Creator. This was Solange's first show in her Texas hometown following a series of Hurricane Harvey benefit concerts called Orion's Rise. Adjacent to her stage, an art installation by global creative studio The Mill — titled UPROAR — tracked social media responses using the hashtag #HOUSTONSTRONG. The installation was intended as a celebration of Houston's resilience in the wake of Hurricane Harvey. "In a building originally named after a fearless civil rights leader, at a festival honoring Houston as a world-player in new media and music, our work attempts to honor resilience, solidarity, and the process of recovery," said the artists Kinda Akash and Will Arnold, "No matter how powerful a storm is, it cannot fully suppress or take over a city and the will of the people."