Photography Antonio Lopez
a lesson on beauty with pat cleveland
The world's first black supermodel and legendary Studio 54 pin-up reflects on the changing face of makeup and the problem with diversity in fashion.
|
21 December 2017, 9:33am
Photography Antonio Lopez
This article was originally published by i-D UK.
At 67 years old, Pat Cleveland has lived an extraordinary life worth more than just a few biopics. At 16 years old she was told by agent Eileen Ford that she would never make it as a model. Not that it stopped her. Pat made history as the world's first ever black supermodel, adored by everyone from André Leon Talley to Yves Saint Laurent. Shimmying down the runway and boogying in Studio 54, Pat will forever be immortalized in fashion history. But it wasn't all smooth sailing. Disillusioned by America's racist treatment of models, Pat moved to Paris and vowed not to return until a black girl appeared on the cover of US Vogue. It was in Europe that Pat reached the height of her success. In 1973, she participated in the historic Battle of Versailles Fashion Show; where an unprecedented amount of black models strutted down the runway, transforming the gala into an international spectacle adored by a handful of hard-won critics. With a recent memoir Walking With Muses behind her, Pat is getting her creative juices flowing in a different field: art. A number of her collages in addition to a self-portrait, are currently on show at Beers gallery as part of group show 75 Works On Paper.
-Violet Conroy
"When I was very young my mom said to me, 'If you don't wear some makeup you're gonna die an old maid. Nobody is ever going to see you.' Can you imagine? That's something that women were afraid of — that they would never be seen or chosen.
Why do we wear makeup? At first I used to hate the idea of putting sticky gooey stuff on my face, because I didn't like the feeling of it; but pain is beauty. So during the 60s, when I was 14 and had just started modeling, I started wearing eyeliner and false eyelashes. I learned how to put them on from my auntie who was a dancer. Sometimes I'd be napping on the couch and my auntie would come over and cut a little piece of hair from the end of my pigtail and I'd wake up and say, "What are you doing with that?" and she would say, "I'm making eyelashes." In those days they would apply lashes dipping each individual hair into some clear nail polish and attach it to your eyelash. That's what people did!
"Makeup allows us to show different sides of ourselves. It's not set in stone, it's supposed to evolve and change."
Wearing makeup made me feel very grown up. I felt like a woman. As a teenager, you want to go out and act older; you put on makeup and dress up to match your makeup. If you wore a red dress, you'd have red lips, if you had a magenta dress you'd have magenta lips. We didn't do blue lips then, that came later on.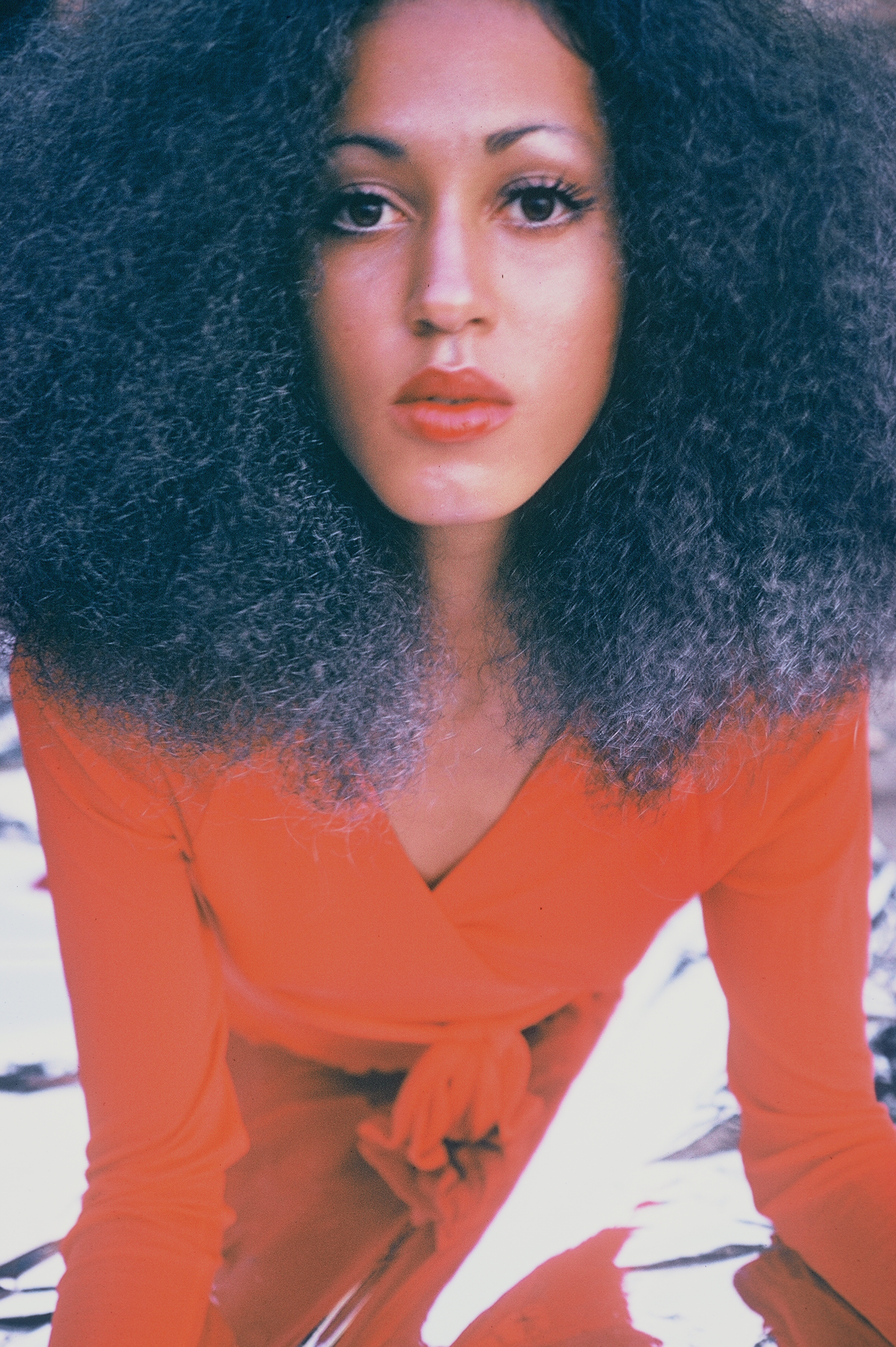 It got very heavy and extreme in the late 60s. We used to wear wigs and cut out both sides of a beer can and put our hair up with them. I remember doing the mod look, which meant you would make a Marlene Dietrich-esque eye — she had an arch at the top of her eyelid which she drew into the fold of the eye. On top of that you would add the eyelashes. They had suddenly invented eyelashes which you could apply in a strip. You would put three pairs on the top, and one on the bottom like Mary Quant. You had an eye that looked like a bird with feathers.
"When it comes to diversity it's all political. It's all about sale — whoever makes the most money."
Wearing all this makeup, I felt exquisite and untouchable. Makeup allows us to show different sides of ourselves. It's not set in stone, it's supposed to evolve and change. We are all just blank canvases but when we want to express the color of our nature we can be dramatic or whimsical. We can go towards the classical or avant-garde. It's such a tribal thing.
Today there's such a different atmosphere when it comes to how you put your makeup on and what you think of yourself. I still have makeup from 50 years ago and it's so different, the way it's contained and packaged. At a certain time we wanted to wear Miss Dior, and smell sweet, nice, and ladylike, but now you can wear a man's cologne. Even the way you go out in the evening is different, are you going out to be sensual and romantic or are you going out because it's star time?
Working in fashion has definitely shaped my understanding of beauty. The thing about modeling is that you're present in a creative process and when you're working with a designer and they choose you, they obviously have some interest in who you are and your kind of beauty — whatever they may see in that. You might not be the most beautiful girl in the world but if you have some sort of charisma or something that inspires them, then you become a muse. I bring a certain kind of energy to the designer's idea, and maybe a different girl brings a different idea. Through the ages there have been so many kinds of beauty. The problem is that everyone thinks there's only one type of beauty, but there isn't — there's a multitude. Now you have girls with spotted skin and all sorts of different things.
When it comes to diversity it's all political. It's all about sale — whoever makes the most money. This is an industry where you have to make money. Some people have a lot of fear — they don't believe their art is good enough to be able to make a choice on their own. They are directed by numbers and businesses and they're obliged by producers. In America, the racial thing is different from what it is in Europe. Beauty is all about business. I can't explain it, I'm somewhere on the fence and I'm always asked this question, it's so delicate. If you're in a jungle with a black person, a white person, a yellow person, and a green one and a tiger comes, who do you want walking behind you? The tiger or the black person or the white person? You just want somebody there that's another human being. Everybody needs to rip off that outer layer because we're just guts, bones, and spirit. Stay in the spirit of love and give everyone a chance to be beautiful. Even when something that is not beautiful is tended to and worshipped in a loving way, it becomes a beautiful thing.
"Everybody needs to rip off that outer layer because we're just guts, bones and spirit."
Being beautiful is just as they say, in the eye of the beholder. It has nothing to do with me externally. My source of beauty is the source that everyone has — the choice to accept yourself. You have to challenge yourself to have the confidence to go forward with whatever it is that you choose to do and see how it works out for you without being afraid or criticizing yourself. Self-criticism is not healthy because you need to grow towards confidence. Confidence comes first within yourself and then see how that works out. Follow as far as you can and don't give up."

Pat Cleveland's work is currently at Beers gallery as part of group show 75 Works On Paper