Photography Thomas McCarty
eckhaus latta's whitney exhibition will change how you think about shopping
'Eckhaus Latta: Possessed at the Whitney' is a fully operational retail store, complete with functional art and live-streamed surveillance footage.
Photography Thomas McCarty
"Right now we're sitting on a bench by Torey Thornton," Mike Eckhaus informs me of the artwork bearing three adults — myself, Mike, and Zoe Latta — plus one dirty tote bag. We're inside Eckhaus Latta's first solo museum exhibition at The Whitney, the museum's first art-meets-fashion exhibit since The Warhol Look: Glamor, Style, Fashion in 1997. Not only can you sit on the stuff inside — you can try it on, purchase it, take selfies in a Susan Cianciolo mirror, and even star in the sinister surveillance footage in a gloomy back room. Eckhaus Latta: Possessed is a fully functioning retail store operating at the intersection of art and fashion, a line Mike and Zoe have toed since they met as students at RISD, studying sculpture and textiles, respectively.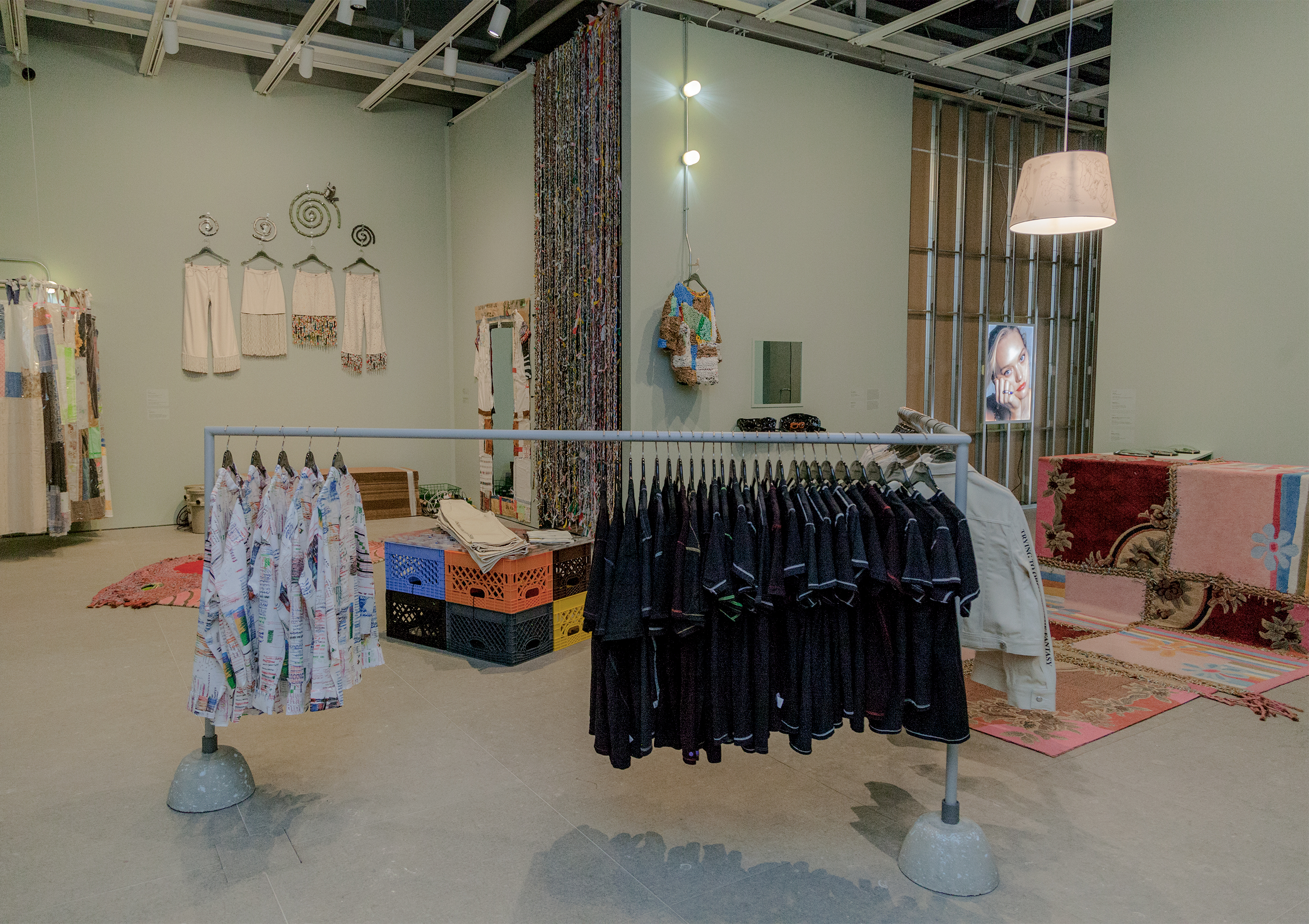 "Eckhaus Latta has always been really multifaceted," Mike says. "This is just another dimension of the work we do and the way we've always considered our work." Possessed is probably more peculiar from the Whitney's perspective than it is from Eckhaus Latta's. Take the brand's actual retail spaces, including the NYC holiday pop-up in a Chinatown mall, which displayed their clothes on repurposed church pews. Or their singular NYFW presentations, where models have demolished walls to a live Dev Hynes soundtrack, and stomped through a giant inflatable dome. Some of the artists in Possessed have modeled in Eckhaus Latta's runway shows, including Cianciolo, who walked through a deserted midtown department store for fall/winter 17. (Possessed isn't the first time the brand has commented on today's discombobulating fashion retail climate, the age of see-now-buy-now and "Everything Must Go!" fire sales.) The brand's use of non-models contrasts, in the Whitney exhibit, with glossy Steven Meisel-style ads, one featuring supermodel Gemma Ward.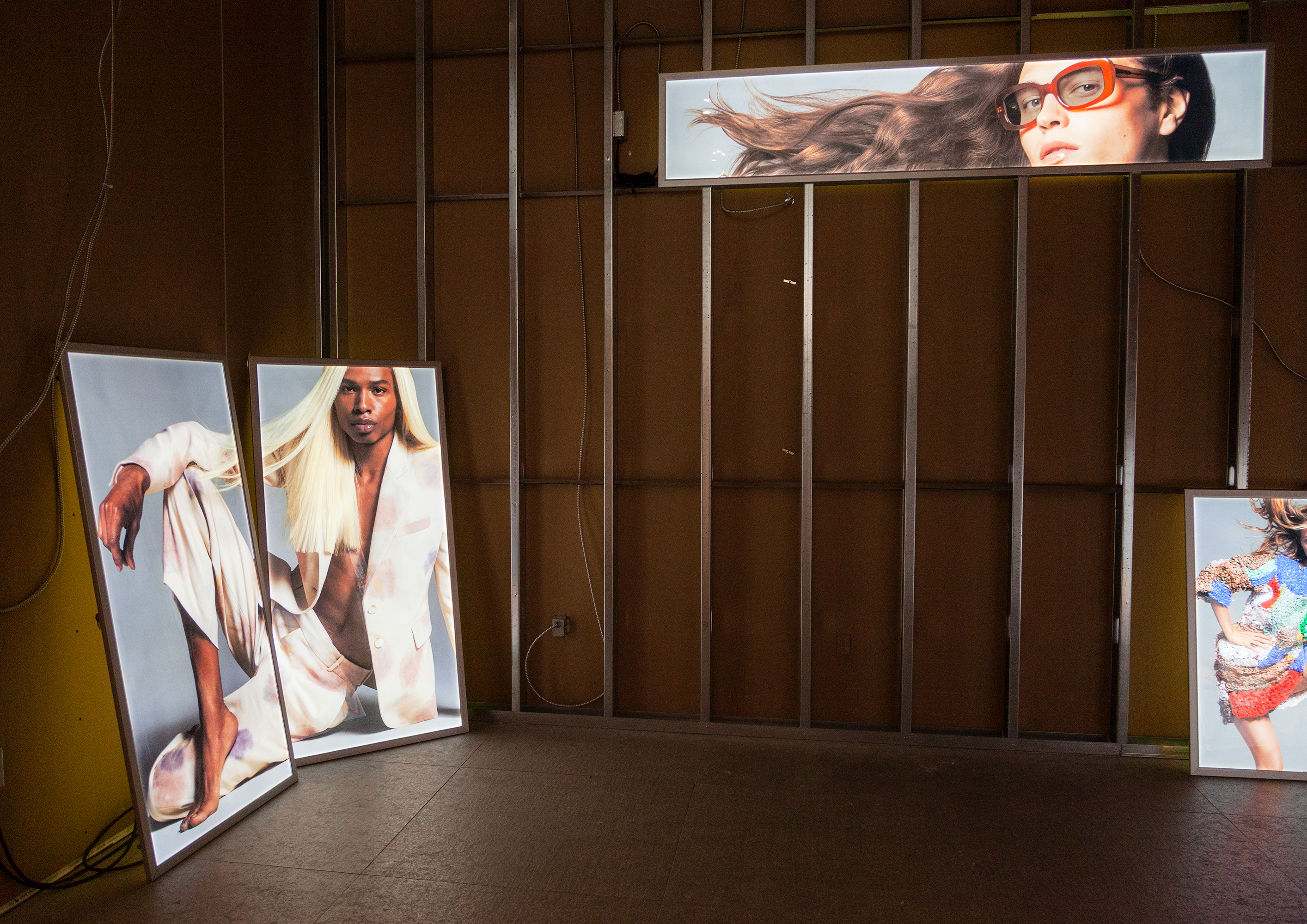 You're unlikely to find fire-sale discount stickers on the Whitney's remaining Eckhaus stock when Possessed shuts down on October 8. Every garment has been crafted especially for the exhibition, from the brand's signature experimental knitwear, to the plastic-beaded denim on the walls, to cozy red-printed poetry sweats ("The way the sun hits America / It was the latest thing to be nowhere / This was the riverbed where they shot Grease / I made you a matte grey smoothie / And you never called.") And nothing will be replaced once it's been sold, meaning the exhibition might look very different if you make a subsequent visit.
Other artists contributing to Eckhaus Latta's shoppable exhibition: Martine Symes, who made the central table structure, Nora Jane Slade, who contributed off-kilter children's seating, and Jessi Reaves, who came to Mike and Zoe with the suggestion of a plastic fan. Many of the collaborators are in their 20s or early 30s, and all are considered part of the Eckhaus Latta family. "All of their work has played with, in one way or another, this conversation between functional object and art object," Zoe adds. "Nora and Susan both have a clothing practice where they make paintings on clothes or collaged clothing. For them to make these other functional objects is still part of their vernacular. They're asking the same questions that we are." Mike and Zoe made the remaining items in the exhibition — including a plastic curtain you walk through into the surveillance room — themselves.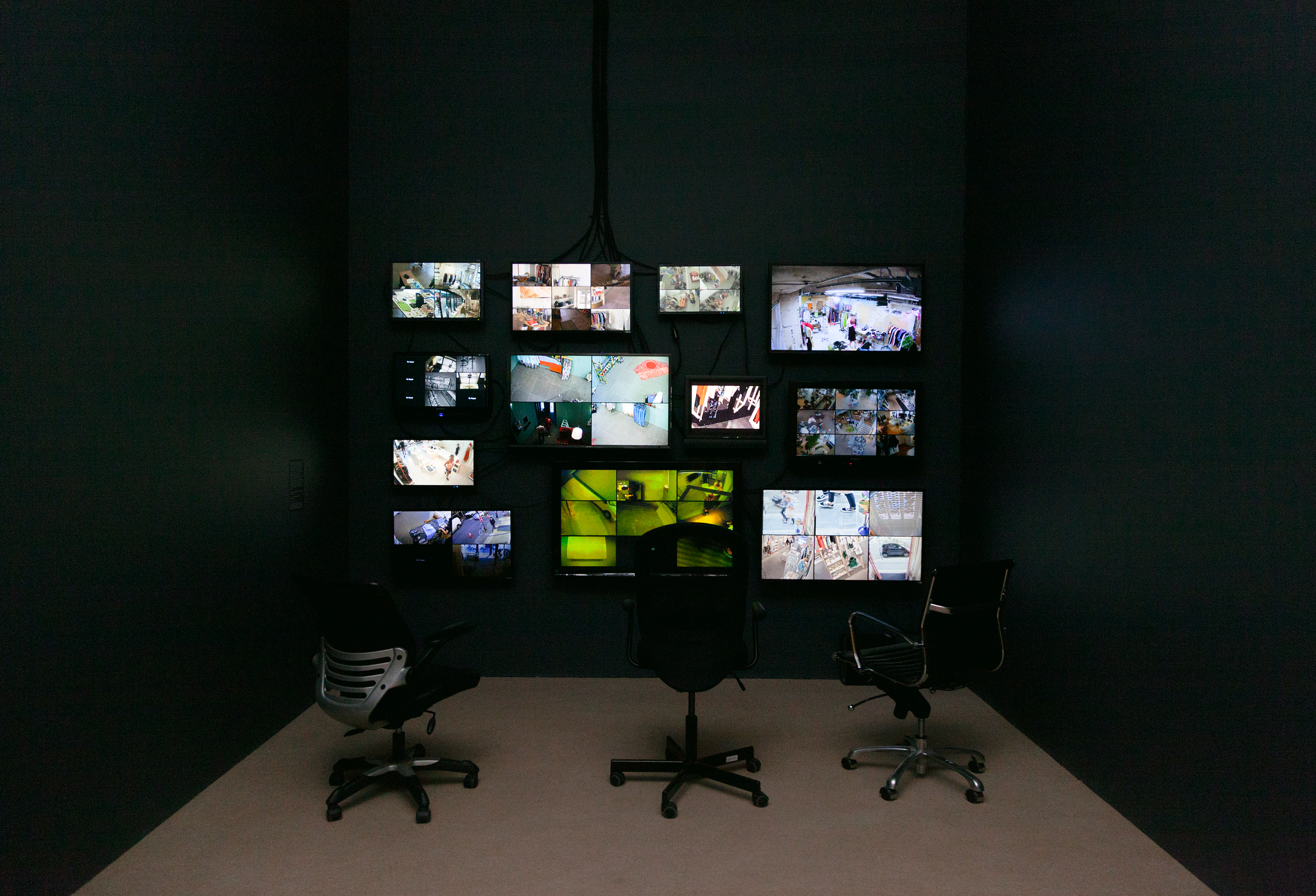 That CCTV footage is the exhibition's unsettling end point. It's a mix of old footage from Eckhaus Latta retail stores, more scripted footage that the designers made for the show, and footage live-streamed from the shoppable exhibition itself. "For us it's not really important to know which one is live and which one is fake," Zoe says. "They all just blend together in this same feeling of observing, this voyeurism of watching people shop." Even if your own in-store habits are irreproachable, Possessed will certainly make you think differently about shopping. And more psyched to see what the brand has in store (no pun intended) for NYFW next month.