Still from Mysterious Skin via Everett Collection
the radical, queer masculinity in gregg araki's dark coming of age films
From 'Mysterious Skin' to 'The Doom Generation,' the filmmaker has continually crafted subversive male characters.
Still from Mysterious Skin via Everett Collection
Gregg Araki is famous for his dark, decadent, and deranged takes on teenage life. His 90s Teenage Apocalypse Trilogy — which includes the endlessly screenshotted, Rose McGowan-starring The Doom Generation — portrayed teenagers in a queer, truthful, neon-saturated way that few, if any, directors have achieved so perfectly since. Yet an under-acknowledged aspect of his films are the boys in them. From the stupid sensitivity of The Doom Generation's stoner boy Jordan White to Mysterious Skin's dreamer prostitute Neil McCormick to the reckless, HIV-positive leads of The Living End, Araki's boys present a kind of radical masculinity to the world.
The queer boys at the heart of director Gregg Araki's upcoming series Now Apocalypse have already lit up the internet's imagination. The STARZ comedy is set to follow Ulysses, played by all-around teen dream Avan Jogia, as he and his friends navigate love, sex, and fame in LA. And Tyler Posey, of Teen Wolf, will play Gabriel, a "charismatic and mysterious guy" who Ulysses meets on a dating app. What makes the show truly next level is that the stoner series will then veer into something of a paranoid, "dark and monstrous conspiracy," and will be executive-produced by Steven Soderbergh (The Girlfriend Experience, Magic Mike) and co-written by the effortlessly brilliant Karley Sciortino (Vogue sex columnist and creator of Slutever).
Predictably, countless fans on Twitter and Tumblr have latched onto the concept of Avan and Tyler playing blissed-out stoner boyfriends. The excitement is valid — the boys in Gregg Araki's worlds have consistently been some of the most interesting, inspiring, and incandescent boys depicted in film and TV over the last few decades. Once you view your first Araki film, your preconceived ideas of how teenage boys can be portrayed in media will instantly fracture and fade away.
My first Araki film was The Doom Generation, which I saw in a Chinatown movie theatre on a date with a dude who looks exactly like how you'd imagine a ripped stoner werewolf would look. So: first date in the dark, no real expectations of what's about to enfold in this 90s movie, and then on the screen is the laughing title "A HETEROSEXUAL MOVIE BY GREGG ARAKI."
My audience and I subsequently met runaway lovers Amy Blue (McGowan) and Jordan White (Duval), who post-clubbing pick up an enigmatic guy named Xavier Red (Johnathon Schaech). If you can't tell from these patriotic last names, this is a perfect movie to watch when you're feeling particularly nihilistic about the state of the United States.
When Xavier kinda-accidentally kills a convenience store clerk (after the cost for their junk food cutely comes up as $6.66), they embark on a hyperreal odyssey that's all sex and violence and neon lights. Legendary movie critic Roger Ebert gave it zero stars upon release in 1995, writing: "He wants to make a blood-soaked, disgusting, disturbing movie about characters of low intelligence and little personal worth." Well, that sounds like Gregg just had aspirations to make a great movie, but you do you Robert.
Some people in my Chinatown screening agreed with Ebert, though, groaning at the splashes of fluorescent-pink blood or over-the-top one-liners. But I was in love with the entire thing — from Rose McGowan's iconic deadpan deliveries to, most of all, the sweet dumbness of actor James Duval's Jordan White. I'd say Duval is actually the realest "teen heartthrob" of the 90s. He's not as blisteringly confident as the boys in similarly dark teen movies like Cruel Intentions's Sebastian Valmont, or Leo in, like, anything. Instead, he's insecure, sad, and naive. But he also emanates this starry-eyed lovestruckness that is intoxicating to watch.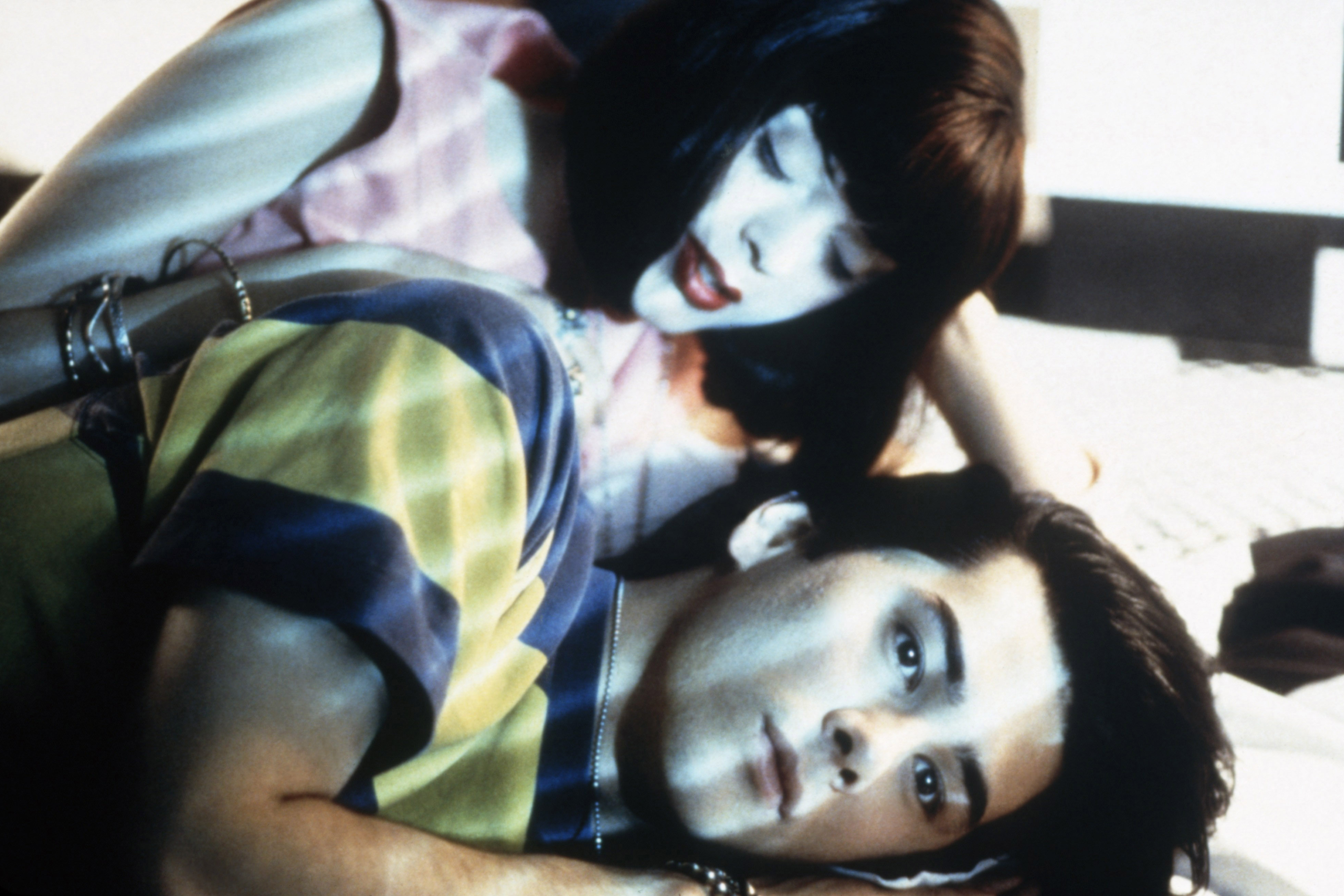 At one point, Jordan says, "'I love you' can mean a lot of things… like 'you'll do 'till someone better comes along,' or 'I can't describe how I really feel but I know that I'm supposed to say this,' or 'Shut up, I'm watching TV" — and you get it, and you get him, and you kind of fall in love with him too.
Duval also plays the lead of Araki's 1997 follow-up Nowhere, another Los Angeles teen dramedy. The New York Times opened up their negative review with the line: "Every lurid, tacky, overheated fantasy you've ever had of depraved Hollywood youth careening down the fast lane into the millennium is splattered comically across the screen in Nowhere." Which, again, sounds like it must be amazing. The review also has the spectacular observation that "characters who aren't flamingly bisexual can usually be counted on to be flagrantly kinky." The boys in Nowhere have names like Dark Smith, Montgomery, Elvis, and Cowboy — and each is more fascinating, fireworking, and freakish from the next.
Araki is perhaps best known for his 2004 masterpiece Mysterious Skin, which can — and should — be written about forever. It's a beautiful meditation on the various ways childhood sexual abuse can damage and shape a life. The central leads are magnetic and heartbreaking, centering on two boys who have been molested by their baseball coach as kids and grow up to become very different teenagers. Joseph Gordon-Levitt plays Neil McCormick, who's very lost, but everyone loves him for it. And while Neil's aware of what the sexual abuse that happened to him, openly rebelling against his demons, Brady Corbet's Brian is stuck replaying disorientating nightmares, convinced that he and another boy had been abducted by aliens as kids. He doesn't connect the dots until his heartcrushing reunion with Neil.
All of Araki's boys are different and important and real in a way many queer teenage boy characters are definitely not. Araki's boys aren't glossy and stereotypical, they're neither incapable or too capable — none of them are the heroes or villains of their stories. The poolboy neighbor from his 2014 suburban thriller White Bird in a Blizzard; all the boys from his other 90s films, like Totally F**ked Up and Splendor. But my personal favorite Araki boys are from his 1992 apocalypse-roadtrip-romance The Living End.
Made on a miraculous 20K budget in an era where Hollywood was terrified of making an honest film about the AIDS epidemic The Living End has this bold, brilliant dedication: Dedicated to Craig Lee (1954-1991) and the hundreds of thousands who've died and the hundreds of thousands of more who will die because of a big white house full of republican fuckheads.
The film itself was an act of reclaiming the idea that AIDS can somehow limit a character or genre in a story. The leads have celestial chemistry: the sensitive movie critic Jon (Craig Gilmore) opposite the James Dean-bravado of Mike Dytrl's Luke. They discuss AIDS and come up with a fuck everything mantra over a breakfast of pink cereal. Luke at one point dreams aloud about driving to D.C. and injecting President Bush with a syringe of their HIV-positive blood ("How much you'd wanna bet they'd have a magic cure by tomorrow?").
Yet, despite the fact that this film centers on this Thelma & Louise style crime-spree/road-trip, the boys never fall completely in line with those tropes. At one point, Jon insists on stopping to shower. "I'm a fag okay, I can't stand being dirty," he says. Later, Luke almost undetectably writes "Jon + Luke till death do us part" into a heart when Jon's looking away — and against the film's blur of motel sex and masculinity and hedonism, it's a heartstopping, completely unexpected moment of defiant love.
Araki has recently directed episodes of some of the biggest teen TV shows of the moment. He was responsible for the premiere two episodes of the second season of 13 Reasons Why; the most homoerotic episode of Riverdale to date; and a difficult, important chapter of ABC's American Crime anthology — and with each show he adds his characteristic color and heart to the boys he depicts. Araki will co-write and direct all ten episodes of his Now Apocalypse, which is promised to have a "flipside of mythic, dreamlike creepiness."
From The Doom Generation's Jordan White to the lovers of The Living End, Araki has unintentionally crafted a guidebook to being a new kind of teen dream — and I can't wait to see how he continues his legacy of beautiful stoners and rebels with Now Apocalypse. Exec Soderbergh additionally stated that, "if [this show] isn't the craziest thing I've ever read, it's tied for first. We will not be responsible for people's heads splitting in half when they see it."