what it means when we choose to 'dress poor'
We look at fashion's obsession with work wear and how clothes can complicate our conversations around class.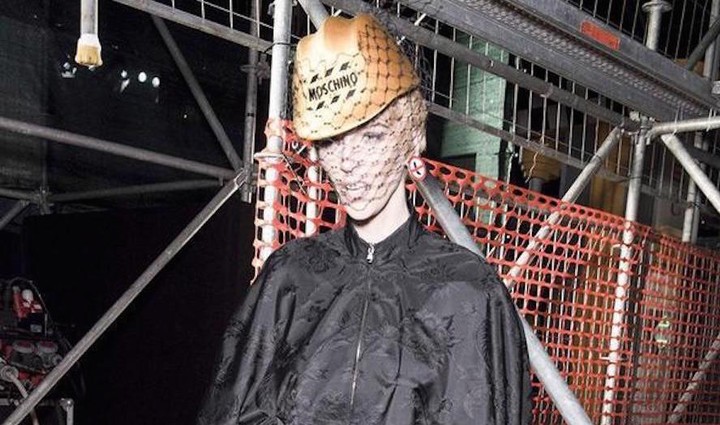 This article was originally published by i-D Australia.
When Nordstrom advertised Prps' Barracuda Straight Leg Jeans in May, their website described them as "Americana workwear that has seen some hard-working action with a crackled, caked-on muddy coating that shows you're not afraid to get down and dirty." The $425 price tag for the dirty denim didn't stop the jeans from quickly selling out online, and for those who missed out the New York-based luxury brand also had Splatter Paint Stretch Woven Jogger Pants on offer for $300. In the words of Prps, they let the wearer "appear as though they stepped straight out of the art studio."
Of course, distressed denim has been around a while, but these examples are extreme. Prps founder Donwan Harrell admitted his manufacturing processes are directly informed by the denim of actual workers, which begs the question: why do consumers able to spend $400 on pants want so desperately to look blue-collar?
In 1967, Roland Barthes said that clothing was a language: an ensemble of symbols combined by the wearer to communicate their sense of self. What we wear says less about who we are, and more about who we want people to think we are. Clothing allows us to shift between classes, or at least appear to. In eighteenth century England wealthy, young men would "dress below" their prescribed class to rebel against a system that they benefitted from. Decades later, during the early 00s, aspiring elites would pair a Louis Vuitton Speedy handbag or items from high end label's more accessible diffusion lines with fast fashion staples to project an upwardly mobile appearance. But gaze forward to the 2010s and the elite crowd's taste for ostentatious fashion has subsided, rocked by the global financial crisis.
AdWeek has highlighted how traditional industrial workwear brands like Carhartt, Dickies's, and Filsonnow now cater to inner city consumers with a penchant for utilitarian cuts and styles — but these worn-in looks are rarely a product of the wearer's hard work and rather the toil of garment workers. As reported by Al Jazeera in 2015, Chinese employees were still being forced to distress jeans with the banned practice of sandblasting — a chemical process linked to lung disease. The true cost of "dressing poor" is being borne by exploited workers, not the consumer.
Of course the rising popularity of heritage and workwear brands also has something to do with functionality. Beyond the messages the garments might send, there's a modern pragmatism to staples like boilersuits and overalls. Their many pockets (once designed to hold various tools for manual laborers) are now likely to hold a smart phone and wallet. The reemergence of these garments on the catwalk and streets also speaks to their lasting functionality. And, when they're not presented as part of a constructed working class fantasy (i.e, covered in fake mud), their subtext is far less sinister.
Fashion commentators have noted the dangers of diluting the working-class into a "scene" or subculture, especially when it requires no effort by the wearer other than financial exchange. So, when does this trend cross over to become classist? When do we move from being inspired to fetishising the clothing habits of workers? If fashion is an unspoken language, as Barthes proposed, those who can afford to choose their fashion might want to speak more honestly about who they are.
Credits
---
Text Melisa Gray-Ward
Photography Jason Lloyd Evans