selena gomez just dropped her first song of the year
And there might just be some '13 Reasons Why' spoilers in the visual.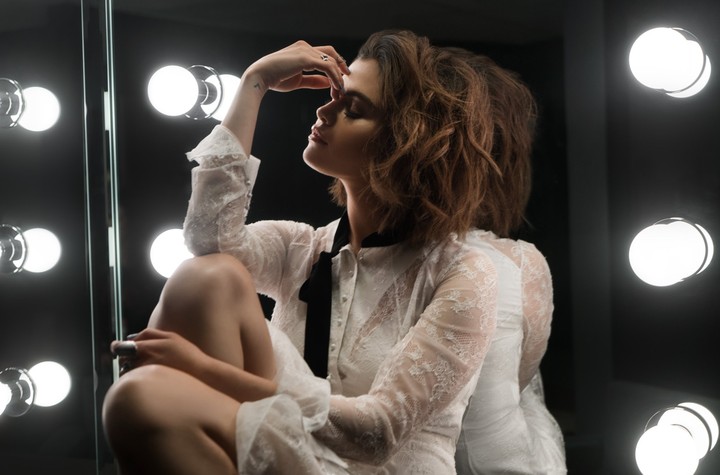 Clearly, Selena Gomez is playing the long game. The singer released four songs last year — the brilliant "Bad Liar," the moody "Fetish," the club-ready "It Ain't me," and the gloomy Marshmello collaboration "Wolves" — but has so far kept pretty tight-lipped with any album news.
Of course, Selena has been busy. Last year she shared how she had undergone a kidney transplant as well as consistently speaking and advocating about her mental health. It's understandable, then, that an album was rightly put on the back burner.
You can't keep her down, though. And now, in full whisper-bop mode, Selena Gomez is back. The singer has released her first new song in over six months, Back To You. Part of the soundtrack for 13 Reasons Why season 2 (the Netflix show that Selena executive produces), it takes a breather from the edgier pop Selena experimented with on Bad Liar, instead leaning into the singer's ability to conjure emotion. It's an acoustic driven song that, like "It Ain't Me" and "Wolves," has flecks of EDM to it, giving it a deceptively jaunty feeling despite the lyrical themes of heartbreak and yearning.
Speaking to Zane Lowe about the song, Selena said that she was drawn to songs with an acoustic tilt to them. "I find that I'm attracted to those kinds of records because you can strip it down," she said. "I love that you can take a song that's super EDM and just play it on acoustic guitar and make it beautiful."
Zane also quizzed her about her long-awaited album, although SelGo was hesitant to give too much away. "I am finishing up the album," she revealed, "but we're also trying to figure out a fun way to take our time. There's no date, there's no idea for it, but I have a lot of music that I've collectively put away… I want it to be great." Nice and vague, then.
What we do know, however, is that she's been working with Julia Michaels and Justin Tranter — the hit songwriting duo who helped Selena bring us "Good For You," "Hands to Myself," and "Bad Liar." Essentially, this album is gonna bang. Until then, we're probably going to be playing Back To You, which you can listen to below, and prepare ourselves emotionally for the second season of 13 Reasons Why.
This article originally appeared on i-D UK.
Tagged: