fenty beauty released an empowering acne coverage tutorial
But when will the brand release skincare products?!?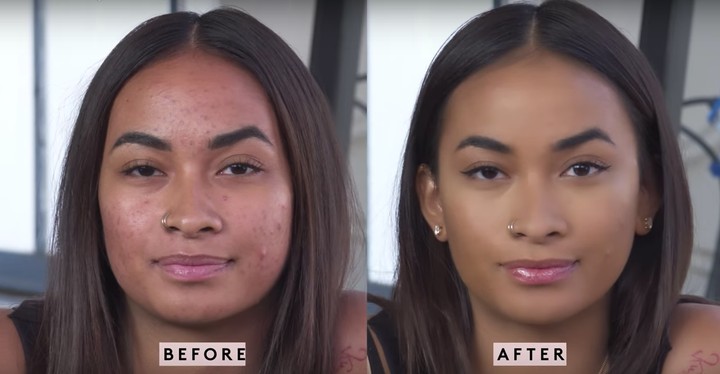 Screenshot via YouTube
Rihanna's Fenty Beauty is more than a makeup line. The powerhouse brand has focused less on a specific standard of beauty and more on how its products can boost our self-esteem and promote inclusivity, from its wide-range of foundation tones to its gender-neutral ads. Its latest makeup tutorial fits perfectly into the acne positivity movement, removing the taboo and stigma around sensitive skin by showing us how to achieve fierce everyday coverage. Ysabelle, a dancer, demonstrates how she uses Fenty's foundation and Match Stix to cover her pimples and splotchy skin. By the end of the seven-minute video Ysabelle looks fresh, dewey, and noticeably more confident.
Fans are grateful for the candid, relatable tutorial. "Love how you included videos catering to people with acne too instead of perfect models," one viewer wrote. The video is a step away from makeup brands not acknowledging the very real, everyday reasons we use makeup. Often, it has nothing to do with the male gaze.


The acne positivity movement strives to help teens and adults embrace their breakouts and stop feeling "dirty" or "freakish" because of them. Acne affects more than our skin. The self-consciousness it can birth has serious psychological effects, studies have found, contributing to depression and anxiety.
Rihanna is not the only celebrity to show love towards acne. Justin Bieber has moved on from his Proactiv days and started posting unedited photos of his pimples on Instagram. And a host of young artists are tackling our societal fears towards pimples. Photographer Peter DeVito created a series of portraits featuring models putting their pimples on full display, deliberately drawing our attention to their breakouts with phrases like "Love Yourself" written over them.
Now we're just waiting for Fenty Beauty skin care products.
Watch Fenty Beauty's empowering guide to acne coverage below: