size-free and genderless, diesel red label shows that unwearable denim can be worn by everyone
After giving us thigh-high UGG boots last season, Y/Project's creative director offers up a capsule collection that celebrates its imperfections.
Image courtesy of Diesel
Who?
Back in January Shayne Oliver launched Diesel Red Label -- the Breganze-based brand's new incubative platform that allows select designers to reinterpret its codes -- with a sex-focussed reimagination of denim's iconic pop culture moments. How do you build on his warped 2018 take of Justin and Britney's 2001 matching tuxedos Grammy look, or an oversized jacket in Friends-blue? Step forward Glenn Martens and his twisted reworking of wardrobe staples. From the moment he replaced the late Yohan Serfaty at Y/Project, the Bruges-born former Gaultier junior designer turned a label in mourning into one of Paris' most dynamic forces. It continually pinballs between sensory-disturbing ugliness and imagination-igniting creativity by elevating the familiar to the otherworldly. Glenn's thigh-high UGG boots were one of autumn/winter 18's most talked about items. For only his second collaboration, the capsule collection for Diesel Red Tag could well be spring/summer 19's most talked about range.

What?
"For me, Diesel is so democratic," Glenn explained as his mostly street cast models changed places on the scaffolding-supported stage. "Its products talk to every type of person, from all different backgrounds. I grew up with Diesel. It's such a straight brand for everyone so we wanted to play with that." So play is just what Glenn and the Y/Project team did. Inspired by Diesel's Go With the Flaw autumn/winter 17 advertising campaign, they took everyday basics and distorted them to the point at which they become a struggle to wear. The pieces are inspired by wardrobe basics, but there are conscious pattern manipulations, such as the hemline or waistband of a jacket being seven sizes smaller than the actual garment As waistbands were nipped in, jeans were lengthened, and warped jackets had their buttons twisted -- the imperfections challenged the wearer. "It's about embracing the mistake and owning it," Glenn explained. "Wear each piece in your own way to make it work for you." To illustrate this point, the diverse cast each wore the same piece, in the same size, in totally different ways.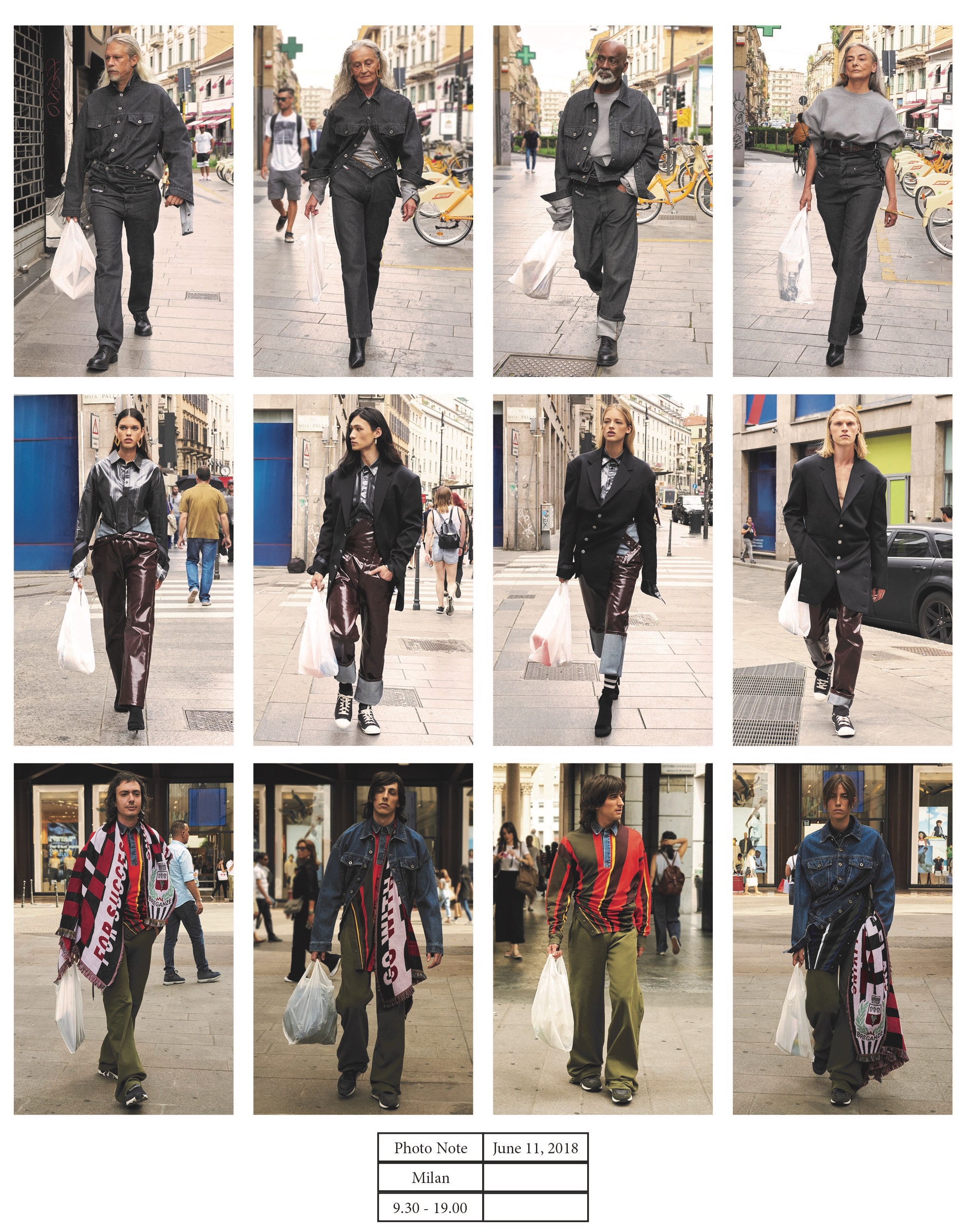 Wow?
The accompanying lookbook was shot by the Dutch-born conceptual artist and photographer Hans Eijkelboom. While his People of the Twenty-First Century book -- a street style documentary series shots over two decades that connects a diverse group of people through one simple item -- mirrors the aim of Marten's capsule, this commission is Eijkelboom's first fashion collaboration. "Simultaneously mundane and compelling," is how the Guardian described the influential book, but it could equally be used to describe Diesel Red Tag. The pairing is genius. "He's been approached many times over the years but he was attracted to the idea that one jacket or one pair of pants connects so many different people, in different ways," Glenn explained. So, Eijkelboom took to the streets of Milan and shot a new series, which then inspired the Fabbrica del Vapore presentation. The installation featured four models per tier, in six ascending rows with each group of models wearing the same look but adapted in different ways. "We're underlining that these pieces that could be seen as "unwearable" can be worn by this cross-generational group of 24 models and therefore are totally wearable."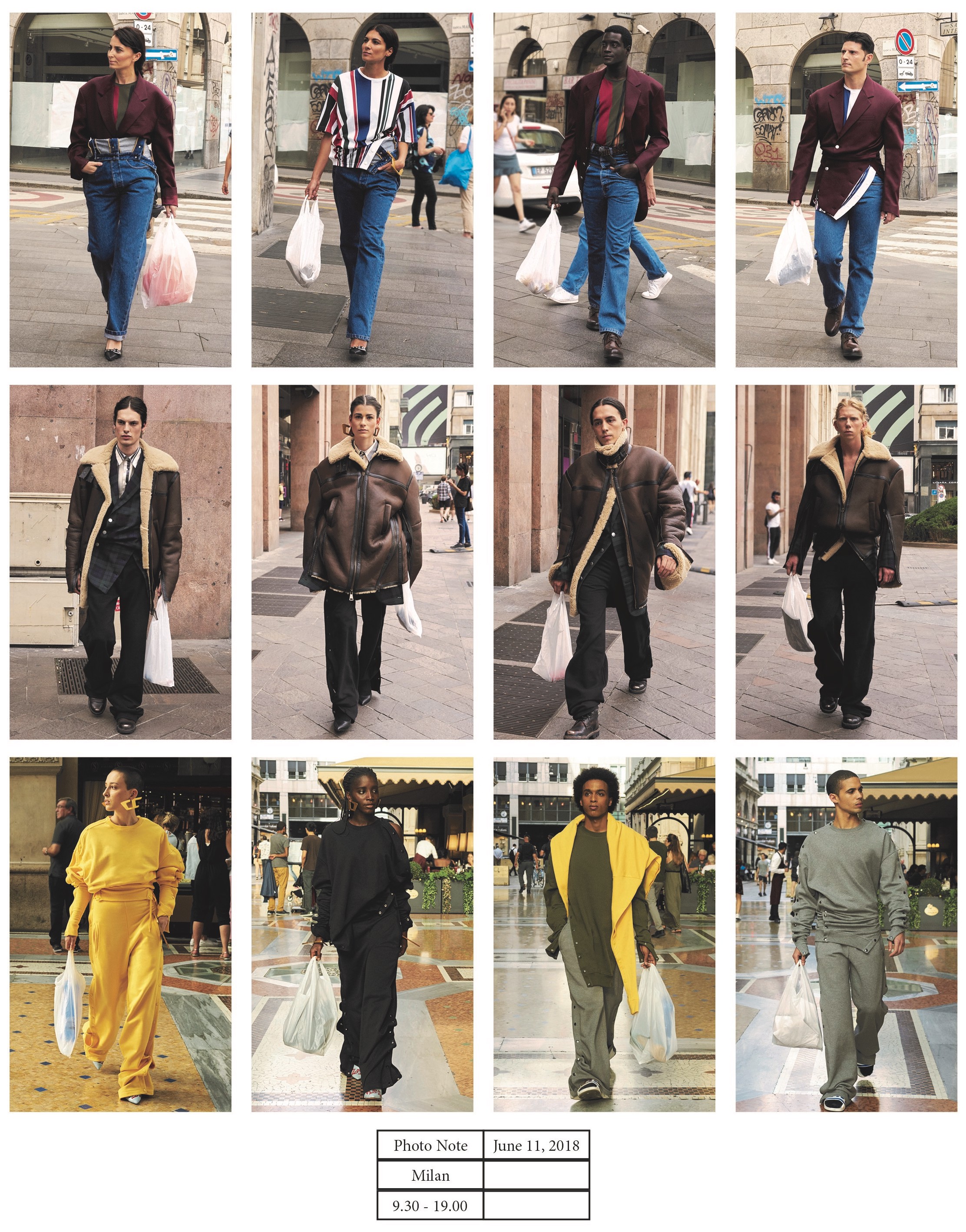 The Diesel Red Tag by Glenn Martens collection will be available from the end of November 2018.
This article originally appeared on i-D UK.