an exclusive look at maison michel's new campaign, shot by dexter navy
We spoke to the woman behind the masterful hat label.
|
07 November 2017, 5:54pm
Photographie Dexter Navy
This article was originally published by i-D France.
Priscilla Royer's CV is impressive. She studied at Central Saint Martins, had a stint in Vivienne Westwood's studio for the creation of the Red range, spent time at Studio Berçot, the Parisian fashion design institute, and launched a label with her sister, Pièces d'Anarchive, which resulted in her being awarded France's prestigious Andam Fashion Award in 2012. Side-stepping from fashion to accessories, it's now the world of hats in which Priscilla gets a sense of fulfilment, as the art director of Maison Michel.
Though at first though hats seem like a pretty straightforward accessory, there's nothing simple or easy about them. They are a step risked by few, a item that can easily border on the ridiculous, or all too quickly become a fad. Hats can also be a form of prestige, of fantasy. They're symbols embedded in fashion's collective imagination thanks to Maison Michel, among others, which has been putting hats on the heads of design studios since 1936. A Parisian house that has won over the likes of Chanel, Givenchy, Nina Ricci, Guy Laroche, Lanvin, Christian Lacroix… It is in the middle of this history that Priscilla Royer has chosen her new challenge: to remove the sense of ostentatiousness and pretension that can cling to hats -- to actually make the accessory wearable. She's giving headwear a new lease on life, one that's young and free. That's Priscilla's mission, which began in 2015, and is clearer than ever. The new Maison Michel campaign, shot by photographer Dexter Navy and titled The Mad Hatted, perfectly exemplifies this manifesto. We asked Priscilla a few questions about the new collection (from which we want everything).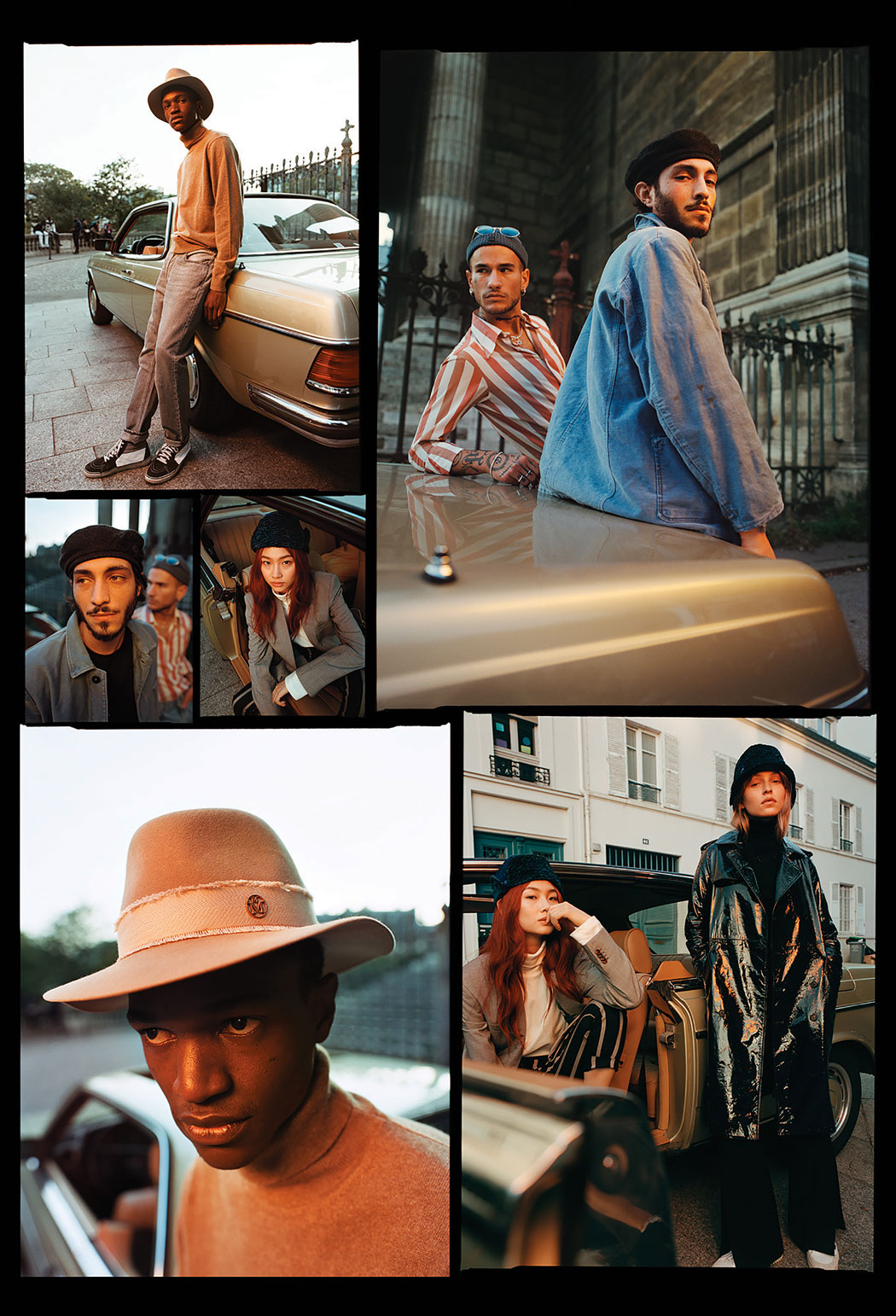 What led you to working with Dexter Navy for this collection campaign? To me he really represents the spirit of the time, he is part of this whole movement that is starting to become apparent. He is kind of the leader in what he is doing. He's got a collage-with-a-dash-of-spontaneity mentality, which suits Maison Michel.
What was the idea behind the campaign? We spent a day out in the 10th arrondissement of Paris with a cast of kids. The idea was that nothing about it would be surprising, that their attitude and the hats alone create eccentricity. For the cast we mixed models and street castings. They wore their own clothes with some pieces from my wardrobe, we kept it very free. Dexter had freedom too, it was a dialog. We improvised, it was really enjoyable.
How would you define Maison Michel's message? It's a hat for all circumstances. That's something I think I brought to Maison Michel -- the diversity and variety of products that we have today offers something for every personality, every age, every mood.
How did you transition from fashion to accessories? Actually, they are kind of the same. From the moment when you've got an idea, you can realise it with hats like you do with clothes and other accessories. Anything is possible. You just need to adapt yourself to the constraints of patterning and form. When it comes to hats, there's a whole raft of materials that can work for clothes too. There's always a story to tell.
Do you remember the first pieces you created? I cut up my old socks by removing the heels and using them to make small hats that I'd adorn my Barbie with. With the rest of the sock I'd make her tube dresses. It was on a miniature scale and it worked really well. I've got four sisters so, along with my cousins, we'd organise fashion shows and I would task myself with clothes and atmosphere… they were my guinea pigs!