the problem with kim kardashian saying she "does not see color"
Kim's response to critics of her Aaliyah Halloween costume has only caused more backlash.
|
06 November 2017, 8:01pm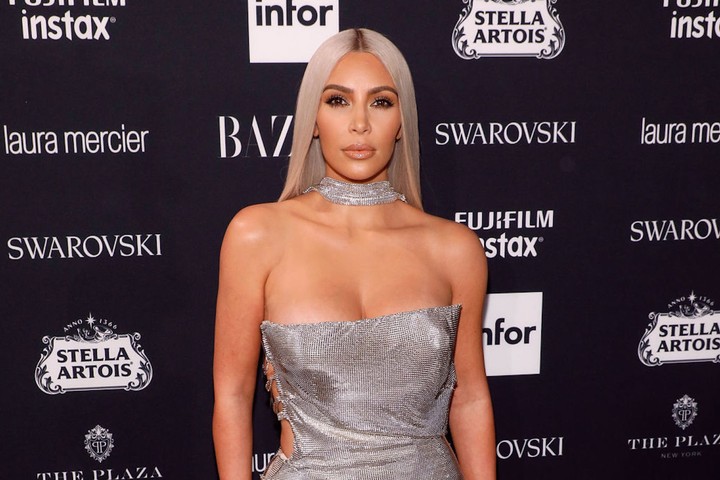 Taylor Hill/ Getty Images
Halloween has long since past, but some fans are still upset about Kim Kardashian's costume. Kim dressed as Princess of R&B herself Aaliyah, wearing a diamond encrusted bra and leather pants inspired by the "Try Again" video. It's a choice some critics have described as cultural appropriation. "Legend or not Aaliyah is a black woman and you're not. It's offensive and you shouldn't push this limit, but ok…" one Twitter user replied to Kim's video of her look.
Kim has now released a statement on her website, saying "I wasn't dressing up as a race or culture but as a woman I admire and think is amazing, so I don't agree honestly." The response has only earned her more criticism, it seems. In particular, Black Twitter has not taken kindly to Kim's explanation that "we do not see color in my home."
2017 has been a year of callouts for the Kardashian clan. The family has repeatedly been accused of cultural appropriation (see: the time when Kylie and Kendall sold t-shirts with their images superimposed over photographs of Tupac and Biggie). And who can forget the maelstrom Kendall's tone-deaf Pepsi commercial caused. The advertisement, people pointed out, seemed to suggest a soda (brandished by a white woman) could resolve tense race relations in America. And then there was the backlash after Kendall graced the cover of Vogue India's tenth anniversary issue. You get the point.
There is a lot to unpack in Kim saying she "does not see color" in her home. Particularly because she is the mother of two mixed-race children and married to Kanye West, a black man who has repeatedly spoken out against discrimination. People of color are not asking the world to "not see color." Not only is that impossible, but it ignores the centuries of racism, disenfranchisement, and discrimination we have — and continue to — face. We want you to see our culture and heritage, and respect it.

Kim has previously been more thoughtful when discussing race. In the September issue of Interview, she talked about being conscious of raising mixed-race kids and making sure to surround North and Saint with people who look like them. "Kanye always has his family around and people who look like my daughter — that's important to me," Kim told Janet Mock during the interview. "She's obsessed with her curly hair, and if she finds someone who has the same hair, she runs to them and is like, 'You have curly hair like me?' And we get to talk about it. We also talk about it with my niece [sister Kourtney Kardashian's daughter] Penelope, because she and North look really different, but they're best friends and they're together all the time."
Kim's costume likely came from a place of good intention. She has expressed her love for Aaliyah before. In August, she dressed North up in an oversized t-shirt screen-printed with images of the singer. And Kim has been paying homage to a host of influential women this year. She was styled as Jackie Kennedy for the Interview photoshoot and also dressed up as Cher and Selena this Halloween (there were a lot of costumes).
Kim's Cher tribute felt authentic and personal. Cher shares Kim's Armenian heritage and has spoken out, like Kim, against deniers of the Armenian genocide. Kim has repeatedly rocked ankle-length tresses like 70s Cher, and Cher has made it clear the appreciation is mutual. The two costumes illustrate the clear line between appreciation and appropriation. In fact, moments of solidarity like these illustrate that "seeing color" is often not a bad thing at all.
Read Kim's full response to critics of her Halloween costume below:
"When I was deciding what I wanted to be for Halloween this year, I had a lot of ideas that I narrowed down to musical icons and my second costume was Aaliyah. The look was inspired by what she wore in her 'Try Again' music video. I wore a custom bra top and J Brand leather pants. Ariel Tejada did my makeup and Chris Appleton did my hair.
Aaliyah was such an amazing person and she will always be a music legend. I saw online that some people were offended by my Halloween costume and I'm sorry if that offended anyone, but I wasn't dressing up as a race or culture, but rather as a woman I admire and think is amazing, so I don't agree honestly. I play every kind of genre of music in my home and I like for my kids to be exposed to many different artists. For me, it's always about love and respect. I loved that Kourtney was Michael Jackson for one of her costumes, and that my son was Axl Rose. We don't see color in my home. We were paying homage to people and artists we love and respect — it's that simple!"