SZA wears T-shirt Astrid Andersen. Dungarees Napa by Martine Rose.
how sza became the definitive sound of 2017
i-D first met SZA in 2013. Newly signed and about to drop her third mixtape, she oscillated between suburban teen and R&B superstar. Now, four years later, having released her delayed but critically-acclaimed debut album, Solána Rowe has taken control.
SZA wears T-shirt Astrid Andersen. Dungarees Napa by Martine Rose.
This article originally appeared in The Sounding Off Issue, no. 350, Winter 2017.
"My sad ass?" SZA laughs, on being told her debut album still plays on loop in the i-D office. "Well, thank you. I'm so pleased! Sometimes I listen and I'm like, 'Damn girl, you really sad,'" a broad smile spreading across her face. It shouldn't really come as a surprise a musician regarded for her vulnerable lyricism is so sincere and self-aware. Having dropped the album a couple of months back, and now on the relentless publicity tour that follows, interview-fatigue could be forgiven. Yet the perfunctory or contrived answers one might expect of someone so successful never arrive. Sat in the window of her hotel room overlooking Shoreditch on a warm summer's evening, SZA is relaxed, smoking, and laughing uproariously with her best friend and creative collaborator Sage. Engaged and focused throughout, eager to talk, and remarkably eager to listen, she's soon discussing the British monarchy, Brexit, and the murder of Jo Cox ("That was a fucking scandal, I'm shook!") with as much fervor as she discusses her life and music.
The album in question, CTRL, is spacious, heartfelt, and honest. It's 45 minutes of sparse, luxurious alternative R&B, that ruminates on love, loss, betrayal, angst, anxiety, and insecurity. Pitchfork called it, "a raw R&B album that constantly tests the borders of the genre." P Diddy tweeted, "Y'all have to get the new @sza album!" Cover star Kendrick Lamar, ever sober, wrote, "Stellar performance and story telling. Very proud of this woman." Solange simply posted a video of her and Kelela dancing and singing to " Love Galore". If that's not high praise, what is? Following delays caused by internal conflict with her label – or so tweets by SZA last year would suggest – when CTRL went live in June the music industry stood to attention. Then, when CTRL: The Tour began in August, social media soon filled further with the sound of veneration and emotion, from young teens to rap royalty, @addictedtosza to @champagnepapi.
It's four years since SZA joined Top Dawg Entertainment, the LA-based label to which she is signed and the home of Kendrick Lamar. "When [TDE] signed me, they handed me a check and were like, 'What do you think?' I was like, 'Sure, ok…' I had this check in my pocket but I didn't have enough money to get to the fucking bank when I got off the plane back to New York." Today she's also signed to major label RCA, and only $2000 away from paying off her student loan, something she never thought she'd do. But despite her financial change in fortune, Solána Rowe remains as resolutely humble as she was back when i-D shot and interviewed her just after getting signed. "You guys changed my life", she says, eyes lighting up at mention of Zach Wolfe's images, taken in a park in LA. "That was the first time, and the only time, I've felt beautiful doing fashion. Any magazine that's shot me after that references your shoot. When you're like 190 pounds, dark-skinned, and a new artist that no one really cares about, people don't really take the time to make you look beautiful."
Candid moments like this punctuate SZA's entire conversation. It's through this openness that she's recently found herself becoming a poster girl for those who don't quite know where they belong. Though unequivocally talented and ridiculously beautiful, SZA is all too aware of the differences between her and other famous musicians. "How many thick, black women are there singing whatever I'm singing, surrounded by rappers, but also from the suburbs?" she remarks, upon being asked if she ever finds herself typecast. "I can't really judge someone else for judging me!"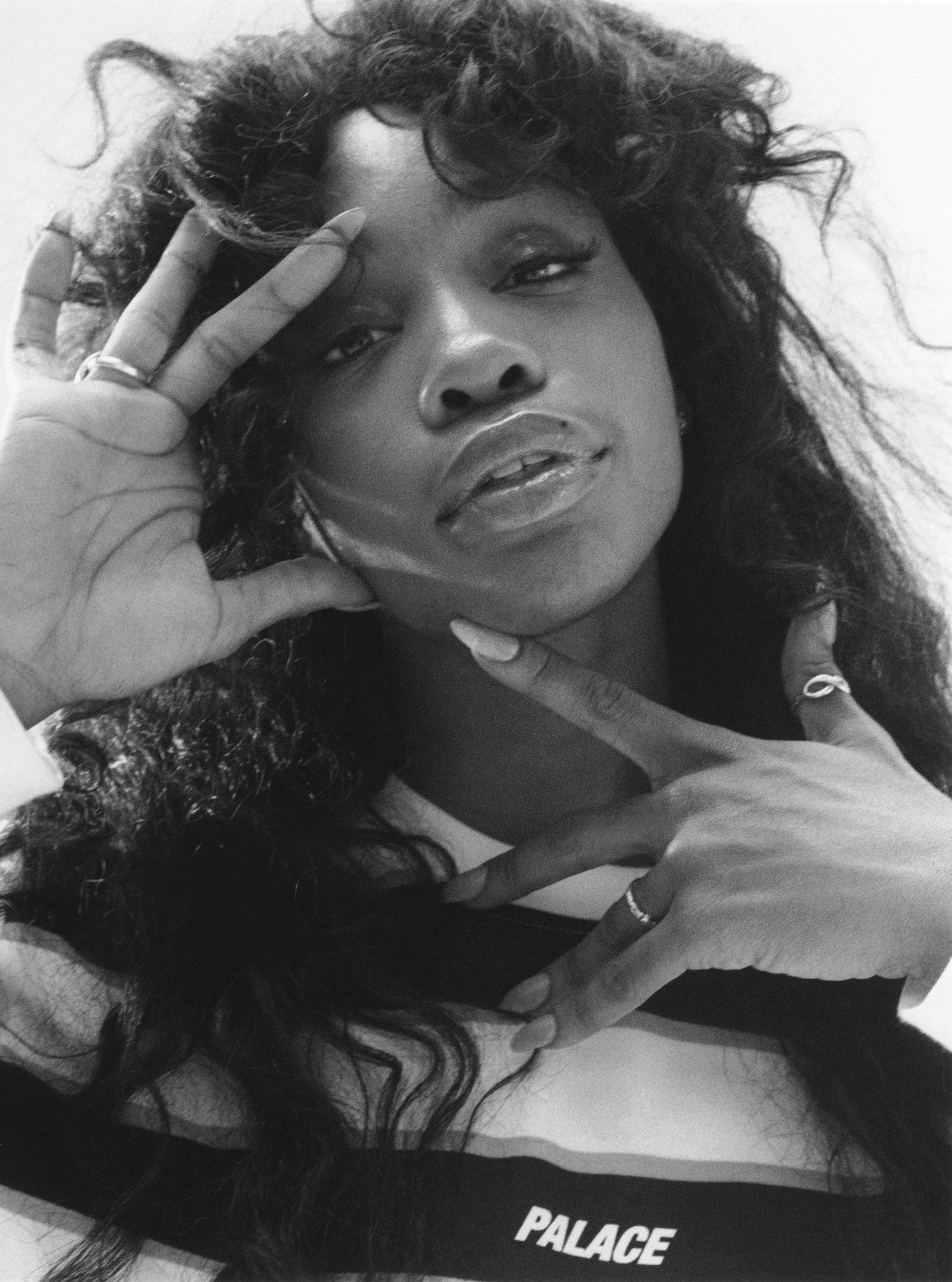 If SZA's the new leader for the disaffected, then CTRL's lead single " Drew Barrymore" must be their official anthem. Named so because of a lifelong obsession with the actress who refused to fit the Hollywood mould – "she's quirky, she's awkward, she's vulnerable" – the song contemplates body image and self-esteem with candor. 'I'm sorry I'm not more attractive / I'm sorry I'm not more ladylike / I'm sorry I don't shave my legs at night,' she sings, lyrics you'll find tweeted and captioning Instagram selfies for days. After publicly endorsing the song, Drew Barrymore made a cameo appearance in the song's official video in June, bringing the track full circle. "I wrote her this long-ass letter, telling her how much I love her and what she meant to me. When I heard she was down to be in the video I was like, 'Wow, I wonder if she thinks I'm crazy because of my letter.' It turns out she never even got it", she laughs. "My manager never sent it."
SZA's favorite Drew film is Never Been Kissed, "because I am Josie Grossie. Anyone who went to my high school can confirm this." Sat opposite her now, this seems hard to imagine. At what point did Solána graduate to SZA, the effortlessly cool New York via New Jersey girl-next-door? "In the real world, I kind of like, thrived a little bit. The things that were awkward about me at school, like being hyper passionate... I realized, 'Oh I'm my own person, and I have my own idiosyncrasies and nuances that I don't mind.'" But while her confidence has grown, obstacles still present themselves. "Living with ADHD is really fucking difficult," she says, her voice softening slightly. "It's a little embarrassing. Especially when I'm nervous, my mind is running a mile a minute. My ADHD speaks for me before I can speak for me. If I'm in public and people walk up to me – because I've never been famous before – I've probably lost something by the time everyone has left me. I'm easily disorientated. But I'm getting a hold on that."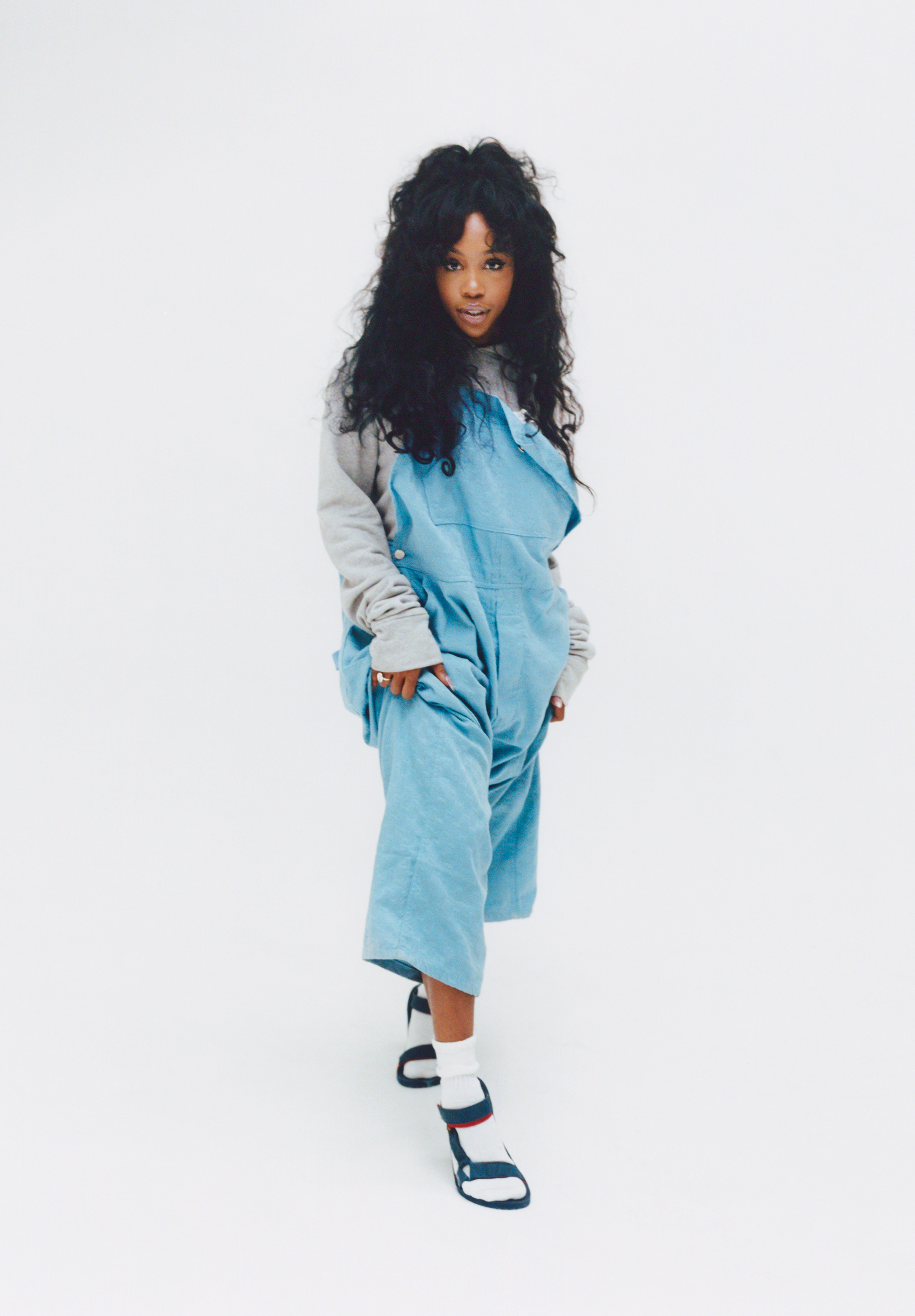 Despite the critical success of her three mixtapes see.sza.run, S and Z, (A remains unreleased, though, "Yes it does exist!") SZA's biggest breakthrough before CTRL was perhaps her 2016 verse on Rihanna's Consideration. The track, written by SZA and widely considered to be the jewel in ANTI's crown, was actually intended for her own album. "[Rihanna] called me into this writing camp. I'd made no material for her for, like, the last three hours. Then Pharrell walks in and is like, 'So what've you been doing?' and I'm like, 'Shit. I get to play Pharrell my music'. I'm like, 'Don't play no duds, girl.' I decided to play something from my album." She performed " Consideration" and, knowing what we do of Rihanna, what happened next can come as no surprise. "She's like, 'Bitch, I want that one', and I'm like, 'Not that one – I could make you more?' And she's like 'No, that one'."
Does she think on reflection that " Consideration" was always meant to be on ANTI? A year and a half later, SZA seems wistful, still in mourning for the track. "I think I needed that song on my album. But, then I do also think it was supposed to work out the way it worked out. I wonder though... CTRL probably would have been completed a year earlier had I kept " Consideration". That was the centerpiece. I shot a video for it and everything." She debates the idea of whether it actually brought her further into the spotlight. "In some circles I think people thought it would do more for me. I didn't think it would do anything. So I guess I landed somewhere in the middle."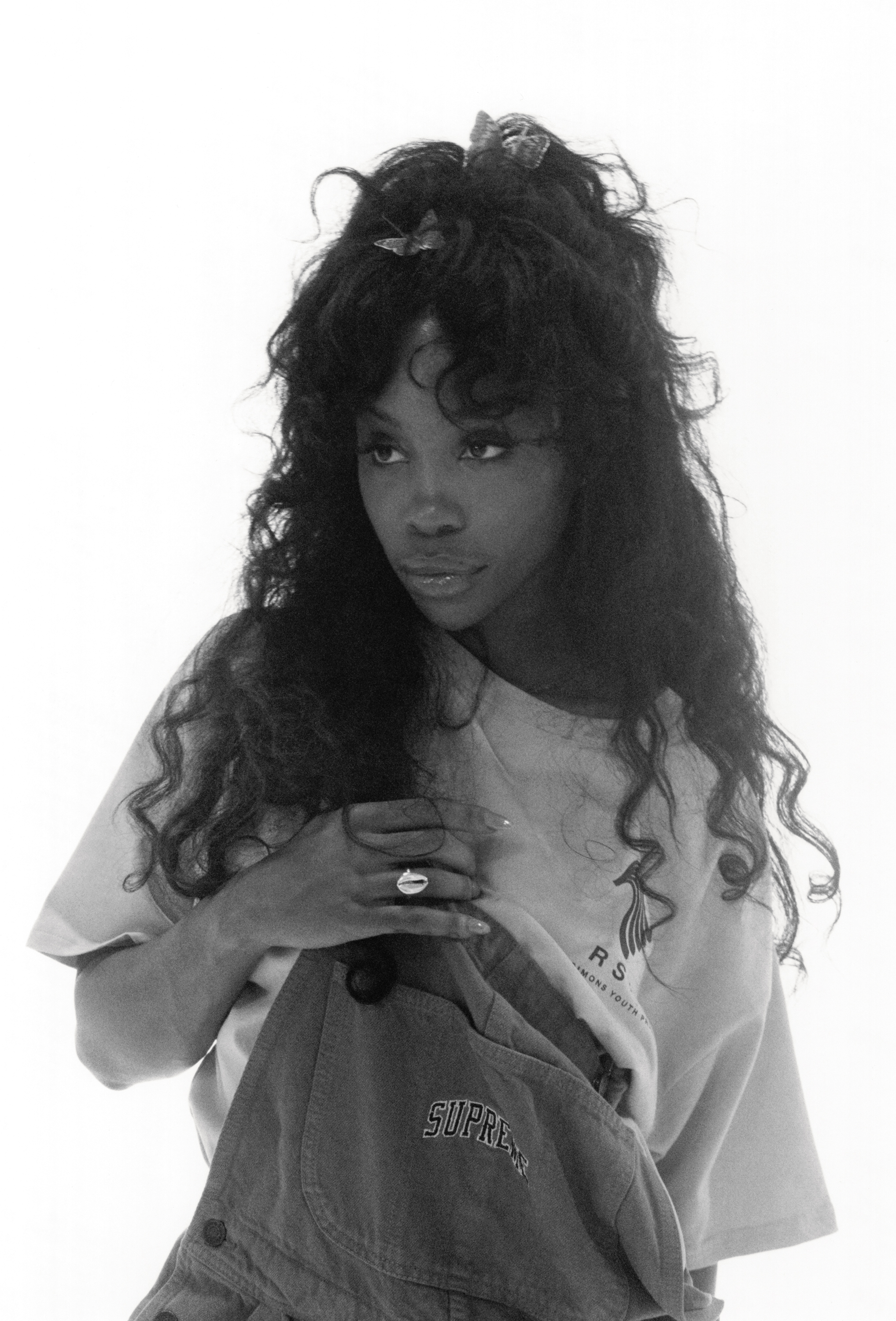 If you thought SZA's songwriting credits were limited to " Consideration," two iconic words say otherwise: " Feeling Myself". "Bey had been working on Lemonade and she randomly called me in. She just kind of wanted to see what I was about. She was the first person to be curious about me. I left the studio, left the song, never heard it again and then all of a sudden it was like, 'Hey, this might end up on Nicki Minaj's album,' and I was like 'Really? That's wild'. And then it did. I have never met or spoken to Nicki in my entire life." Is she still in contact with Beyoncé? "I don't know anyone that's 'in contact' with Beyoncé, she gets in contact with you. She randomly calls when she wants me to partake in something. I'm literally just so grateful that she's even thinking about me at all. I'm just like, 'Sure! What limb am I giving up?' But I always put my foot in my mouth, I'm like, 'I know people probably ask you this all the time…' and she's like, 'People don't usually get this close to me all the time.'"
Trusted by Beyoncé, championed by Kendrick, beloved by Drew, critically acclaimed, beautiful, charming; SZA's success lies not just in these qualities, but also in a consciousness of how far she's come. "Four years ago, I was hoping for a lot but not being a lot. I didn't feel in control of my life, I felt like, 'I hope this works out,' but I wasn't invested in the result. Now I'm acknowledging that I'm scared, and I'm invested." So, where next? Reminding her of last year's tweets, in which she claimed CTRL could be her first and last album, SZA breaks into another wry smile. "I'm contracted for one more, so I'll do that. I'm gonna focus on making that my best album." We don't doubt it. SZA is an artist, after all, who can cover your shit in glitter and make it gold.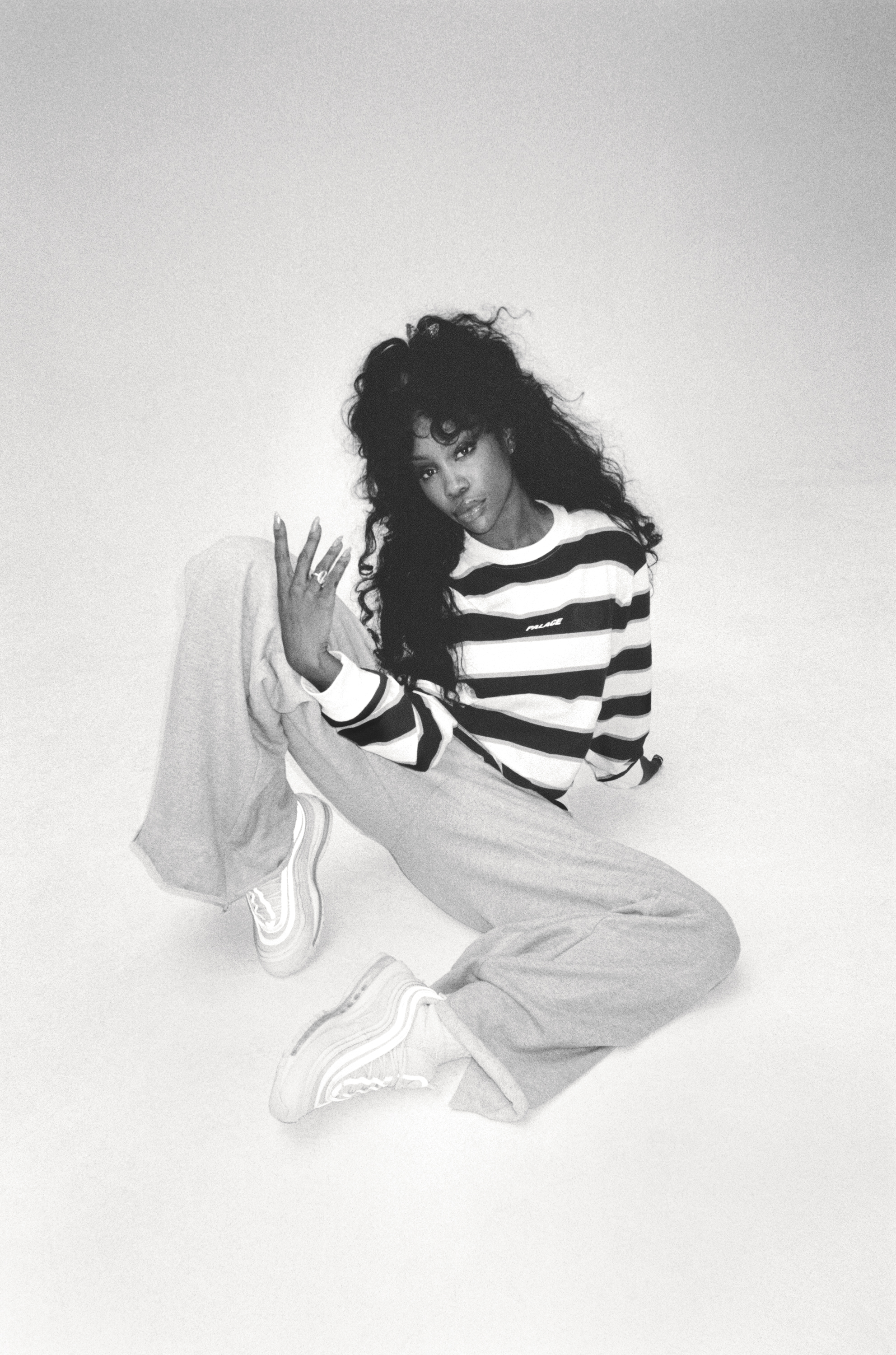 Credits
---
Text Ryan White
Photography Hanna Moon
Fashion Director Alastair McKimm
Hair and make up Giselle
Photography assistance Alessandro Tranchini
Styling assistance Sydney Rose Thomas and Bojana Kozarevic
Runner Pablo Di Prima
Production Elise Lebrun at D + V