cult japanese ambient composer midori takada curated a mix of transcendental music for us
You'll float too… into a lucid dream state, that is.
|
28 September 2017, 4:40pm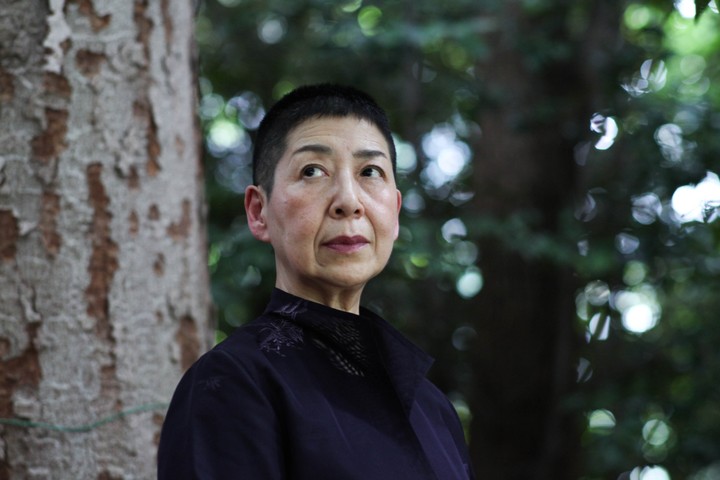 Midori Takada sounds like heaven. Over the past forty years, the masterful Japanese percussionist and composer musical output has ventured far and wide; deep diving through Asian and African percussive language, with a specialist subject of Japanese meditative and ceremonial sonic practices. Not dissimilar to (as just as important as) Brian Eno's Fourth World music, her textured soundscapes might be minimal but they are completely magical.
Thanks to a popular YouTube rip of her then criminally overlooked 1983 debut solo album Through The Looking Glass, Midori -- who previously composed with her percussion group, Mkwaju Ensemble -- is now known more than ever for those four chapters that one fan on YouTube described as making them feel like "a cloud hanging over cherry blossoms," while another, clearly just as taken with the record, remarked, "dude, this is straight up pimp juice."
Tonight, as part of the Barbican's Transcender 2017 series, Midori will perform her verging on ritualistic live show at Milton Court Concert Hall, with support from US band Visible Cloaks. We asked the mystical music wizard to guide us through a mix of her favourite transcendental tunes from around the world and boy did she deliver. Lose yourself as Midori talks you through her selections.
Midori Takada & Kakraba Lobi, Meeting - For Wooden Pieces (Japan and Ghana, 1990)
"It is a live recording. I had the chance to perform on stage with Kakraba Lobi, a man who introduces the music of the Robi clan, not only in Japan but also in Ghana. He plays music that is performed with the minimum of material and with a body that embodies an abundant harvest."
Lamin Konte, Sidi Yela (Senegal, 1990)
"Lamin Konte passes down and sings the songs that express the African soul during slave era. As a traditional griot, he keeps a strong posture. The album that I collaborated with him on is also something that I am very proud of."
Gyuto Monks Tantric Choir, Offering Of Tea (Japan, 1987)
"A proclamation will awaken the insides of your body. It is the basis of the existence of the voice and body."
Kim Dae Hwan, Large Buk Harley Pipe (Korea)
"Kim Dae Hwan is a pioneer of Korean Free Jazz and was also a seal carver as well. I have crossed swords as well as intellectualized about music with him. All through his life, he continued to be a man of freedom. Under military rule, he stuck with his principle of living a life of freedom that went hand in hand with music."
Toru Takemitsu, Rain Tree (Japan, 1982)
"No comment."
Pablo Casals, El Cant Dels Ocells (Spain, 1961)
"I still remember when Casals played El Cant dels Ocells at the U.N. 'Birds fly freely through the space. Peace, peace'."
Barbara, Goettingen (France, 1970)
"With any one of her songs, I feel a sense of disconnectedness. By listening to her songs, you will not be spared of this psychological state but it will help deepen its understanding."
Through the Looking Glass was reissued this summer by Palto Flats and the well-named, We Release Whatever The Fuck We Want Records.
Tagged: