blondey mccoy launches new jewelry line with stephen webster
The young London art world agitator's latest collaboration proves that there's so much more left of the dreams he holds than a band of gold.
|
12 September 2017, 2:14pm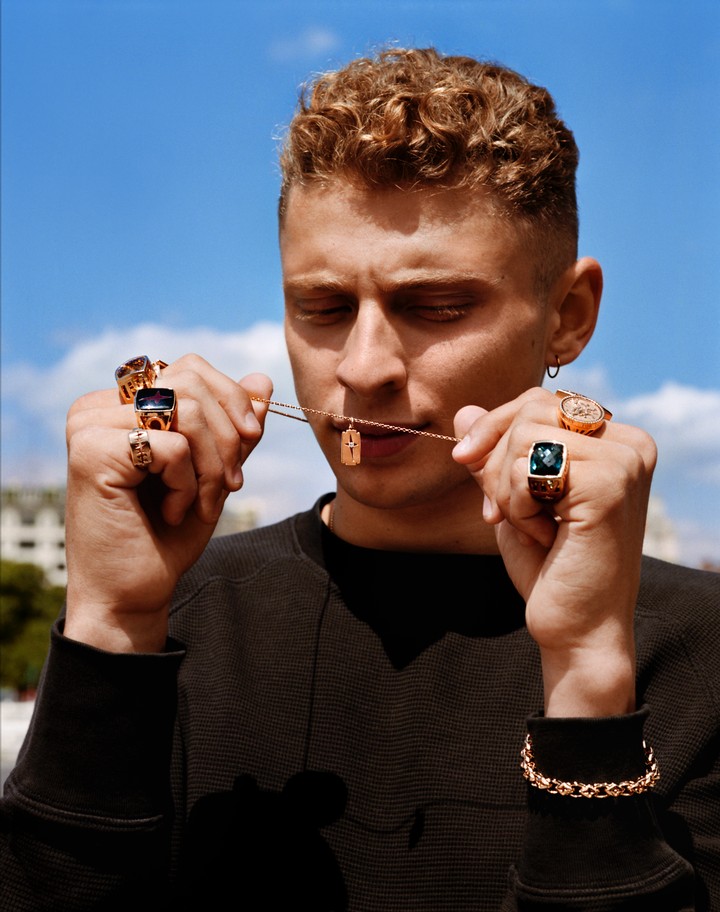 Thames by Stephen Webster, shot by Alasdair McLellan

"Growing up, I always thought jewelry was really beautiful. Then I thought it was really vulgar. Now I want it to be both," says Blondey McCoy of his debut Thames jewelry line with the iconic jeweler Stephen Webster. The pair — both Soho stalwarts, met at the Groucho Club — decided that the crossroads of 40 years experience as a world renowned fine jeweler and a 20-year-old skating-art-design-lad-about-town mastermind would be an exciting place to explore, and so Thames by Stephen Webster was born. "I bought this antique yellow citrine pinkie ring which I suppose is quite odd for a boy to wear; it's like a grandma's ring. It's French and from the 1820s and it's so loud and I suppose it's a statement to skateboard in. The first thing I wanted to do with Stephen was recreate that," says Blondey.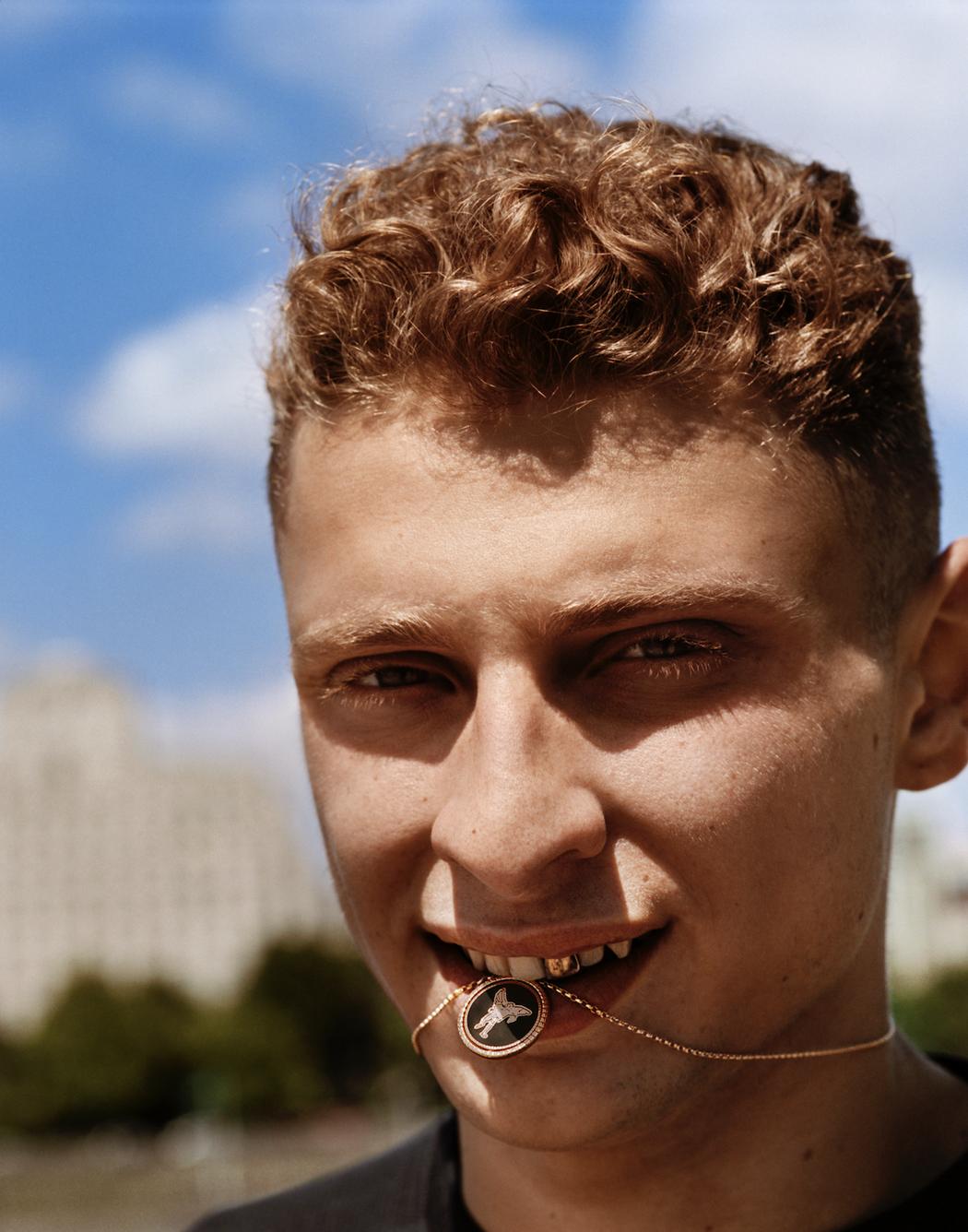 Other items in the 11 piece collection have less naive beginnings: "When I was a teenager, I was an apprentice to one of the oldest goldsmith companies in Hatton Garden; Saunders and Shepherd," Stephen recalls. "It was one of my jobs to make what seemed to be an endless supply of 9ct gold razor blades worn as pendants. Years later with my then boss Tony Shepherd, it became obvious he had no idea his company were at the time supplying up-market hardware for recreational drug use! Of course, I knew the significance of the blades… so the Thames razor blades had to happen."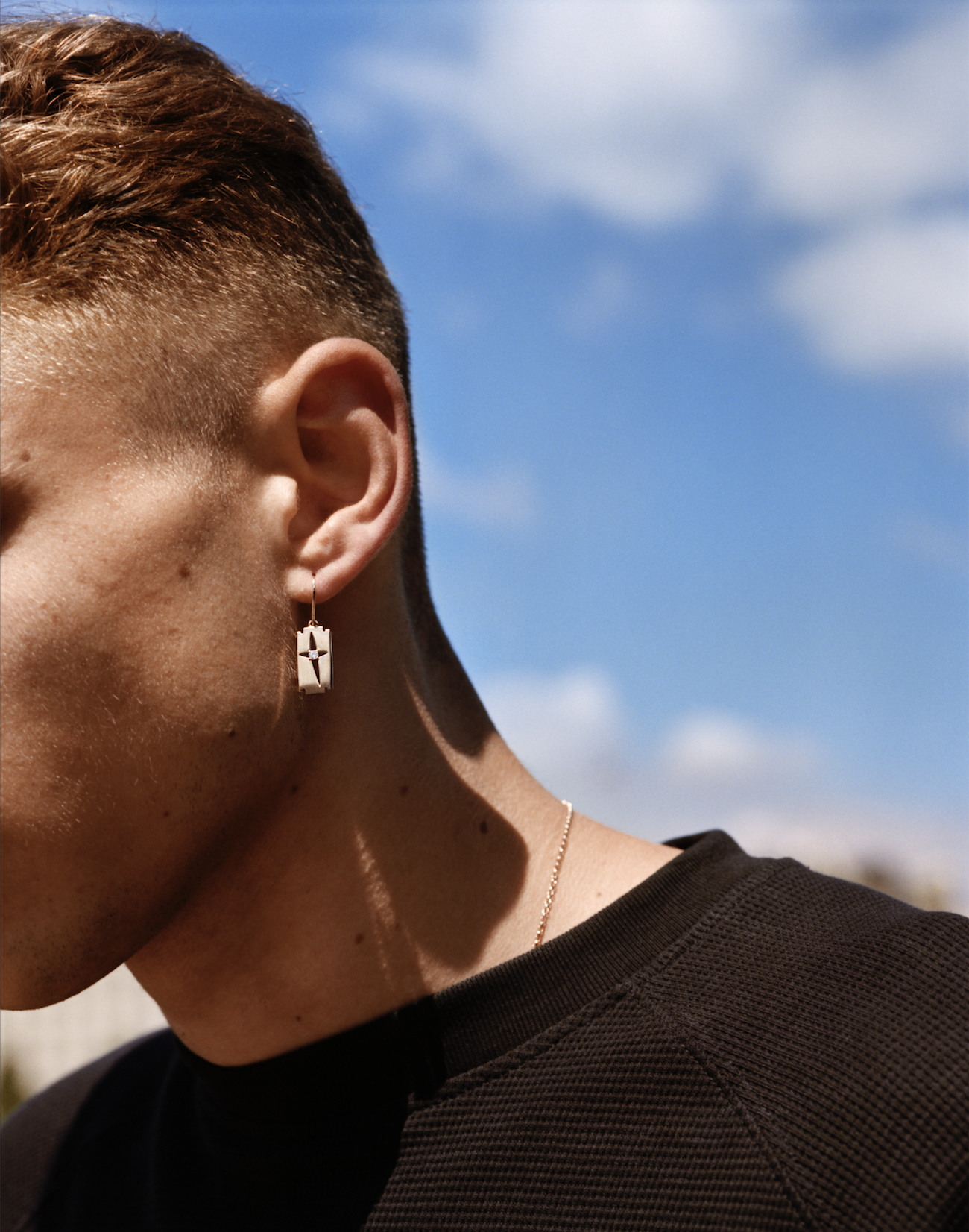 So Blondey, if had to choose one piece, which is he most proud of? "My favorite piece changes all the time, but right now I love the For Love Nor Money ring," he confirms. For Love Nor Money sports a bad penny altered image of the British sterling and, like when a gangster or sportsman flips a coin to settle a score, it has the rather marvelous option to spin when flicked. Blondey is well known for wearing a gold denture on his left incisor following a skate accident at 15-years-old, when he face planted into some concrete one freezing winter's day and watched his tooth pop clean out, root and all, and bounce along in front of him. Often mistaken for hip hop or trap posturing, the gold tooth is worn purely for his unabashed love of the precious metal, taking him back again to familial reminiscing. "My bracelet was an 18th birthday present from my Grandma. I love antique jewelry and I've worn it for years. Young people don't buy designer jewelry because the designers don't make it for them. I've always wanted to see 'Thames' in gold, and now, thanks to Stephen's expertise, I can."