"lust, desire, sex and even sadness": this is andreas for spring/summer 18
As Andreas Kronthaler for Vivienne Westwood celebrated the man and his homeland, Junya Watanabe's punk retreated to Mother Nature and Acne Studio took an acid trip to the thrift store..
"For a long time I did not like my name or where I came from," Andreas Kronthaler explained in his show notes. "I always wanted to be called Maximilian or Augustus. I wanted to come from somewhere like Rome." It's a familiar feeling for any teenager who is coming to terms with their sense of self. The collection is rooted in Kronthaler's coming-of-age acceptance of who he is. A year on Andreas and Vivienne divided their work between two collections -- Andreas Kronthaler for Vivienne Westwood and the Vivienne Westwood collection -- spring/summer 18 was the perfect time to celebrate.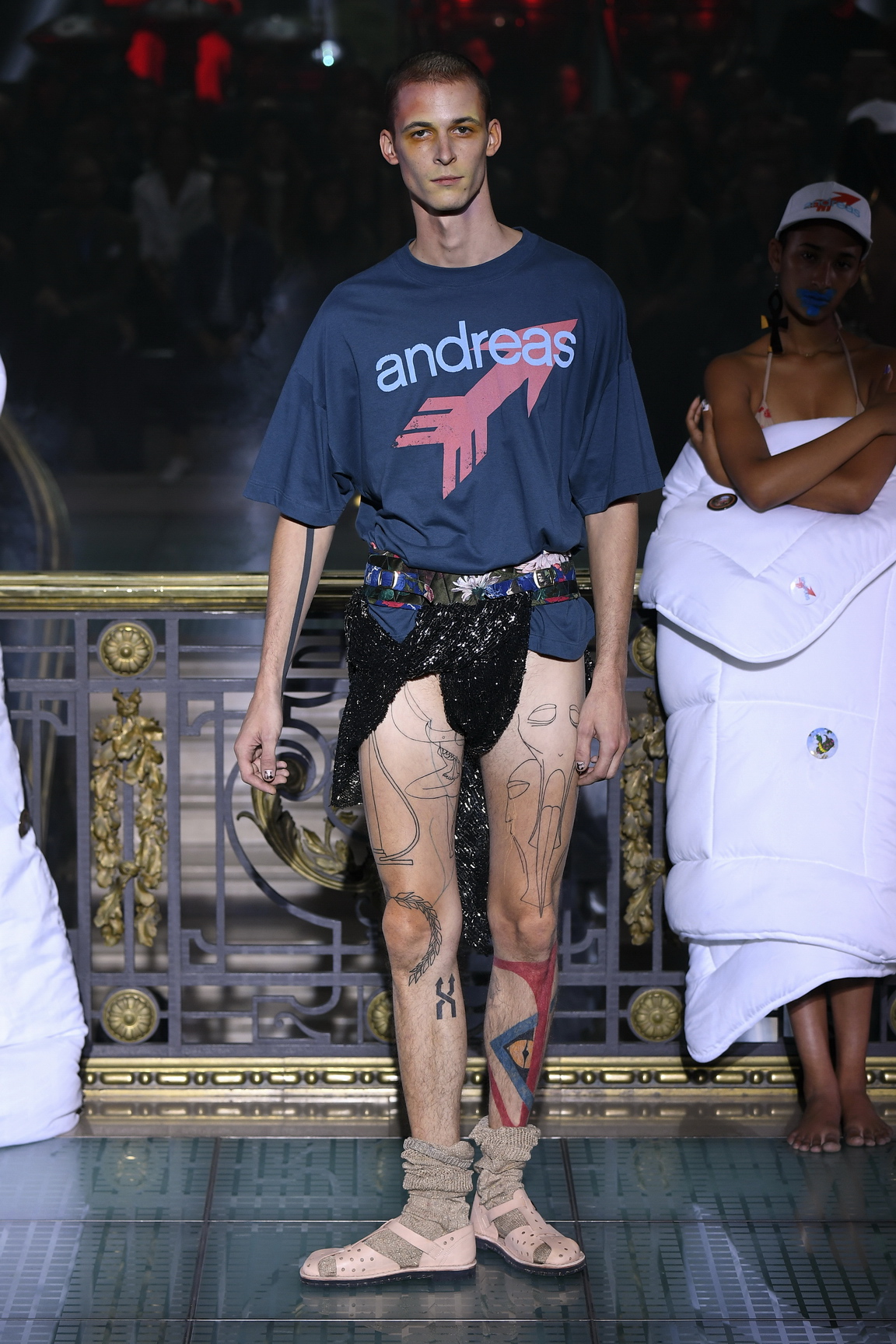 It was sparked by a summer return to family and friends in Tyrol, a western Austrian state in the Alps. Vivienne joined him on an escape to his brother's farm in the Tyrol, where they tended his cows. Andreas even took the names for the cows for the names of the dresses. Naomi, Donatella, Riana, Music, Uganda, Fluer and Vivienne -- "I helped deliver her," Westwood explained. Oh, how we wish this moment was captured on film. Beyond the cowshed, the pair visited their friend and folk costume expert, Gexie of the house of Tostmann and left with fabrics. While there, Kronthaler enlisted her to craft his couture designs of the Dirndl, the traditional feminine dress from the region. After returning home to England, Westwood hand-painted graphics onto satin dresses and suits in the days leading up to the show. "Colours, flowers, a riot of dance and song, joy and instinctive happiness," is how Westwood described what she encountered at the final fitting, the first time she had seen the full spectrum of collection.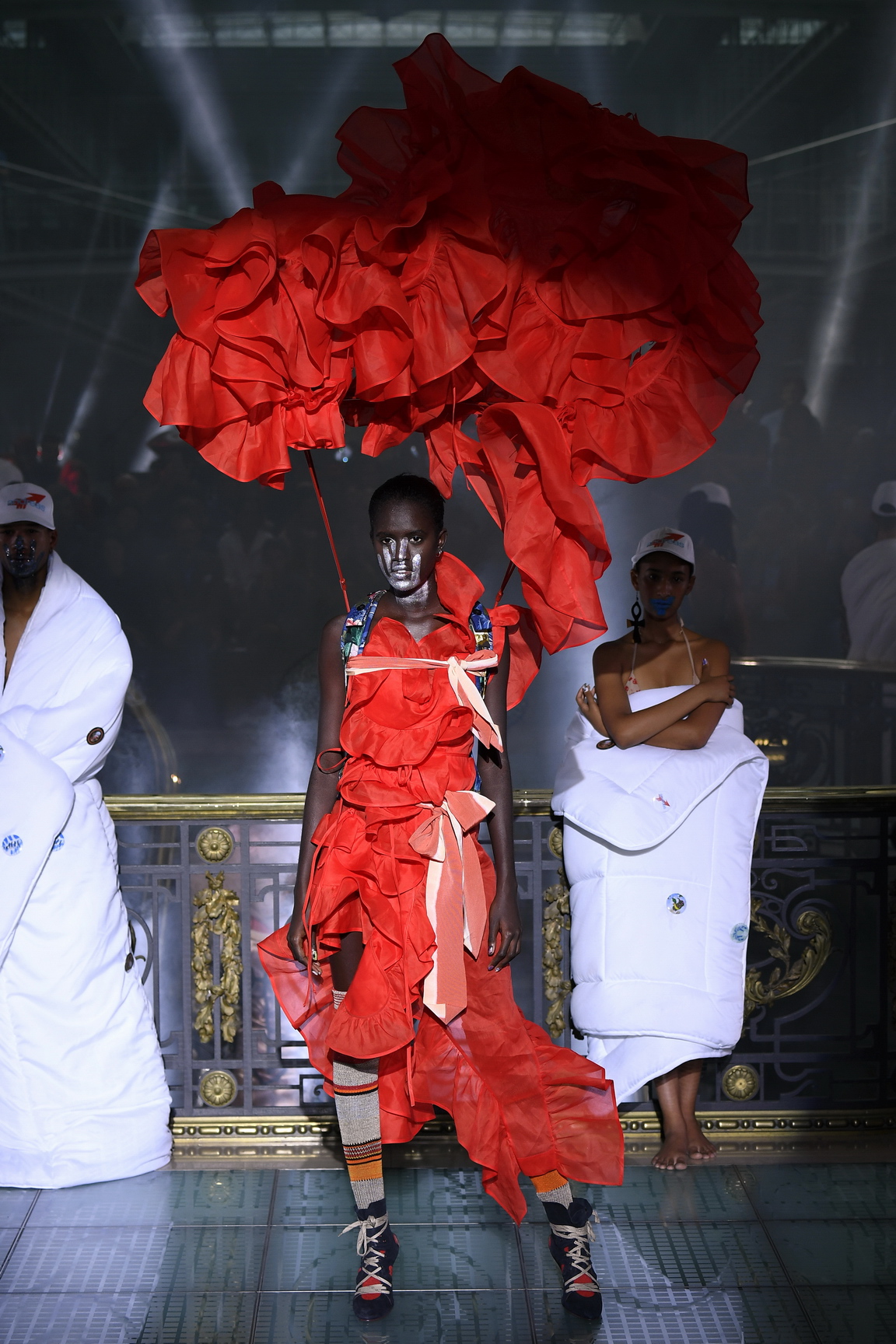 Given that it is an ever revolving kaleidoscope of Andreas Kronthaler, it should be no surprise to find his wife and creative partner is a fan. She won't be alone. As fresh life was breathed into tradition and craft, we were left with a multi-layered and multi-gendered collection. From The Sound of Music landscapes populated by Boucher's nymphs and Bruegel's animals of paradise to sex-tinged streetwear, these were designs to get lost in. From penis prints to tit T-shirts, duvet-wrapped models to porn-star earrings, lust, desire and sex loomed large. It was beautiful chaos as daydreams met reality and myths met truth. "I just want to make something very, very pretty and colourful," Kronthaler explained succinctly. "I wanted to have a very positive mood and feeling." This was his reaction to today's troubled times and it was successful, we all left with smiles on our faces.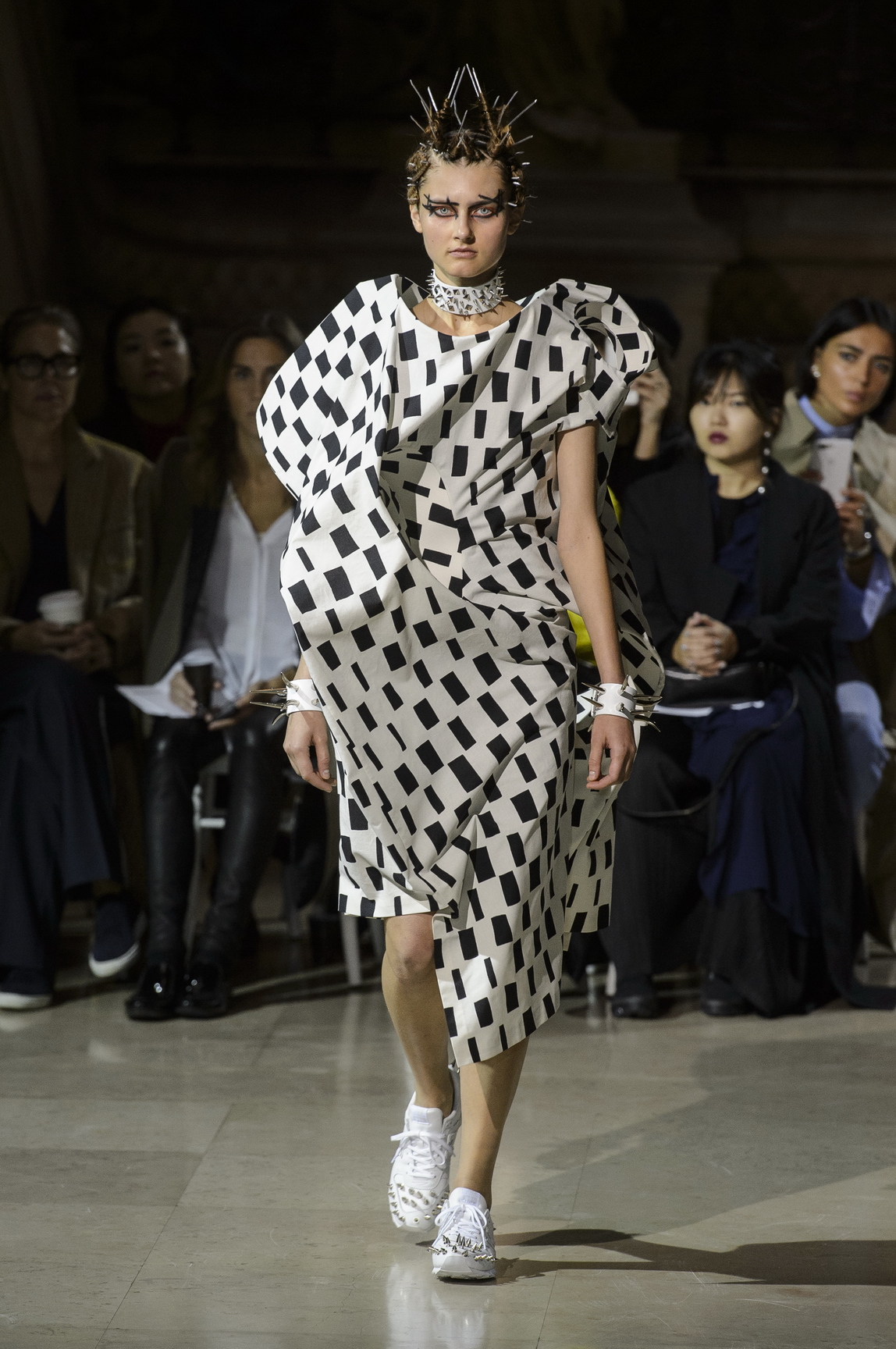 While Kronthaler and Westwood threw a colourful, sex-charged party, Junya Watanabe invited us to join his punks on a retreat inside a quiet enclave of the great outdoors. Over forty years have passed since the punk movement first shook the world and Watanabe continued his reflection on the shapeshifing subculture by placing it in the most unexpected place, the forest. "We wanted to transform the shape of nature, from storms to trees, into dresses," Watanabe explained through an interpreter backstage. Collaborating with Finnish textile design house Marimekko, nine prints were sculpted into natural forms. Throughout, there was a poetic interplay between the worlds of nature and humans. At its most powerful, Watanabe juxtaposed nail-enforced mohawks -- the hair moment of spring/summer 18, spiked collar-and-cuffs and matching New Balance collaborative trainers, with stone-shaped, camo-covered dresses. Soft met hard, organic met artificial, aggressive met peacefulness. When written down, the elements read as if they would be incongruous but in the hands of this great Japanese master, they made perfect sense. It was punk poetry.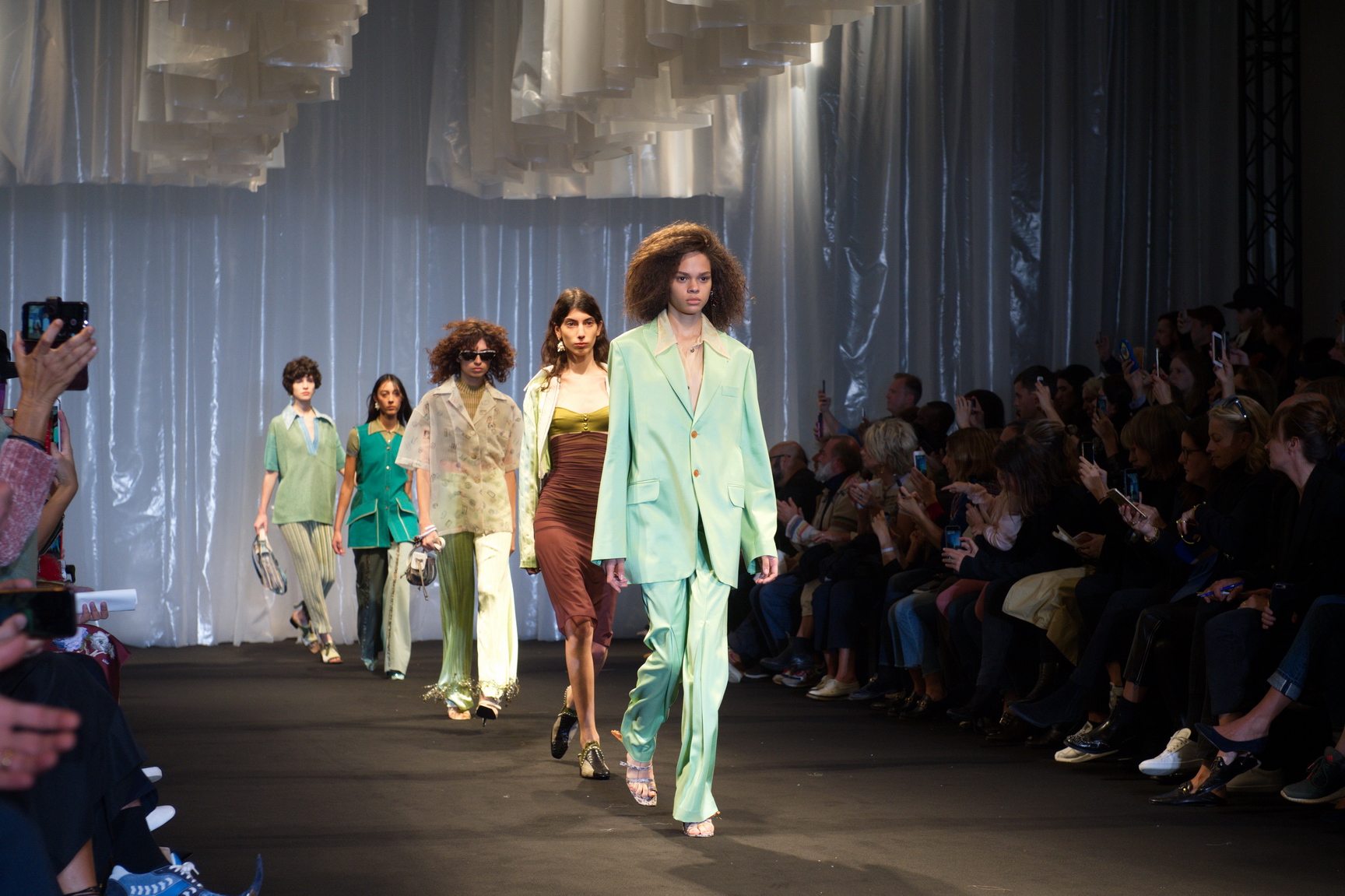 As Watanabe's punk princesses lost themselves in Mother Nature, Acne Studios took an "acid trip to the thrift store." As the plastic curtains that separated the audience from the collection raised inside the Pavillon Cambon, the show was Saturday Night Fever meets American Hustle, watched on through a Scandinavian lens. "I am always interested in what sits outside of fashion", creative director Jonny Johansson explained. "It's an attitude that is at the heart of the brand, and this season I wanted to explore this outsider way of being." From 9-5 realities to disco dancefloor daydreams, Johansson found his rebels in the 70s. "These are individual pieces that are as if found, character looks that are made for pleasure." This was a collection of complementary separates. The message was dress-up and live.
The message was echoed at Sonia Rykiel. "Girls with pearls go to the Left Bank Paris," is how designer Julie de Libran playfully described the collection. It was an exploration of the essence of femininity, of Left Bank style and the oyster was the unexpected symbol. Offered to guests pre-show, they soon appeared on the catwalk, firstly as subverted prints, then as functional shell-fastenings before their iridescent nacre inspired evening dresses and the Oyster bag was revealed -- a magical cotton drill box bag, inspired by days gone fishing and convertible six ways. "An oyster creates such beauty, this was a collection about beauty," De Libran added backstage while guests mingled in the courtyard as the party continued outside. Throughout, the collection riffed on the aphrodisiac symbolism of oysters and the magic of the pearl that's born of it, evocative of the playful sensuality of the Rykiel woman. We won't look at an oyster quite in the same way again.