l7 are back with a new anti-trump track
18 years since their last release, L7 have added Donald to their shitlist.
|
02 October 2017, 12:47pm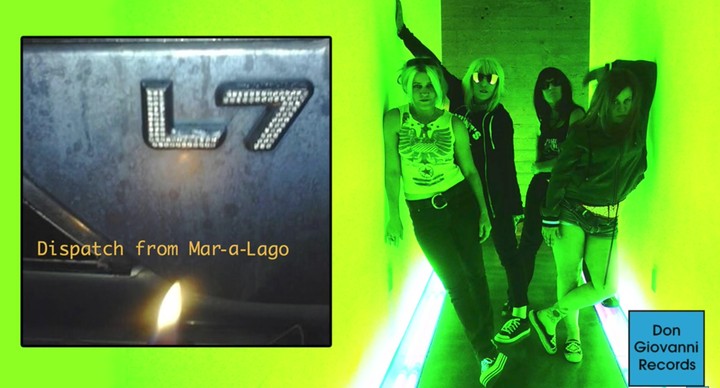 It's been a long time since we had a new song from riot grrrl veterans L7 -- 18 years to be exact, but luckily for us, they've been keeping an eye on the state of the world, and they're no less angry than they were in 1999, if new track Dispatch from Mar-A-Lago is anything to go by.
The new song, released as a powerful call out to President Donald Trump (anybody else still think that job title sounds surreal?), is ferociously punk, darkly comedic and emblematic of the fighting, fuck-you spirit of L7 that we've loved for all these years.
The band, who split in 2001, but reunited in their classic line-up of Donita Sparks, Suzi Gardner, Jennifer Finch and Dee Plakas, to play reunion shows back in 2015, said that the song wasn't intended to become an anti-Trump track, in fact, they had no intention of writing anything about Trump at all. But, a bit like the Boogeyman, he's a looming, bumbling, spectre, always lurking in our subconscious and impossible to ignore, so they ended up writing about him anyway.
L7 singer and guitarist Donita Sparks told Pitchfork: "It would almost be negligent to not make any sort of comment on the current political situation, and our fans were just so devastated that we were like 'fuck it, we don't care if this is topical, and quite frankly, we're one of the only bands that could actually fucking do it.' Because we've got that humour and that ferociousness, and we take on politics and society."
So you know, if Trump's done literally anything good, positive or useful in the 71 years he's been sucking up resources on our planet, he's drawn L7 out of retirement!