jaden smith did a reddit ama
"Hey First Off Im Super Weird So I Dont Really Care About Memes"
|
04 December 2017, 7:58am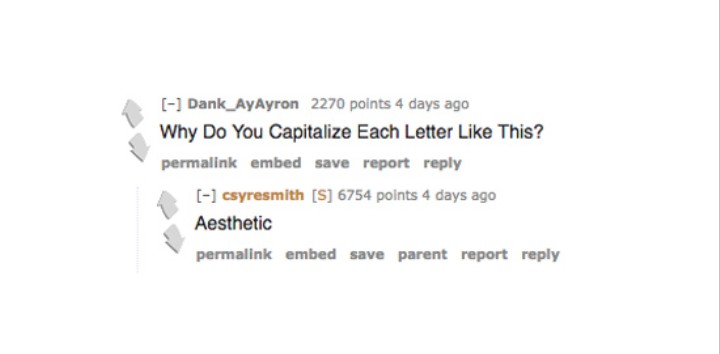 Jaden Smith Answering The Real Questions On Reddit.
This article was originally published by i-D Australia.
The always insightful Jaden Smith granted Reddit an audience last night to promote his debut LP, Syre. It was as weird and wise as you'd expect an AMA from Jaden to be, with the young artist sounding off on music, fashion, and his bottled water business. The question that's probably been weighing most heavily on your mind, however, doesn't have anything to do with those endeavours. Perhaps, like many internet users, you're most eager to find out Why Jaden Smith Types Like This. The answer, revealed in this AMA, is devilishly simple. "Aesthetic."
He also dished on how he feels hanging out with Frank Ocean — "It Makes Me Nervous To Hang Out With Him, Cause He Is Too Talented" — and got right to the heart of what motivates him in response to another question about the way he types: "Hey First Off Im Super Weird So I Dont Really Care About Memes I Care Much More About Influencing Music And Fashion."
He'll continue to influence music with an upcoming collaboration with BROCKHAMPTON ("Yes We Have Plans") and fashion covered too — Jade will be launching a line of Syre Jeans shortly. He also confirms he's down for Neo Yokio season two. (For the uninitiated, that's the Netflix anime he made with Vampire Weekend's Ezra Koenig).
For the next record, he cites "Kendrick, Bon Iver, EARL, Justin Bieber, and lola wolf" as ideal feature artists, though his dream collaborator is Kid Cudi. Why asked a little more about his current record, Syre, Jade wrote "I Make Music About Personal Experience Not To Try To Fit In." Clearly, such personal work takes time — "Those Songs Took 3 Years To Make," he writes elsewhere in the AMA.

And, a final update on his eco-friendly bottled water brand, JUST water? "Yes We Are Planning Much Bigger Distribution For Just Moving Into 2018." Phew! It's gonna be a big year. Check out the first single from Syre below (it bangs).
Tagged: