we got @70sbabes to pick her top five posts
Get ready for the time warp as this insta account channels all things 70s.
|
06 December 2017, 4:12pm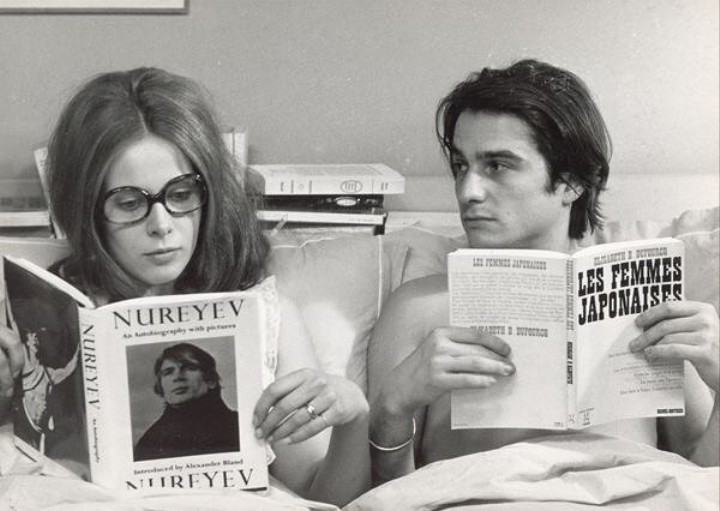 Domicile Conjugal, François Truffaut(1970)
In our new weekly column, we profile the profiles you weren't lolz enough to come up with, as they pick their top five posts.
@70sbabes is a true visual and nostalgic delight. Harking back to -- yep, you guessed it -- the grooviest decade of 'em all, this colourful curation of rich archival images will have you busting out a pair of flares and some trendy oversized glasses in no time.
"It was sort of a happy accident," UC Berkeley graduate and California-native Chloe Clar tells i-D. "I was in college and felt like such a cog in a machine every day, so I turned to the internet (as many people do) for inspiration. At the time, I was really into French new wave films from the 60s and musicians like Joni Mitchell, Kate Bush and Nico from the 70s. However, I didn't really know how to filter out my interests from all of the other content on Instagram, Pinterest and Tumblr. I realised that I was craving a more specific and niche experience on Instagram for myself that just didn't exist. And so, @70sbabes was born!"
Sourcing all material online, Chloe will mix iconic images of rock gods and backstage vixens, with fashion shots, film stills and documentary journalism. Though there is a male presence, for Chloe it's all about the women. Quick namecheck: there's Cher, Bianca Jagger, Debbie Harry, Lauren Hutton, Grace Jones, Jerry Hall, Cissey Spacek and Shelley Duvall.
But as well as all the glitz, glamour, sex and rock and roll, the late nights and early dawns of the Studio 54 era, Chloe is also keen to document the decade's turbulent political climate. Take for instance, a sombre black and white portrait of John Lennon and Yoko Ono carrying a sign simply reading: the war is over. Elsewhere, striking images capture the many civil rights protests, women's marches and student strikes that dominated the period. "There have been some pretty wonderful moments in the past couple of years where I was able to fold in an implicit political discourse through the images themselves," says Chloe. "I've learned that neutrality is impossible and this has become even clearer during the political moment the US is in."
With over 280,000 followers and counting, Chloe is becoming a go-to source for all things 70s. "It's a strange experience, spearheading an account that is invested in a time and space that I did not live through," she says. "I don't have the same relationship to the 70s that some of my followers do. But honestly, when people share their really visceral and beautiful memories from the 70s in the comments, I'm reminded of why I do what I do. If I can bridge that generational gap and create a community online that celebrates women and their crucial role to this time period then I truly feel like I've succeeded."
Here Chloe picks her top five fave posts so far.
"I recently found this photo of Donna Summer in a DM from months ago. In February, I asked people to send me their favorite songs from the 70s because I wanted to put together a playlist. I finally got around to making it and love how collaborative it turned out. Anyways, among the DMs of song recommendations, an account (that is no longer active) included this photo, and it turned out to be the perfect launch photo for our playlist. Donna Summer just embodies the heart and soul (hello, Queen of Disco!) of the playlist, and I hope everyone dances to her songs on it!"
"This photo of Susan Sarandon is amazing for many reasons. For one, I love that I don't know the context of this photo, only that it was taken by Chris von Wangenheim, whose style is very playful and erotic. The contrast of the fur (and yes I do hope it's fake) against the silk backdrop adds texture to the photo, and the knife just catches the light perfectly. I also treasure opportunities where I can be playful in my own captions and bridge the gap between high fashion 70s photography and internet meme culture."
"I love this very simple and beautiful photo of Joan Didion. Sometimes I'll be scrolling on my feed and see a photo that I absolutely must post right at this moment. This time it was a photo from the Paris Review, one of my favorite literary journals, featuring their interview with Didion from 1978. It was timely and appropriate because a documentary on Didion was just released on Netflix, and I just so happened to be reading The Year of Magical Thinking on my commute home from work."
"Speaking of commuting home, this image of a subway rider, face hidden and bundled up with a book is one of my all-time favorites. It's relatable and makes we want to move coasts. I'm from California, and as much as I appreciate the sun, I love the skin-cracking cold of the city. Also, call me weird if you want but I also love the subway. Anyways, this post was fun because I asked everyone in the caption what they're reading right now. I received so many wonderful book recommendations and got the chance to talk about my favorite books, so I hope to continue sparking that kind of dialogue in future posts."
"I feel like discussing politics over an Instagram that features women from the 70s is sensitive for some folks, but it's important to remember that the 70s were just as much of a political moment as the one we (in the US) are in right now. Politics cannot be divorced from time and space in order to preserve nostalgia, and so I try to speak on and support the causes that I care about given the niche and specific platform I have. This image is powerful and moving, and also just very sweet."
This article originally appeared in i-D UK.