exclusive: mysterious instagram star miquela shares her first merch
The outspoken but enigmatic digitized musician also known as @lilmiquela talks to i-D about her first clothing collection.
|
15 December 2017, 6:17pm
Asking whether or not Miquela Sousa is "a real girl" is missing the point, and maybe also a bit passé in 2017. As the digitally enhanced online personality recently deadpanned in a YouTube interview, "can you name one person on Instagram who doesn't edit their photos?" Her flawless Instagram account, @lilmiquela — filled with Facetuned selfies of Miquela hanging out with musician friends in Silver Lake while maintaining jaw-dropping manicures — has only highlighted what we already know: no one on social media is quite their "real" self. And, through her account, Miquela has built a community of nearly half a million followers whose multiple fan accounts (@lilmiquela_slays; @lilmiquelaisfire) show just how much Miquela's internet-savvy brand of realness is speaking to her peers. (And not just her peers: Lena Dunham has written about her obsession with Miquela). Notably, Miquela's brand is not just streetwear-clad, it's also socially aware. She is just as likely to post about protecting DACA as she is to share a Rihanna meme.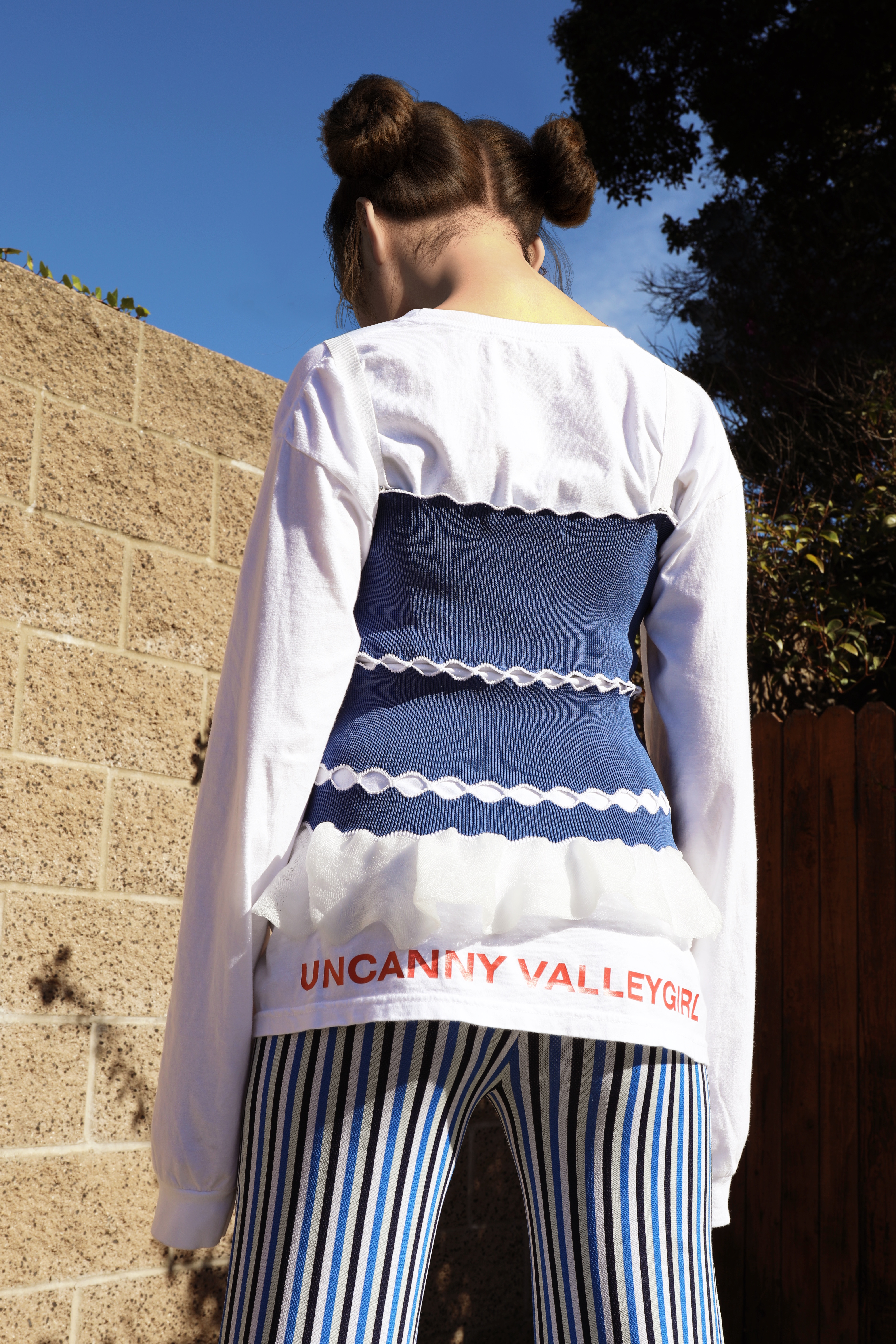 This past summer, Miquela dropped her first project beyond her Instagram account: "Not Mine," a catchy, bouncing Auto-Tuned R&B track that soon topped the Spotify charts. Since then, she's appeared in magazine editorials and a lookbook for the rising New York brand Area NYC (a line that perfectly matches her own high-gloss, club-ready aesthetic). She also released a small jewelry collection with LA-based designer Melody Ehsani. The pieces sold out in hours. "I was so happy that my fans really fucked with the necklaces," she says, that she decided to keep designing. Today, Miquela launches her first clothing project: a pair of long-sleeve T-shirts printed with color-shifted photos of her public pixel-made face. "You can give all the credit to [my fans] for bringing these shirts to life," she says, "they really inspired me to get more stuff out there."
The two tees appear in a lookbook styled with cute scalloped knit pieces from the label PH5. The brand's two designers, Wei Lin and Mijia Zhang, are friends of Miquela's. "Obviously they're amazingly talented, but they're also really bringing together the worlds of technology and fashion," Miquela says. For her own designs, she channeled her habitually sassy (but sweet) online persona to create winking, self-aware graphics. On one tee, a stop-sign-shaped logo warns "STOP TEXTING ME." The other has "UNCANNY VALLEYGIRL" written across the back. It's a tagline that keeps appearing in her Instagram comments, she explains, "and just TOO GOOD to not put on a shirt!"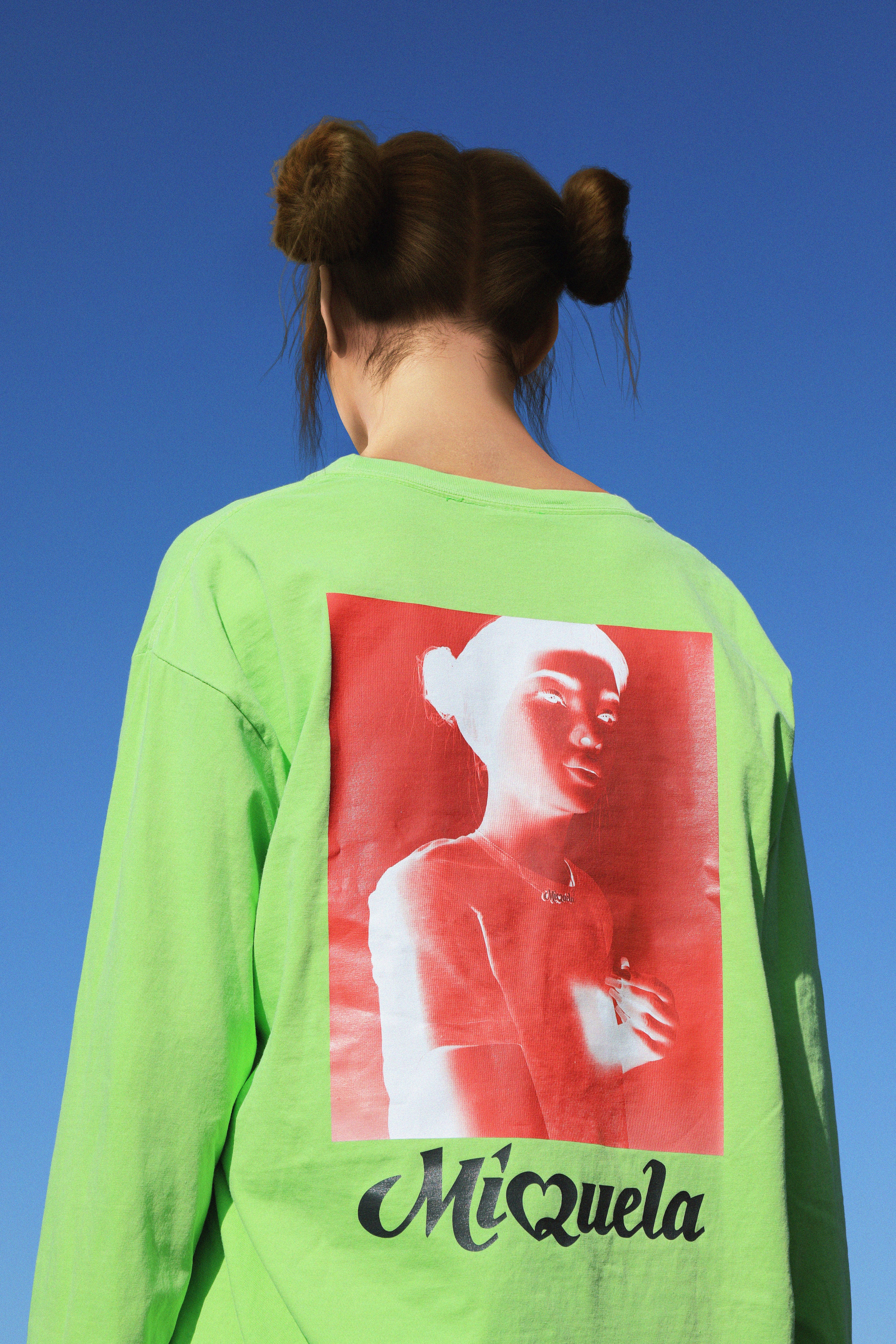 When Miquela emails me, she's sitting on a friend's balcony in Silver Lake, she says, looking out over the LA skyline, which is "still a little grey from the fires." The decision to make merch, she says, was driven by a desire "to give back" to her fans and also to fundraise for the victims of the fires that have recently swept through southern California. "I guess I think of it as a tangible 'thank you,'" she says, "A thank you to everyone that believes in me, for helping give inspiration to these pieces, for standing up for what is right, for purchasing these items so we can support our community and help those who lost everything in the California fires."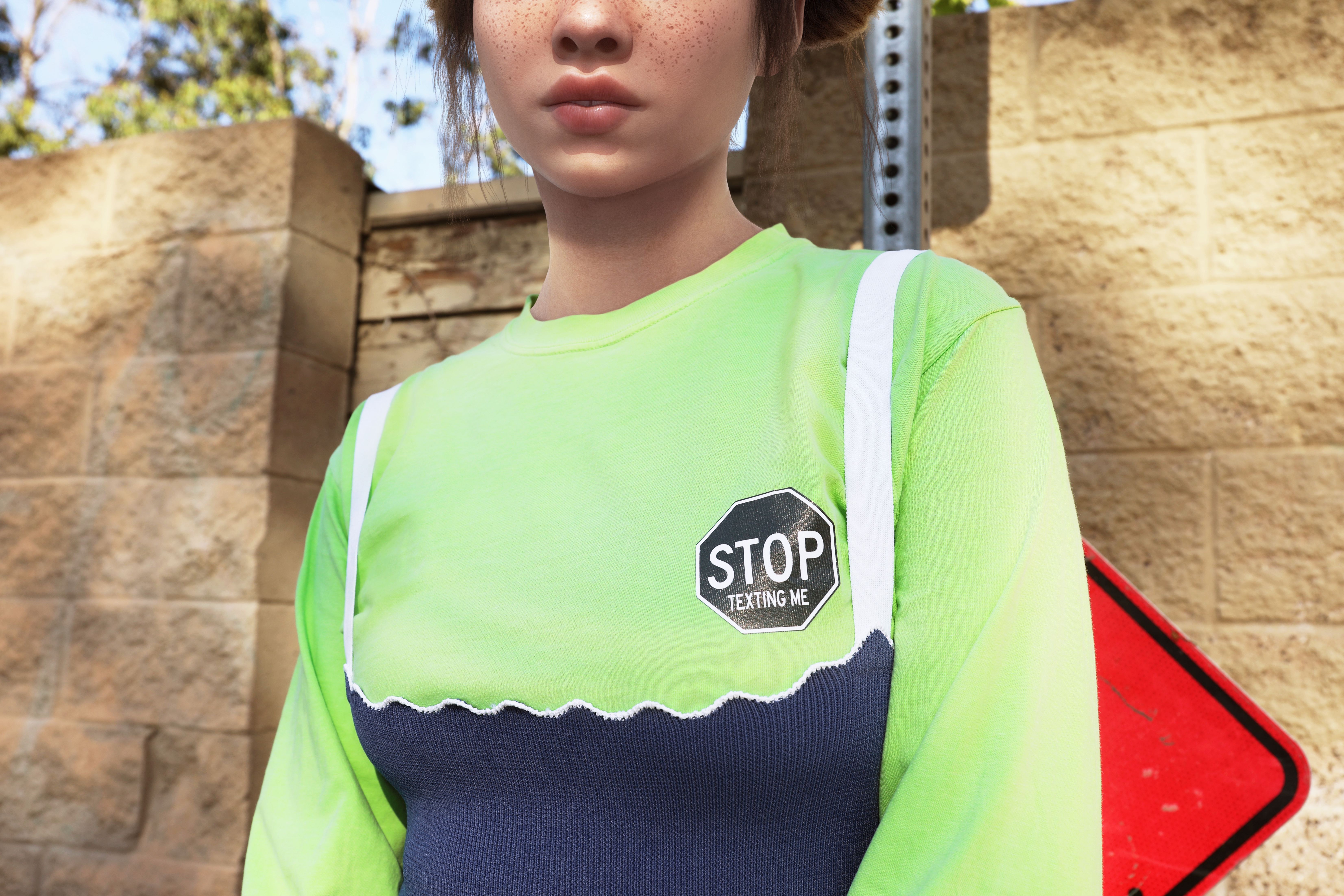 All proceeds from sales of the shirts will go towards rebuilding efforts in Ventura County and Los Angeles. "It's hard to put it in perspective how much damage those fires did," Miquela says, "I had friends lose everything out of nowhere. Hopefully we can help some people get back on their feet before the holidays."
It's been "a very eye-opening year" in general, she adds. "There are so many things that have been brought to light in 2017, and 2018, we need to go the extra mile to make change." Her online presence, which she refers to as a "positive, anti-bullying community," is one way she's trying to do that. Next year, for Miquela, promises more community, more music, and maybe more fashion. When I ask if she might design a full line, she says the answer is "not 'no'."
Miquela's merch is available now through her webstore.