the music, movies and moments that changed tapz' life​
Getting to know the guy that just beat Lorde to win MTV's Best New Zealand Act trophy.
|
12 December 2017, 7:53am
TAPZ is a musician who radiates the kind of energy that inspires total confidence in his upward trajectory. A month prior to our conversation, the 22 year old played a show supporting Lorde (she personally requested he perform) in his home town, Wellington. Not long after, TAPZ took out the title of Best New Zealand Act at the MTV EMA's, beating Lorde herself, who was nominated in the same category. Speaking to him in the wake of these events, it's pretty clear TAPZ has outgrown New Zealand — for now. Over the phone he admits, "My goal is to change people's worlds, and I can't do that from one country."
Growing up in Zimbabwe before moving to a small town on the opposite side of the world at age nine, TAPZ is accustomed to change. "I'd seen a lot of white people on TV but had never seen as many in real life until I got to New Zealand. It was awesome." The move set him up with the constitution for the life of a musician. "Strangely, I don't really miss anything when I move, I love moving on from things. I simply don't see the past as being something to be nostalgic about." With New York the next logical step for the musician, who's already shared a stage with A$AP Ferg and Danny Brown, it feels like this is one journey that's about to get interesting.
As he tells us, "there's a lot more of this story to be told." To learn more about what moves the musician and IMG model with the heart of gold, we asked him to share some of the things that inspired him to make his recent debut EP Beautiful Nightmare.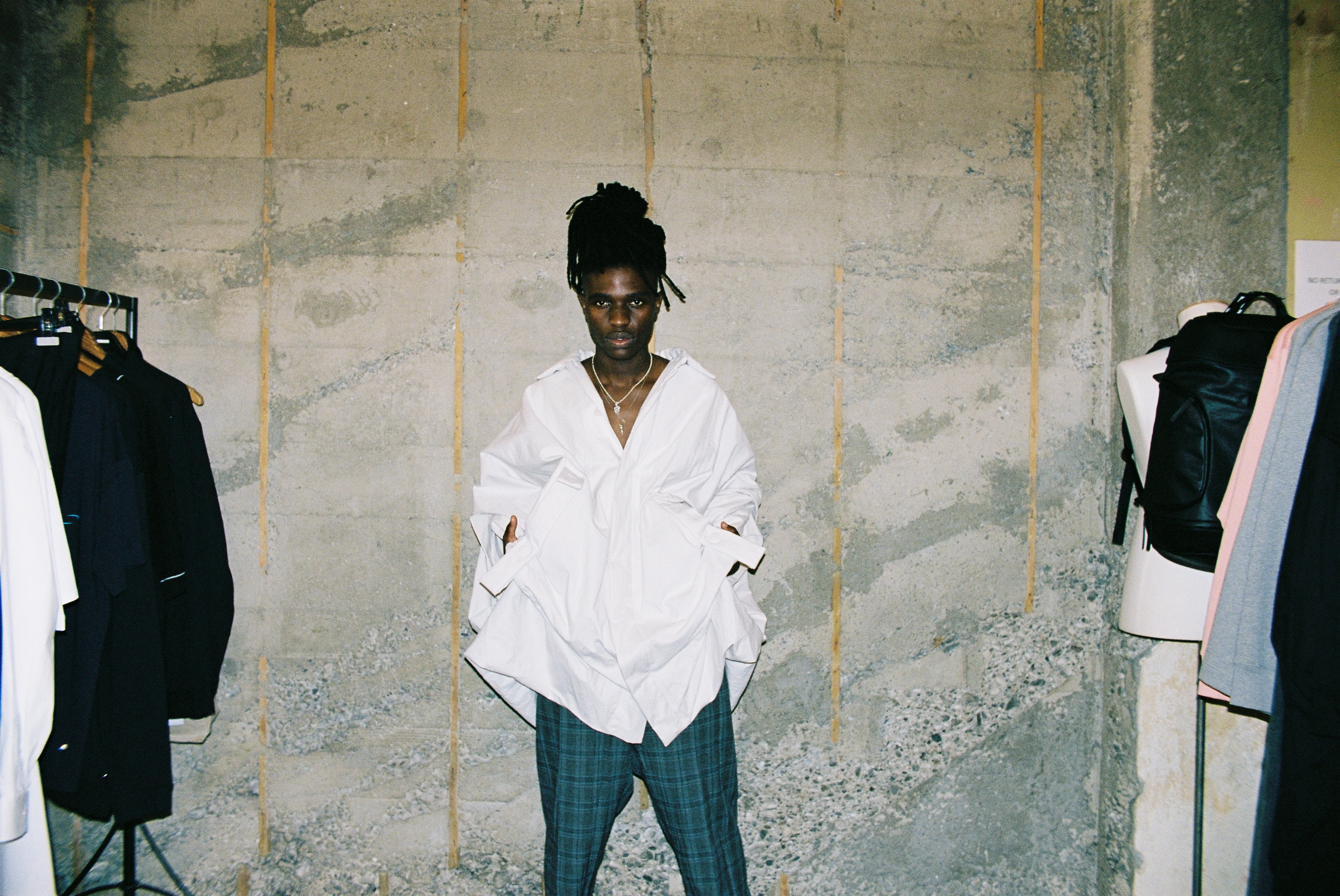 Love...
"Love is weird to me. I've never really understood it. But at the same time I've understood it perfectly. When I think about the word I think about everything my family did. They left their family and friends and everything they had in Zimbabwe because they loved me. It took me a while to fully understand that. Until I found love myself. Love is a big part of my journey in life because it gives me power. I love people and want to move people in their lives. I want to let people know that they don't deserve to be treated differently just because they're different. When I'm around it, it makes me feel more than human. I'm in love with someone, I'm in love with people, I'm in love with life. Like my music though, it is quite dark. That's what love is to me. My music is a representation of what twisted love sounds like. It's a journey and it's not perfect. In its real form, I think love is twisted and raw."
Rihanna...
"She's very empowering and makes such genuine pop music. She's so sexy and raw and, like most people, I relate to her authenticity. She really stays true to who she is and that's what I also try to do with my music. I would love to work with her if there was ever a chance."
LA...
"I was staying in Hollywood at a villa opposite an abandoned church where the elevator was super slow, like in a horror movie. Every night I'd get home late and weird things would always happen. Like one night when I consciously locked the door but when woke up to find it wide open. Then another night, as I was trying to fall asleep, a shadow thing walked up and looked down at me. It might have been a lucid dream but it was too real. I closed my eyes and it was gone. This inspired the first song off the EP called Shadow. It's kind of like 'horror meets love' - when you hear it, it's intense and satisfyingly haunting."
Michael Jackson...
"When I was a kid in Zimbabwe, I'd listen to Michael Jackson and even though I couldn't understand the lyrics, I remember understanding the feeling. It was about the groove, and how he'd dance and emphasise different phrases. I try to bring that into how I deliver my music now too. It's so important for someone who wants to be an international artist, to make music which transcends the language barrier. My first international show was in Russia and even though the kids didn't speak english, it was still one of my best shows because they understood the music and the groove."
Fight Club...
"The first time I saw Fight Club it really gave me a moment. For me it communicates what it means to be free, what my heart feels like. My EP explores that feeling too - the confusion of the fire in my heart."
Masvingo Bikita, a town in Zimbabwe...
"This is where my grandparent's village is. I went back there in 2015 for the first time in 12 years. It was such a crazy time, my music was going crazy on Soundcloud and I'd just performed the Arias. I had the choice to go and meet one of my idols or go back home to see my grandparents who were about to turn 100. I chose to go back and it was crazy because so many things happened, which really affected me. When I arrived, my phone died, I was stung by a scorpion, we were almost charged at by a bull elephant, and I narrowly avoided being bitten by a snake. These things don't even happen to people who live there. I was glad that I got out alive and it really brought me back down to earth after the success of my song Killer. It reminded me of what's really important in life."
Kanye West...
"I love Kanye very much. My Beautiful Dark Twisted Fantasy really pushed the boundaries and was so fearless. One of my favourite songs is I'm in It off Yeezus. It's a blend of so many genres and they worked with a kid they met on Soundcloud who had like 1k followers. That's perfect, it's not about anything but great music."
Heartache...
"I love my pain as much as I love my joy. I can't love one more than the other. There's a lot of heartache on my new EP. I also find peace in heartache - you don't have heartache unless you care. Most of my songs focus on heartache in a way that's beautiful, I'm still young and through my music I'm essentially on a journey of trying to discover what everything means to me."