Margiela, Prada, Calvin Klein autumn/winter 18. Photography Mitchell Sams.
how do you create fashion that reflects the chaos and confusion of the world we live in?
Are the mutant-hybrid clothes we're seeing on the catwalks an attempt to make sense of the turmoil of 2018?
Margiela, Prada, Calvin Klein autumn/winter 18. Photography Mitchell Sams.
How do you create fashion that reflects the tumultuous the world we live in? It's all too easy to slip in timid references in the show notes and press releases that inform those in FROW that a collection's been inspired by the refugee crisis, the #MeToo movement, or, more generally, the resistance to political demagoguery around the world right now. But often the fashions themselves fall short; lost in a whirl of empty sloganeering, superficial principles and too-easy retreats into illusory hedonisms.
But one thing we saw this season in Paris was an attempt to recreate the chaos and confusion of 2018 in the garment itself; mutant hybrids, exploding and morphing down the runways.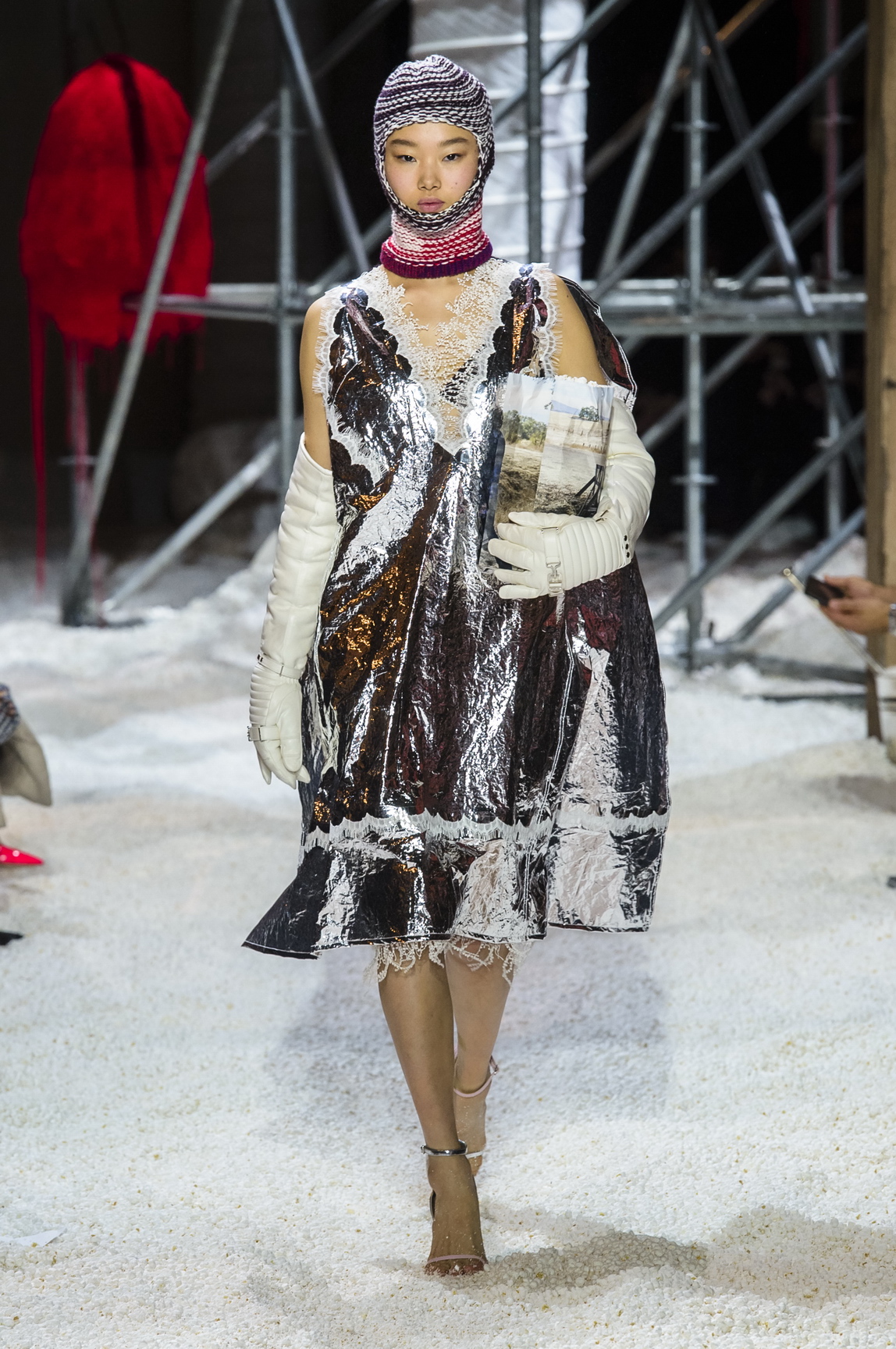 Raf set the tone at Calvin Klein in New York, and Miuccia at Prada in Milan followed it. Both found inspiration in creating clothing that might offer protection from the turmoil. Raf sent woolly balaclavas and protective hoods down his post-apocalyptic, popcorn-strewn runway. Chunky silver gloves and boots felt like the accoutrements of spacesuits, matched in shielding fireman jackets, flashes of hi-vis safety orange ran through the collection. Miuccia, like Raf, has always been one of the best at subtly and beautifully reflecting the world around her; like Raf it was about stepping out and feeling free, despite the perilous world we live in. There were similar visual riffs; oversized protective boots, synthetic fabrics, voluminous silhouettes, fluorescent colour flourishes.
But in Paris these ideas exploded in the clothes. John Galliano at Margiela, Chitose Abe at Sacai, Glenn Martens at Y/Project and newcomer Marine Serre, presenting her first runway collection after winning the LVMH Prize last year.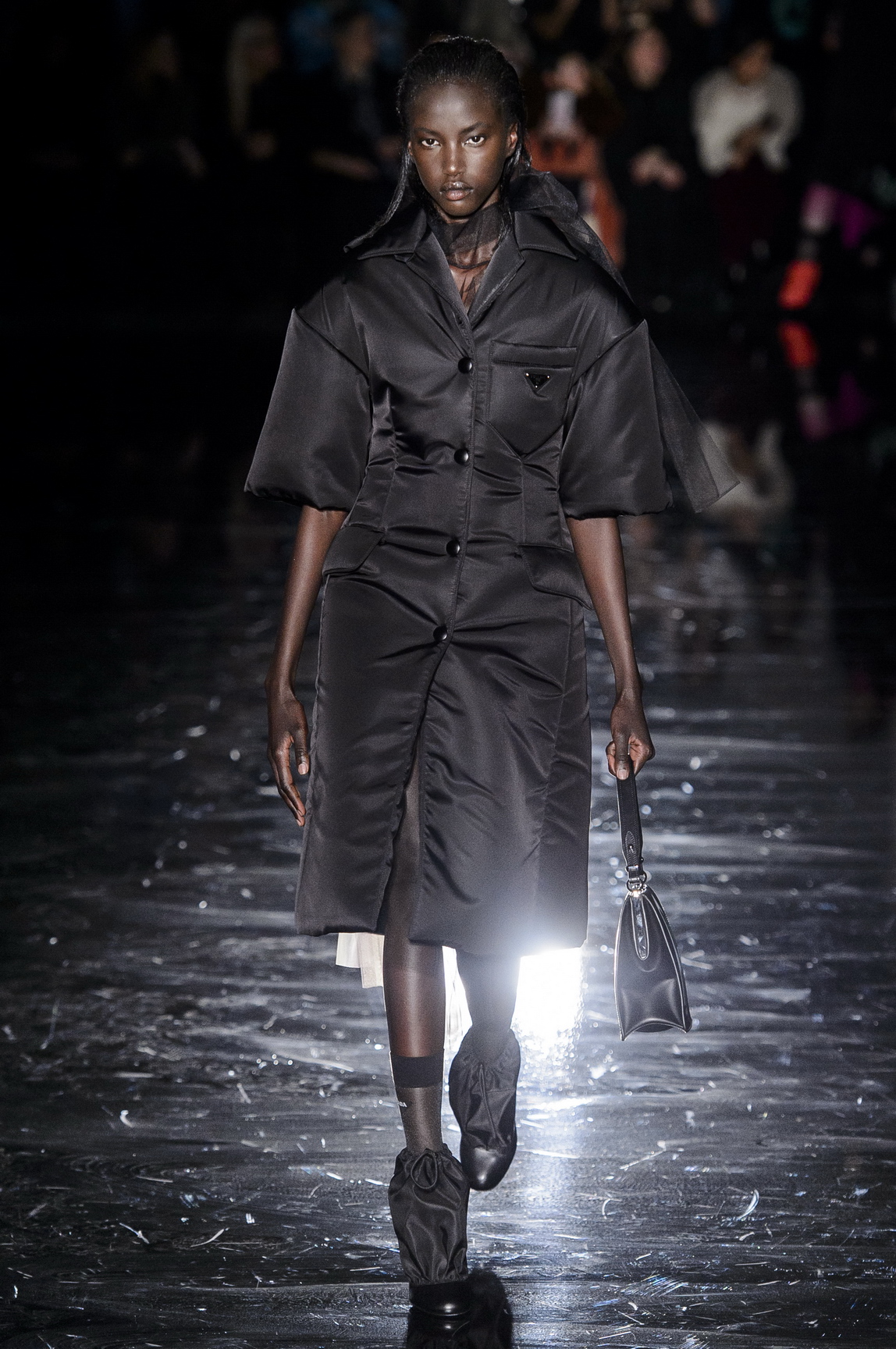 Galliano has been at Margiela long enough now to have settled into his rhythm and found his creative focus. He has almost totally disregarded the aesthetic vision of Martin Margiela, instead taking the kernel of that artistic ethos –- deconstruction, transformation, elevation, degradation –- and finding ways to make it feel futuristic. A wise move; he's setting Margiela as a house apart again. When so many scavenge over the bones of his fashion legacy, Galliano is pushing it into new creative space. To do so, he's disregarded Margiela's work, but also his own sweepingly romantic and historical design signatures: an act of creative bravery that he's being richly rewarded for.
The opening look this season was a wool coat with a sleeping bag for a sleeve. Elsewhere Aran knits slunk out of blazers, and fabrics changed completely under the glare of the camera flash. Garments were ripped to pieces, reduced to their essences and rebuilt into something new. There were big see-through protective plastic outer layers with chunky woollen elbow-length gloves; it was high fashion hazmat suits.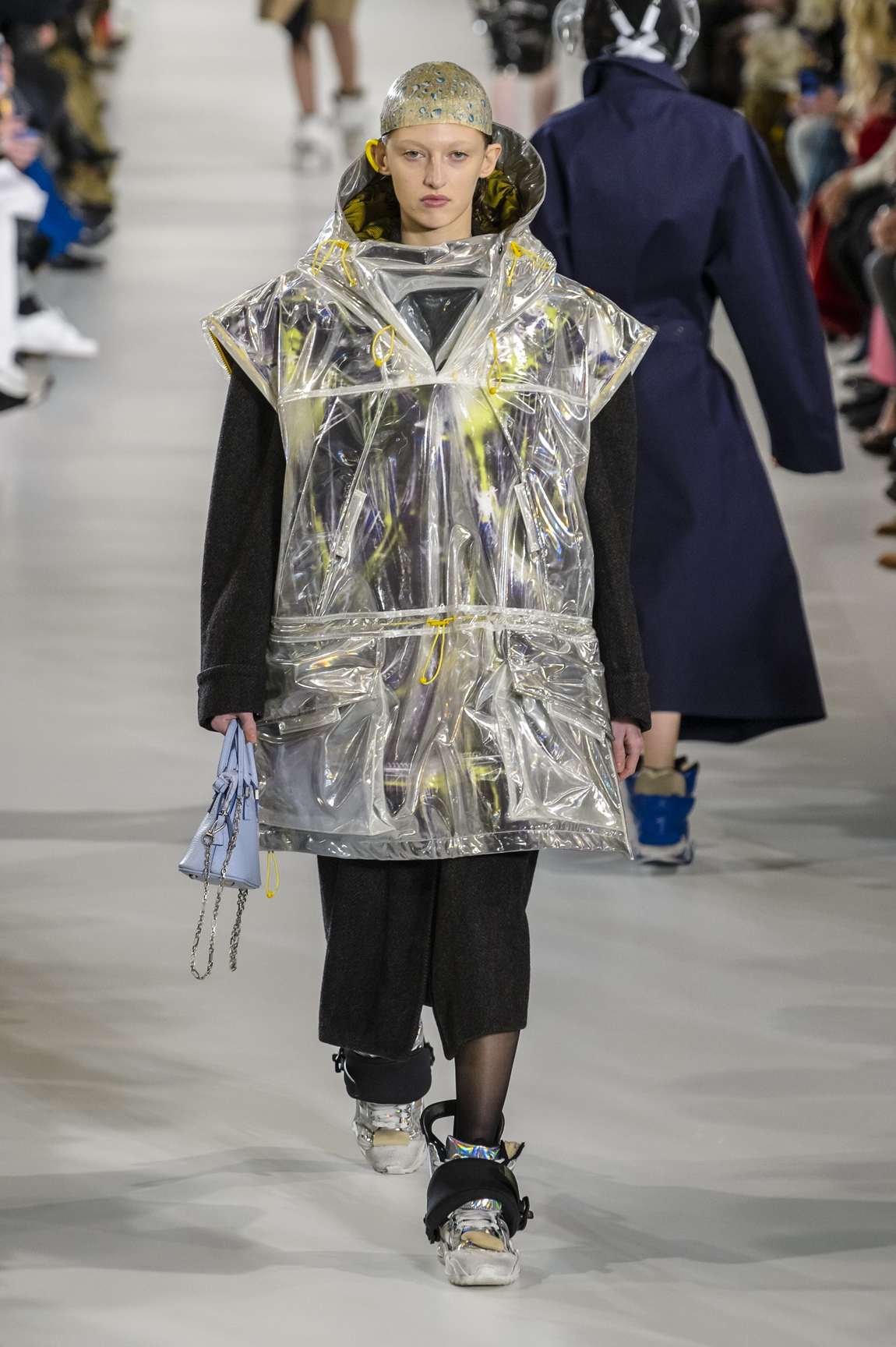 If some of the most compelling shows this season -- Calvin Klein and Prada -- have drawn inspiration in finding protection from the elements of the outside world, then Galliano did the same. But the resulting garments were fun and fantastical, magical and mythical; thrilling in the possibilities of dressing for the apocalypse, rather than trying to keep it at by, defensively resisting it.
Something formally similar was at the heart of Chitose Abe's Sacai collection this season, it felt less concerned with politics, though, and most interested in how we can find new ways of designing. Each item in the collection seemed to be made up of different elements spliced together, clashing and crashing together; a whirlwind of prints, fabrics and shapes colliding in the middle of each garment. A bright blue oversized puffa on the left, a preppy striped blazer on the right. Chunky knitted sweaters attached to a check overcoat that all sprouted from bomber jacket lining, or chic black suit jackets became grungy denim jackets. The effect was thrilling. The creative wildness on show exhilarating. Chitose turns commercial luxury fashion staples upside down and inside out, wearing their unwieldiness lightly. They require commitment on the part of the wearer, they are a challenge, a statement of creative ambition.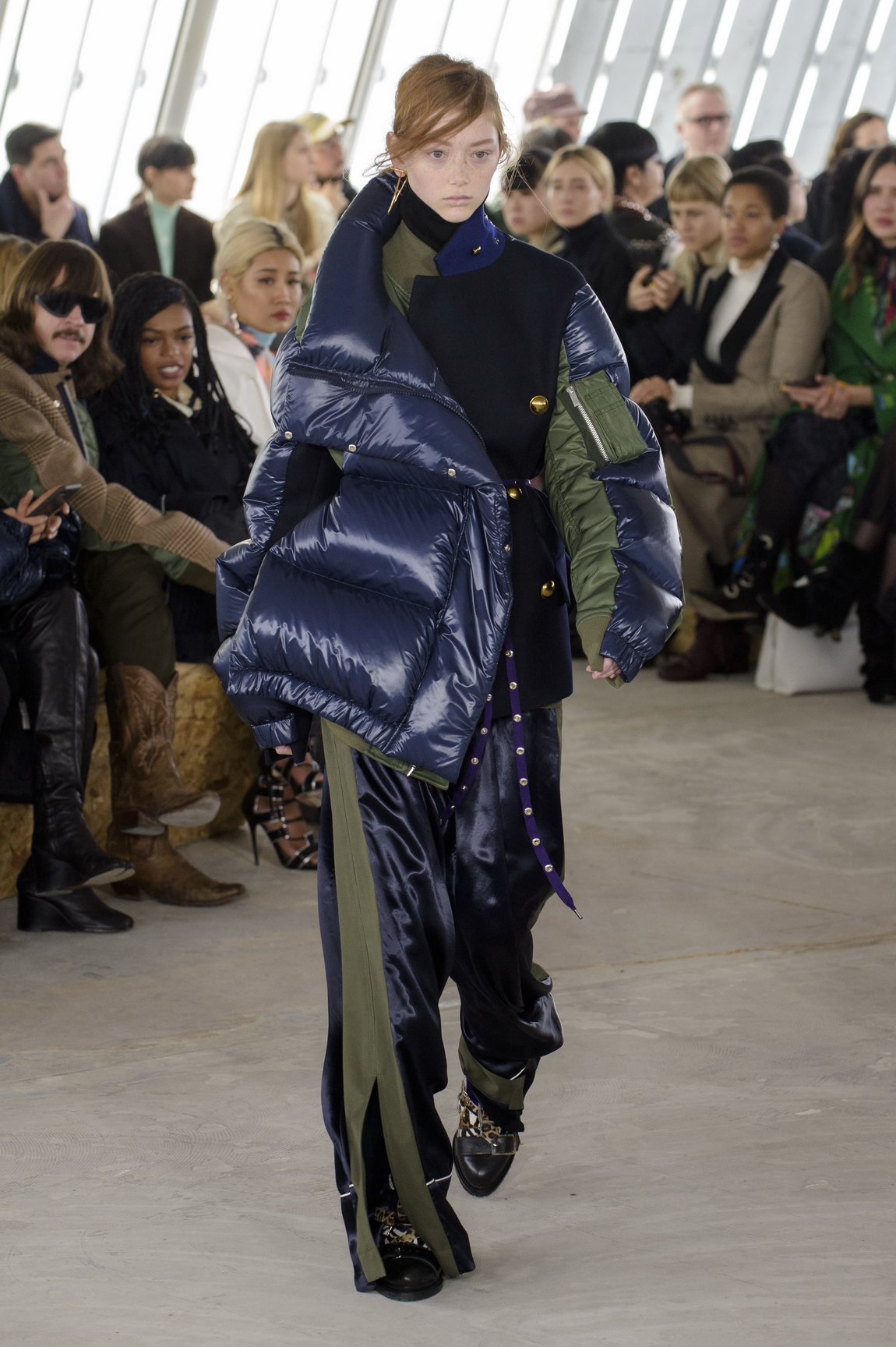 The same challenge to the wearer is there at Y/Project, which veers between horrific ugliness and spectacular inventiveness, it turns primness into gargantuan monstrosity, takes humdrum fabrics and transforms them into something you've never even dreamed of seeing before. He's turned Ugg boots into lurid creature comforts, enveloping whole legs in sheepskin layers. Garments like trenches and denim jackets sprawl in waves of fabric and bulbous layers. Jumpers flourish into wings and scarves.
At the heart of both was the question: how do we reinvigorate wardrobe staples? Both a reaction to the blank mass of throwaway fashion culture; endless drops of logo'd hoodies and sweatpants, skatewear for people who don't skate, clubwear too expensive to wear to a club. Their imaginative determination to find new positions and propositions for fashion take in not just to the turbulence of the world, but the tiring dead-end sprawl of luxury fashion in 2018. Creation can be an act of rebellion; the imagination a space of resistance.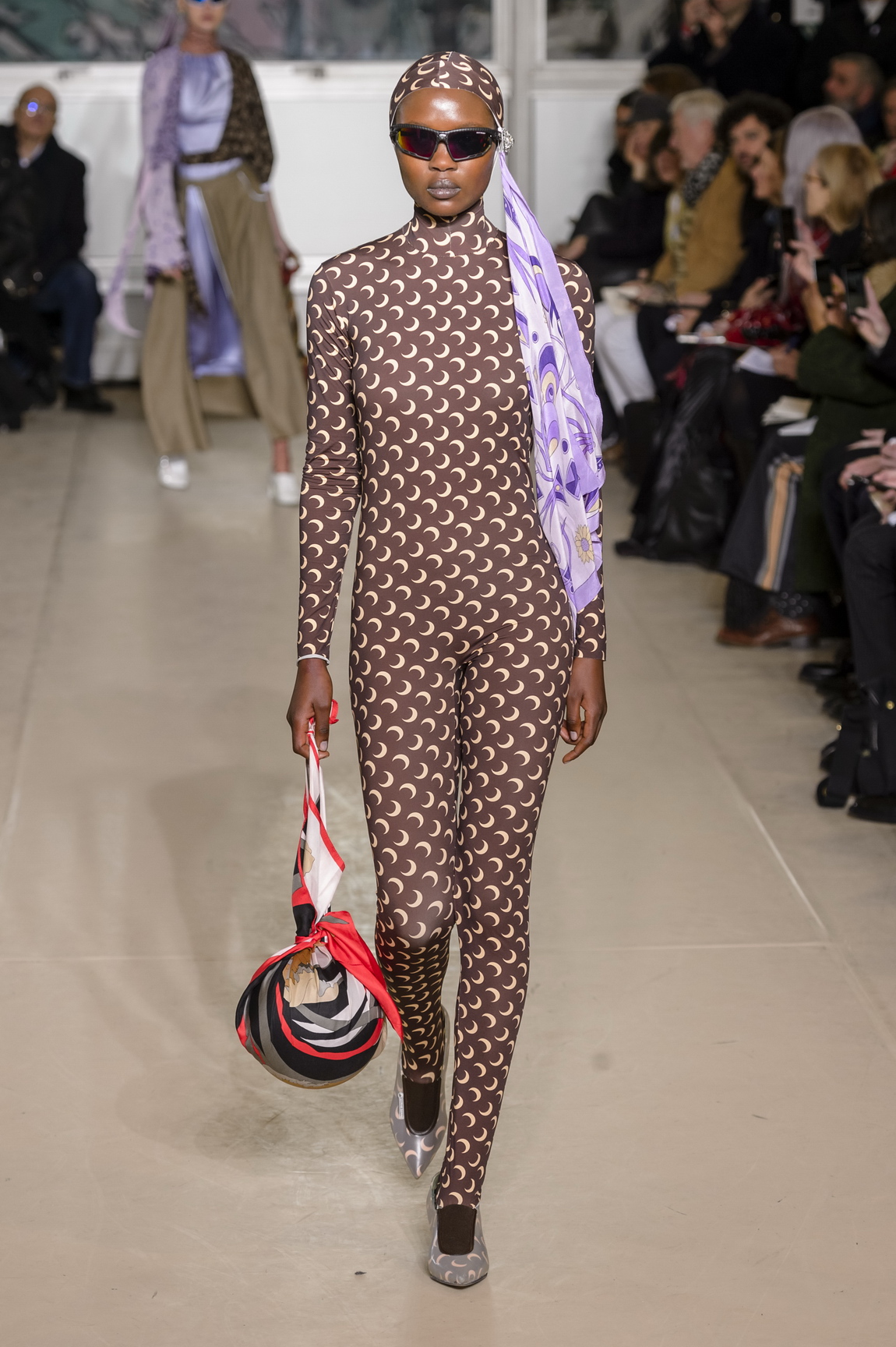 Marine Serre stands as a neat counterpoint to all. She arrived almost fully formed, with a graduate collection that catapulted to the LVMH Prize. Her second collection developed her vision; sportswear fabrics, couture fabrications, signature crescent moon motifs, softness vs. toughness, protection vs. provocation. But Marine captured the imagination with how her designs subtly convey ideas about society, feminism, multiculturalism and sustainability.
"Today, it's not enough to dream," Serre explained to i-D backstage after the show. "You have to follow through with action, you have to question, you have to provide answers and it has to be real… It's about designing a new reality. One that doesn't compromise but simply reacts to and works with the real needs, situations and fantasies of garments today."
Back full circle, from Galliano's Margiela, almost. All these designers are designing for that new reality. Creating garments that promise safety in unsafe times, and uncertain garments that reflect uncertain times.
Credits
---
Photography Mitchell Sams