Abyss X düsterer Mix holt dich aus deiner Komfortzone
... und katapultiert dich geradewegs in dein Lieblings-Videospiel.
|
09 February 2018, 3:05pm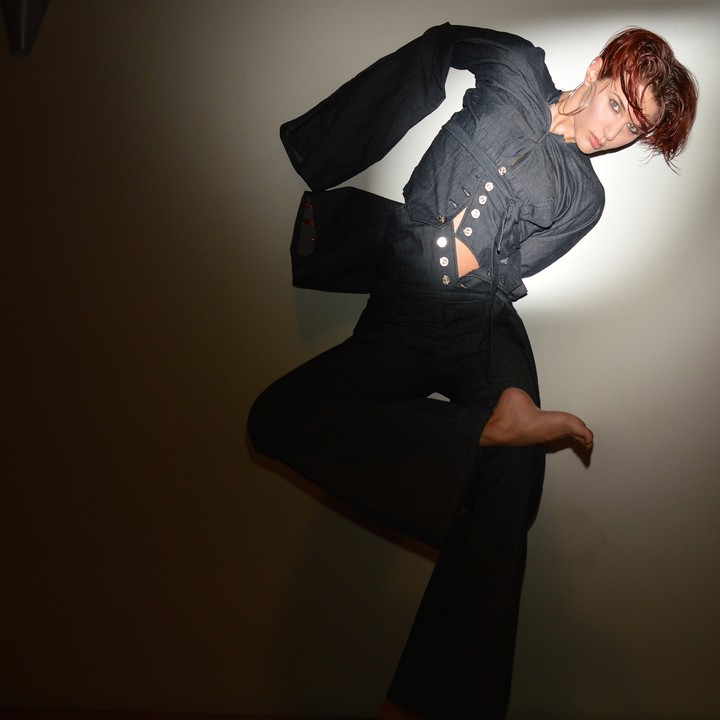 Foto: Kostis Fokas
Es ist Freitag. Das Wochenende naht und du brauchst ein wenig Inspiration, um dich auf eine unvergessliche Partynacht einzustimmen? Die griechische Musikerin und Performance-Künstlerin Abyss X bringt dich mit ihrem Mix weg von der Couch, rein in ein experimentelles Sound-Abenteuer.
Getreu dem Motto Regeln brechen und Formen durcheinanderbringen, erwartet uns eine Überlagerung experimenteller Techno-Beats und R'n'B-Vocals, die an collagenartige Videospiel-Musik erinnert. Dass sich Evangelia Lachianina, so ihr richtiger Name, ungern auf eine einzige Sache festlegt, erklärt sich aus ihrem Background in Tanz, Theater und Film. Was wir von ihrem düsteren Mix erwarten können, erklärt sie uns aber am besten selbst:
"Ich erstelle selten Mixe. Aber wenn doch, sind sie wie Collagen: ein Tsunami aus unterschiedlichen Ideen und Gefühlen, der meine Gedanken beeinflusst. Seht den Mix wie einen Menschen. Seine Stimmung schwankt, aber er hat seine eigene Geschichte und Botschaft. Welche das ist, überlasse ich jedem Zuhörer selbst."
Tracklist:

Hole - "Credit in a straight world intro"
Tone Padron - "Melania Carry"+ Headstone Lane - "Knuckle Duster" + Neri J - "New Era"
Jack of Jill - "Super Sadist"
Errorsmith - "Airbag" + Fatima Al Qadiri - "Shaneera"
Abyss X - "H.TURT"
aTelecine - "I Came I Sat I Departed"
Englesia - "Under my Skin"
Arti Kodin & Dini W - "Psytribe" + DJ Kitoko - "Justice"
DJ Kitoko - "Pilli Pilli"
Szare - "Paried Balls" + Cardi B
Hisato Higuchi - "Girl Sister"
Nic Endo - "White Heat"
Bl4ckFl4me + Jordan Gamardio
Igor Stravisky - "Rite of Spring"
Ledef - "Purity Bynez"
Cyberstruct - "A Fork In The Road Between Two Dead Ends + UVB - Head for Head + An Angel Saved my Life"
Abyss X - "Humiltation"
Kim Young Im - J"eongseon Arirang"
Nic Endo - "Heroines" + Le Zizi De Ike + Jordan Gamardio
Thunder Orchestra - "Diabolical Gesture" + Meredith Monk Scared Song
Abyss X - "Lyrical Waxing"
Dieser Artikel erschien ursprünglich auf i-D DE.