'kiki's delivery service' is the perfect guide for broke millennials
The Studio Ghibli character is trying to figure out work/life balance just like the rest of us.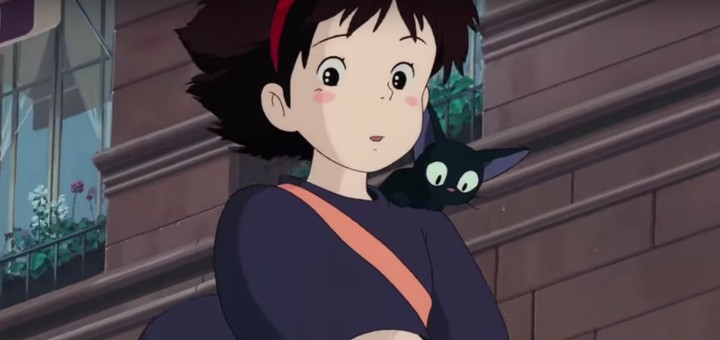 Screenshot via YouTube
Hayao Miyazaki's Studio Ghibli films may take place in fantastical worlds, but they possess many real-world lessons. They tackle deeply relatable themes like coming of age and finding self-confidence. Oh, and economic principles. A new ScreenPrism visual essay brilliantly dissects how the 1989 film Kiki's Delivery Service can be seen as an allegory for the financial struggles millennial artists face. It may be sound like a bit of a stretch, but ScreenPrism masterfully argues its thesis with a slew of supporting points and statistics. The PhD worthy video touches on all the challenges young artists must overcome: landing a first job, work/life balance, creative burnout, and learning self-care. By the end of the ten-minute essay, you'll feel like you've just finished a therapy session. As proven by this YouTuber's comment: "As a struggling, depressed, burnt-out millennial with practical skills in STEM (aka what you'd think would be a stable career) y'all made me cry. [sic]"
Trying to make it as a creative
Over the course of Kiki's Delivery Service, we watch Kiki attempt to turn her talent into a career and navigate a fiercely competitive job market. "She has to develop a work/life balance that doesn't completely wear her out," our narrator observes. Kiki struggles to figure out how she will survive in the big city while also doing something she loves. The video then illustrates how the same feeling is uniquely prevalent among millennials, delivering an interesting statistic. 57% of young Americans say their top priorities are enjoying their work and making a difference. This contrasts greatly to the 67% of older Americans who say their top priorities are making money and learning new skills.
Creative burnout
Kiki's idea to take advantage of her flying abilities by running a delivery service is highly successful. However, our young protagonist quickly feels overworked. "Flying used to be fun until I started doing it for a living," she says in one scene. Kiki's exhaustion highlights how fast-disappearing art jobs have forced the few people who do have one to work overtime. "[Kiki's] lost of flight communicates that when you wear yourself too thin, and turn your passion into just a job, you'll no longer be able to just create," the narrator observes.
Self-care
Kiki has to figure out how to remove her sense of self from what she does. Ultimately, she finds enjoyment in flying again by learning when to take a break from things. She sees the importance of self-care by taking walks in the woods and not thinking about flying at all. These respites allow Kiki to replenish her creative energy. Self-care has been a buzzword this year, amidst all the political scandals and anxiety-inducing news. It's the small things — like taking a nice long bath — that help us to tackle the big things in life.
Want to dive deeper into how Kiki's Delivery Service is the perfect guide for young artists? Watch the full video below.