this is why the music industry pay gap is particularly shit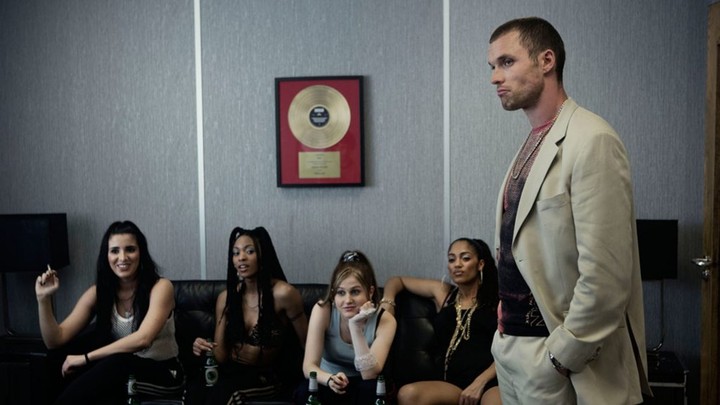 Still taken from Kill Your Friends, the 2015 film adaptation of John Niven's novel about the dark side of the music industry.
When the deadline came and went for UK companies with over 250 employees to publicly publish their pay gap figures, the music industry found itself under scrutiny, again. The three major labels -- Sony, Warner and Universal -- have average pay gaps of 22.7%, 49% and 29.8% respectively, while promoter Live Nation's is at 46% and the average gap at AEG, the parent company of the O2 Arena, is 43.3%. The figures also, somewhat unsurprisingly, reveal that there are more men working at the top end of the business than women.
As Music Business Worldwide reports, only two major UK labels have female presidents (Jo Charrington at Capitol and Rebecca Allen at Decca), and both of those labels are imprints of Universal. While there are other women working in senior roles in the industry -- PRS Foundation CEO Vanessa Reed and former UK Music CEO and current SVP of Public Affairs at Live Nation, Jo Dipple, being notable examples -- their names stand out as being the exception rather than the norm. And given the prevailing culture of presenteeism in the music industry, it isn't surprising.
As a music journalist, I loiter on the periphery of the industry rather than being in its epicentre like many of my friends, who work in management, PR, or as label execs. It's not uncommon to see them answering emails past midnight on a night out, or having to factor work into their weekends. Casting aside for a minute the wider debate around the damaging effects of a workaholic culture, it's no stretch to say that being constantly switched on could provide a challenge for women who have children. That's not to say that dads in the industry won't suffer too, but a lack of flexible working options for parents could mean women find it harder to juggle family and work.
In the same Music Business Worldwide report, Spotify was said to be leading the way here by introducing six months paid parental leave, but major labels were slower on the uptake. "I asked [Spotify's] Head of HR out of all the policies, what was the game changer for diversity, and she said parental leave. Contrast that with some people I spoke to at labels, and I was told that not one guy had taken shared parental leave, which I think is probably down to peer pressure and company culture," executive coach Claire Singers told the publication.
In this respect, working for a smaller, independent company -- which many management and PR companies are -- is probably a better option for women as more flexible working options like working from home are often available, but it's swings and roundabouts, as salaries at the low and mid-level of these companies don't tend to be very high.
Being a parent isn't the only thing preventing women from progressing. As the #MeToo movement has shown, sexual harassment is rife in the industry. Michelle de Vries, a music supervisor for film and TV and former label employee, told the BBC's Victoria Derbyshire show in December that she was repeatedly assaulted by a senior colleague who'd masturbate in front of her. She says that, when she consulted a lawyer about her experiences, she was told: "If you report this, you will never work in the industry again." In the US, hip-hop mogul Russell Simmons has been accused of sexual assault and rape, which he denies. Former Epic Records chairman L.A. Reid has been accused of sexual harassment -- he stepped down as chairman last May and has not addressed the allegations directly. Former Republic Records president Charlie Walk has also been accused of harassment and placed on leave following the allegations, which he categorically denies. Facing the choice between progressing in your job by acquiescing to unwanted advances or sacrificing your career for your own safety is an issue faced in the majority by women. Michelle chose to resign for her own safety, but there will have been others who chose to stay quiet for the sake of their jobs. They'll never have been able to join the 'boy's club' and climb the ladder purely because of their biology.
It sounds cliche to use the boy's club mentality as an explanation, but that's exactly what it is. Men in all corners of the industry are more visible by default, from roundups of great guitarists to lauded producers, while women are often relegated to their own, female-only lists of honour. Music biographies often feature lurid sexual exploits by male musicians and their associates and fail to raise more than an amused eyebrow. An analysis last year of 14 major festivals found that 80% of headliners were men.
I spoke to Vanessa Reed at Tallinn Music Week in Estonia, which is one of the partners of the Keychange initiative to bring more women to festival line-ups. She said that the dearth of women working in creative roles in the industry isn't just a UK problem. "13% of UK songwriters and composers are women," she says, citing figures from PRS research. "When we started talking to our colleagues across Europe we discovered the average across five or six different countries was still only about 15 to 16% of women, which is where we're at now in the UK as well."
Not only are women underrepresented behind the scenes, but on the live performance circuit as well. And when women are an exception rather than the norm in any industry, their ability will, by default, be doubted. It wouldn't surprise me if female performers also earned less than men on average, not least because they struggle to make it to headliner level. The figures released by the major labels are just the tip of the iceberg, and lend credence to the theory that when it comes to making real money in the music industry, men are assumed to be the best people for the job.
"If you look at other sectors, it's proven that more diverse boards, more diverse teams result in better business," says Vanessa. Research backs this up: management consultants McKinsey found that companies with more gender diversity were 21% more likely to increase their profits. It's time for the music industry to give women a chance to reach their full potential, by shedding outdated and ingrained ideas, actively looking to diversify the workforce, and committing to zero-tolerance policies on harassment. We know we're up to the job, but we need to be supported and believed in.