tokyo james makes suits for the streetwear generation
The British-Nigerian designer blends London grit with African spices, modeling puffer coats after luxury smoking jackets.
Photography Anika Molnar
Ask any man about his first suit and he can probably describe the exact color of its buttons. In the eyes of many men, purchasing a first suit is an unofficial right of passage that they reflect upon fondly and with vivid detail. "My first suit I ever bought was a Jil Sanders suit on my 21st birthday," said British-Nigerian menswear designer Tokyo James. "I purchased it from Dover Street Market and it took me 2 month to save up for it. I was on top of the world when I finally had the suit." Since then, Tokyo has graduated from buying high-end suits to designing them for his namesake menswear label. Without any formal design training, he has set out to create suits for the streetwear generation that's gradually abandoning the classic style.
In 2015, when Tokyo debuted his first collection at South African Menswear Week, he had a strong vision of who his customer would be. Having grown up in a conservative neighborhood in South West London flipping through the pages of indie British magazines, Tokyo chose to develop an aesthetic that fused the traditional European tailoring he grew up around with the unconventional details he later discovered on the streets of London's trendy, young neighborhoods. This resulted in collections featuring printed white suits embossed with red spiders, and dress pants with braided details lining both legs. Now, after temporarily relocating to Lagos, he's updating Tokyo James to reflect the culture and excitement of the Nigerian megacity.
Tokyo's return to Nigeria couldn't have come at a greater time. At the moment, the country's emerging contemporary designers are finally experiencing recognition for their innovative designs. They're individually projecting their own ideas about what it means to be a Nigerian designer, and expanding beyond the nation's traditional garb. Tokyo has fully embraced this trend, so much so, that it heavily inspired his latest fall/winter 18 collection. In addition to the brand's suiting upgrades, this season Tokyo reworked traditional streetwear separates to appear more formal; he even constructed a classic puffer coat to model the appeal of a luxury smoking jacket.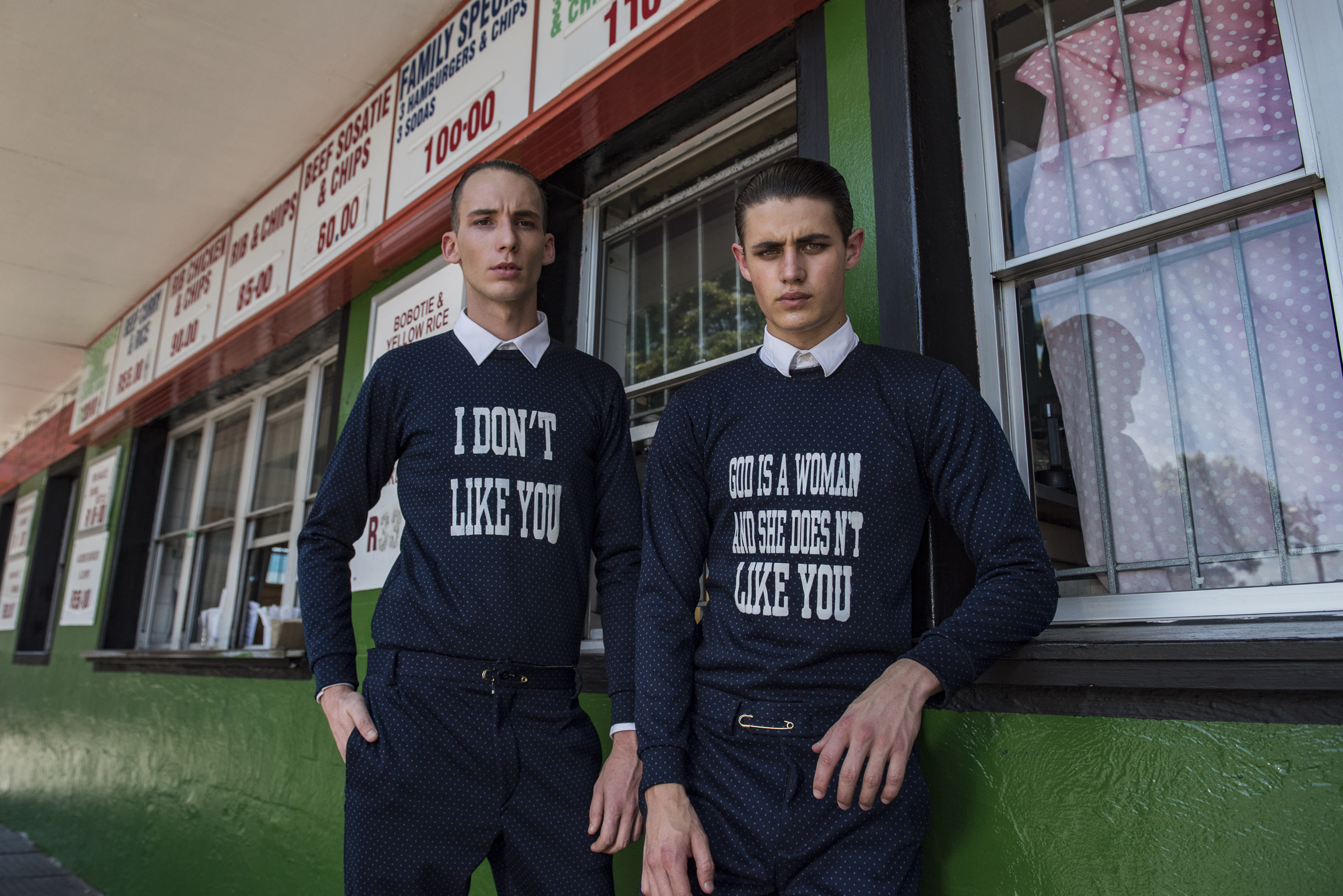 The puffer coat is not the only stand out look from Tokyo's new fall/winter 18 collection. Powder blue track pants, wrinkled waxed jackets, and tasseled leather shoes, also add a bit of drama to an otherwise polished collection. Because the season's theme was centered around diversity, Tokyo stamped Nigeria's arewa symbol, which in Hausa culture means diversity, on many pieces as a way to honor his heritage. The symbol appeared to compliment the piece's dominant color pallette and the brand's multicultural aesthetic. "I am inspired by the old world Italian traditional athletics with the cool edginess of London, and the new world and spices of Africa's most populated city––Lagos," said James.
To create the collection's lookbook, Tokyo teamed up with a longtime collaborator, the photographer Anika Molnar, for a shoot in Cape Town––where his career officially began. The collection was captured in a parking lot of a colorful fast-food restaurant; tall, handsome models with greased back hair sported a range of pastels that appeared in direct contrast to the shoot's busy surroundings and large motorcycle prop. This visual contradiction was carefully curated to show the diverse range of spaces both suits and the Tokyo James man can live in. "It comes down to the very strong ethos of the brand––simplicity with edge," said James about the lookbook. "The hard background of the surrounding stands for the edge. It's to show the duality of the man; that he can both be soft, and at the same time, also hard and strong."
The styling of the lookbook also communicates the sartorial range of the Tokyo James man. All at once stylist Danielle Solomon, paired a netted, splatter paint shirt over a crisp white button up, and added a waxed bucket hat to match the two-piece waxed jacket and pant set. In another photograph a suit, a casual sportswear look, and biker ensemble all co-existed in a unifying pastel blue. In the end, the team behind the lookbook maintained the true Tokyo James aesthetic of piecing together drastically different design elements and making them work in drastically different spaces.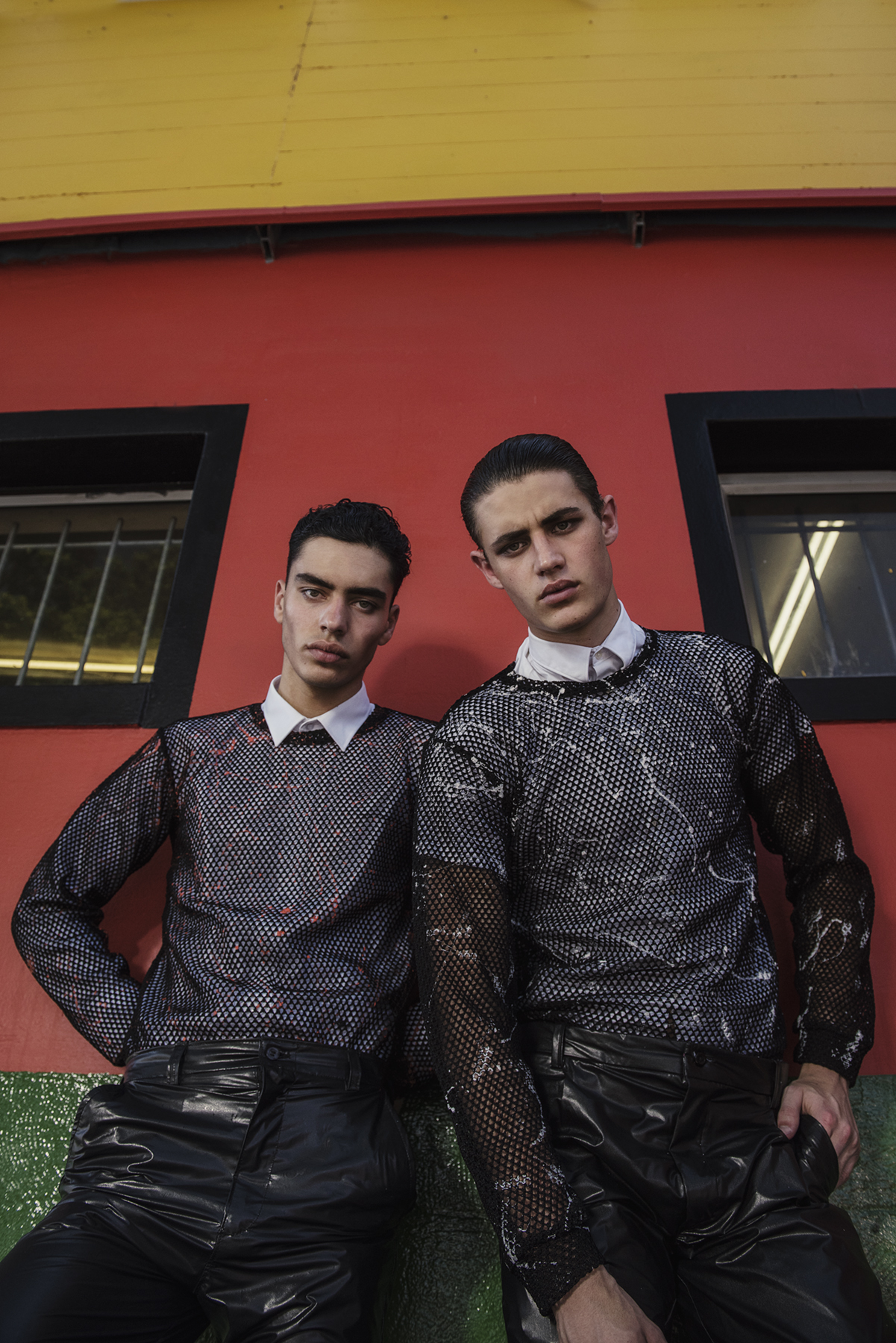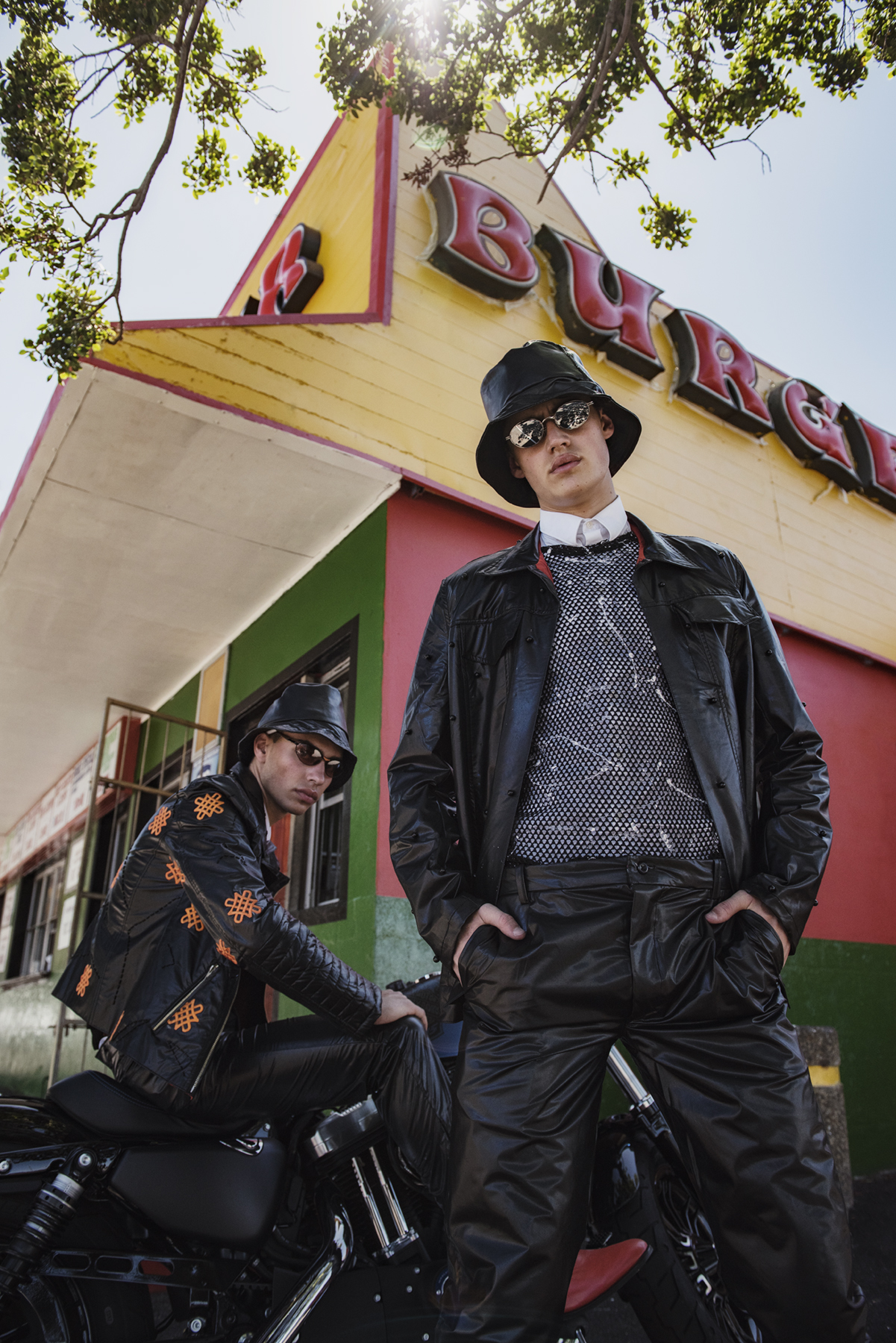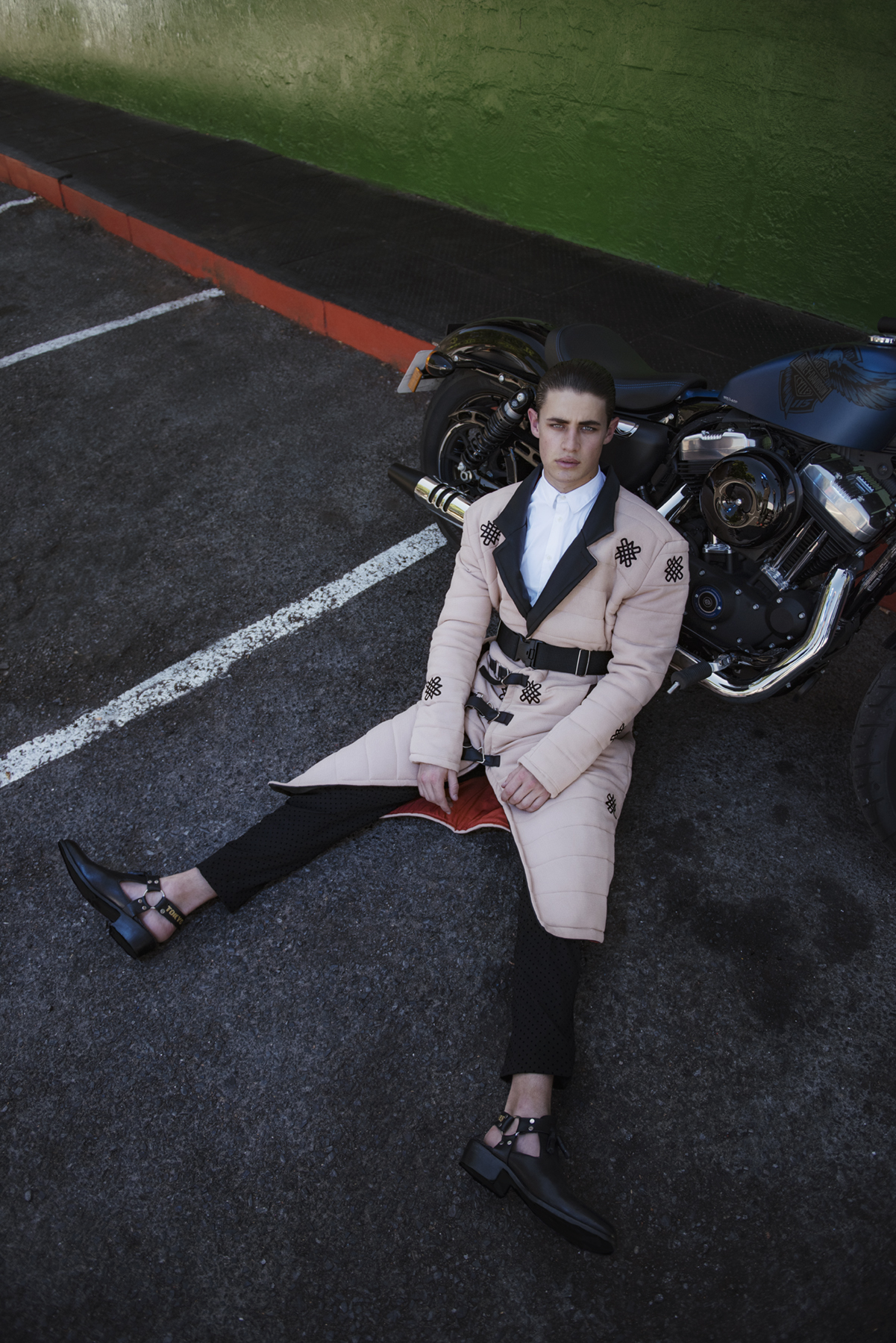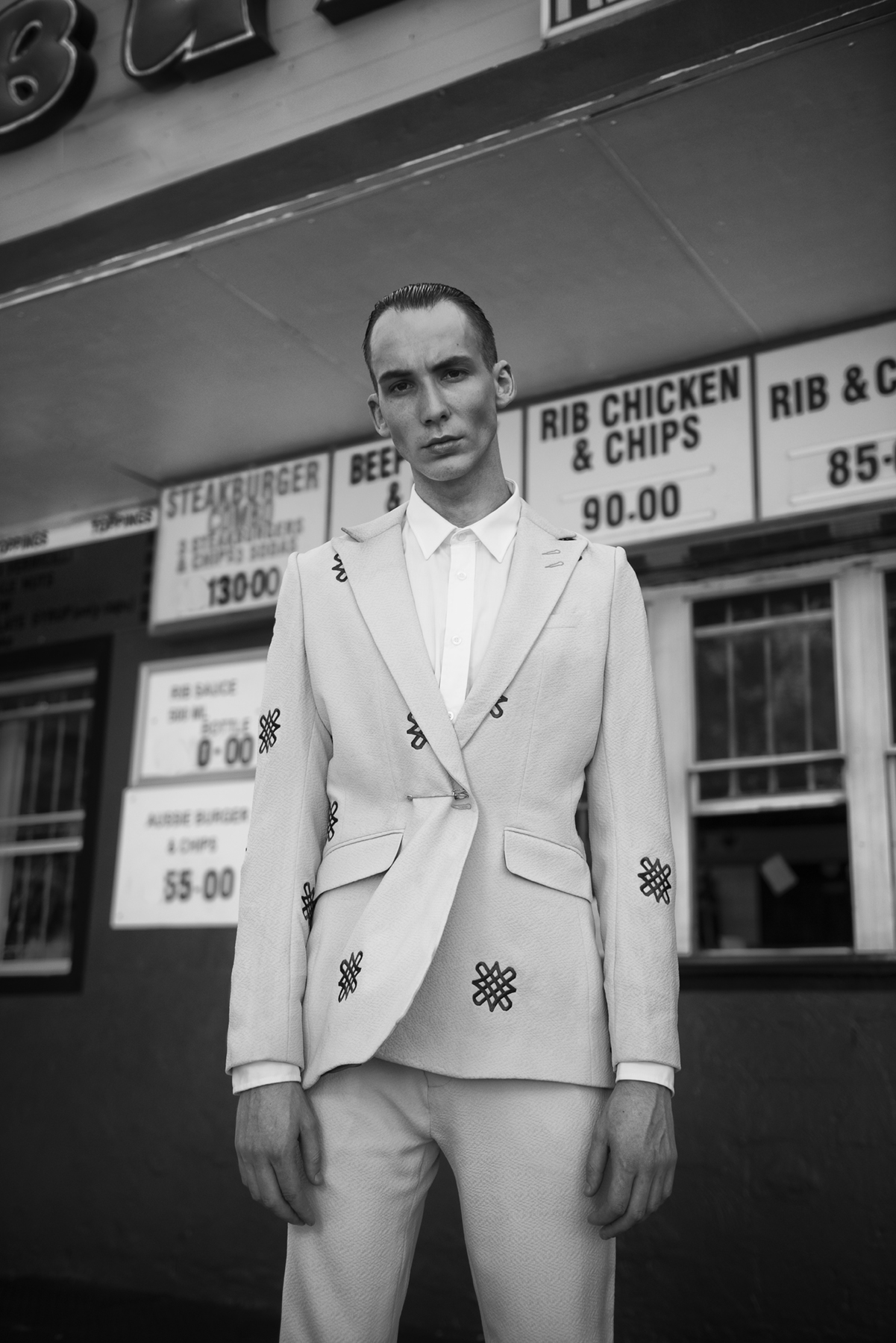 Tagged: