we really want to see greta gerwig and saoirse ronan's angsty new film
Watch Saoirse jump out of a moving car in the very funny trailer for Greta's directorial debut.
|
06 September 2017, 12:34pm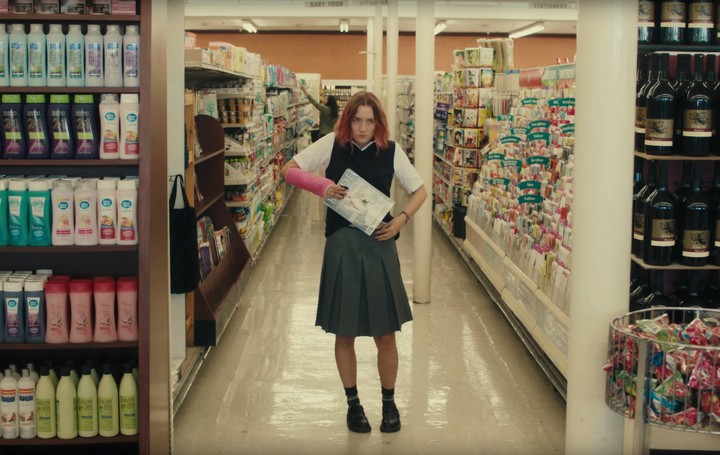 You're in a moving vehicle, with your mum, and she's telling you you should probably just go to jail. What do you do? Tell her to fuck off? Cover your ears and yell show tunes at the top of your lungs? Jump out? Saoirse Ronan's character chooses the latter in the trailer for Lady Bird. It is, despite being overly dramatic and somewhat masochistic, very funny.

Lady Bird is the directorial debut from Greta Gerwig, queen of awkwardly relatable coming-of-age films where the plot doesn't hang entirely on whether they'll pop their cherry before graduation. Whether she's writing and starring in a story on the inherent messiness of best friendship in Francis Ha, or the unexpected averageness of uni life in Miss America, Greta's nuanced comedies are a refreshing antidote to the saccharine coming-of-age tales Hollywood often churns out.
Lady Bird centres on the self named "Lady Bird" (in quotation marks because, "I gave it to myself, it's given to me, by me"), played by Saoirse Ronan. She's an angsty high schooler growing up in Sacramento dealing with the myriad of disappointingly underwhelming dramas of growing up: wanting to get into universities you probably won't get into, crappy career counsellors, losing your virginity in a extraordinarily subpar manner ("I just wanted it to be special," "Why? You're going to have so much non-special sex in your life"). And underpinning it all, a fraught relationship with her mum (played by Roseanne's Laurie Metcalf). On this, Lady Bird agrees with 99.999% of all high schoolers -- mum just like, totally, absolutely, doesn't get you. Until you realise she's the only one who like, totally absolutely does.
We have to wait until 12 November to see the film in full glory, but until then here's the very lol-able trailer: