celine dion knows it, your mom knows it: style is having a middle age renaissance
There's a long way to go before ageism towards women is destroyed, but recently it seems like the media's admiration for someone's prioritization of their own taste over existing norms has grown.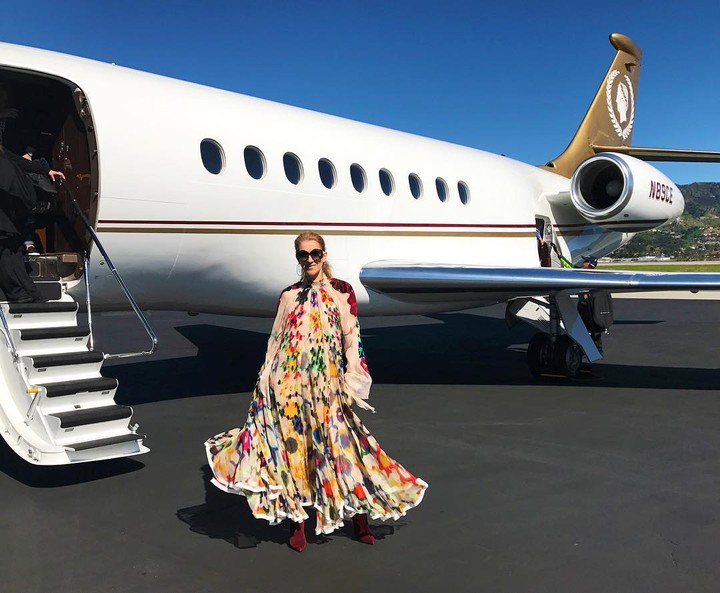 Image via Instagram
This article was originally published by i-D UK.
If summer 2017 had but one purpose, it was to reintroduce us to Celine Dion: singer, icon, and stylistically superior entity. Which is only made better by the fact that she knows it. Over the last few months, the 49-year-old singer has reemerged on the cultural forefront, earning praise for her couture, her Instagram game, and an unparalleled ability to know and showcase her angles. In short, Celine Dion can do no wrong, and has joined the ranks of Helena Bonham-Carter, Emma Thompson, and Helen Mirren: middle-aged women (and older) who've thrived in the wake of abandoning any/all fucks. But, fortunately, they might be the last generation of women who'll have to wait until an "acceptable" age before letting their aesthetic freak flags fly.
To think of Celine Dion as a "middle-aged woman" seems ridiculous. Especially since we've spent decades observing that description to apply to our moms, aunts, and women we don't know how to categorize as being either young or old. To describe a woman as "middle-aged" is largely to connote a lack of relevance. We place an emphasis on being young and assign currency to our elders (but only when they're "elderly"). And we allow the perpetuation of ageism in Hollywood; with tales of Maggie Gyllenhaal being deemed "too old" at 37 to play the love interest of a 55-year-old, while 20-somethings Emma Stone and Jennifer Lawrence are paired with men decades their senior. Through cultural norms and industry standards we only half-heartedly question, we make certain women invisible: if a particular type of man doesn't want to fuck them, and they're not old enough to offer sage advice, they don't exist. So, via fashion, they've started to remind us that they do.
Read: 8 images that prove Céline Dion's new look is on another level.
For years, red carpet risk-taking didn't pay off. At the 1998 Academy Awards, Celine Dion was raked over the coals for wearing a white backwards tuxedo by John Galliano, while the Vivienne Westwood gown Helena Bonham Carter wore to the 2013 Oscars earned her a place on the E! Worst Dressed list. And for a few decades, that shit mattered: to get it "wrong" at the Oscars (or any award show) suggested too much personality, too little class, too little reverence for such a blessed event. Most of us grew up aware of the celebrities we liked wore and wrote off the ones who who couldn't get it right; assuming they were our living worst-case scenario should we ever try to exercise individuality — or worse: who we'd grow up to be one day ourselves.
"As our worlds have expanded with the internet and ability to have real discussions about ageism and invisibility, we've come to recognize that to embrace one's self offers the authenticity we assign to celebrities we like best."
And then we actually did grow up and began seeing that with age comes a freedom to be extra, to be weird, or to throw your goddamn heels over your shoulder because honestly, fuck them. We began to realize hot/not/right/wrong-centric coverage was boring, safe, and stripped fashion of its capacity for self-expression. We realized Helena and Emma and Cher and Shania and Mariah and Celine-motherfucking-Dion looked a million times more interesting than another "beautiful gown." Especially because those "beautiful gowns" tended to follow a very specific industry norm: thin and white. Because, hi: as invisible white middle-aged women might be, they're still not as overlooked at women of color, trans women, or non-binary persons whose fashion is measured against cis, feminine, and European beauty standards. Particularly by the self-made connoisseurs of taste who still categorize style as being either hit and/or miss.
Which we're starting to recognize. Particularly since Celine Dion's renaissance is an indicator that the second half of one's life can eclipse the first in its greatness. At this year's Met Gala, she was as eccentric in her presentation of self as she'd been at the 1998 Academy Awards. But as our worlds have expanded with the internet, social media, and ability to have real discussions about ageism and invisibility, we've come to recognize that to embrace one's self offers the authenticity we assign to celebrities we like best. (See: the way Jennifer Lawrence's latest Vogue feature accentuates how normal and "herself" she is.) But anyone who's watched Dion's evolution from early-nineties ballad star to the toast of 2017 will understand that she epitomized self-awareness and a flair for drama. Whether in the video for "It's All Coming Back to Me Now" or in her recent Vogue Instagram takeover, she's delivered the only persona she's familiar with: her own.
But in 1998 we weren't ready to think outside the perimeters we've been spoon-fed by magazines or fashion police. 19 years ago, we wanted the 30-year-old to fit into our idea of what "young" should look like. And Dion's aesthetic experimentation was a mistake, pants were a mistake, to not look uniform was a mistake, too. So then, like many middle-aged celebrities are supposed to, she disappeared and remerged as this unapologetic person we recognize now.
The thing is, this trend is finally dying. As fashion coverage has exploded to encompass all realms of style dialogue, our admiration for someone's prioritization of their own taste over existing norms, particularly as we begin to recognize the way we talk about age and the way we use it to justify exclusion. There's a long way to go before ageism is destroyed in pop culture completely (enter: Woody Allen casting Selena Gomez in his latest movie), but thanks to this increased celebration of fashion-centric freak flags, of outspokenness, and of abandoning "dos and don'ts," a renaissance — or second-act — of a woman's life and style might not be needed. It might just get to be a continuation of years of aesthetic unfuckwithability.
Read: 8 Images That Prove Celine Dion's New Look is On Another Level