Photography Benjamin Alexander Huseby [The Livin' Loud Issue, No. 311]
thom murphy is central saint martins' new menswear head honcho
i-D meets the stylist-turned-designer-turned-artist and consultant before his first lesson with fashion's future stars.
|
13 September 2018, 2:21pm
Photography Benjamin Alexander Huseby [The Livin' Loud Issue, No. 311]
As of October 2018, menswear degree students at CSM will be taught and monitored by the stylist-turned-designer-turned-artist Thom Murphy. "We're delighted by the appointment of Thom Murphy," Sarah Gresty, BA Fashion Course Leader at CSM, explains exclusively to i-D. "His diverse experience exploring art, fashion, politics and styling will bring a new direction and relevance to menswear at CSM. We're all looking forward to working with him."
Thom initially made his name on the pages of i-D back in the late-90s as an innovative menswear stylist. He conveyed a radical brand of racially diverse street casting, cartoonish fun, psychedelic scallies and cranked-up working class male beauty. His editorials brought together everything from Reebok Classics hand-painted pink (they didn't make them in endless different colourways 20 years ago) to Comme des Garçons' newest designs. There was sportswear, thrift store gold and hats made from Weetabix.
In 2009, he expanded these themes by launching his own menswear label, New Power Studio -- a fusion of high-concept tailoring with sportswear and streetwear. Unforgettable New Power Studio moments include a famous racing driver sporting a cashmere cape, motoring down the runway in a mobility scooter, preceded by east London club starlet A Man To Pet wearing bespoke platform Monkey; a show featuring dancers choreographed and led by Benjamin Warbis of the Michael Clark Company, bedecked in toilet rolls and tracksuits; a strapping model marching down the runway wearing an oversized rucksack made entirely from rubber gloves and containing a small child. Murphy's combined archive of styling, art direction and designing is now routinely referenced by a younger generation of fashion image makers and designers, and examples of his work have, over the years, appeared in exhibitions at the V&A as well as SHOWstudio's recent North show at Somerset House and Liverpool's Open Eye gallery.
Despite the accolades, Murphy closed down New Power Studio in 2012 to pursue a degree in fine art at Goldsmiths, while continuing to consult and collaborate with various brands and designers. i-D caught up with him to find out more about his past, his prestigious new position at CSM and his hopes for the designers of tomorrow.
"The menswear BA at CSM should be a space where students can feel comfortable in experimenting and exploring their ideas. A place where they come to understand that creativity is not about being right or wrong, it's about exploring and developing your own language, which you feel great about, and which becomes untouchable."
What first turned you on to fashion?
When I was young there was such a amazing hotchpotch of influences. 80s casuals at school, my older brother and his David Bowie obsession, Boy George and Grace Jones on TV and Comme des Garçons and Gaultier in magazines. MTV was also starting, so you'd get glimpses -- and I mean glimpses -- of New York, of Paris Fashion Week and hip-hop. You would have fragments of all these amazing things that you recorded on video and watched over and over again, like your life depended on it.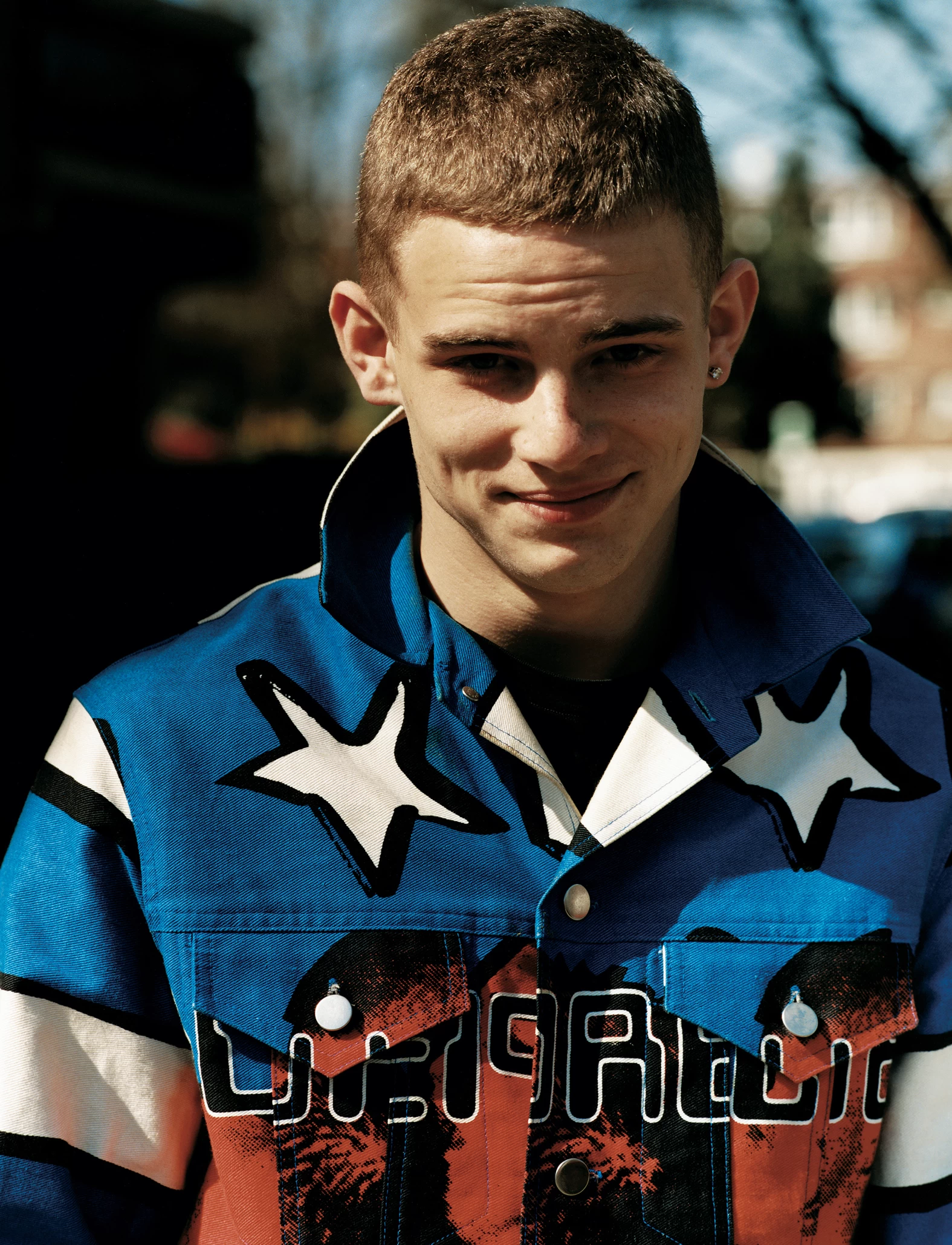 How did you first get involved in styling?
I always dressed in a very particular way -- not necessarily outlandish, but very particular. So, it was a natural decision, and people had told me I should be a stylist when I was out and about at clubs, even before I really knew what one was. I was assisting on a Diesel show back in the 90s and the photographer Jason Evans was involved with the casting -- we chatted as the days went on and he said he would introduce me to Terry Jones at i-D. Jason was always encouraging me. At the same sort of time I got introduced to Alasdair McLellan through the writer Jo-Ann Furniss, and we started shooting some stories for Sleaze Nation and Second Generation. Then I did more shoots with Jason or with Alasdair for i-D -- and continued working with i-D for years afterwards -- as well shooting with David Sims for Arena Homme Plus. Working with David Sims is always great. The shoots we did In Liverpool are obviously special, as that's where I'm from.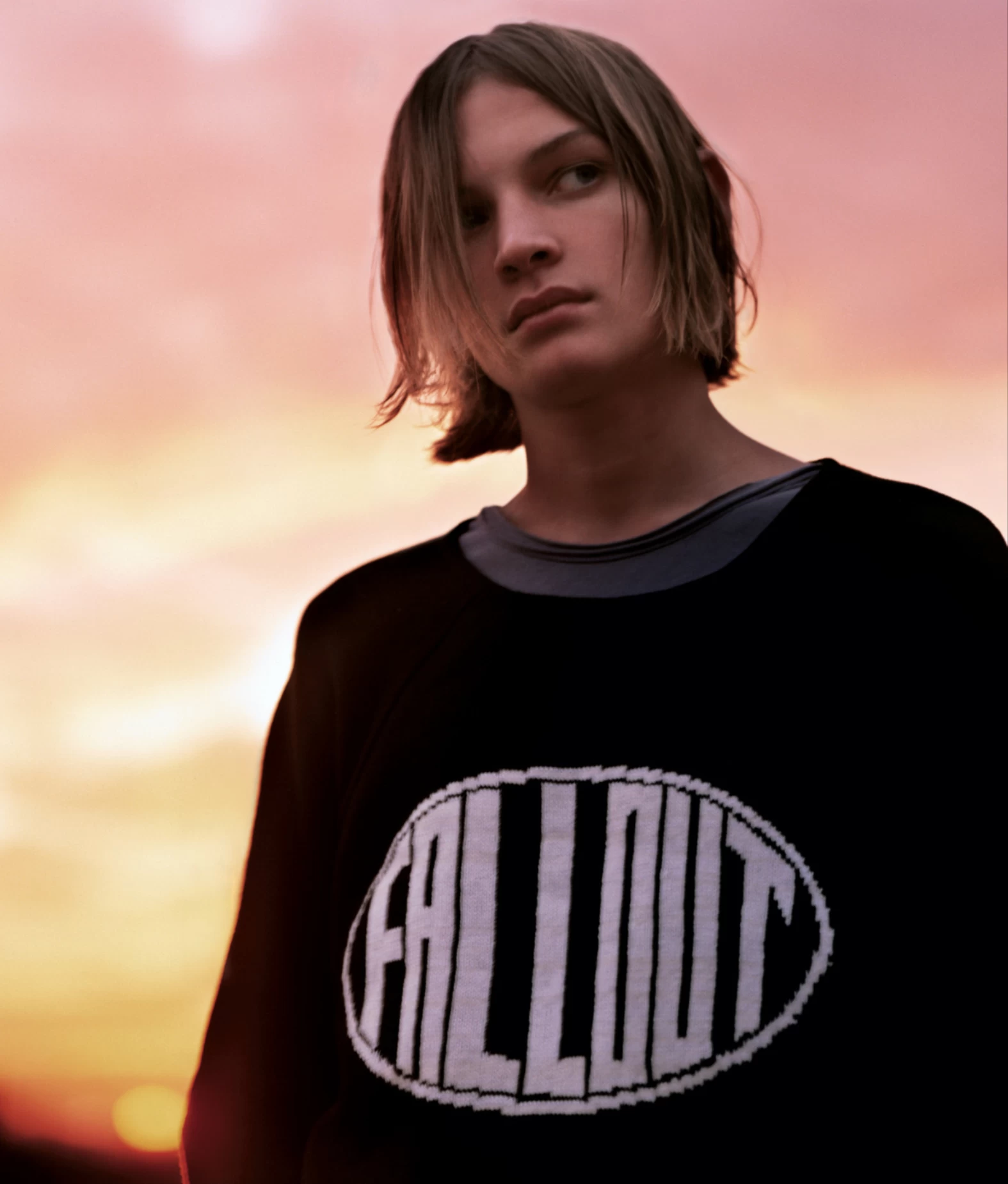 What prompted you to move from styling to launching your own label, New Power Studio?
It was a natural progression. I was often working with the designer Siv Støldal very closely and I liked the studio environment and the freedom it allows. There are so many people to answer to with styling, it's a political jigsaw puzzle that eventually became exhausting. You're reliant on a lot of people, and the pressure from magazines to include advertisers has changed the whole styling game a lot and killed a lot of the creative freedom. I think a lot of magazines have shot themselves in the foot by becoming such slaves to advertising. It will scare off the more freestyle interesting types who might otherwise become really significant contributors. I had such great times styling though, and was very lucky to meet brilliant photographers from the beginning. I guess, for me, it was always the same interest and point of view -- whether it was styling, or designing, or making art, but just put through different mediums. I am like that girl in the office that keeps moving from one department to another!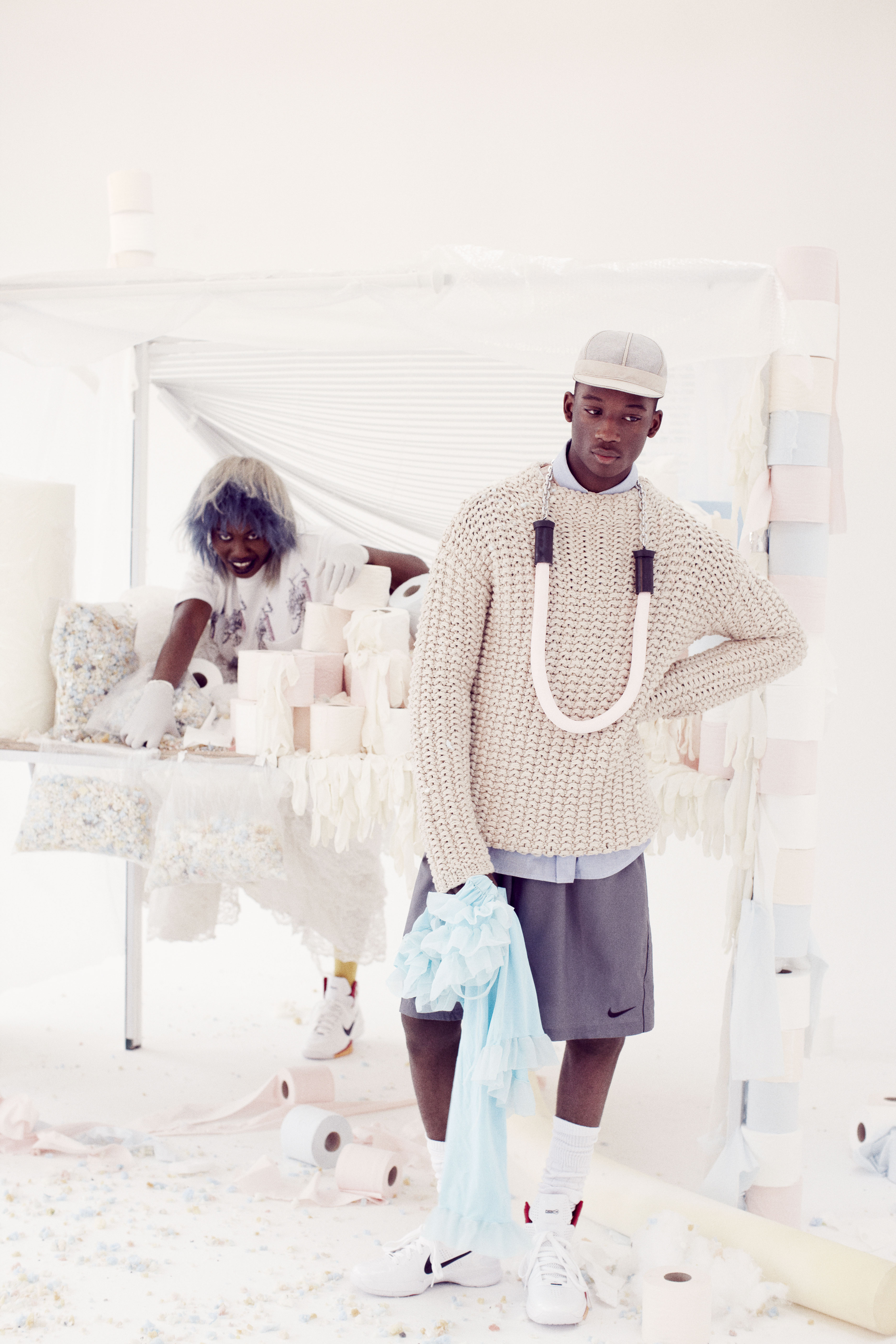 What was the highlight of New Power Studio?
The people that were working with me were really funny and generous. The studio at times was the best place ever, often crying with laughter at things. Not in order of appearance, but the things that spring to mind as being great include Barry 'Whizzo' Williams, the Formula One race car driver, driving a mobility scooter down the catwalk for the first show. Pouring custard over one of the models, Finbar, for the sploshing scene of the New Power Studio film. Roman, the boy in the rucksack at the show we did at Royal Opera House -- it ended up getting half a page of coverage in The Sun. The toilet roll scarves made from real toilet roll that we sold at Selfridges for £25 each. They put a security alarm on them to stop them being stolen! Also, I think it's important to say that so much of it wouldn't have been possible without Lulu Kennedy of Fashion East, who was behind me from day one. Without people like Lulu, a lot of designers wouldn't be able to do any of it.
"Authenticity has so much power."
Why did you close down New Power Studio and embark on a fine arts degree?
A big part of it was finances. I got to the point where I needed more money to make money. As charming as I am, you cannot run a company on good will, or at least I couldn't any longer. I had three meetings with different backers but they were not right. As Patti Smith once said, "Build a good name. Keep your name clean. Don't make compromises." There was always a more fine art feeling to some of the work I was doing at New Power Studio. When I folded the company I thought It would be a good time to explore this deeper element, and before I knew it I was at Goldsmiths doing a BA.
Who is doing something with menswear right now that excites you?
I think the most well-rounded designer is Craig Green. He has art-based looking presentations in which you cannot just see obvious references all the time, but clothing on the rail you can buy into and would actually want to wear it, and the production is great. It's no mean feat to pull all that off.
"Getting students to think about the context, or how the clothing functions or relates to the world, will be something I am keen to push."
What are you looking for from the CSM menswear students?
Creativity, obviously, but also a sense of rebellion can be a good thing sometimes. The fashion industry is so formed and so public now, everybody knows about "the fashion biz" and it has also become entertainment to some extent. But I think the downfall of this is possibly that it can feel like people are trying to fit into it too much, and might want a certain "lifestyle" from being a designer. More positively, there are lots of possibilities online for young designers to now challenge the cookie cutter formula of shows, selling, collaborations, and so on. One can sidestep a lot of what has come before, if you want to. So, thinking creatively with the business side can be as crucial as the designs.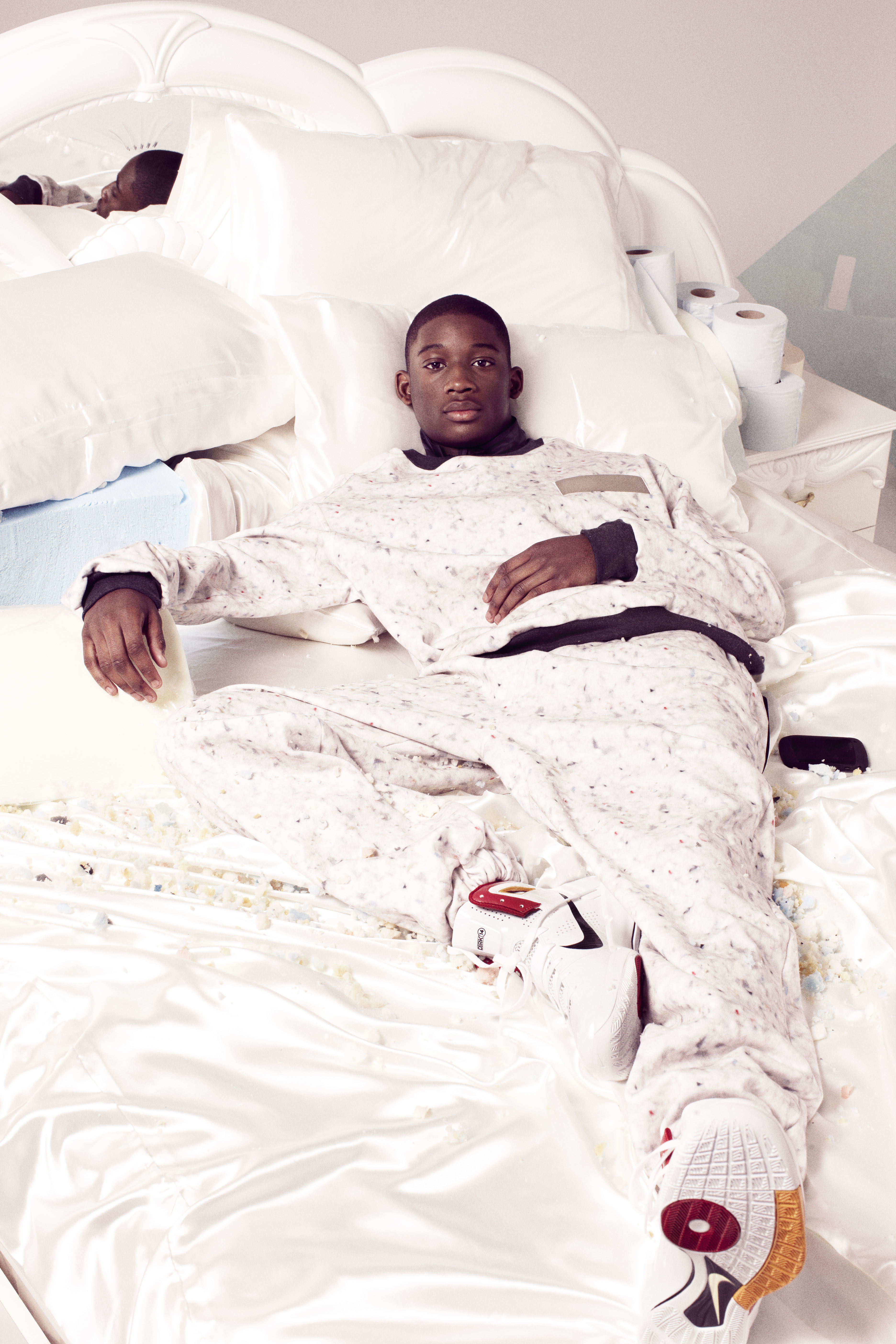 What do you see as being the biggest challenges facing young fashion students nowadays?
It's a very challenging time for young people to navigate the world, it's almost overwhelming. So, narrowing down your focus, and creating a deeper understanding of less "stuff", I think, could possibly help. You can Google yourself until you're blue in the face, if you want, but this can often lead to more confusion and anxiety. Mentioning no names, I got sent a press release the other day from a big name denim company that felt like an endpoint in civilisation -- it was trying to be so cool, and so inclusive, and so everything to everybody, that you felt exhausted just reading it. More collections based on something like a toenail, or a change in wind direction, please! Authenticity has so much power.
What do you want to bring to the menswear BA at CSM? A space where students can feel comfortable in experimenting and exploring their ideas. A place where they come to understand that creativity is not about being right or wrong, it's about exploring and developing your own language, which you feel great about, and which becomes untouchable.
---