8 cultural figures on the radical influence of sarah lucas
From Jake Chapman to Pam Hogg and Olivia Laing, i-D speaks to cultural figures across art, fashion, and literature about the work of Sarah Lucas, as she opens her first US survey at the New Museum in New York.
|
26 September 2018, 4:07pm
In 1988, while Margaret Thatcher celebrated her eighth consecutive year in office, a group of 16 art students from Goldsmiths College took over a disused warehouse at the otherwise unfrequented London Docklands. Titled Freeze, the controversial group show led by a young Damien Hirst would mark the beginning of the Young British Artists (YBAs) frenzy — a loose group retroactively known for its cross-disciplinary, semi-sensationalist practices.
In the exhibition, amidst a suitably postmodern selection of boxes and light bulbs, sat a pile of crumpled metal, signed Sarah Lucas. The then-26-year-old sculptor didn't quite share the spotlight in equal measure with her male counterparts. In fact, the artist-turned-comedian Stephen Park had attempted to persuade the rest of the group that her work wasn't good enough to be in the show.
30 years later, Lucas has established herself as one of the most influential and memorable British artists of her generation, as her first US survey at the New Museum demonstrates. Comprising over 160 works from the late 80s to the present day, Au Naturel is named after her infamous sculptural stained mattress, encrusted with fruits and vegetables in lieu of gendered body parts. Like this early work, the rest of the show eloquently deconstructs all we thought we knew about gender and sexuality and everything in between (yes, there will be eggs too).
"I didn't need or want to hear interpretations of Two Fried Eggs and a Kebab (1992)," remembers American writer and poet Maggie Nelson of the first time she saw Lucas's work circa 1999, as recounted in the exhibition catalogue. "I got it, or at least I felt I got it, which was enough."
From her Duchampian tableaux of found objects and cigarettes to her delicately anthropomorphic, stuffed-stocking sculptures à la Louise Bourgeois, Lucas's raw aesthetics speak to the human condition in ways that are at once timely and timeless.
"Over the years, I don't think any artist's work has shocked me — mostly in good ways — as often as Ms. Lucas's," recently wrote art critic Roberta Smith for The New York Times. "Some of her pieces have initially made me wonder if they are art or some kind of dirty joke."
Now 55, the forever-youthful British artist may not be as well-known on the other side of the pond, but her influence is certainly felt beyond continents and generations. To celebrate three decades of lyrical rawness, i-D spoke to cultural figures across art, fashion, and literature about Lucas's impact on contemporary culture. A humble tribute, if you will.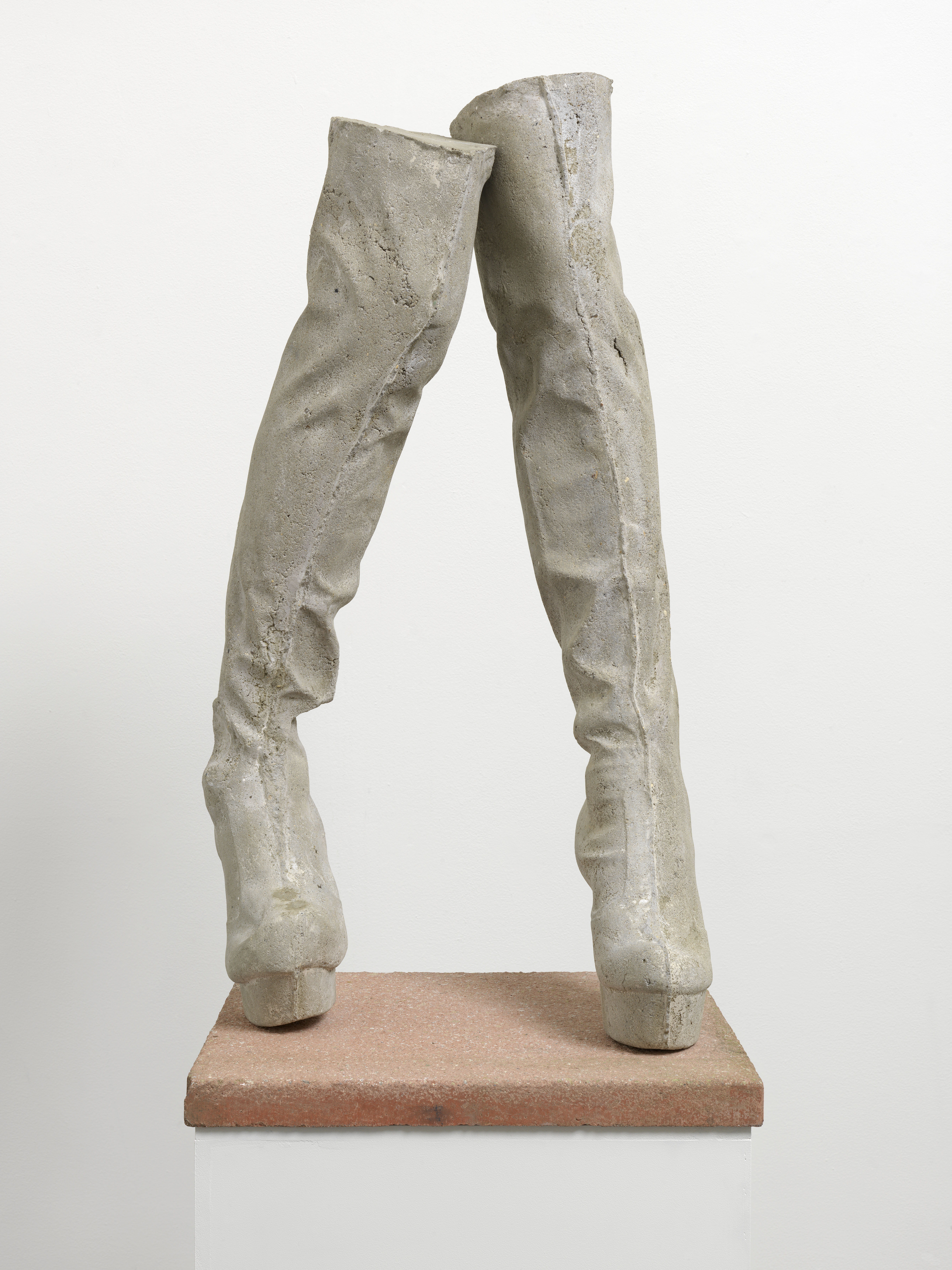 Olivia Laing, writer and critic
The other night I was riding in a cab with the poet Eileen Myles through the Lower East Side. I glanced up and saw one of Sarah Lucas's giant platform boots in the window of the New Museum. The show must have been mid-install. It gave me such a charge, seeing a bit of London swagger, London solidity on the Bowery. I love Sarah's work, its pagan elements and Bowie flourishes, equal parts Suffolk and the Essex Road. I love her fruity women, her festive eggs, the post-fuck squalor, the no-frills minimalism, the visual puns. There's no living artist, no exaggeration, who makes me feel more happily alive. Olivia Laing's latest book, " Crudo ," is published by Norton.
@olivialanguage
Jake Chapman, artist
Sarah Lucas' work embodies that exquisite trick of the eye — to present a world of virtuous objects hidden in plain sight — renouncing the phallic gravitas that presumes the magnitude of great and heroic meaning; instead, bulging gossamer and the asthmatic wheeze of cigarettes, mattresses, and fried eggs — in all, a malicious incrimination of the beholder by innocuous means, since, duped into believing they are privy to the joke, the viewer turns to continue on their way… with CUNT written on a post-it note stuck on his back.
@jakechapmaniac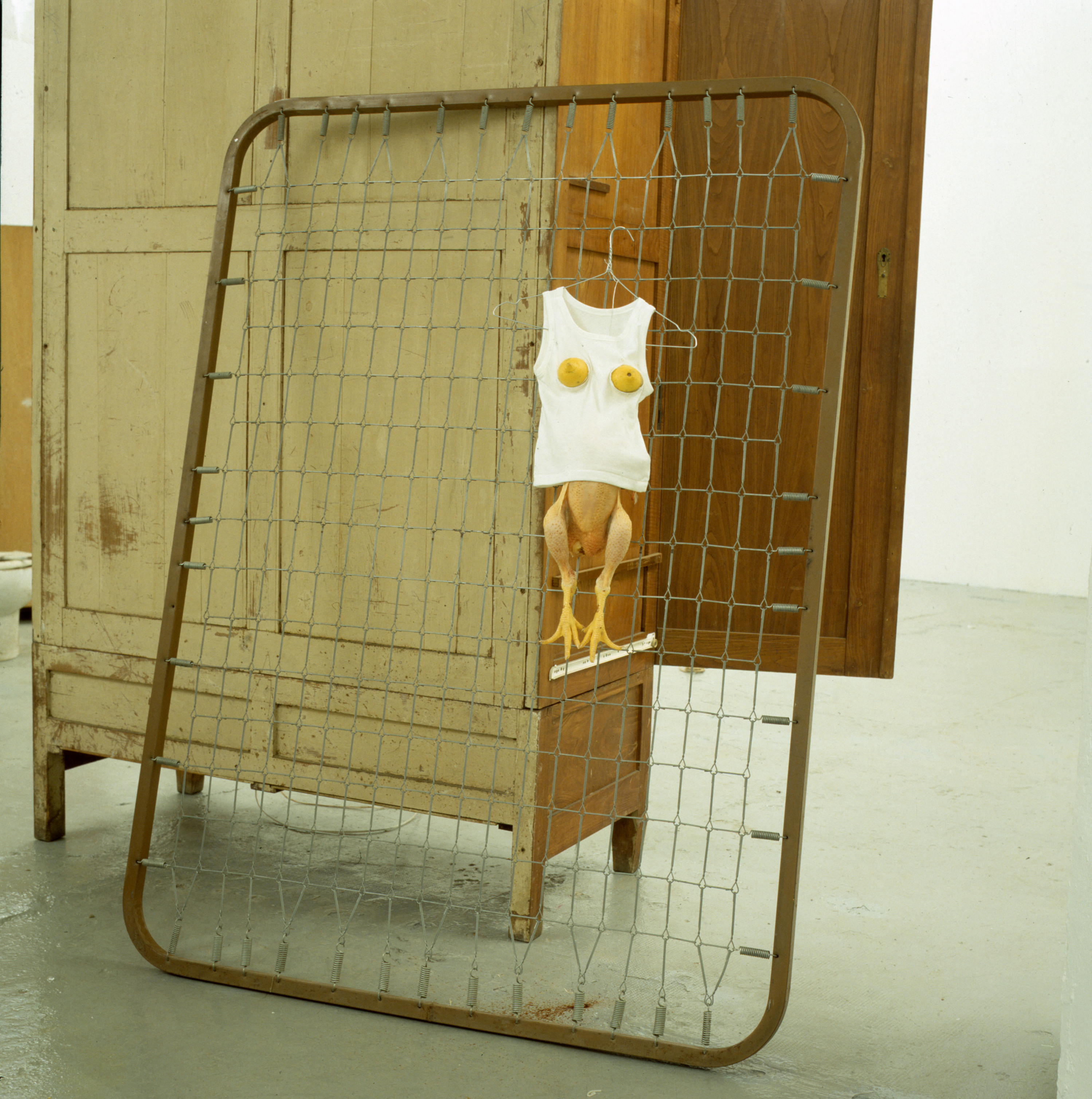 Massimiliano Gioni, Artistic Director of the New Museum
Would Lara Croft exist without Sarah Lucas? And "pussy grabs back," and pretty much all the history of feminism from 1990 to today? As conversations and artworks about gender fluidity become more and more central in cultural debates, I think Sarah's work appears more and more prescient. In terms of freedom of materials, techniques, attitudes, I think she is quite unparalleled — and perhaps only on the same level as Isa Genzken for pervasiveness of influence and status among younger artists. One could see her as a trait d'union from Lynda Benglis and Eva Hesse/feminist arte povera/anti-form tradition to the more recent, unmonumental sculpture of today or of a few years ago.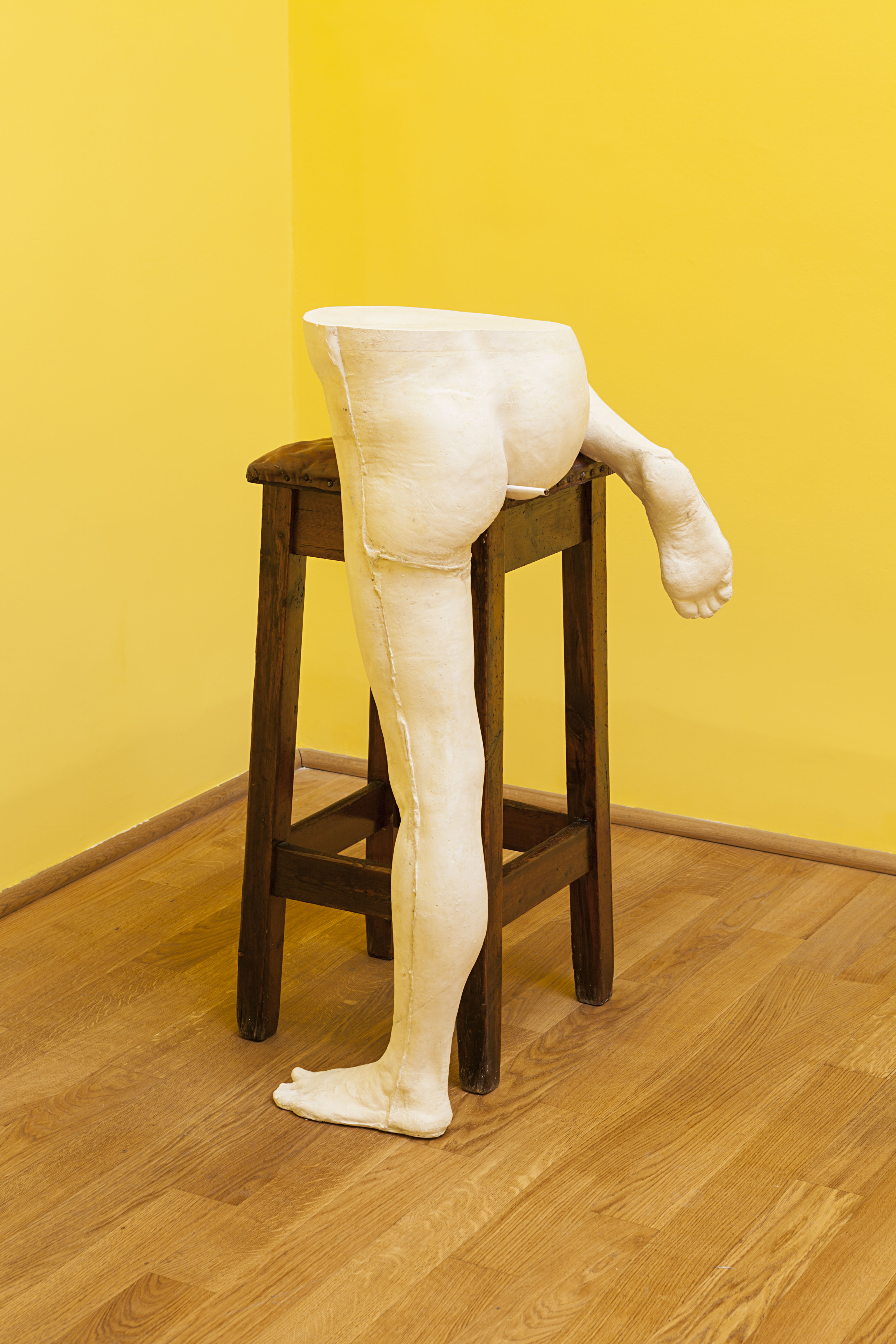 Pam Hogg, fashion designer, musician, and film-maker
Sarah Lucas is the best. She's her own woman, untamed, unconventional, and unafraid. Her work is a constant joy. I was knocked out when she invited me to the Venice Biennale in 2015, the year she was representing Britain. Unknowingly, I arrived literally head to toe in yellow which put the hugest smile on her face as her whole show, a well-kept secret before the unveiling, was a beaming wash of the brightest sunshine acid-tinged yellow. Her personality shines throughout her work: it's unmistakably her, humorous, honest, relevant, and generous.
@pamhoggfashion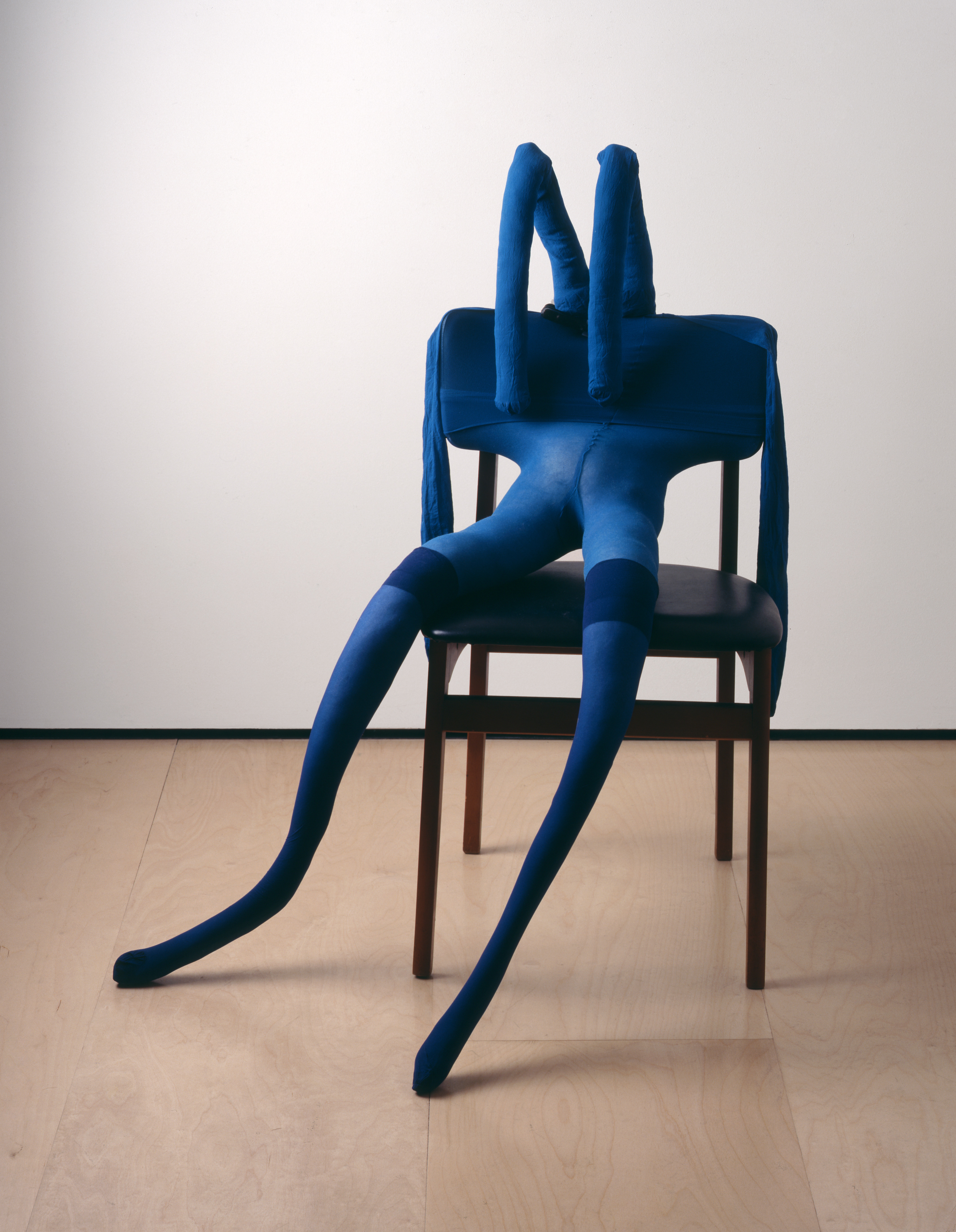 Anita Zabludowicz, collector
I have always been fascinated by, and have great respect for Sarah's work. I felt very privileged to be able to take ownership — or perhaps I should use the word custody — of Spammagedon (2004), which has now been shown in at least five major institutions. Sarah uses unexpected materials from vegetables to tins of Spam. She is questioning women's position in modern society and challenging machismo culture. She often uses stuffed tights in her work — cheap and disposable, both glamorous and ugly — they bring a sense of the erotic.
@zabludowicz_collection
Bella Freud, fashion designer
I had seen the self-portrait photograph of Sarah Lucas eating a banana, and I fell for her instantly. Her expression of defiant, confident intelligence and her blokeish posturing made her seem so feminine. Her English, stroppy, 'fuck-you' wit is beguiling and strangely charming, and when I got to meet her, we fell in love. I had the inspiration to ask her to walk in my 1998 fashion show — to my joy, she accepted. I noticed she had not come out for the finale and worried that she might have disapproved of the frivolity. Instead when I found her afterwards, she hadn't realized there was a finale and had got changed and gone to the bar. I love her work, it is provocative and brilliant. I have travelled around the world to see it and whenever I do, I feel charged up with her anarchic spirit.
@bella_freud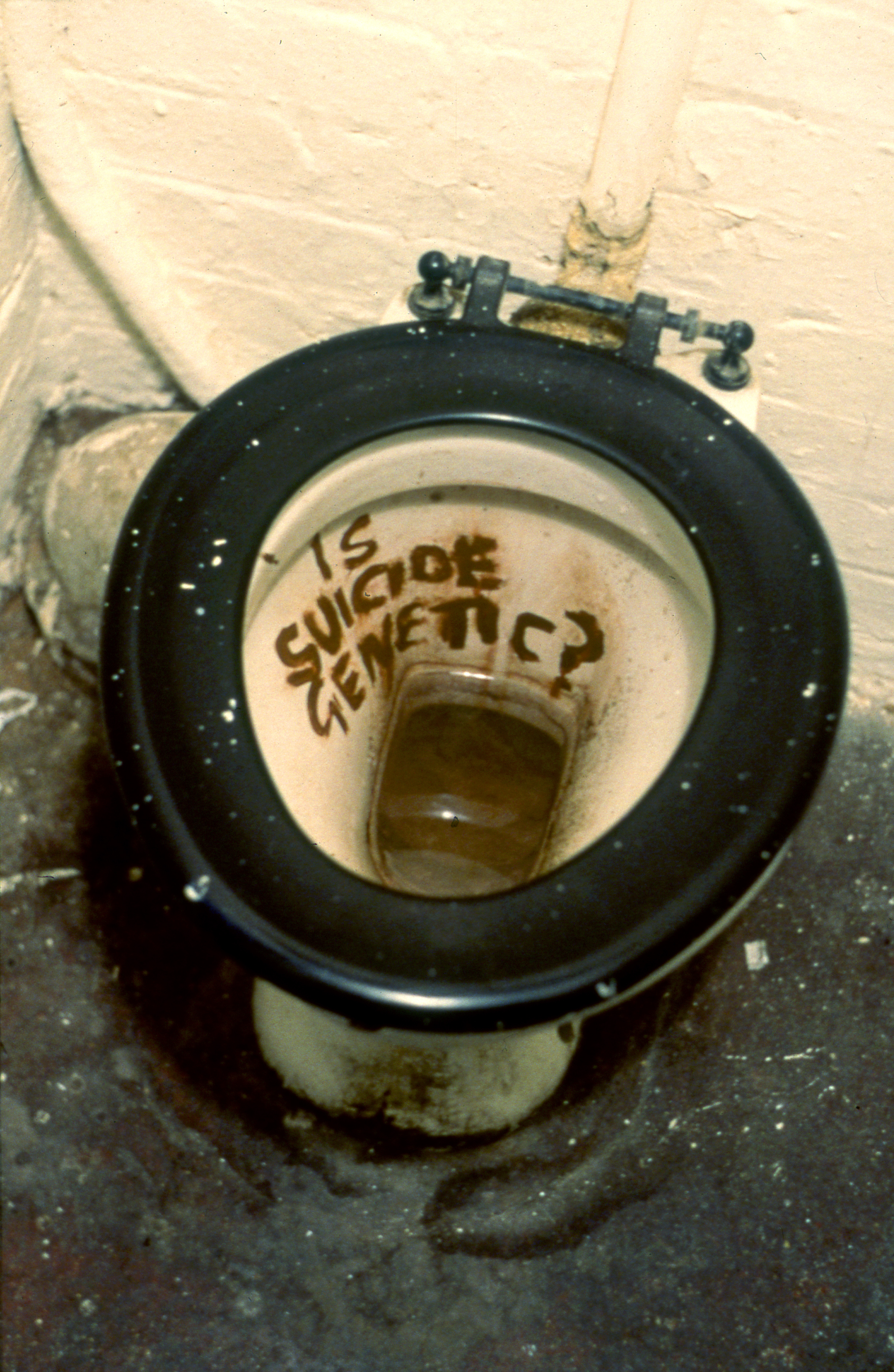 Paul Kindersley, artist
I remember a few years ago Sadie Coles had a project space just off Saville Row that was given over entirely to Sarah Lucas and friends. Filled with roast chickens and fried eggs hanging from the ceiling and everyday objects rearranged into one-liners and awkward gatherings. I felt right at home. A bedsit for those brought up on Carry-on and Henry Moore, full of nipples and innuendo, a distillation of a very queer British existence. Simultaneously aggressive and welcoming, homely and smutty. At one of the evening private views I remember a man, pinstriped suit, pinstriped shirt, pinstriped everything, gaily quaffing the free Stella Artois, a wanker of the highest order. Anyway… He was happily using Lucas's sculptures as props and armrests… an elbow on an upturned toilet an empty beer left on a bestockinged plinth. He was so irreverent with the artworks I was filled with revulsion and admiration. That night it was Sarah Lucas vs. the city boys.
@paulkindersley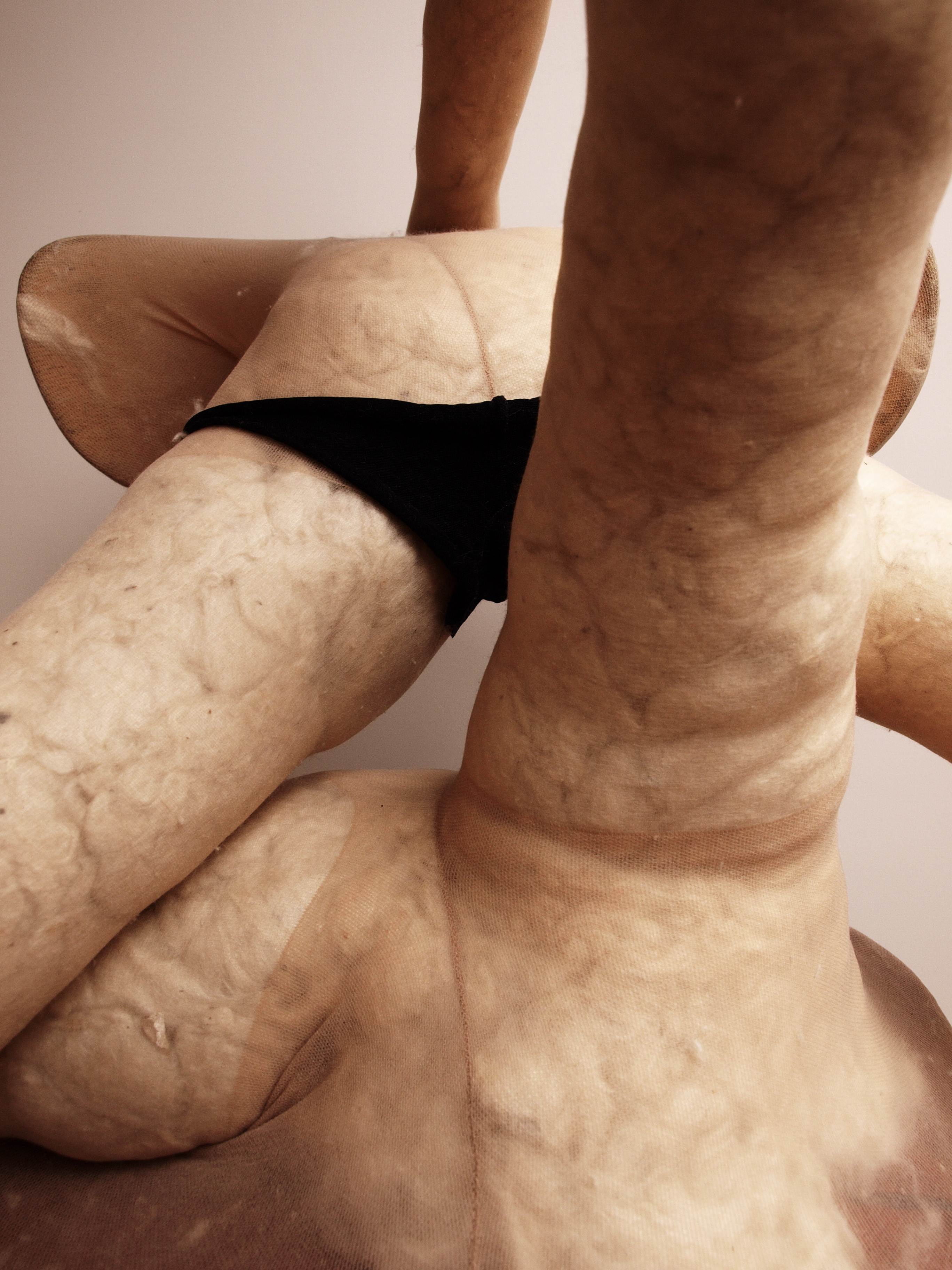 Tschabalala Self, Artist
I have always had a strange relationship to pantyhose. I suspect their purpose is to perfect the contour and color of the leg. Often, they are worn for modesty, yet pantyhose can be quite sexy; especially knee-highs. Sarah Lucas' use of the pantyhose is provocative. The pantyhose in her sculptural works are transformed into vessels by which the female body is reorganized and represented. Yet, despite this change the erotic elements of this demure garment persist. Sarah Lucas is one of my favorite sculptors. I admire both her work and persona. Many artists underestimate the subversive power of humor, yet in Lucas' work dirty jokes create the context for her powerful, nasty women.
@tschabalalaself
"Sarah Lucas: Au Naturel," is on view from September 26, 2018 to January 20, 2019 at The New Museum, New York.