Photography Mitchell Sams
margaret howell debuts fred perry collaboration
Two iconic British brands come together.
|
17 September 2018, 1:09pm
Photography Mitchell Sams
The spring/summer 19 shows at London Fashion Week have felt less spring and more full-on summer. And as part of that summery feeling it has also felt very coastal, i.e not so much a decadent summer lounging by a pool, but a bit more rugged, a bit more real and a little less bourgeois. It was a feeling explored at JW Anderson and Ports 1961, and it was here, in all its glory, at Margaret Howell.
Part of the soundtrack was given over to Patti Smith's Redondo Beach, the singer's lesbian-suicide-seaside anthem. The intense and casual beauty of the song -- part punk, part reggae -- served as the perfect backdrop for this collection. Patti Smith is also, of course, the ultimate muse for Margaret, with her sensual tomboyishness and that effortless way she can wear a crisp, white shirt. Her down to earth style reverberated throughout this collection, which felt very authentic and very pragmatic, as Margaret Howell's collection's always do.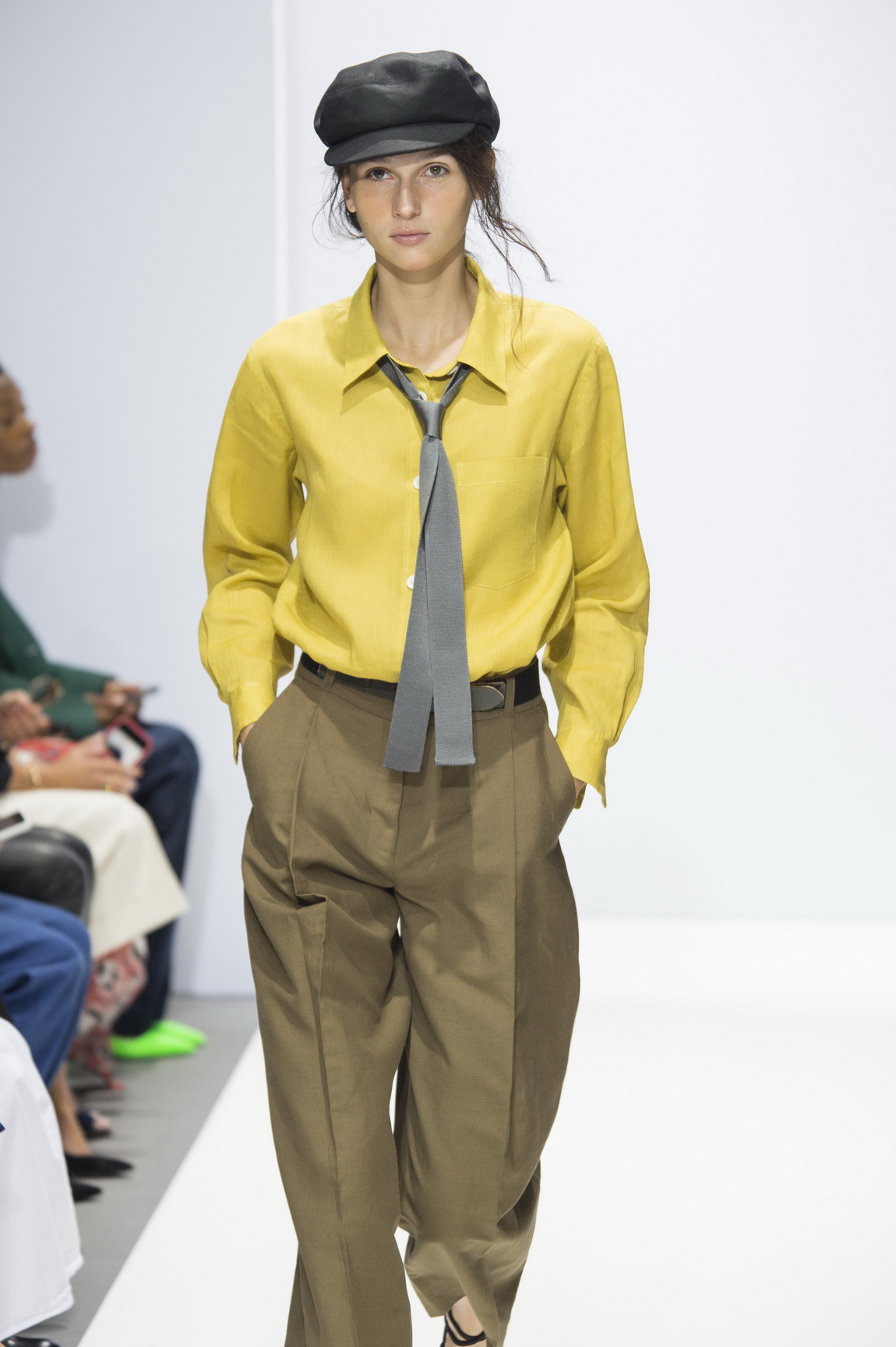 But first the beach, well there was swimwear here worn layered under skirts and shirts, and rolled-up trousers that conjured feelings of just having been for a dip in the ocean. Also new was a collaboration with Fred Perry, launching next summer. She's worked on a capsule for them featuring bomber jackets, shirts, tennis skirts and plimsolls. All of which got their first airing here. The jackets and tennis skirts were particularly great. Margaret has a skill for making every new thing she does feel like she's always done it, that it has always been part of her design repertoire. So it was with the effortless way she introduced those swim pieces and the Fred Perry collab.
Beyond that, much of the collection explored Margaret's usual preoccupations; clothes people would like to own and wear and cherish. Beautiful trousers and cosy knits and comfy jackets. Margaret has always been about subtle adjustments in mood, evolutions rather than revolutions, and she's been doing this long enough to know what her customers want and how to provide it. And, more than that, she knows how to make beautiful and wearable real clothes. She can make things formal and easy at the same time, crisp and casual. It's quite a skill.