these rainbow-colored tattoos are like lisa frank on acid
Seattle-based tattoo artist Lolli tells i-D about her queer designs — from gay alien babes to Beyoncé in the Hogwarts Sorting Hat.
"I enjoy keeping it ridiculous," says 28-year-old tattoo artist Lolli of her multicolored designs. Her tattoos do embrace the absurd: femme flamingos, leopards in cowboy boots, and bottles of Ranch dressing in fluorescent hues. "I like to think my style is kinda Iike Lisa Frank [on acid]," Lolli says. But there is also earnestness in her work: her colorful palette is a nod to the queer community, and her motifs are a reaction to the white heteropatriarchy. "If you don't like my art unfollow me cuz it's only gonna get gayer," she recently wrote on Instagram. She and the other artists at Valentine's Tattoo (such as Shannon Perry and MKNZ) have made the shop a safe place for the queer community and people of color, and Lolli makes a point to collaborate with her clients. "I try to put the power in people's hands as much as possible," she explains in the following interview with i-D. "They are trusting me with permanently marking their bodies, and I always want to honor that — even when it's a tattoo of a bottle of Ranch."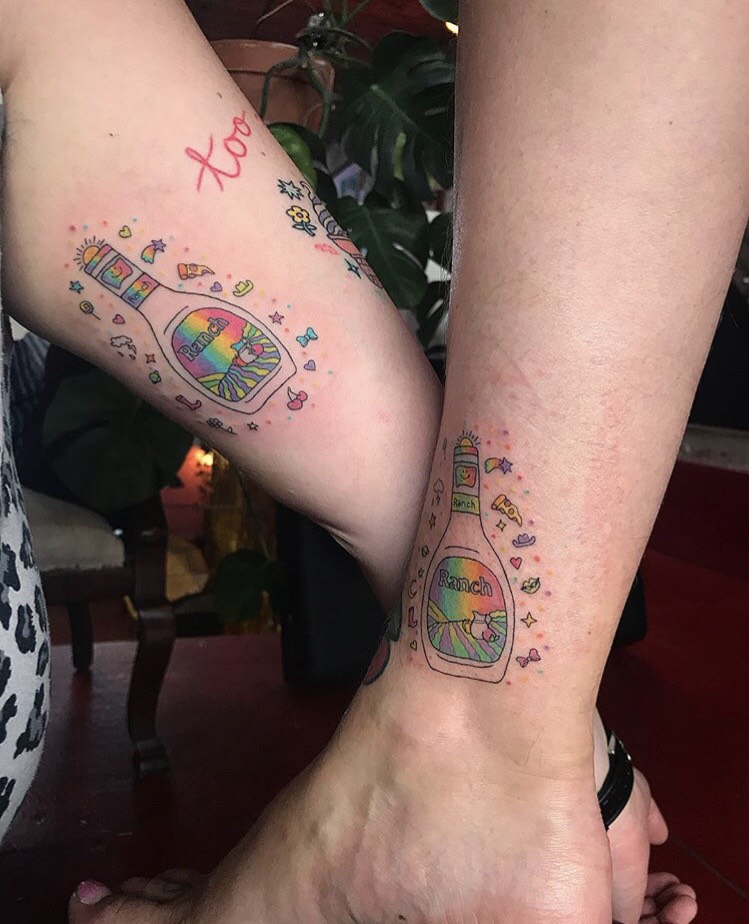 How did you first get into tattooing? Did you have an apprenticeship or did you learn in a non-traditional way?
I apprenticed under Christen Wolfe at TygerWolf Tattoo in Seattle for about eight months. Prior to that, I had no experience tattooing. After 10 years of working in food service, I was desperately searching for a way to make a living doing something more creative and fulfilling. I was working at a coffee shop that shared the same building as TygerWolf, and the idea of learning how to tattoo sparked there. Every now and then, I would catch them outside taking photos of their clients' fresh tattoos while I was taking out the garbage. The connection that I saw between the artists and their clients in those brief glimpses seemed exponentially more genuine than the interactions I was having serving passive-aggressive tech dudes. Also, getting paid for art almost seemed too good to be true. I put together a portfolio of drawings and show posters I've done to see if they would take on an apprentice. Soon after, I was at TygerWolf on the weekends and working at the coffee shop during the week. I'll never truly be able to articulate my gratitude for Christen taking the time to show me how to tattoo. It has enriched my life in countless ways. I intend on paying it forward in the future.
When did you first start working at Valentine's Tattoo?
I've been at Valentine's for about a year now. Initially, Shannon Perry and I met through the music scene but she found out about my tattooing through the internet and mutual friends. She contacted me and explained that they were expanding the shop soon and were looking for a few more artists to join them. I decided to jump on that opportunity because Valentine's felt more in line with my creative direction and social and political values. I still can't really believe that I get to work alongside such incredible artists and people. The space that Shannon and MKNZ have created is truly incredible. I've grown so much creatively and personally just being in close proximity to them.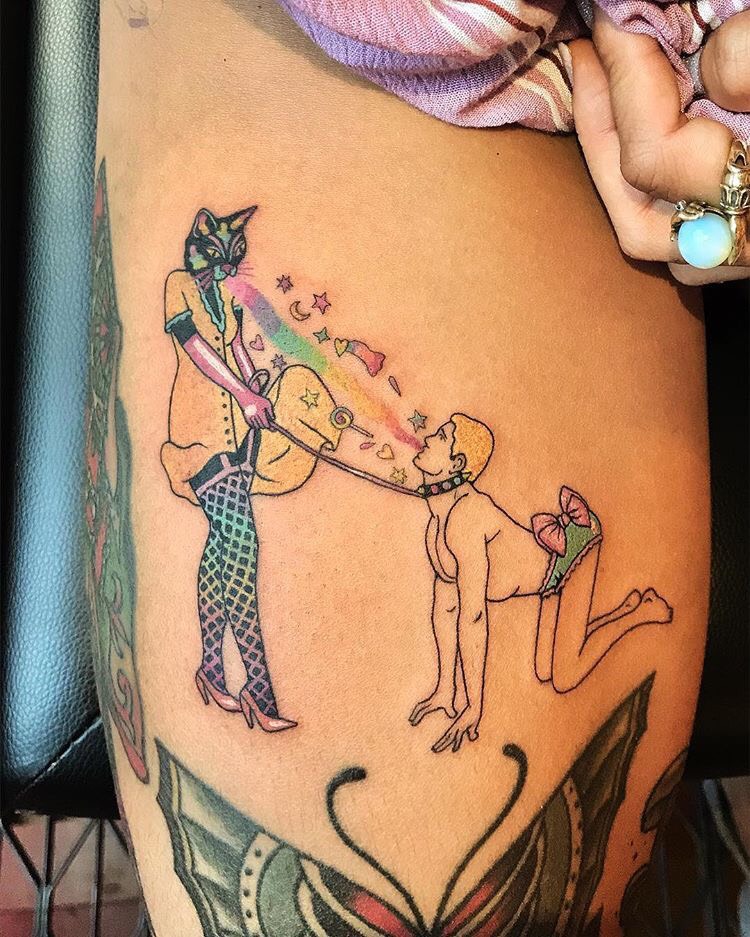 How did you develop your style? Was Lisa Frank an influence at all?
I like to think my style is kinda Iike Lisa Frank after lots of weed and a few acid trips. Her images of aliens and animals in tutus in space are definitely a place I loved to escape into as a child. I don't support what I've read about her mistreatment of workers though. It's hard to see people who you looked up to turn out to be capitalist scum.
I've always used my art as a way to cope with and mock the oppressive systems we are forced to operate under. It's a way for me to literally filter out the bullshit that comes along with the white supremacist capitalist hetero-patriarchy into radical positivity. Tattoos for me don't always have to be overtly profound or "meaningful" though. I enjoy keeping it ridiculous; I like to remind people not to take themselves too seriously. Laughter is healing. That's a power this system can't physically take away from us.
Is the rainbow-colored palette just aesthetic or is it also a nod to the queer community?
It is both. When it comes down to it, I just love a rainbow, always have. My parents painted a big rainbow in my bedroom as a baby. It was probably the first piece of art I was ever exposed to now that I think about it. I'm also queer, and so are all my friends, so I'm happy that my art also comes off that way.
What is the one thing you love most about the queer tattoo community? What is one thing that still needs improvement?
I love how much I am able to explore my own style and subject matter in a safe and uplifting space that supports me on many levels. I hear horror stories from my clients about getting tattooed in cis-het male-dominated shops so I consider myself very lucky that I never had to experience working or getting tattooed in an environment like that. I think it's a new and exciting time for queer tattoo artists with the kind of access to visibility and exposure that social media platforms provide. Unfortunately, queer tattoo culture and American tattoo culture in general has been co-opted and saturated with white people. I hope to see more queer spaces that are run by artists of color. I hope that more artists of color can be represented and uplifted in queer shops without being tokenized. I hope that more queer shops prioritize apprenticing QTPOC.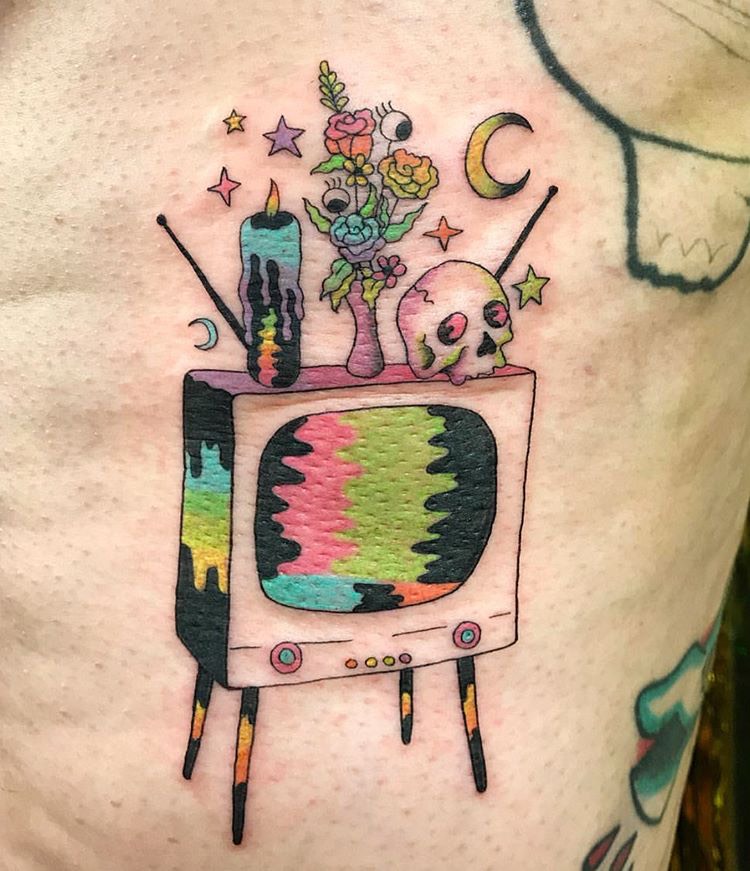 How do you come up with your subject matter?
The inspiration for my subject matter comes from a lot of different sources. Again, weed smoking. Making fun of cis men, capitalism, and most of what I was taught growing up. I love animals, especially when they are dressed like humans or different animals. Aliens, especially when they are ancient. So many of my clients have taken this sentiment and really blasted off with it. Some of the stuff people ask me to tattoo on them is next level bananas and I love it. Sometimes I just read my email to my friends for fun.
How did that tattoo of Beyoncé on a Harry Potter altar come to be?
I came up with the idea to do personal altar tattoos after being inspired by the altars friends have made and creating a few of my own. I love the idea of tattooed altars because you can really go wild with your imagination, put anything you want on it and it stays with you forever. I'm happy so many people are down to get weird with it. The Beyoncé Harry Potter altar is what that person asked for specifically. Altars can be made up of a collection of things that are personally meaningful to you. It can be a place where you set intentions, make offerings, honor and give thanks to your ancestors or spirit guides, and in this case Beyoncé and Harry Potter. I hope Queen B can forgive me for putting The Sorting Hat on her head.
Last question: Gryffindor, Hufflepuff, Ravenclaw, or Slytherin?
Gryffindor, Snape rising, Hufflepuff moon. Because I'm a Leo, I'm a bitch, and I'm a stoner.