Photography Mitchell Sams
louis vuitton's retro-futurist power fashion
Nicolas Ghesquière closes Paris Fashion Week with a rocket-fuelled bang.
Photography Mitchell Sams
What does powerful fashion look like in 2019? These was the question that was at the forefront of Nicolas Ghesquière's cortex as he designed a Louis Vuitton collection that can only be described as inspiring, enticing, and innovative. The word he himself used, however, was "empowering" — but that doesn't quite do it justice. Why? Because that particular word has been bandied around so much in marketing and advertising that it's now just another piece of corporate jargon attached to products unlikely to actually empower any woman who is truly disenfranchised.
Fashion ought to know its place. Ghesquière's latest offering for Louis Vuitton, by contrast, was immensely powerful in its propositions of how confident, conscious, cool women might want to dress in both their dreams and realities. In other words, fashion simply and unequivocally at its best.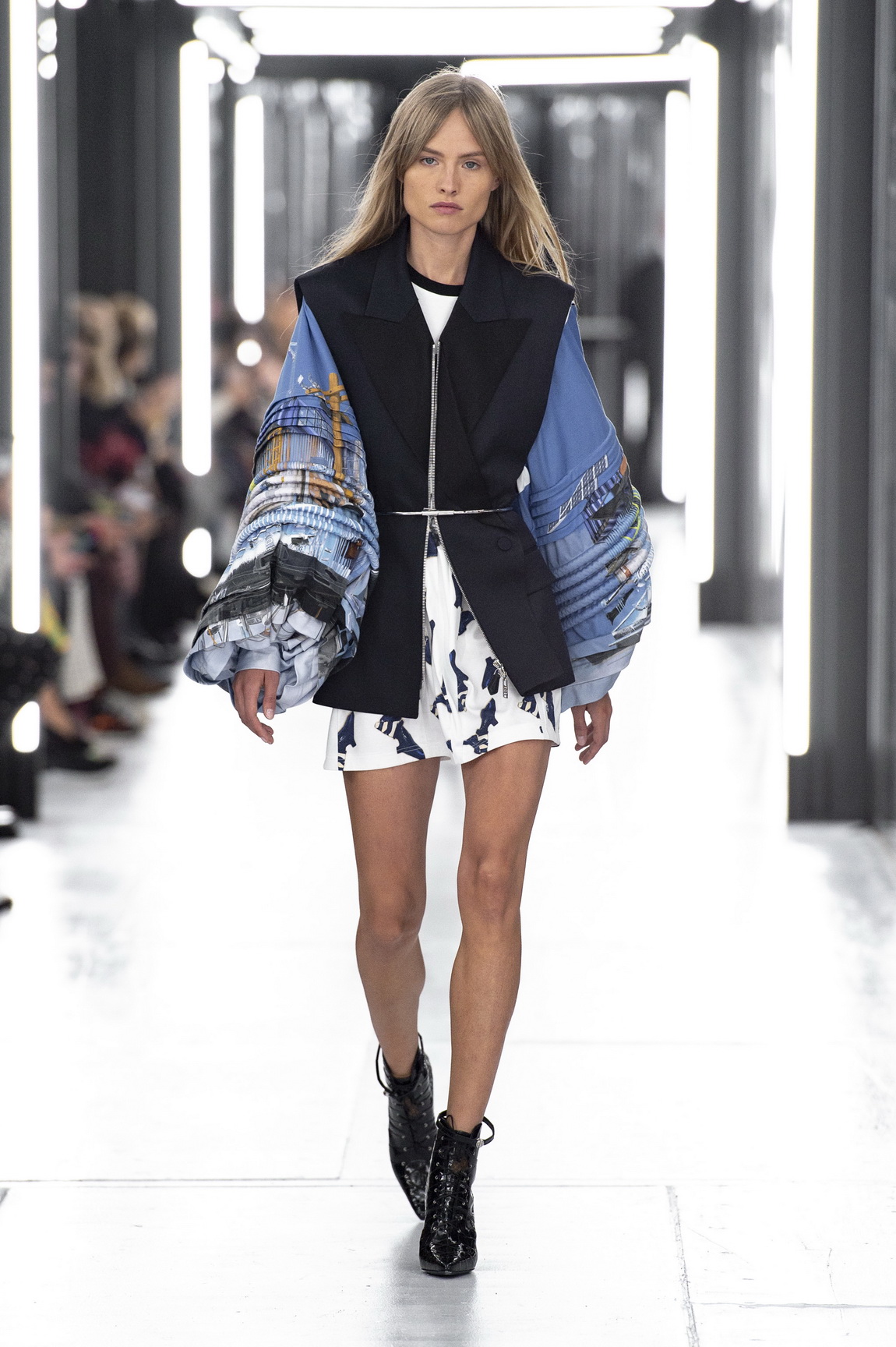 The show closed Paris Fashion Week with a bang. Staged in a clinical strobe-lit tunnel cutting through the rococo fountains of the Musée Louvre, it was akin to stepping into a rocket prepped for lift off. There were even actual astro-prints of firing spacecrafts, Mars-like potassium lakes (actually taken by drones in Salt Lake City) and collaged industrial landscapes that evoked the great unknown of space travel. Perhaps that was Ghesquière alluding to a foreign planet that we may have flee to once our own has inevitably imploded. Or it's just him delving deeper into his love of retro-futurism; the colorful Memphis Group-style 80s prints were testament to that.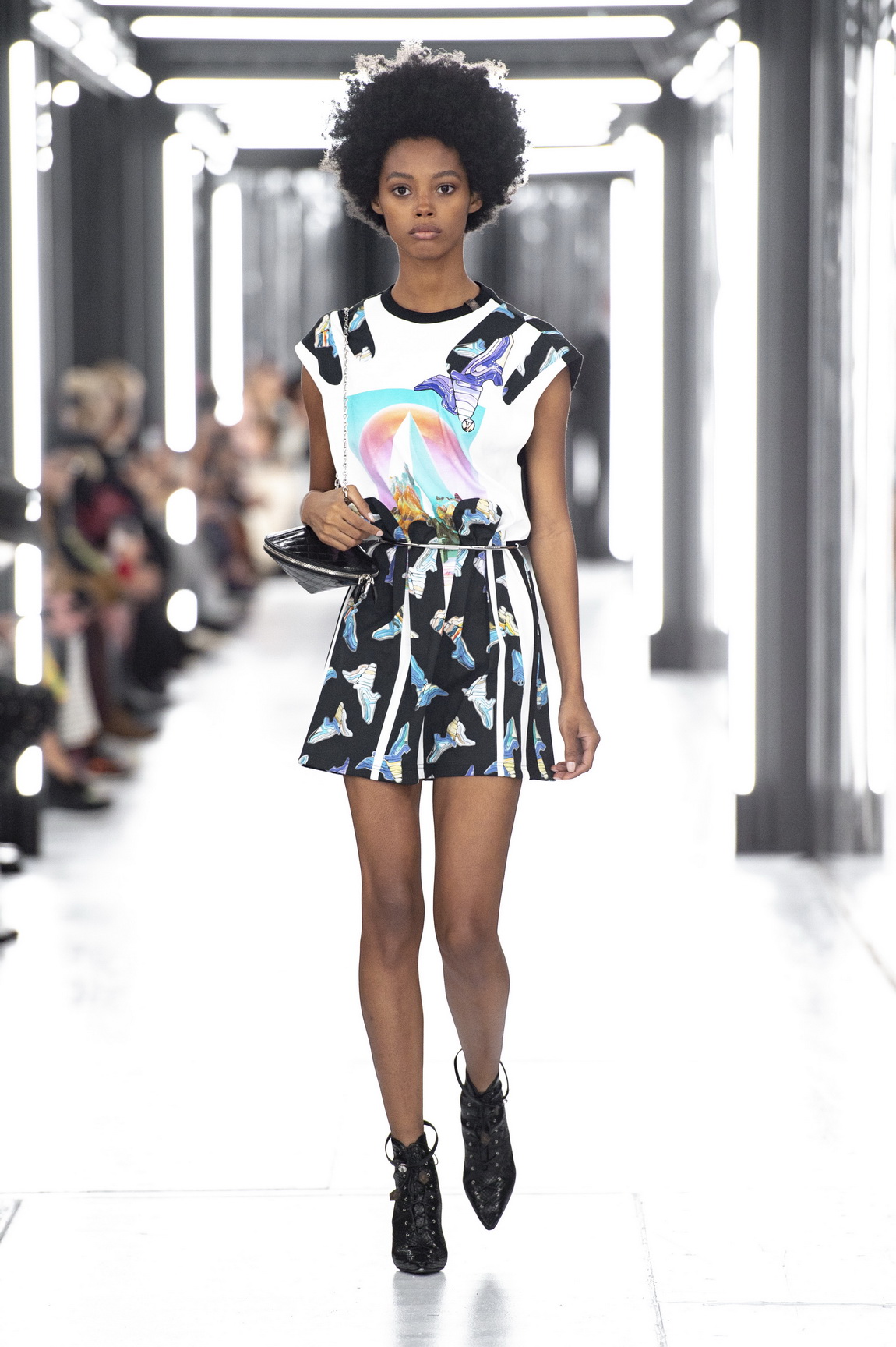 What really stood out, however, was the suite of origami-like tailoring with wide, cubist lapels that was shown on androgynous models whom many mistook for men (Watch out Virgil!!) as well as the sculptural leg of mutton sleeves that defined so many of the sharp silhouettes. In fact, sleeves were a big part of this collection — some were sequined lattices fit for a Medici, others were voluminous chiffon balloons with macro-piping, jellyfish ruffles and layers of knife pleats. "It's not an armor," Ghesquière explained after the show, flanked by celebrities including Cate Blanchett and Alicia Vikander. "It's more something that is a shell — but it's still protective."
Elsewhere, what seemed to be sculpted leather cardigans and cocoon coats were actually double-faced bonded rubber, a lighter alternative to the stiffer, heavyweight leathers that Louis Vuitton is most famous for. "The idea was to give them a powerful shape and it's always a challenge to create architecture around the body but still have the movement and fluidity which is so important when you're living in them," he said. Even those much-desired Petite Malle handbags were reinvented as boxy Rubik's cubes and large square briefcases, and there was also a nod to the samurai-esque hats that he first sent out at Balenciaga in 2008, which back then were nods to Cristóbal Balenciaga's 1967 space-age wedding veil.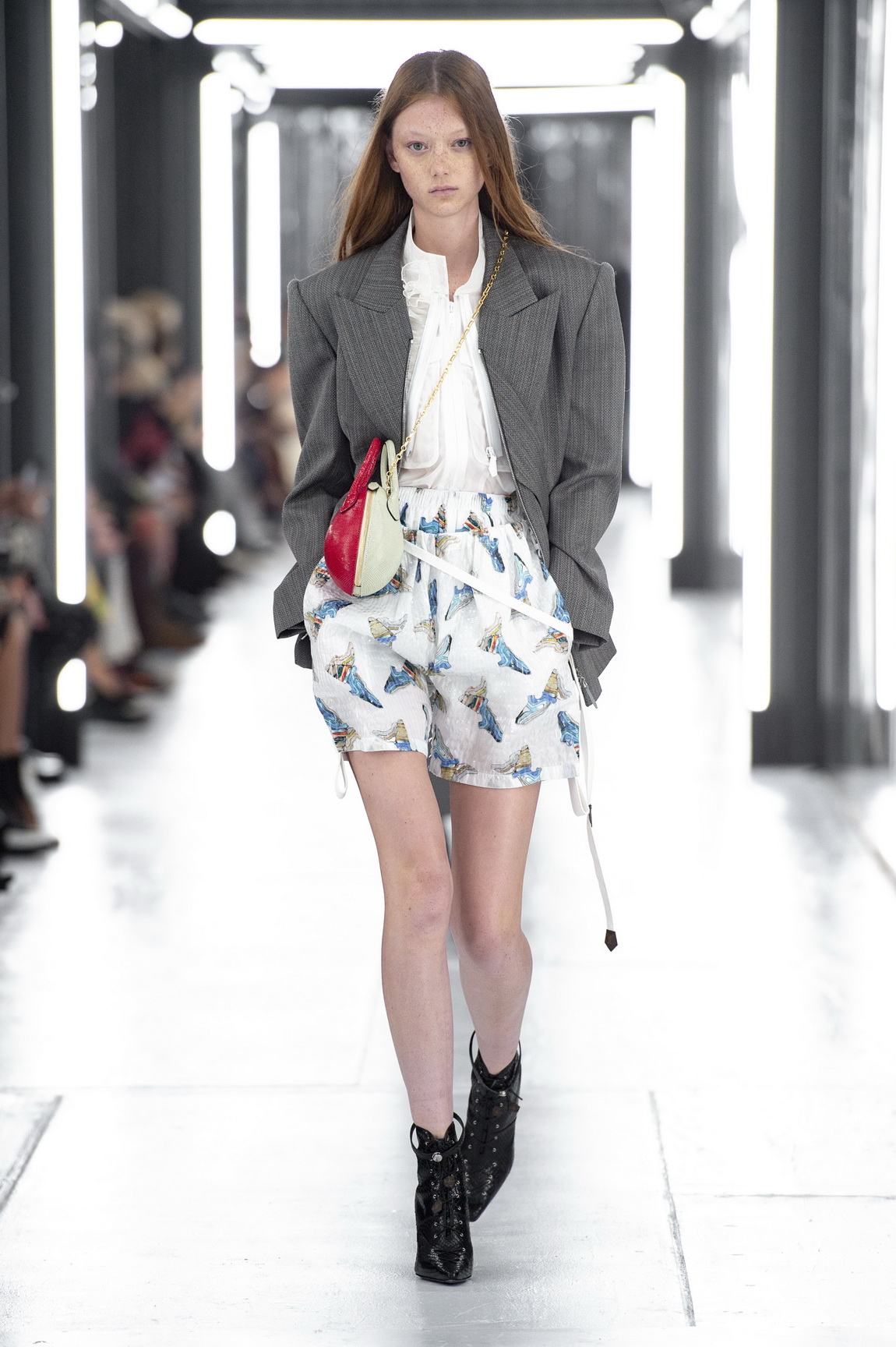 The show felt like a reassertion of Ghesquière as the pilot of the rocket ship to fashion's future. That's no mean feat considering that the industry has been upended with claimants to that position in the last few years, and even days: Streetwear kills craft! Creative director departs fashion house! Influencers threaten editors! Branding trumps creativity! Yet Ghesquière has always been a designer untouched by such concerns. He's a designers' designer with antennae for the zeitgeist and an unwavering vision. In spring, he renewed his contract for Louis Vuitton, so we don't have to worry about him going anywhere anytime soon. Let's hope he'll continue to steer us into the unknown.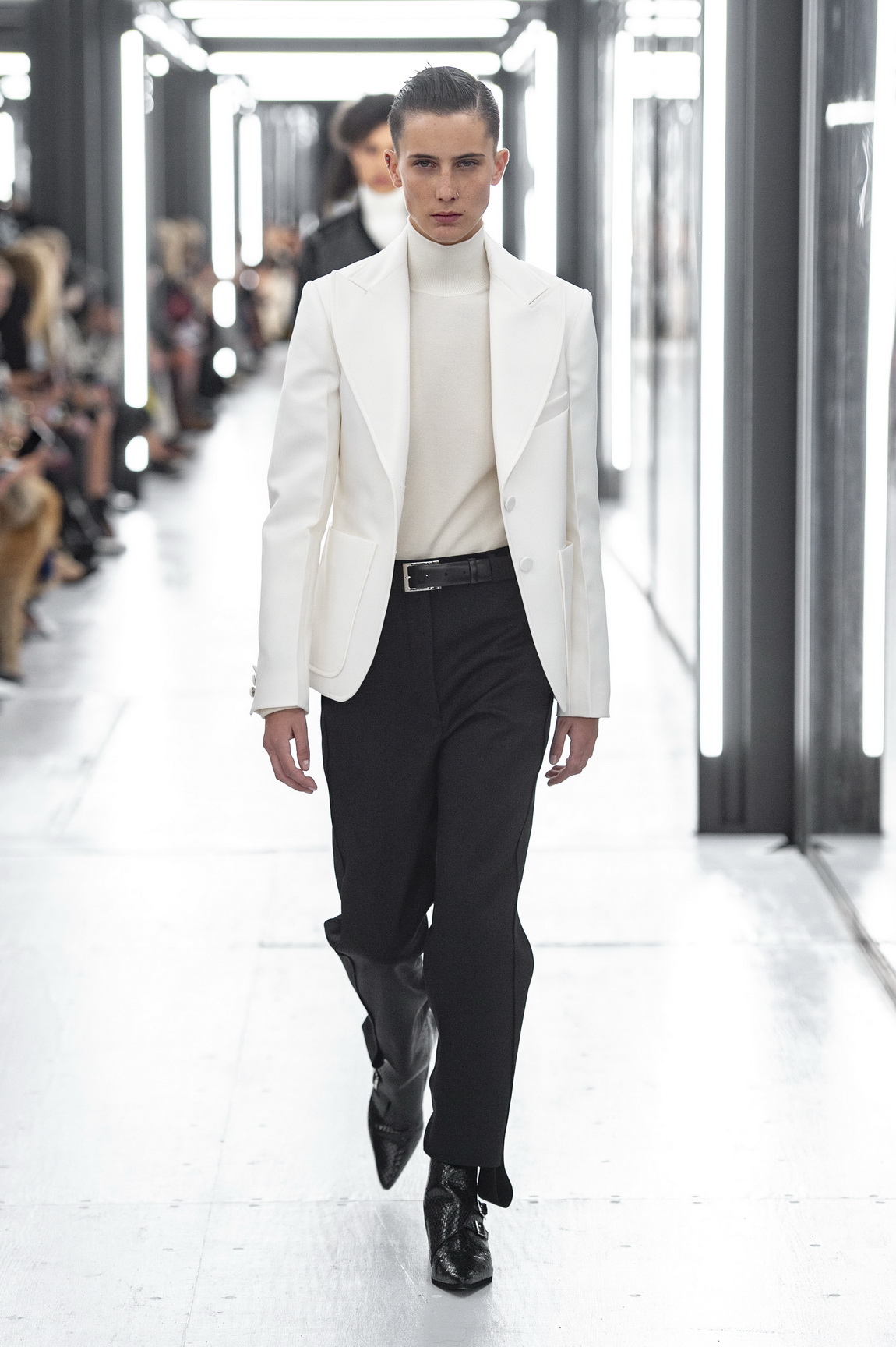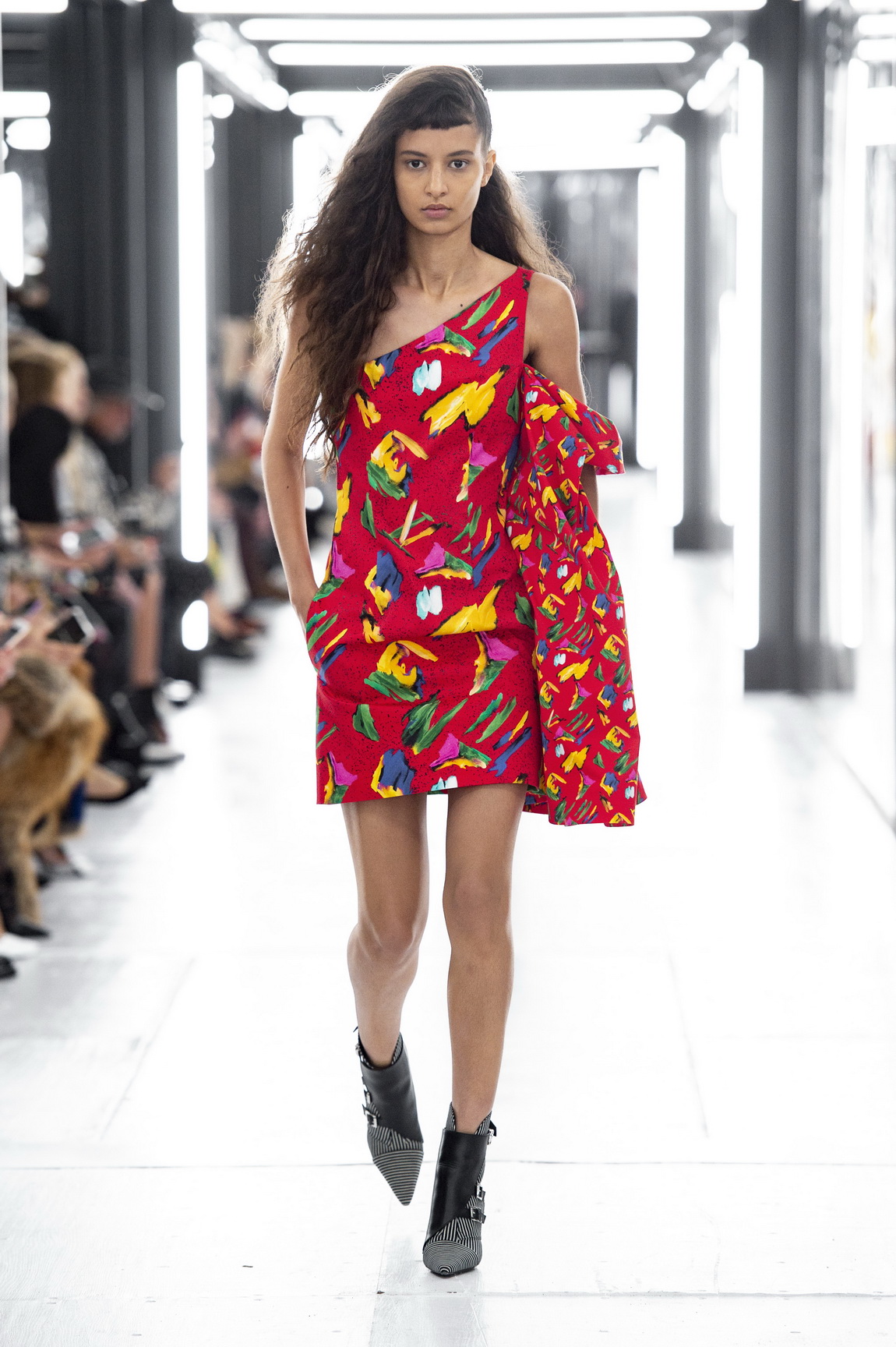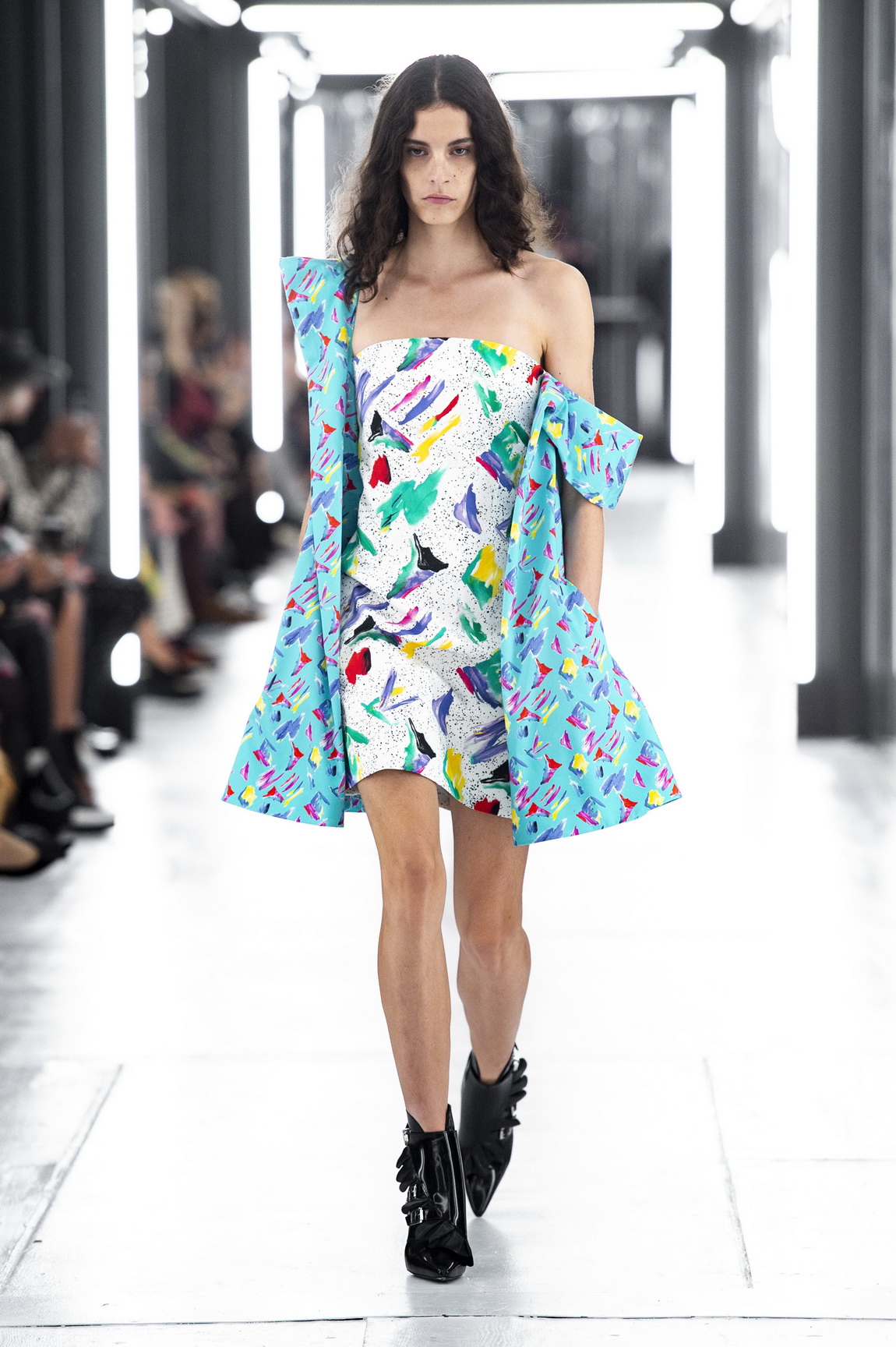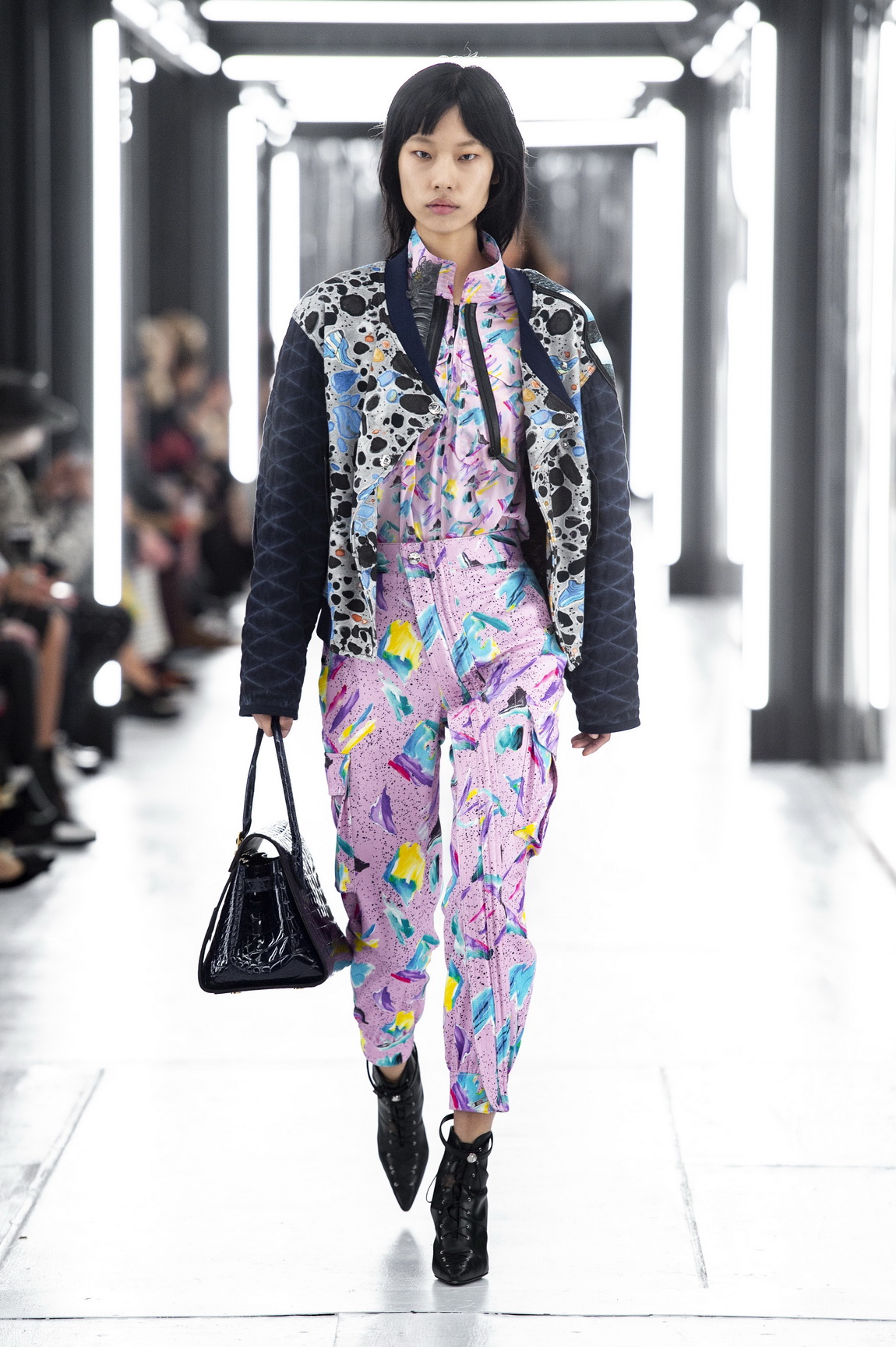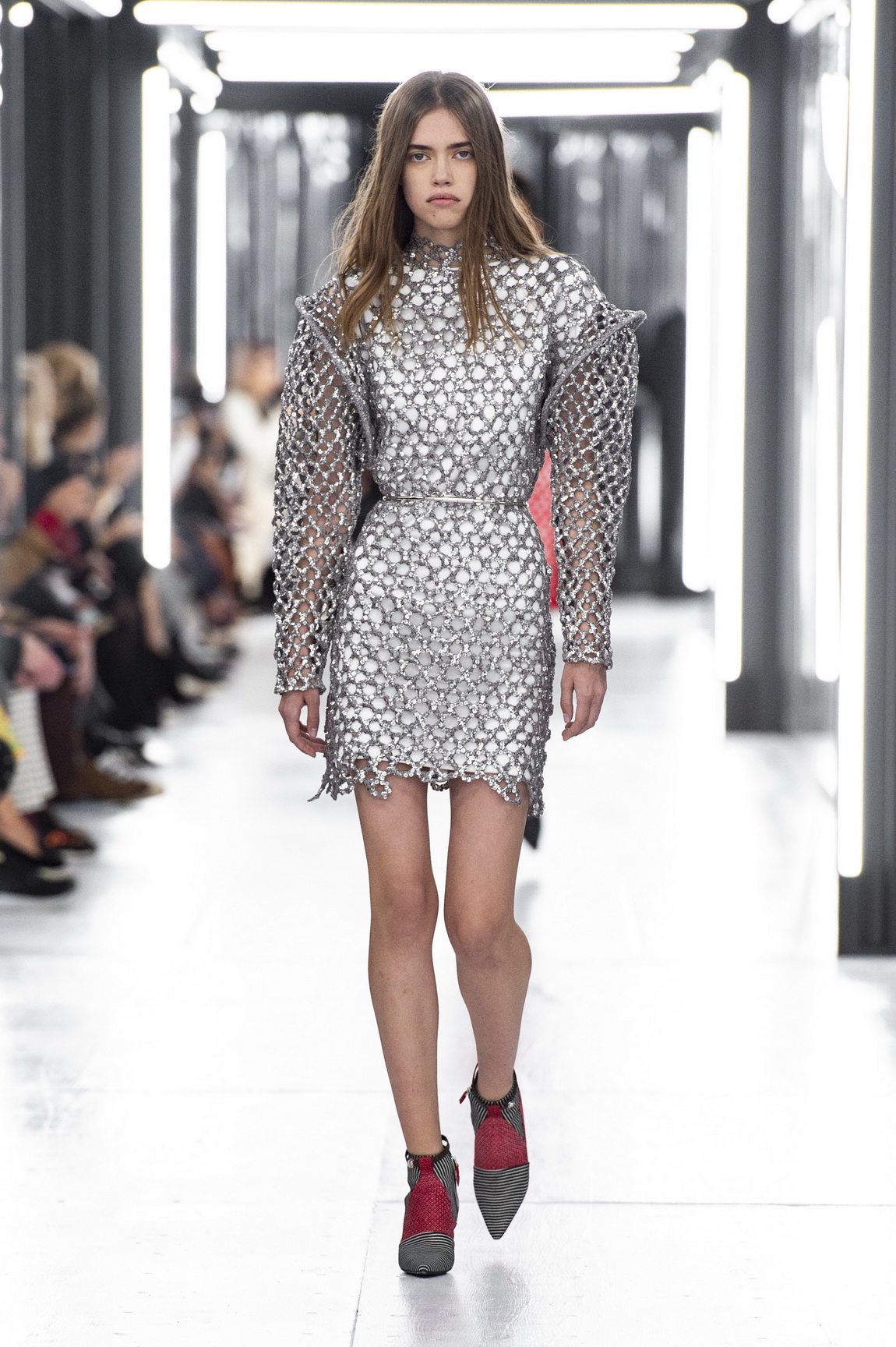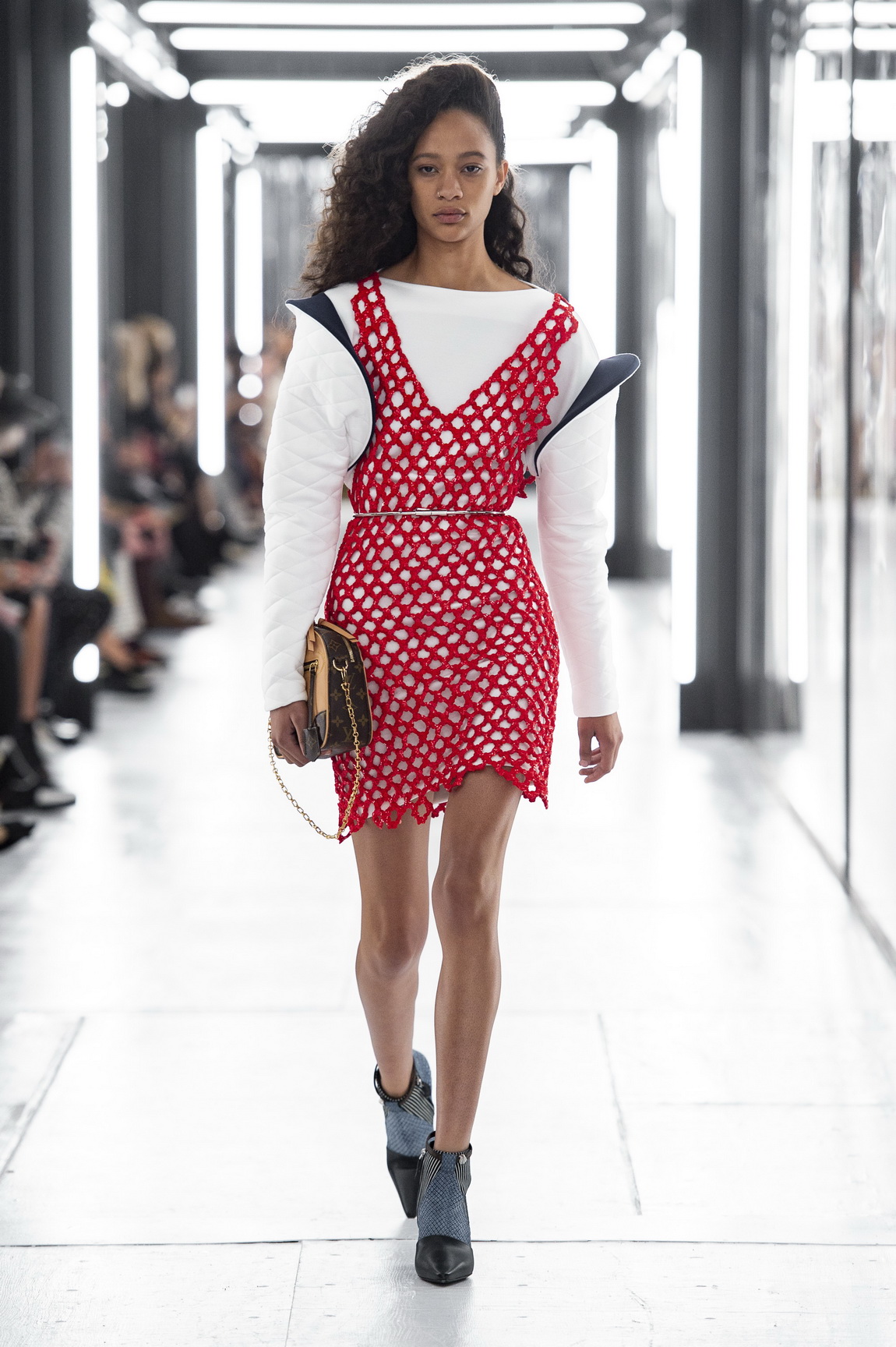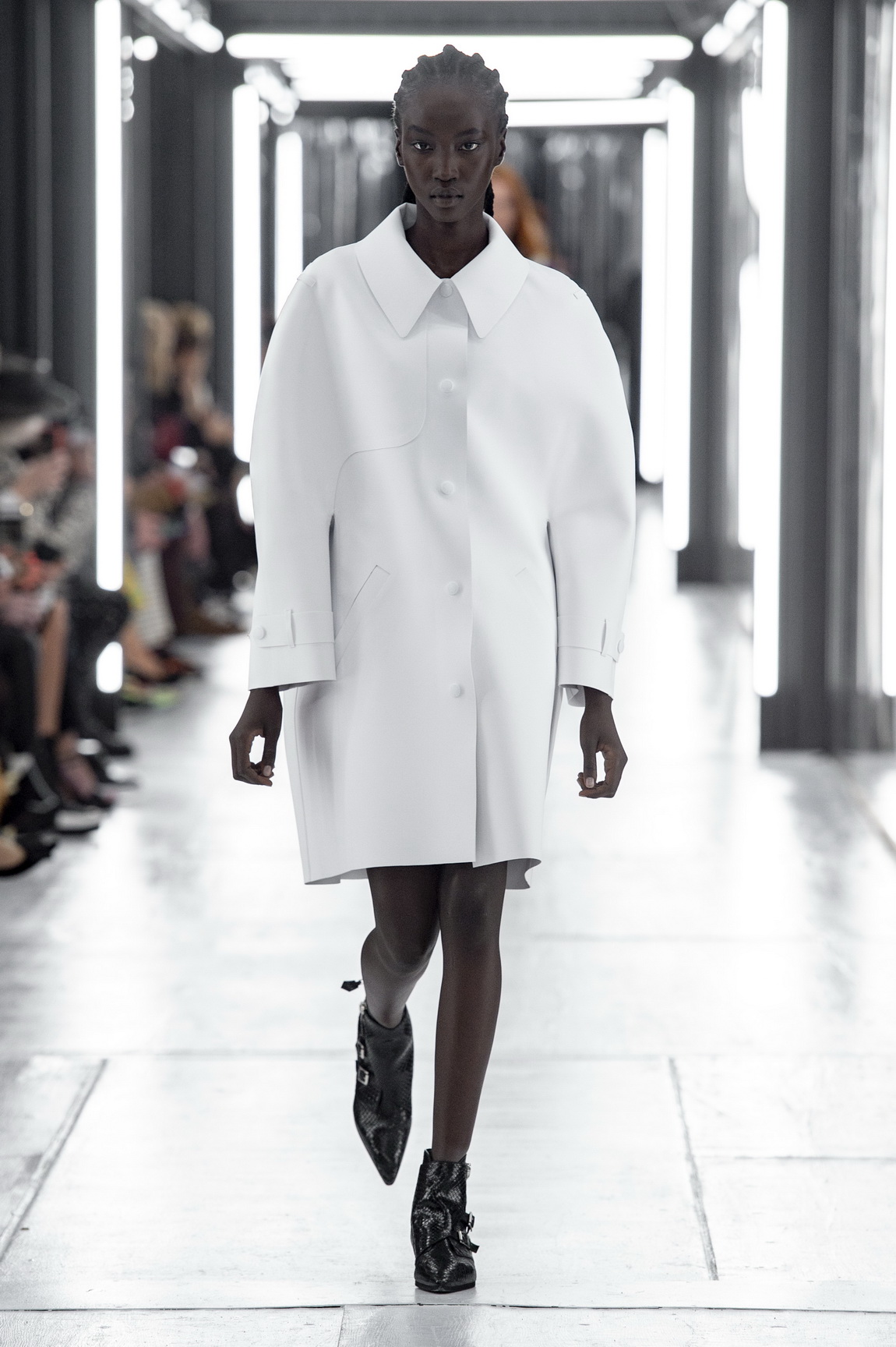 This article originally appeared on i-D UK.