how fenty beauty took over the world
As the brand celebrates its first anniversary, we look back at how Rihanna's beauty venture became so much more than just another celebrity endorsement.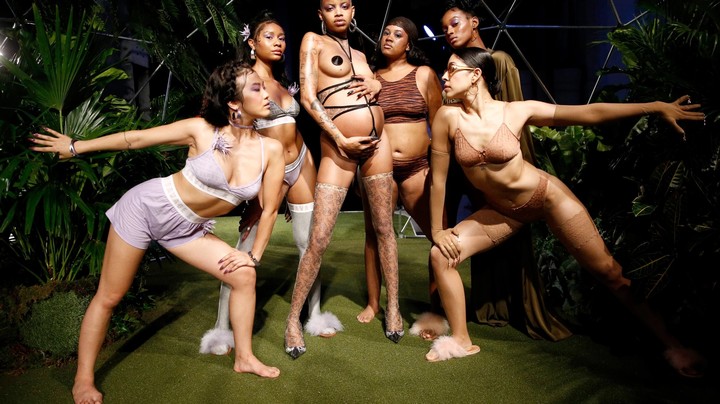 When Rihanna first announced her intention to launch a make-up and skincare line with Fenty Beauty, the world could have been forgiven for failing to sit up and take notice. Sure, hardcore Rih fans were immediately excited, but still many more saw Fenty as just the latest in a seemingly endless parade of celebrity collaborations. What could Fenty Beauty provide, critics wondered, that the world didn't already have from millennial juggernauts like Glossier and Kylie Jenner? But a year on, Fenty has proven its worth 10 times over. It's more than just another celebrity venture, more than a successful beauty brand -- it's a beacon for the same inclusivity that the beauty industry has so conspicuously lacked. More than Kylie, KKW, or Glossier, Fenty represents the future of beauty for millennial and Gen Z consumers.
Even before all that, Fenty was marking itself out as different from your average new brand. As the weeks grew closer to the label's launch in September 2017, the hype was already reaching fever pitch. When Rihanna announced the full range of shades -- over 40! -- that would be available in the first Fenty drop, women of color who had traditionally been excluded from prestige make-up lines, or afforded only a few shades darker than the overwhelming number of 'beige' shades, rejoiced. The hype spread beyond social media too, translating into very real sales. In the same month it debuted, Harvey Nichols was selling a Fenty lipstick every three minutes, making it the department store's most successful launch ever. By the end of 2017 Fenty's parent company, LVMH, had recorded profits of 17%. The beauty launch, which coincided with last year's NYFW, was so monumental that The New York Times asked: "Is it New York Fashion Week? Or is it Rihanna Inc.?"
Fenty was making serious dollar, but its influence is worth so much more than money. The Fenty drop set a precedent for other luxury brands. No longer could they get away with forgoing inclusivity and failing to provide for women of color, who now had the option to simply take their money elsewhere, and buy Fenty instead. Customers reacted, not only by spending their money elsewhere, but by publicly calling out brands who failed to follow Fenty's inclusivity mantra. When KKW released a 16 shade concealer range just six months after the birth of Fenty, Kim Kardashian was immediately dragged online for failing to provide adequate hues for anyone who wasn't, well, white. The range, which featured just two colors for dark skin tones, was branded "straight up disrespectful to WOC". Coupled with the fact that Kim Kardashian -- and the rest of her family -- regularly appropriate from black culture and black beauty in particular, the launch left a bad taste in the mouths of many beauty lovers.
Having made such an immediate and significant dent in the archaic, Eurocentric views of the traditional beauty industry, it's fair to say that many brands would have taken the win and sat back to watch the profits roll in. But not Fenty. What's perhaps the most impressive aspect of Rihanna's venture is that whenever she makes a new win, another progressive step into mainstream beauty, she pushes it further still. Alongside the huge range of shades in the line itself, Fenty's advertising was diverse, promoting new models of a variety of ethnicities and body shapes, including Slick Woods, Leomie Anderson, Halima Aden, Duckie Thot, and i-D cover stars Selena Forrest & Paloma Elsesser. Fenty Beauty have also become a champion for breaking down the traditional gender boundaries which exist in the beauty industry, with advertising campaigns featuring men. In March of this year Daniel Kaluuya appeared on the Oscar red carpet, looking "luminous" in Fenty foundation.
Fenty as translated its inclusive message further still -- this year the release of their lingerie collection, Savage x Fenty, was just as 'internet breaking' as the advent of Fenty Beauty in the year previous, especially when their runway featured a heavily pregnant Slick Woods, who went into labour just after the show (yes, it was that exciting). Savage x Fenty presented a new type of sexy, a modern sexuality that was a huge departure from the kind of beauty ideals we've grown used to seeing championed by brands like Victoria's Secret. It made those brands look old fashioned and past it by comparison. Beauty and sexiness, Savage seemed to say, could be curvaceous (or pregnant!), it could have a shaved head, tattoos, and piercings. It didn't need to be white, thin, and feminine. Beauty was whatever you felt comfortable in wearing. It was embracing your own power and vulnerability in equal measures. It was a rebellious and subversive message, and one millennials and Gen Z consumers -- true to form -- embraced wholeheartedly.
As 2017 ended and Fenty Beauty was named one of Time magazine's 25 best inventions of the year, it seemed that Rihanna had hit peak. But if 2018 has shown us anything so far, it's that the Fenty juggernaut is not slowing anytime soon. Each new product drops with the same internet-shattering buzz than the last, and as Rihanna celebrated her beauty empire's first anniversary in Sydney last night, the thirst for Fenty was far from quenched.
In fact, the thirst is greater than ever. Far from being satisfied with just another highlighter drop, Fenty fans are hitting pan on releases faster than ever and begging for more. Fenty underwear? Sure! Fenty furniture? Yes please! Rihanna herself says the sky's the limit for the brand, telling Billboard: "It's just my soul. I can't sit still, I get bored so I have to keep doing something." If that thing is smashing more boundaries than ever before, then all the better.
...But yeah, we'd love some new music too.
This article originally appeared on i-D UK.