The new Baroness magazine is a glitzy tribute to empowered women
Sarah Baker turns the romance novel on its head with the help of Donatella Versace to create this festive ode to women that take charge.
|
20 November 2019, 12:00pm
The cover star of Baroness by Sarah Baker: Versace Holiday Saga cuts a bold figure. Stood on snow-white marble staircase, performance artist Sarah Baker glares fearlessly down the lens, her hands stuck to her hips. Danish supermodel Helena Christensen flanks her, mirroring her stance. Both wear floor-length Versace gowns. Were you to judge the book, the second issue of art and creative director Matthew Holroyd's fashion imprint, by its cover, you might take the confidence of their poses to imply steeliness, or even villainy, rather than power or strength.
Indeed, there's something about the image that calls the cover of TV guide magazine to mind, depicting the two female protagonists of a particularly glamorous soap opera that are set to wage war that week. Here, however, the strength they exhibit has its foundations in solidarity.
"It's time we all support each other. No more catfights!" reads a handwritten epigraph by Donatella Versace, the publication's guest editor, echoing the sentiment Sarah and Matthew placed at the centre of the project from the get-go. "Approaching this project, we were really interested in the night time soap opera genre, of which Dynasty's a great example," she says. "But we really wanted to do something different from the typical narrative, where you have main female characters plotting against each other. In our story, the women end up helping each other, they work together instead of against each other."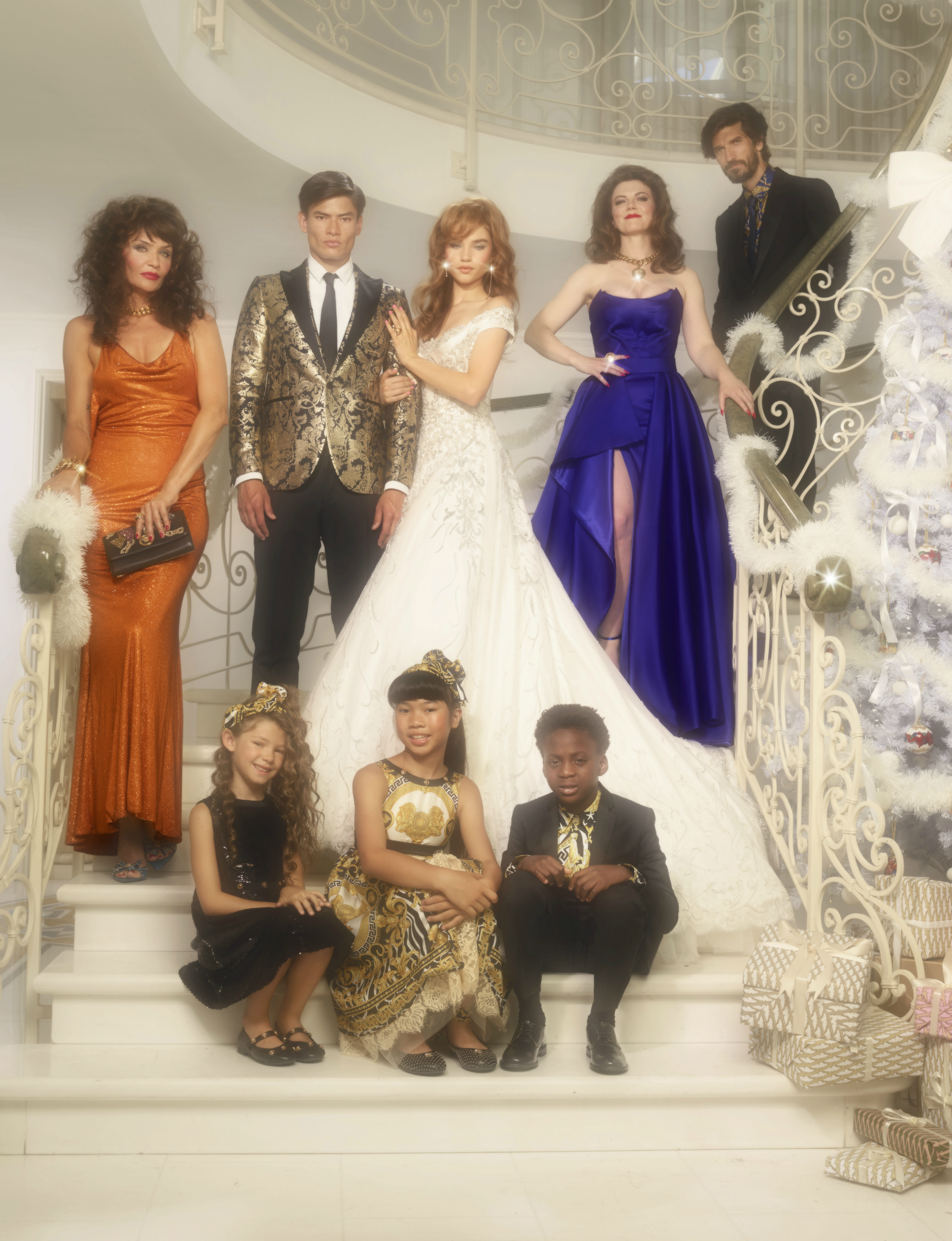 At the heart of the plot is the relationship between record label CEO Angelina Marina, played by Sarah, and Baroness Ruby, played by Helena. They're drawn together when Angelina receives a blackmail note accusing her of fraudulently claiming the writing credits for her hit song, "Spritz Me With Your Love". Initially believing that it must have come from the Baroness, the widow of her former lover Angelo, she confronts her only to discover that, not only is the Baroness innocent, but Angelo—till now thought dead— is, in fact, alive, and has hatched a Machiavellian scheme to extort Angelina for all she's worth. As the blurb promises, "a scorching holiday cocktail, mixing lust, jealousy and greed" ensues, with Angelo's plot ultimately foiled when the two women join forces. Sound wild? It is. It truly, truly is.
You wouldn't be wrong for thinking it all sounds much like the plot of a tacky romance novel. Sarah openly confesses her obsession with the genre, particularly with the work of one of the genre's doyennes, Jackie Collins. Similarly to Sarah's work, Collins rarely kowtows to the genre's conventions of how her protagonists should behave. "One of the main reasons why I'm so interested in Jackie Collins' books is that she always wrote about female empowerment," Sarah explains. "One of her most famous characters, for example, was Lucky. She wasn't an evil bitch, she was a businesswoman who was kind, smart and gorgeous," qualities we see mirrored in the publication's two leading lights. A further subversion of the genre comes with the casting of Angelo as its money-hungry villain, a decision motivated by the fact that "the gold digger is usually the female character, so we wanted to reverse that, and cast him Angelo as this malicious gold digger that was using and lying to people," Sarah say.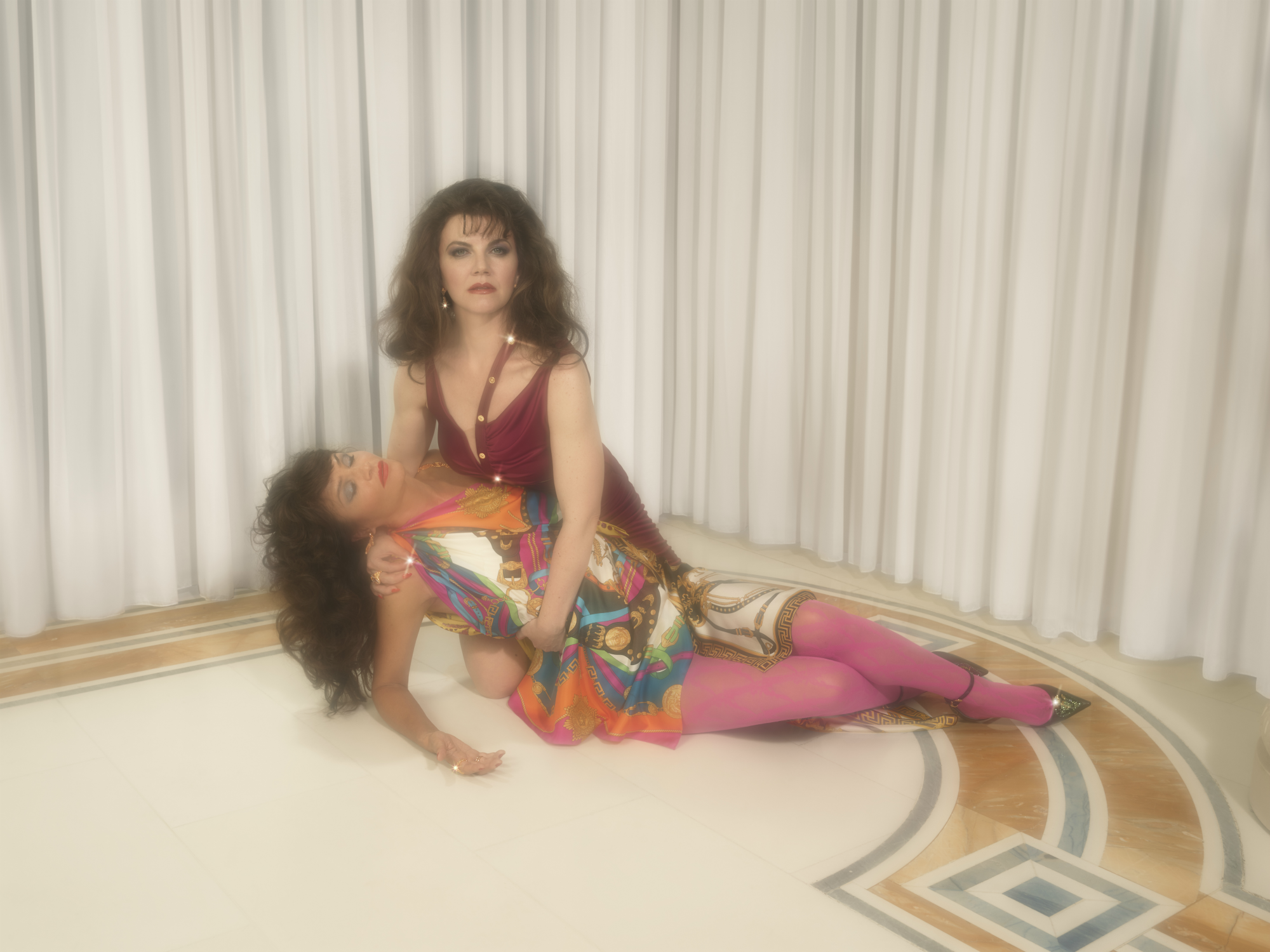 Where the book's visual direction was concerned, the team, which included photographers Edith Bergfors and Milo Reid, and former i-D art director Stephen Male, opted for what Sarah describes as a "Romance Novel filter", a soft haze punctuated by the chintzy glints of gold hardware, diamond-like splashes of water, and even dewy eyes. It's an aesthetic that references "daytime soap operas like Days of Our Lives, classic American shows, and even Eastenders! I love all of these long drawn out sagas, and the immediacy that these daily soap operas have," she says. But it was ultimately Donatella's love of the scintillating, steamy lens that governed its choosing after it was presented by Sarah and Matthew as one of a series of directions the project could take.
"Versace was so surprisingly accepting of our outrageous ideas," Sarah reflects, "though we did have to compromise on some of them. There were initially some pretty insane plotlines, which we could perhaps use for something that isn't sponsored by a corporation that has some real concerns about worldwide public reception. They included things like alien abduction, for example," she laughs. "Versace said that they didn't think that it fitted with the plot we had developed, and, looking back, they were right!" Indeed, though its narrative may seem scandalous as it stands, gymnastic in the twists and bends it takes, the saga of sex, excess and empowered womanhood fits seamlessly into the Versace world we all know and love.
"Working with Versace was such an amazing learning experience," Sarah continues. "They would sit down and have committee meetings about each of the ideas that we would present them with, which was totally different to the way I'm used to collaborating. But above all, it was a total dream come true. I've been inspired by Versace for like, two decades, since I was an MA student at Goldsmiths. A lot of my early artworks were in some ways looking to operate within the world that the brand presented."
And now, Sarah finds herself at the centre of how the brand presents itself: the book's imagery, text and a complementary video make up Versace's official Holiday 2019 campaign. But, while the project may brim with glitz and glamour, an altogether more humble message remains at the core. "Ultimately, this project is about Donatella Versace giving Sarah Baker this chance," she says. "It's about strong women working together to bring each other up: that's the real story."
All images from Baroness by Sarah Baker