le1f journeyed across the australian outback to create this moving virtual reality film
The American rapper joins indigenous dancer Waangenga Blanco in 'VIA Alice' a unique virtual reality film exploring connection to country.
|
09 October 2017, 12:42am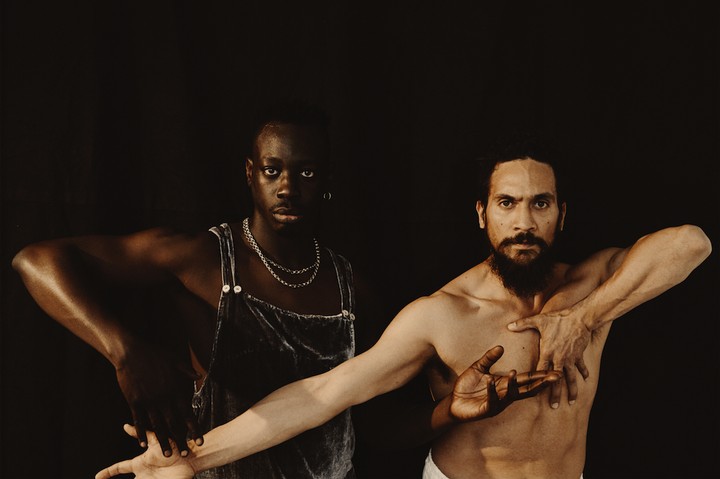 American rapper and dancer Khalif Diouf, AKA Le1f, spent some time in Australia this year for a unique project with Indigenous Australian dancer Waangenga Blanco. Travelling across the country together with a small team of filmmakers, the pair created a 360° 3D virtual reality film called VIA ALICE, which traces their journey across country and culture. The duo travelled from Alice Springs, Arrernte Country, Redfern through the Central Desert all the way up to the northern reaches of the Cape York Peninsula. Loosely following the real-life trajectory of Blanco, the film aims to provide an important insight into traditional land and culture and the idea of a connection to country.
Despite their incredibly diverse backgrounds, Khalif and Waangenga are both trained dancers and choreographers, and each came to the project with their own methods of storytelling. The film looks at the knowledge passed down from Community Elders and its story is centred on a familiar search for many indigenous people: the search for a balance between city and country life through an exchange of knowledge and stronger connection to tradition.
Set to original music by Midnight Juggernauts' Daniel Stricker, Solange collaborator John Kirby and new work by Khalif himself, the screening will incorporate live dance and a traditional ceremony. VIA ALICE promises to be a stunningly moving feast for the senses.
VIA Alice will be performed at Sugar Mountain 2018, as part of the festival brilliant arts lineup. First Release tickets are on sale now, find them here.
Check out the entire Sugar Mountain 2018 music lineup and arts programme here.