cambodia's young female skaters are ready to spark a cultural revolution
Earlier this year, British photographer Hannah Bailey traveled to Cambodia to capture its thriving skate scene, led by Skateistan, a not-for-profit organization teaching girls to skate.
|
06 September 2017, 10:43am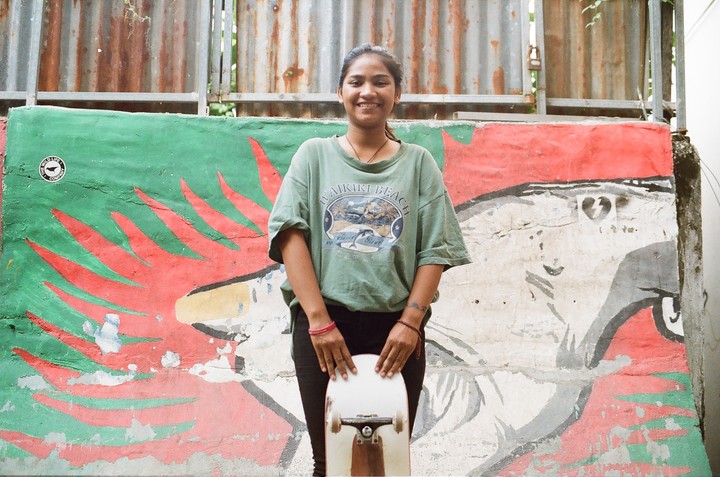 Mora by Hannah Bailey
This article was originally published by i-D UK.
In a country where half of the population is reported to be under 15 and the median age is 24, Cambodia is a hub of social media activity and street culture. Since I first visited Phnom Penh in 2015, activities like skateboarding have grown rapidly, with the younger generation increasingly making use of the internet and YouTube to research and learn new skills that interest them. The visual cool of global street culture resonated with the local youth and skateboarding, breakdancing, music, and art are now thriving in the city. This creativity is visible on the streets and at the local park every evening.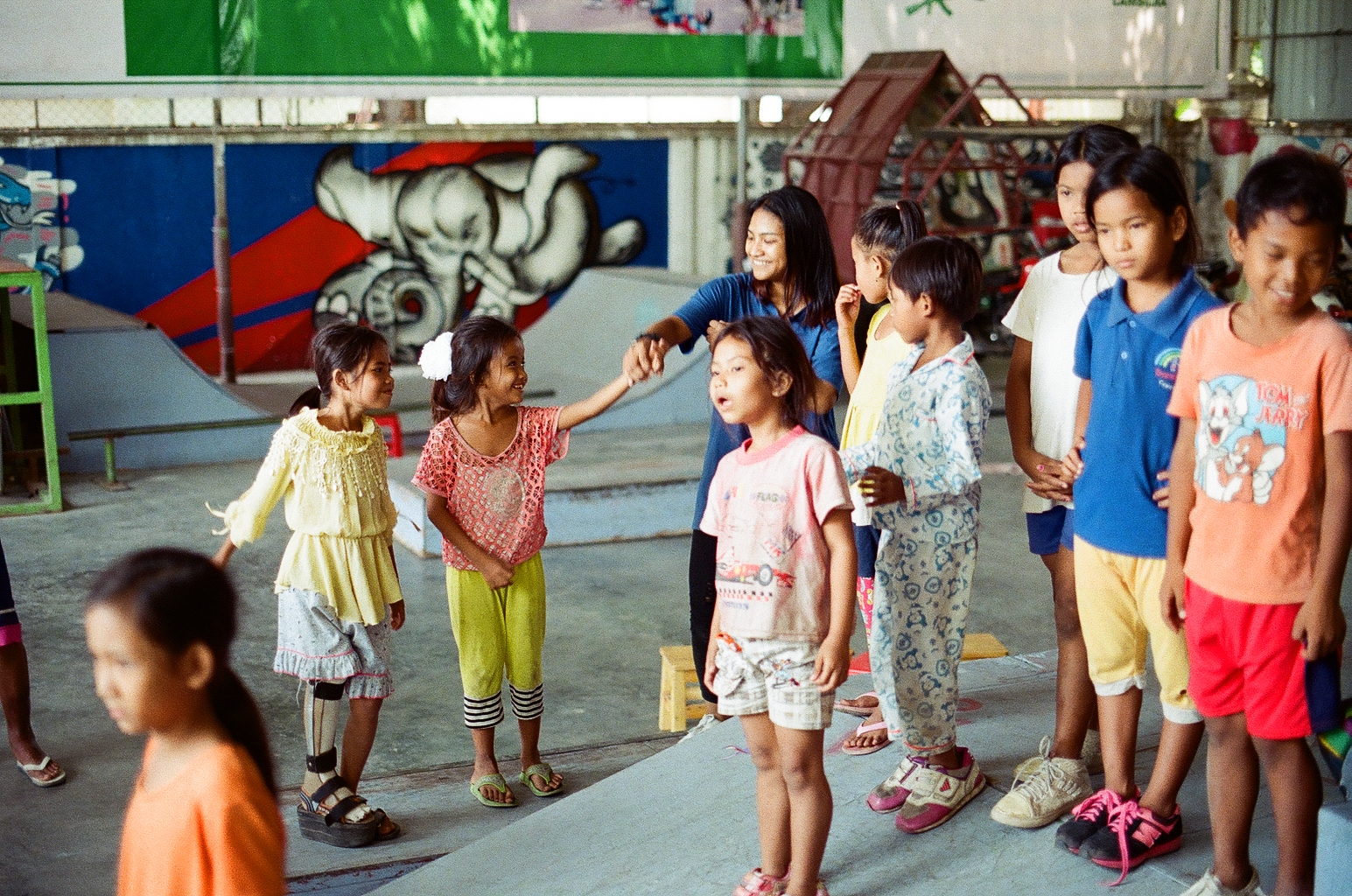 One woman in particular, Tin, is pioneering this cultural movement particularly among younger girls. She is the Programs Officer at Skateistan, a non-profit organization that provides skateboarding and educational programs to local children. She is the country's best female skater, a well-known radio host with a daily morning show, and is a role model to the younger generation. She is proof that creativity can be a career, and that Cambodia's enthusiasm to grow and learn has pushed the country towards exciting times.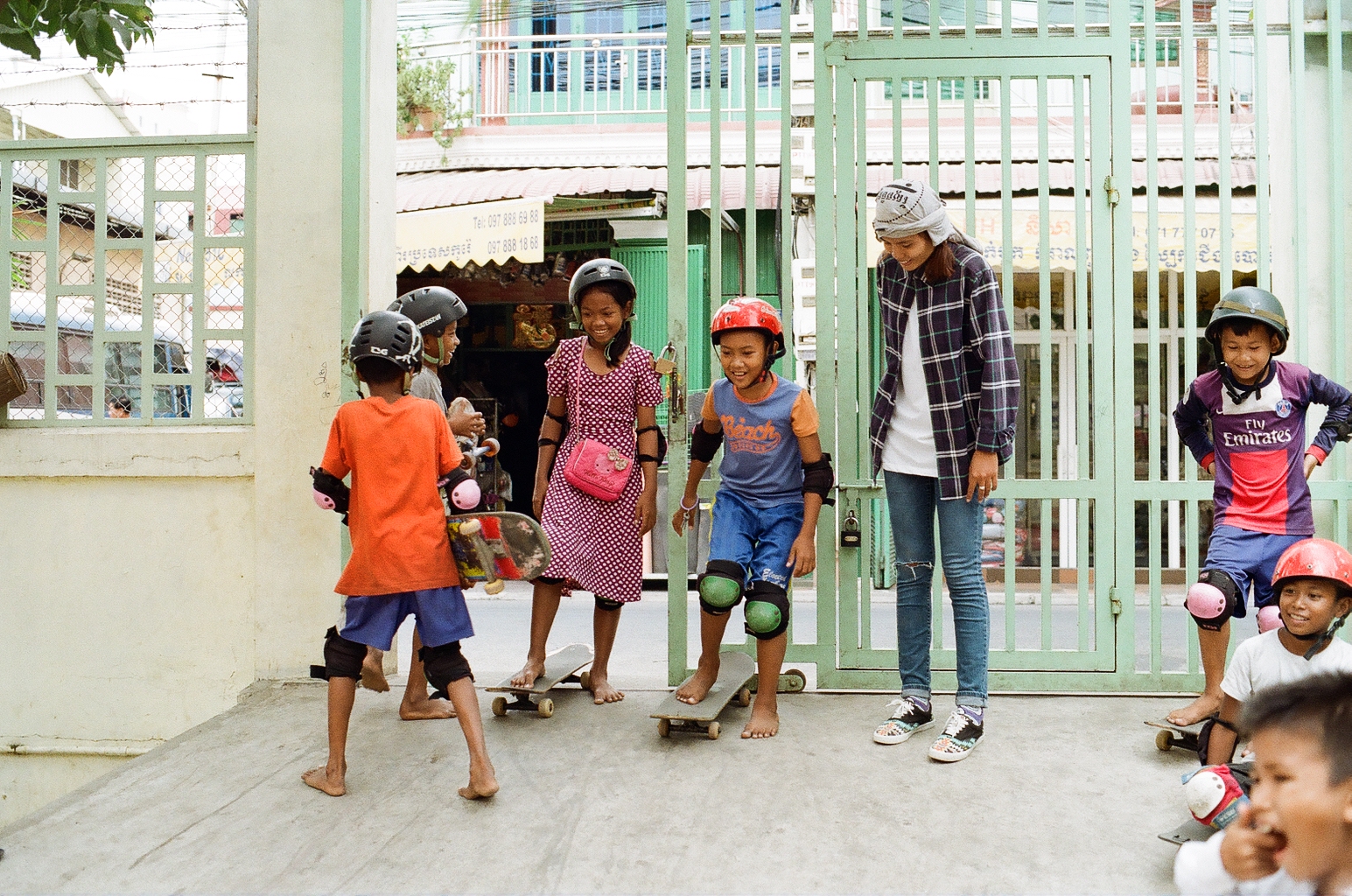 Just two years ago, there were only a few girls skating, but when I went back earlier this year I was amazed by the number of skaters in general, and, in particular, the number of girls. Tin mentioned that now over 50% of students at Skateistan are female, a 10% increase, and she gets recognized by girls skating in public. Out of the new generation of female skaters I met, one in particular stood out: 15-year-old Mora. Introduced to skating only a year ago, she is now a Youth Leader at Skateistan. As well as being an enthusiastic skateboarder, she's also a talented singer and songwriter. One day she hopes to build a skatepark with a music school attached, and create skate videos using her own music, to show the world how it's done in Cambodia.
Since meeting Tin and Mora, I've been inspired to share their stories and show the world what they, and the next generation of Cambodia, have to offer.
Tin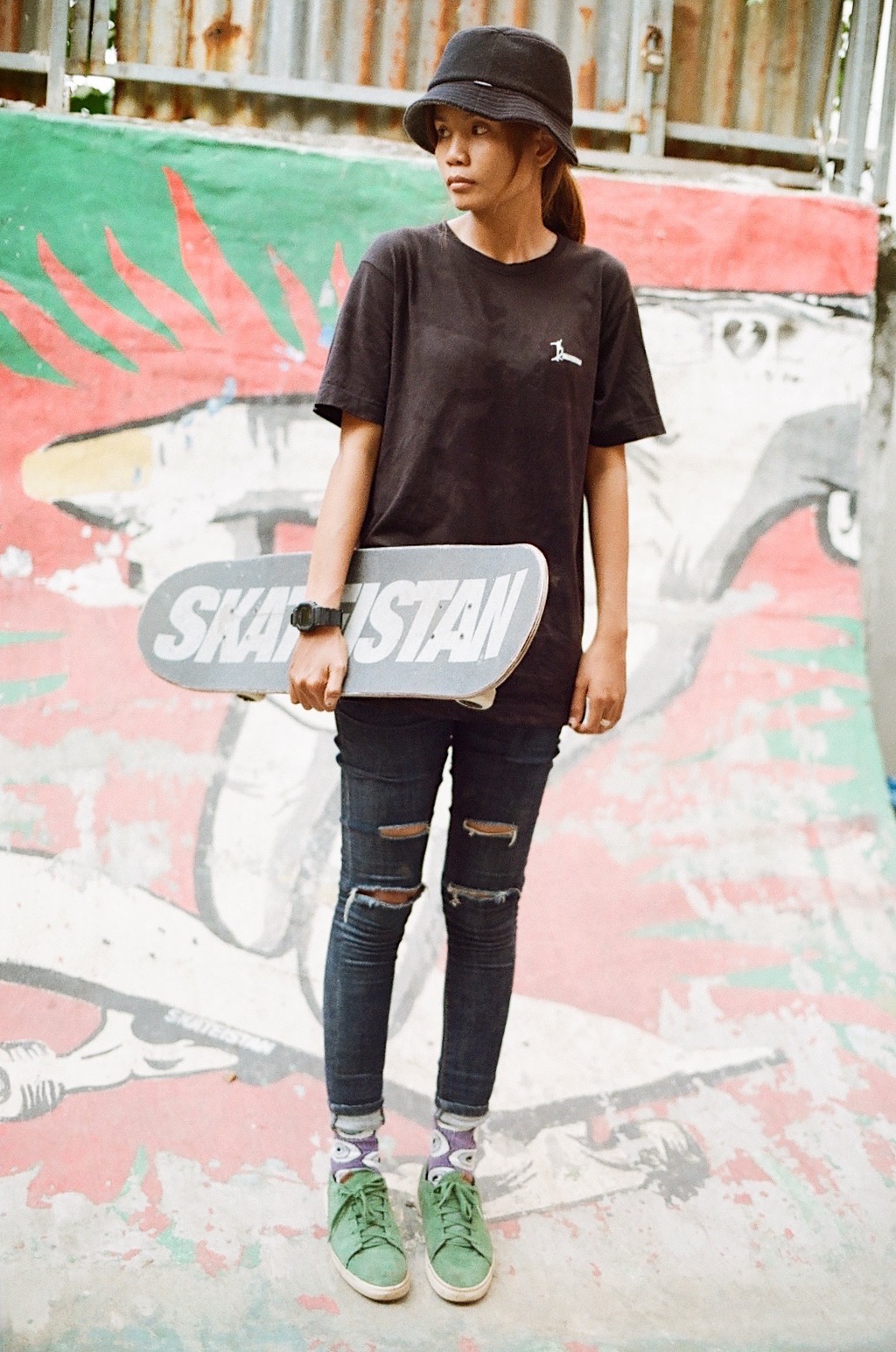 Growing up what were your dreams, and how did they get you here?
When I was young, I dreamed of being a teacher, especially for a charity. I didn't have a TV, so I got a radio that I listened to every night. It made me want to speak and use my voice to help change the world. I started volunteering with a non-profit organization that was working with Skateistan, who were providing the skate lessons. I thought, "Wow, that is cool, I have never seen that before!" I wondered why there weren't that many people doing it, especially girls. I wanted to try something new so I gave it a go. I discovered that it's not only for boys, it's for girls also. I want to show girls that we can do it like them!
Why do you think local youths are becoming more interested in things like skating and breakdancing?
Through the internet, the local youths have seen what goes on outside of their own world. They've started practicing the things they've seen online. They want to be cool! Our country is really small, but we want to show Cambodia to the world. Show that we can do it like them.
What are your hopes for the future?
In the past two years, there has been an increase in the number of girls coming to Skateistan — it was 40%, now it is 50%, sometimes it is 60%. But I want to reach 100%! I want to help girls and I want Cambodia to build public skateparks, so that everyone can play and join. For me personally, I want to compete outside of Cambodia and really show the world that we can do it too.
MORA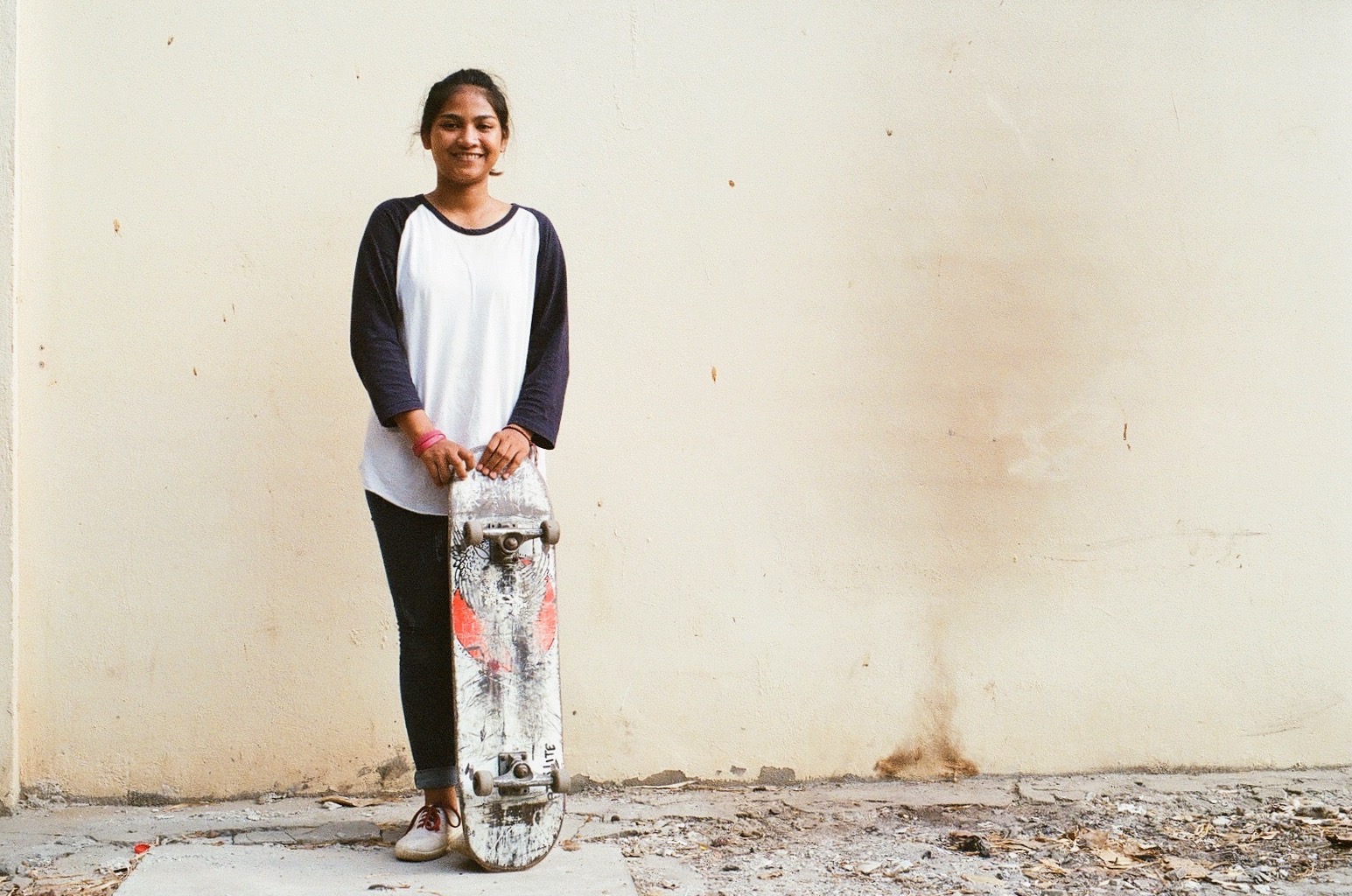 How did you first find out about skateboarding?
I first heard about it through a friend who was volunteering at Skateistan. One day she took me skating on of the Skateistan mini ramps. I'd never seen anything like that before! Then I met Tin. The first time I tried to stand on a skateboard it was so hard. But it was also so cool! I used to be scared, but now I'm a lot braver.
What do you do at Skateistan?
I am a Youth Leader. I am responsible for helping teach skateboarding to kids. We do outreach sessions where we invite local kids to come skate with us.
What is the general attitude towards female skaters in Cambodia?
When people see me in clothes like this, [wearing] big t-shirts like a DJ, they always ask me what I'm doing or where I'm going. When I say I'm going to skate they ask me, "Are you boy or girl?" For me, skating has been life changing. You can fall over and get hurt, which is why people think only boys should skate, but I want to tell the world that it's not only for boys. Girls can do it too, we are the same.
How will you encourage more girls to skate?
Everything is hard when you do it at first, but if you practice it gets easier. I let them watch me so that they can see it is possible — then they practice one by one. Just putting their foot on the skateboard. My message to girls is: don't be scared. Make the best of your life. You never know what you might be good at, just practice and be confident in yourself!
Find out more about how Skateistan has provided girls, like Mora and Tin, with a route to education and empowerment through skateboarding.