Photography Donald Kravitz via Getty Images
5 sorta progressive moments in the history of miss america
As the pageant finally scraps its swimsuit competition, we look back on Miss America's other attempts to remain relevant.
Photography Donald Kravitz via Getty Images
"The swimsuit competition is probably the most honest part of the competition because it really is about bodies," Gloria Steinem is quoted as saying in the 2002 documentary Miss America, "it is about looking at women as objects." So what would the feminist legend make of the pageant's decision to scrap the swimsuit competition entirely? Steinem — busy amplifying other examples of the purpose men see women's bodies as serving — is yet to comment on Miss America's latest announcement. But the decision, while belated, is hardly trivial. Miss America was created? solely as a swimsuit competition when it started in Atlantic City in 1921. And the pageant wasn't even inclusive to women of all races, let alone "to women of all shapes and sizes," as Gretchen Carlson, the chairwoman of the Miss America board of directors, has promised it will be from here on. "We will no longer judge our candidates on their outward physical appearance. That's huge," Carlson said on Good Morning America today, ushering in "Miss America 2.0" This means no compulsory stilettos either! But does it mean the contestants can wear Crocs? Only time will tell. As Miss America attempts to stay relevant in the age of #MeToo, we look at other semi-progressive steps the pageant has taken over its almost-century-long existence.
Ruling out Rule 7
7 is a lucky number, unless you're a non-white woman vying for the Miss America crown prior to 1940. That was the year the competition finally decided to ditch its overtly racist requirement that Miss America contestants had to be "of good health and of the white race." A skin show in more ways than one? Unfortunately, grappling with Miss America's more subtle displays of racism proved more difficult. Even when Vanessa Williams finally became the first black woman to win the crown in 1983, she was attacked for not being black enough, and eventually resigned following a nude photo scandal. Miss America apologized — another 32 years later.
Miss Black America
1968 was a big year in Miss America history! Though not quite in the way the pageant wanted. The rise of second-wave feminism led to protests against Miss America's racism, sexism, and support of the Vietnam war. The backlash really gained traction when 200 members of New York Radical Women descended upon the 1969 pageant in Atlantic City. While the bra-burning demonstration is unfortunately an urban legend, the women did do something possibly even more epic: symbolically destroying heels and false eyelashes before crowning a live sheep Miss America. That same year, civil rights activist J. Morris Anderson founded Miss Black America, knowing it would be impossible for his daughters to fulfill their dreams of becoming Miss (White) America. The radical counter-competition — allowed but never endorsed by the main organization — was later won by a 17-year-old Oprah Winfrey.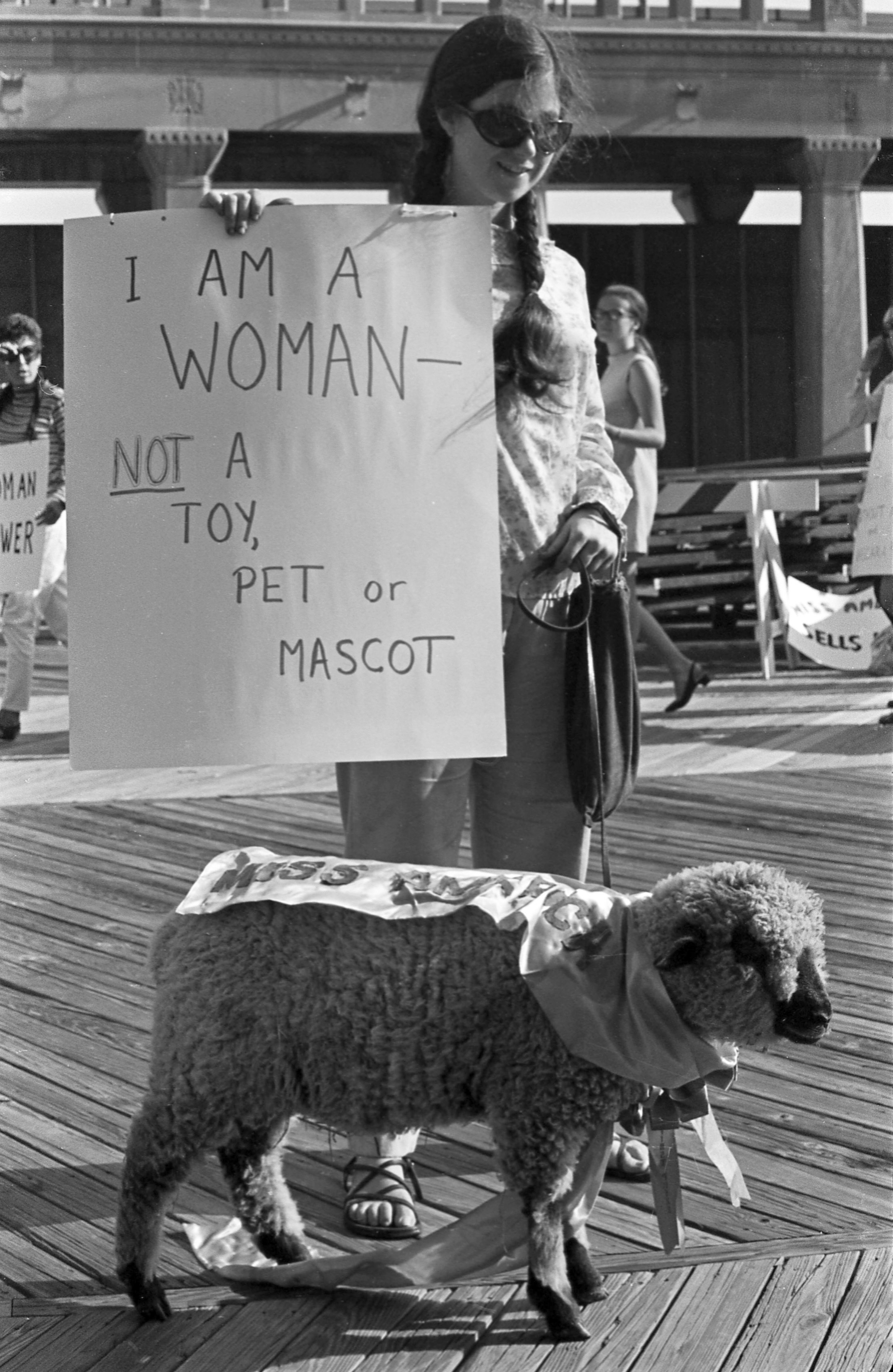 Make Miss America Gay Again!
In 2016, Miss America finally got its first-ever openly lesbian contestant. Erin O'Flaherty was crowned Miss Missouri and granted permission to tear down — or at least poke a hole in — the pageant's historically heteronormative beauty standards. O'Flaherty came out at the age of 18, five years before being crowned, while still coping with losing a friend to suicide. Hence her decision to team up with The Trevor Project and make suicide prevention her Miss America platform. 11 years before, Deidre Downs of Alabama was crowned Miss America 2005, but likely wouldn't have made it to finals if she hadn't been closeted during the competition. Over a decade after trading in her crown, she married her girlfriend in Birmingham, noting that same-sex marriage was still illegal during her pageant years.
Miss America's #MeToo moment
In response to an email scandal where Miss America organizers were found to have sent emails blasting former pageant winners' looks, the Miss America Organization and Foundation did what any reasonable operation would do: fire the men and replace them with women. In Miss America's 97-year history, no woman had been appointed to the organization's top ranks until Regina Hopper (Miss Arkansas 1983) and Marjorie Vincent-Tripp (Miss America 1991) were named president and chairwoman respectively. Better late than never.
Miss America takes on Trump
Miss America questions have certainly changed since those Atlantic City boardwalk days. Recent topics of debate include confederate statues, climate change, and this salient gem from People EIC Jess Cagle in 2017: "Last month, a demonstration of neo-Nazi white supremacists and the KKK in Charlottesville, Virginia, turned violent, and a counter-protester was killed. The president said there was shared blame with, quote, 'very fine people on both sides.' Were there? Tell me yes or no, and explain." Miss Texas didn't miss a beat before responding, "I think that the white supremacist issue ... it was very obvious that it was a terrorist attack. And I think that President Donald Trump should've made a statement earlier addressing the fact." Miss Texas 2020? Trump zingers were a common thread throughout the competition last year, and not because he slept with the enemy.