Virgil Abloh for Nike. Image courtesy of Nike
swooshes, subversion and soccer: kim jones and virgil abloh discuss their world cup collaborations with nike
Two heavyweights of fashion will get you World Cup ready.
Virgil Abloh for Nike. Image courtesy of Nike
Just after the autumn/winter 18 men's shows back in February, Nike celebrated the future of football with an embargoed event in south east London that showcased their World Cup fashions. Alongside the Nigeria kit that sold-out in minutes at its London launch last week, and the eye-catching boots you'll see on the feet of this summer's stars, the sportswear behemoth shared two designer takes on tournament themed capsules -- Kim Jones's punk-inspired DIY Football Reimagined collection and Virgil Abloh's lovingly manipulated Football, Mon Amour collection.
While each encapsulated the designer's individual identity, perspective and aesthetic, they're united in a similar sense of playful experimentation and subtle subversion. Then, there was no escaping the rumours that Virgil Abloh would fill the Kim Jones-shaped void at Louis Vuitton men's. It would take months before the insider gossip was officially confirmed, but it was during this Nike event, seeing both of their work side-by-side, when we started to truly believe. Even Jones himself confessed that he had been "nagging them (Louis Vuitton) to get him because he could do something exciting", as Abloh enthused over Jones's own designs.
Today, their futures are settled and they remain just as in awe of each other. As we countdown to the spring/summer 19 shows, all eyes are on the debut collections of Kim Jones for Dior Homme and Virgil Abloh for Louis Vuitton. Both are reimagining what fashion is in 2018 and redefining what each of their roles can be. An aspect of each of their brave new fashion worlds is visible in their collaborative work with Nike. After reworking sneaker icons and staples of performance uniforms, the latest hype releases focus on football.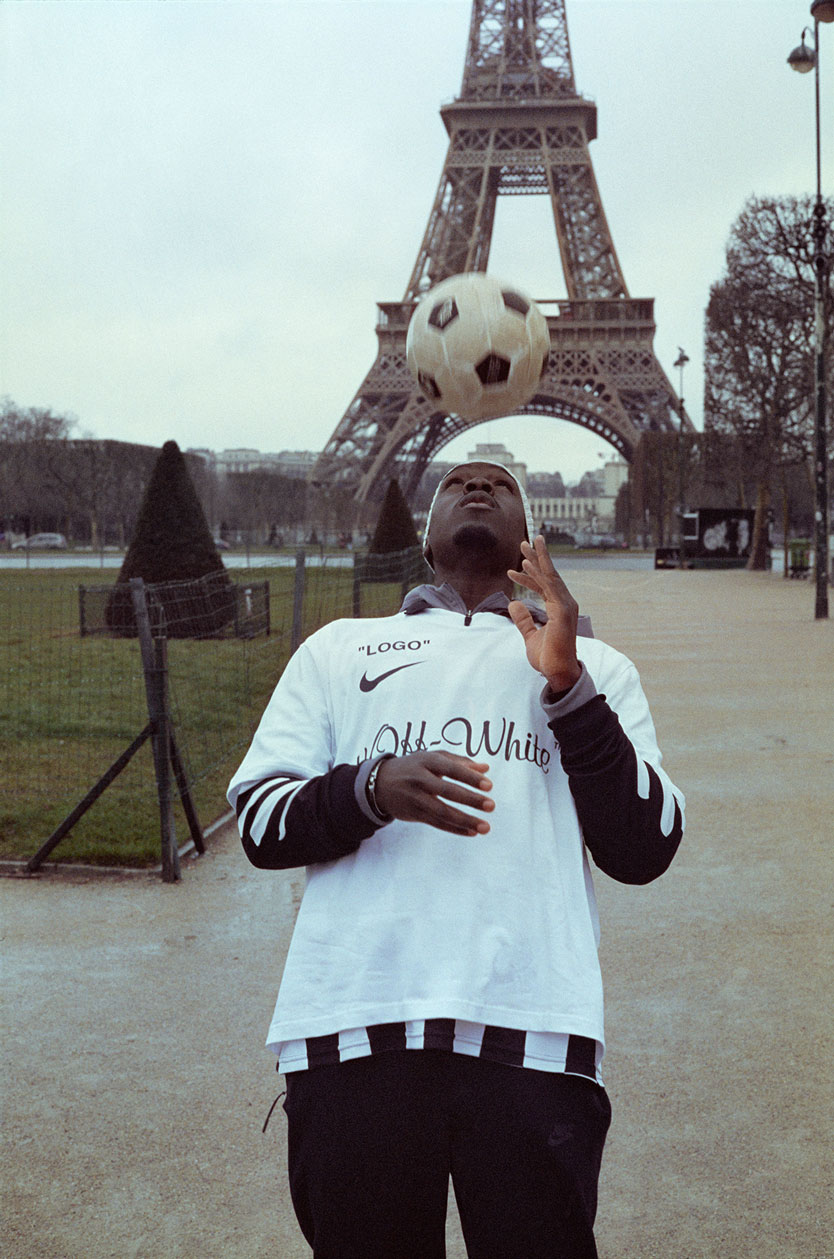 "The shoe was the starting point," Jones explained as he talked i-D through Football Reimagined. Given that the sneakerhead designer has over 600 pairs, this is no surprise. "I was looking at the silhouette of the Mercurial boot along with my three favourite Nike trainers -- the Footscape, the Vandal and the Air Max 97. Taking apart three icons and putting them together to give a totally new shoe. This attitude fuelled the rest of the collection. There's two types of football jerseys, one has articulated ribs so it's a different silhouette. That whole punk era was all about proportions that gave power to the wearer. It's fully knitted, packed with details, like the label on the outside which is a nod to Seditionaries -- it's taking that punk cut and sew mentality."
Much like Malcolm McLaren and Vivienne Westwood's 1976 renamed and refitted store on 430 King's Road, Kim is creating "clothes for heroes". Although subtle and subverted, he was aware that a punk archetype-inspired football shirt might be too much for some, so the second shirt uses more classic fabrications and has the printed face for a bit of added fun. "We've played a little with the logo, using 11, which is my birthday and making it into a smiley face with the swoosh. It's a nod to rave culture. From an English perspective, football and rave culture go hand-in-hand."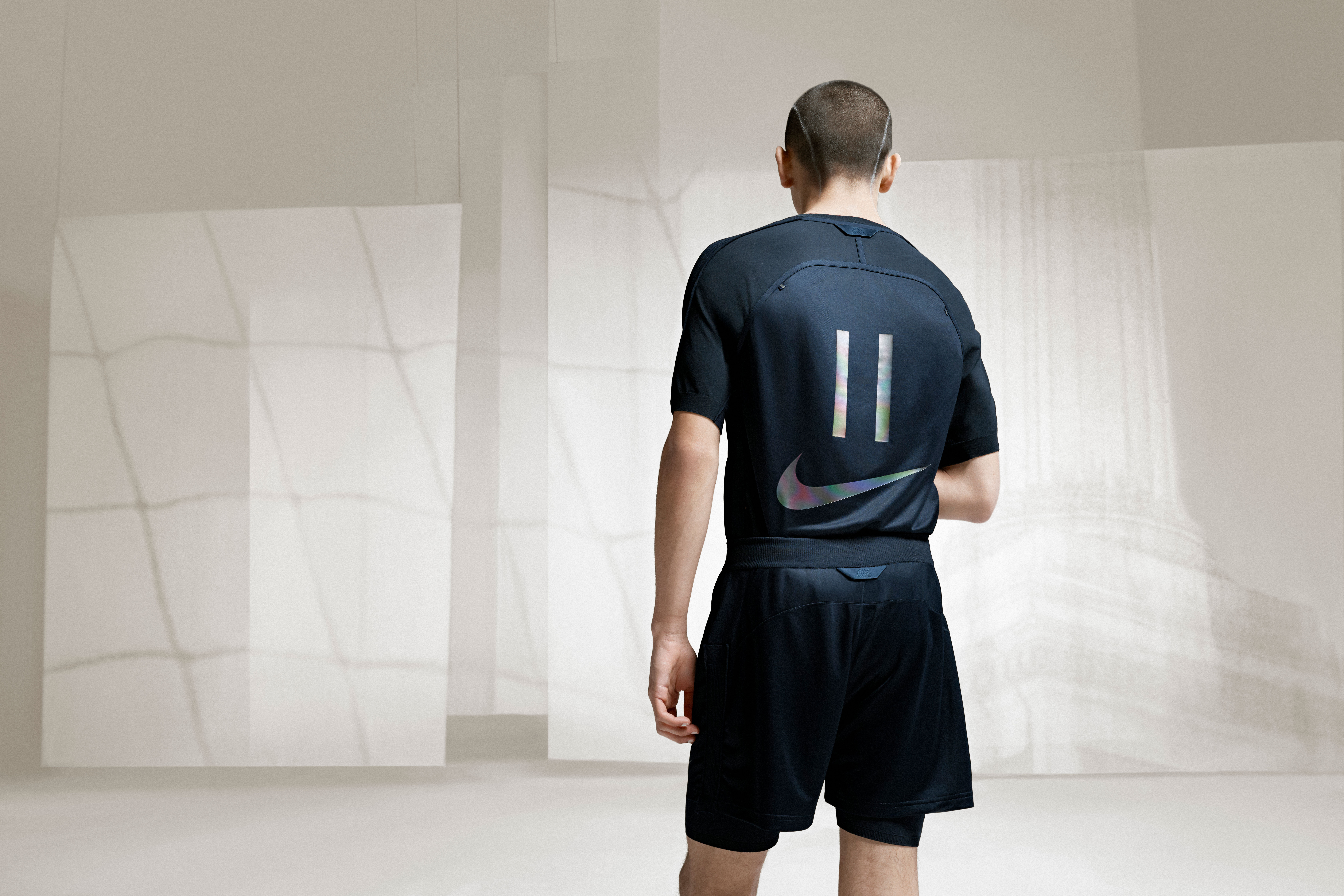 While Jones placed his In-Ger-Land lens over the project and clashed punk attitudes with avant garde tailoring and sport tech, Illinois-born, Instagram-based multi-hyphenate Virgil fused his Ghanian family's love for the game with his insatiable appetite to toy with uniforms, branding and symbolism. "I've been playing football since I was eight, non-stop through to college," Abloh explained during the event. "With my family being from Ghana, it was the sport that was passed down so I've enjoyed this project, it's a homecoming of sorts."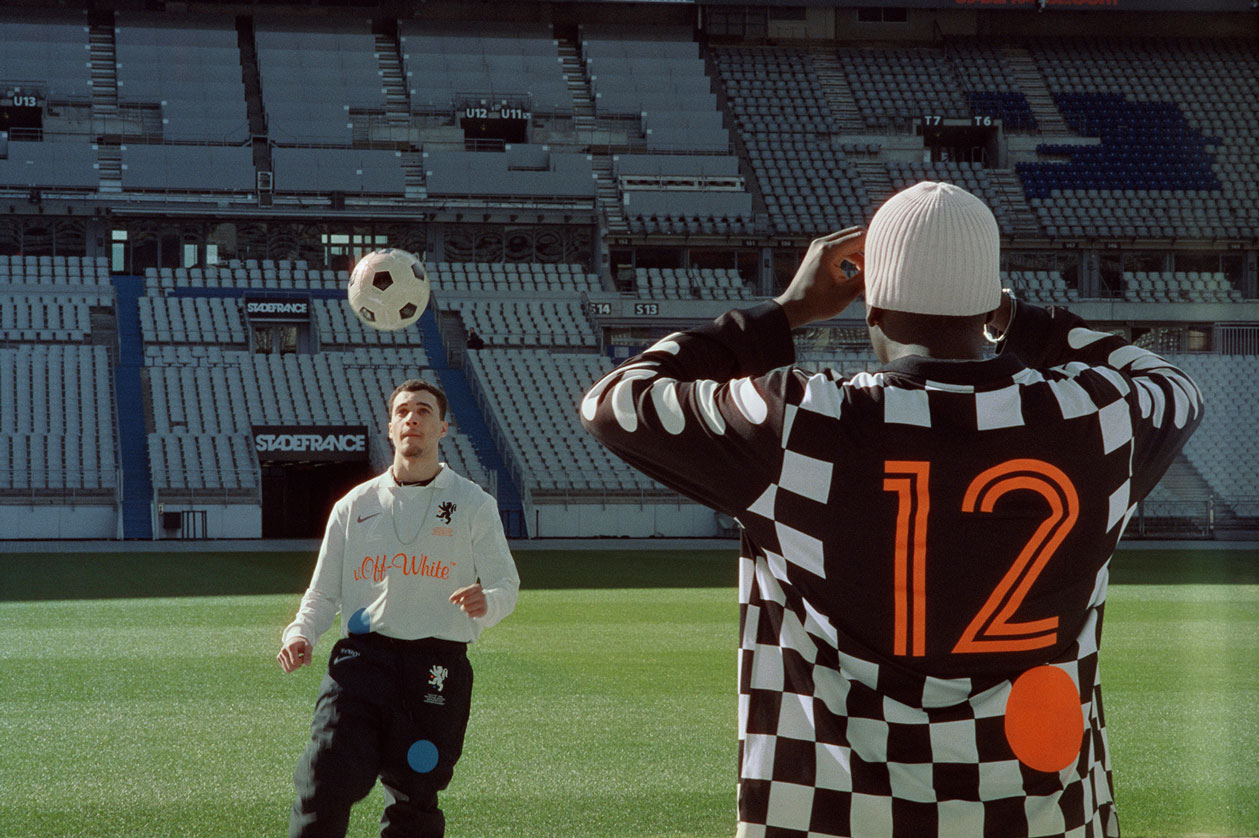 From the numbers that echo those worn during his own playing days to the Off-White branding and favoured sports iconography, Abloh has filled Football, Mon Amour with genuine personal affection. Like Jones, Abloh's starting point was footwear. His shoe, a Flyknit Zoom Fly, ties back to his rendition of the Mercurial. "From breathability to strength, certain parts of the shoe are treated differently. I wanted to highlight these research and development learnings, give them their own identity. That's what the collection started with, these running shoes that mimic your actual boot on the pitch so that you're subconsciously training all the time," he explained. These dots are then joined by archetypes of sports symbolism –- the lion, the eagle -- in a collection that subtly tweaks staples of pitch and terrace wear. "It was about taking certain pieces that you'd find in a JD Sports or Sports Direct and twisting them. I kept their essence but played with them." So, the legs of a tracksuit are lengthened and a shirt widened. Just like Jones's collection but entirely in its own way, Abloh's collection is filled with pieces that teeter from familiar to peculiar.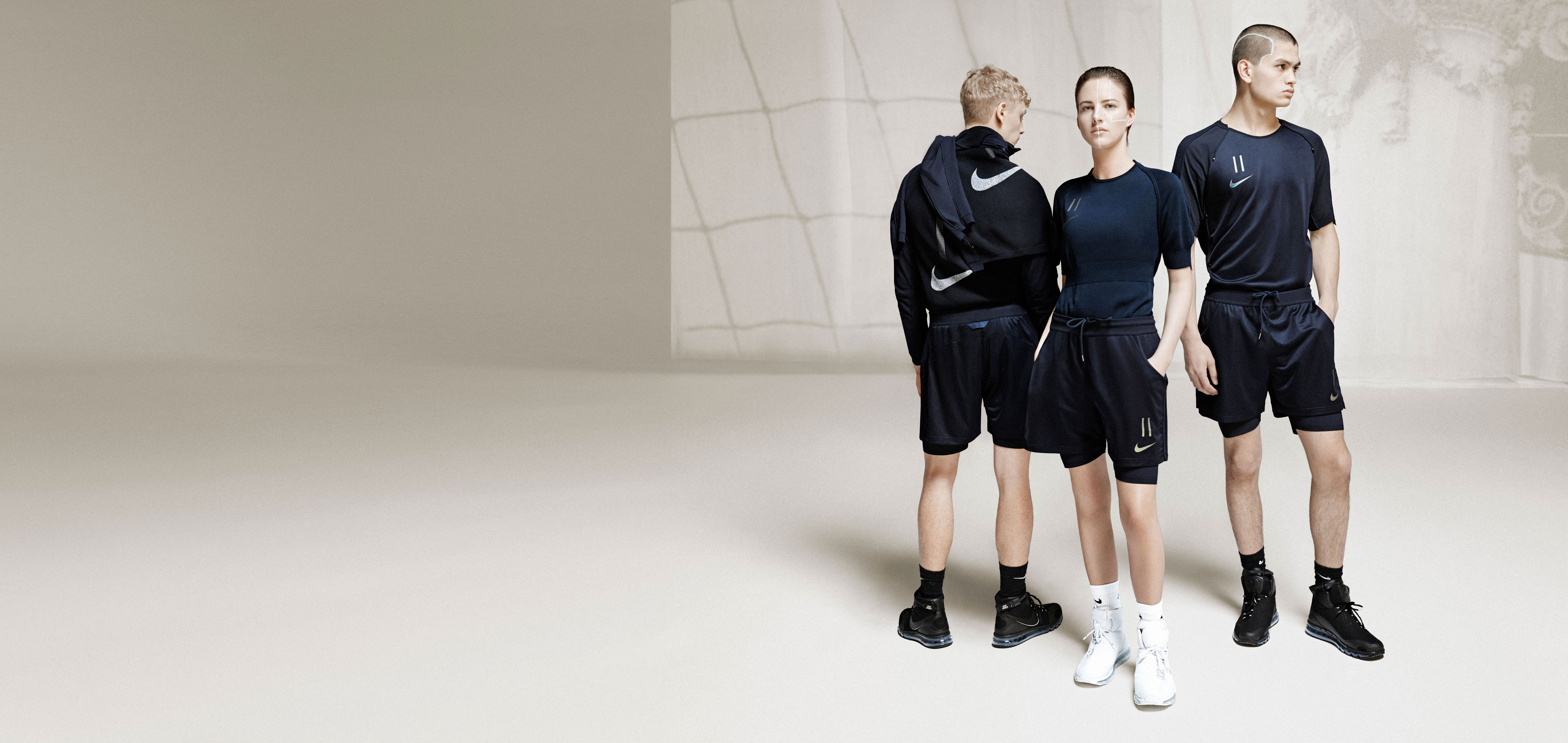 The Nike x Kim Jones Football Reimagined collection launches June 7 and the Nike x Off-White Football, Mon Amour collection launches June 14, both on nike.com and at select retail locations globally.