@makeupforwoc gives honest beauty tips for women of color
i-D asked the teen behind the Twitter account for her secrets to flawless skin.
Image via Twitter
The beauty industry has neglected women of color for too long. Rihanna succinctly illustrated this with the launch of her juggernaut makeup brand Fenty Beauty, which featured a staggering 40 foundation shades. Diversity may be the topic à la mode, but only a few years ago, back in 2015, the creation of an account like @MakeupForWOC filled a major void for women of color.
The account is run by 16-year-old Tiara Willis. She hasn't even graduated high school yet and has already gained over 155K followers through her honest reviews about how makeup products look on brown skin. "I can't give a round of applause to brands for putting out 40 shades when nearly all of the dark shades look green or bright orange," she savagely writes in one tweet. Taira also gives nuanced beauty tips geared towards women of color. For example, how to avoid an "ashy" look when using a translucent powder.
It's amazing to think that, as a highschool freshman, Tiara had the foresight see conversations around diversity in beauty would resonate with the internet — and brands. "The platform grew because at the time, there weren't many accounts celebrating women of color in makeup," she writes. Tiara has changed this by consistently retweeting awe-inspiring makeup looks done by women of color, demonstrating how a metallic green or a sea-blue can effervescently shimmer on brown skin. "When my account came into existence, people connected with it because it was something they hadn't seen before and appreciated."
Tiara is the queen of giving out makeup tips. She knows which foundations to point women of color towards, what acids can lead to a great skincare routine, and how to contour to the gods. i-D asked the entrepreneurial teen to give us her guide to beauty.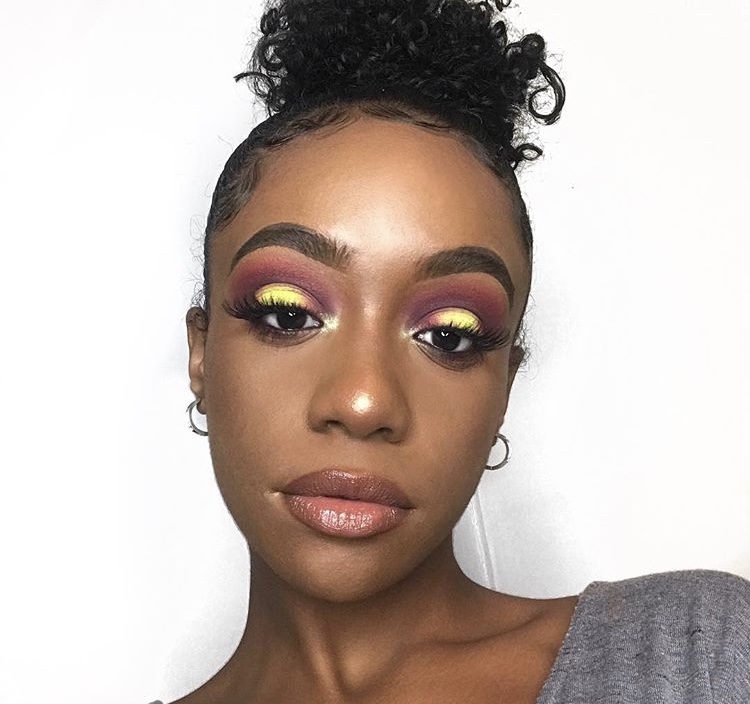 How did you get into makeup?
I became interested in makeup when I was in sixth grade. My love for it came from watching makeup tutorials on Youtube. I would always beg my mom to let me wear it and try to sneak makeup on when leaving home to go to school. She finally let me wear makeup for my eighth grade graduation. I pulled out the secret makeup stash I had and have been progressing with my passion for makeup ever since.
Within the beauty industry, I hope to encourage discussions about representation. While progress has been made within the beauty industry, there is still an underwhelming lack of representation of women of color. Women of color are not being represented on social media platform, shade ranges, and makeup campaigns — this needs to change.
What is your daily makeup routine?
In my everyday makeup routine, I like to make my skin look flawless using bronzer, foundation, and powder. I make sure my eyebrows are on point and keep my eyes very minimal, only using mascara. I also love a healthy glow using blush and highlighter. Since my days are long, I don't bother with lipstick and just use gloss because I can easily re-apply.
What foundations have you found work best for people with darker skin tones?
The best foundations are Black Opal Stick Foundations, Lancome Teint Idole, Maybelline Fit Me, L'óreal True Match, Danessa Myricks Vision Cream Cover, and NARS Natural Radiant. These foundation lines run deep enough, use undertones that aren't too overbearing, and compliment deeper skin tones.
What are some tips for a great skincare routine?
Chemical exfoliants are my favorite! A lot of physical exfoliants only work at the surface level, while chemical exfoliants work cellularly. Salicylic acid is a beta hydroxy acid that is lipholicic, this means it has the ability to penetrate oils and exfoliates deep into the pore to dissolve oil and dead skin cells. BHAs are great for those with acne and blackheads. Another group of chemical exfoliants are alpha hydroxy acids. Alpha hydroxy acids are a group of natural acids found in food. There's citric acid, glycolic acid (my favorite!), lactic acid, and more. AHAs help with texture, wrinkles, and uneven skin tone. Brands like Pixi, Nola Skinsentials, and Paula's Choice sell awesome products featuring chemical exfoliants.
People often think you have to spend a lot of money on makeup to get a really stellar look. What are some affordable products people would be surprised to find out are really just as good as — if not better than — luxury products?
Maybelline is one of my favorite brands at the drugstore. Their Master Chrome highlighter, Fit Me Foundation, Fit Me Loose Powder, and Age Rewind Concealer will have you looking red carpet-ready, but on a budget!
What are some tips for a good contour?
When contouring, I recommend choosing a product one to two shades darker than you. You can use something that's warm-toned to bronze while adding dimension. Cooler-toned products are great for contouring as well because they mimic shadow. For cream contour, you want to use something that is easy to blend, like using a Black Opal foundation stick. Using your foundation brush or beauty sponge to blend out cream contour helps with blending. For powder contour, I recommend using a small brush in order to keep the contour controlled. Using translucent powder to create a line underneath your cheek contour makes it appear neat and less muddy.
Are there some black-owned beauty brands you'd like to shout out?
I love black-owned beauty brands! BAHI Cosmetics is an awesome organic black-owned makeup and skincare brand created by talented artists. Beauty Bakerie is a black female-owned brand who's entire aesthetic is based around baking. They have a "flour" loose powder, a "cake mix" foundation, and lip "whip" lipsticks. My other favorite black-owned brands are The Lash Firm, Your Lash Bar, Monae Lashes, Makeup for Melanin Girls, and NOLA Skinsentials.
You receive a lot of samples and provide honest reviews. Do you ever feel any hesitations about calling out brands?
A lot of influencers hesitate to call out brands because having a good relationship with them helps in getting exposure and brand deals. I don't hesitate in calling out brands because my loyalty lies with my followers, not a brand. My supporters are the backbone of my platform and they deserve my honesty.
What are some specific issues with makeup WOC run into with makeup more than white people, and how can they avoid it?
An issue that WOC run into with makeup is looking ashy because of choosing the wrong translucent and shade of concealer or foundation. Using powders that are tinted like Black Opal Deluxe Finishing Powder, Sacha Buttercup, Beauty Bakerie Flour Powder, or Kween Cosmetics Luxury Powder complement women of color and prevent that ashy look. Other ways to prevent looking ashy because of translucent powder is tapping off excess product, blending in the powder with foundation powder, and using a finishing spray to help the product soak in.
Choosing the wrong concealer or foundation shade can also make women of color look ashy. First, you need to find products that match your body. Then, you need to find your correct undertones. When you want to highlight with concealer, a shade that is one to two shades lighter than you with the correct undertone compliments women of color best. Choosing a concealer shade that is too bright can make women of color look ashy, and have flashback in photography.
How do you find out what your undertone is?
By pressing on your wrist, you can see the color of your veins. If your veins appear green, you have warm undertones. Warm undertones can be yellow, golden or peachy. If your veins appear blue, you have cool undertones. Cool undertones can be blue, pink, or red. If your veins seem in between blue and green, you have neutral undertones. Knowing your undertone is essential when finding the correct foundation and concealer shade. Having the wrong undertone can make women of color look grey, yellow, green, or too orange/red.
You have your own highlighter. What was the process of creating it like?
Creating my own highlighter with MTF Cosmetics was an amazing experience. Morgan, the owner of MTF, allowed me to have full control and listened to my ideas. My highlighter is a deep rose gold, which is a shade that isn't common in the makeup industry. I wanted women of color to have a product created for us, by us.
@makeupforwoc