brad pitt and leonardo dicaprio exude bde in these 60s looks
Your first look at 'Once Upon a Time in Hollywood' is here.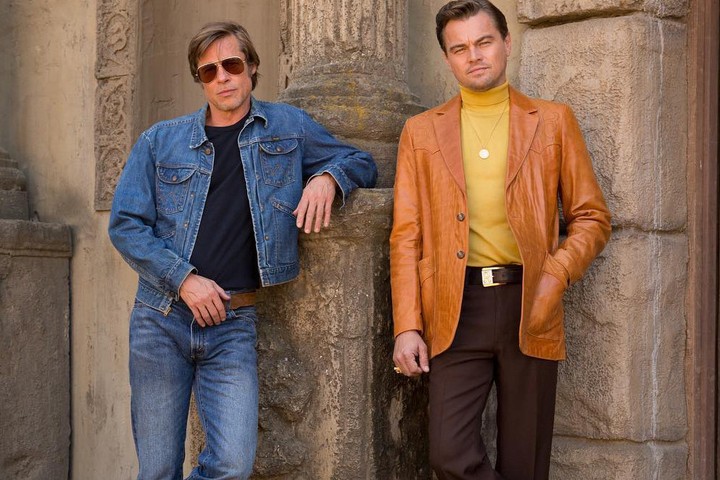 Image via Instagram
Move over Rajneeshpuram: the strongest color-coordinated cult vibes are emanating from this photo of Brad Pitt and Leonardo DiCaprio in Quentin Tarantino's upcoming Manson murder movie, Once Upon a Time in Hollywood. The two buddies aren't actually in The Family per se, instead starring as a struggling TV actor (Leo) and his stunt double (Brad) who live next door to Sharon Tate. But Holy Hell those fits!
Once Upon a Time in Hollywood is set in the very violent summer of '69, hence Brad and Leo decked out in a truly glorious array of blue denim and buttery leather. Their classic aviator sunnies and shiny gold belt buckles are equally of the era, while the energy is decidedly 2018, namely a hefty dose of Bick Dick Energy. (If you haven't spent the last two days engaging in heated BDE debate on Twitter and your office Slack channel, BDE is that "twinkle in the eye, like if you look right at that twinkle you can see a dick swinging in the eye… It also is reflected in the way others look at you. Like, you can see your own big dick swinging in their eye.")
Another reason Brad and Leo look so fly is costume designer Arianne Phillips, a longtime Tarantino collaborator who's working with the director on Once Upon a Time in Hollywood. The film is slated to hit theaters on August 9 next year on the 50th anniversary of the Manson murders, which still remain utterly mysterious, much like BDE.